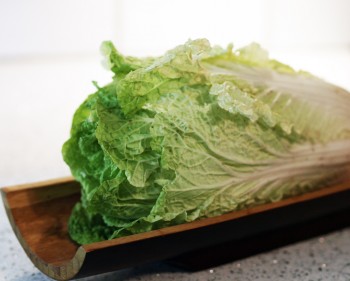 The delicate and pretty napa cabbage we found in our CSA shares this week regularly appears in East Asian dishes, from savory stir-fries to spicy Korean kimchi.  Napa is specifically a Chinese cabbage, comparable in flavor to bok choy and, of course, other cabbages.
Napa does have a milder flavor than the standard green and savoy cabbages, but still has all the nutrition those offer:
"[Cabbage's] anti-inflammatory properties are stellar, thanks to the high content of an amino acid called glutamine. In addition to promoting the digestive process and intestinal health, glutamine has been shown to be useful in all sorts of treatments including burns and peptic ulcers. Because cabbage is a member of the cruciferous family, it's also a great cancer-fighting food. Cruciferous veggies are high in indole-3-carbinol, a chemical shown to block the growth of cancer cells, as well as stimulate DNA repair in cells. Finally, a look at cabbage's nutritional profile shows it as an excellent source of vitamins K and C, a very good source of fiber, manganese, folate, vitamin B6 potassium and omega-3 fatty acids, and a good source of thiamin (vitamin B1), riboflavin (vitamin B2), calcium, magnesium, vitamin A, and protein."
This time of year, when the days are getting hotter and the air is humid, I prefer using napa uncooked, in a refreshing slaw.  There are tons of flavor varieties to play with when it comes to slaws.  Use the recipe below as a base, and try adding other shredded veggies, nuts, seeds, and vinegars.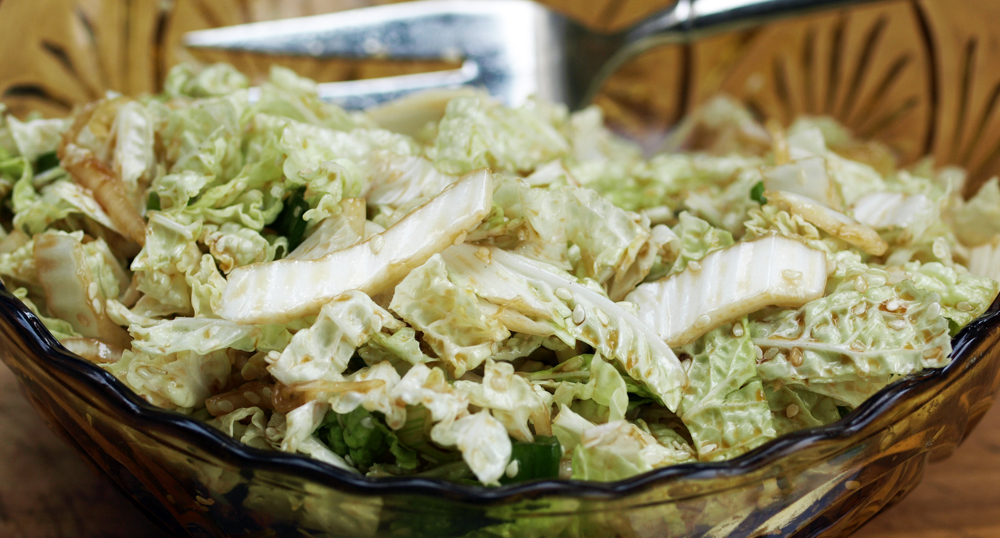 Sesame Napa Slaw
Ingredients
2 tablespoons sesame seeds
2 tablespoons sesame oil
1 tablespoon rice vinegar
1 tablespoon tamari sauce
1/2 teaspoon agave syrup
1 head napa cabbage, end trimmed, outer leaves removed, and chopped (about 4 cups)
2 green onions, with some of the greens, sliced thin
pepper, to taste
Method
In a bowl, mix the seeds, oil, vinegar, tamari and agave.  Add the cabbage and onion and toss, so that dressing coats the veggies. Pepper to taste and serve.
Post sources and recommended links:
Cabbages, from The Cooks Thesaurus.
8 Things to do with Napa Cabbage from She Knows.
Napa Cabbage: 5 Healthy Uses and Nutrition Facts, from Lunch Box Bunch.
Post and photos by Mikaela D. Martin: Blooming Glen CSA member since 2005, board-certified health counselor, and co-founder of Guidance for Growing, an integrative wellness practice in Souderton. Read more about healthy eating and living on her site, http://guidanceforgrowing.com!