03 Oct

Looking toward Winter

Coming up soon: "Winter Wednesdays" at the farm! We will be opening up a market stand in the pick-up room at the farm on Wednesdays from 12-7 pm starting in December. We will have all our fall greens and roots for sale, and more! We hope you'll consider continuing to "shop" from us through the winter months. CSA members who sign back up for the 2014 season will receive 15% off the farm stand prices throughout the winter. 

Blooming Glen will also be participating in the Easton indoor holiday market on Saturdays in December (10-2pm), the Headhouse Farmers Market in Philadelphia on Sundays until Dec. 15th (10-2pm), and the Wrightstown winter market on the 2nd and 4th Saturday's from December through April (10-11am).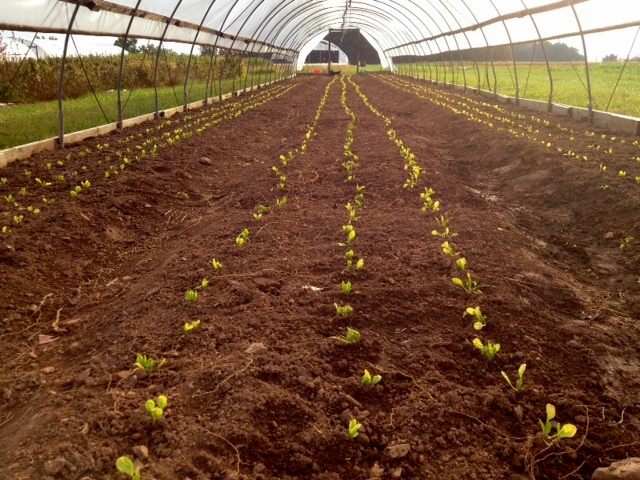 Looking toward the cold months ahead, the greenhouses are being prepped and planted with late fall and winter greens. The last of the heirloom tomato plants had to be removed to make way. Sigh. Any later and the greens won't have enough time to get established before the short days of winter. We've transplanted spinach, kale, lettuce, arugula, and swiss chard.
Carrots will also be direct sown into the greenhouses for a late winter, early spring harvest. Outside the final field planting of direct sown carrots has been thinned, as well as the beets, winter radishes and turnips.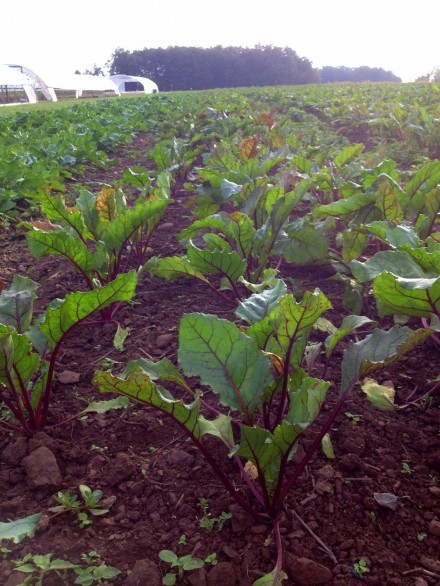 The last of the field plantings also went in- broccoli raab, fennel, beets and arugula. Clean up continues- fields of drip tape need to be removed- if the mulch is biodegradable it is disced under, if not, it's wound up and removed. Then the cover crop seed is spinned out, with a final discing to bury it. A new purchase this fall, a drip and mulch winder, eliminates (mostly) the dreaded and dirty task of pulling up drip by hand.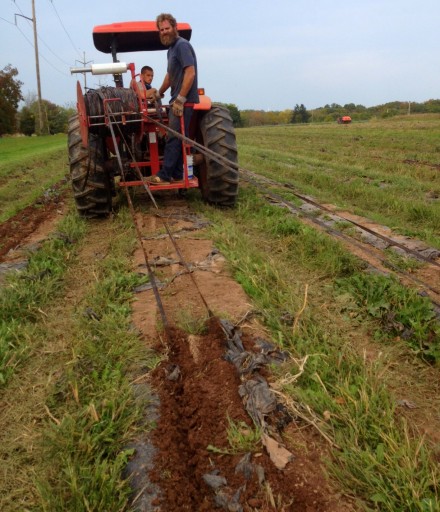 New in the share this week: a rainbow of kabocha squash to choose from, crunchy juicy bok choy and the first of the winter radishes- the daikon. All are popular staples in asian cuisine. The name daikon is Japanese for large root. It's wonderful in miso soups, slow cooked in any recipe you'd use turnips, in kimchi with carrots or as refrigerator pickles.
Looking ahead, the last week of the CSA, week 24, is Tuesday November 5 and Thursday November 7. The delivery share ends next Friday, October 11th. We will be offering Thanksgiving boxes of fall produce for purchase again this season. Order requests will be sent out Nov. 18th and boxes can be picked up the Tuesday before Thanksgiving, November 26.  CSA reenrollment information will be sent out in the next month. We hope you'll consider coming back for another season!
Post and photos by Tricia Borneman, Blooming Glen farmer and co-owner.