14 Oct

Sweet Potato Black Bean Chili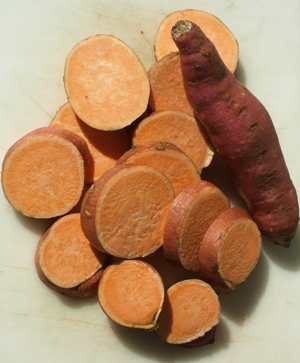 It's hard to find a person who can't appreciate sweet potatoes. They're often something I recommend to clients who need to add a little more color into their diets — both literally and figuratively — because their sweet flavor, beautiful color and ease of preparation make them a relatively safe new veggie to try.  I've found that sweet potatoes, specifically fresh ones, have the ability to impress even the most fastidious of palates 🙂
Nutritionally speaking, sweet potatoes are most noted for providing beta carotene, which helps increase the cancer-fighting antioxidant, vitamin A in our blood. They also provide a healthy shot of fiber, vitamin C and manganese, in a low calorie, low fat, low cholesterol package.  As is the case with many fruits and vegetables, it's important to eat the skin since that's where many of its nutritional benefits are stored.
Unfortunately, we have a tendency to add far too many sweeteners in sweet potato recipes — the most classic example being, of course, the marshmallow-topped Thanksgiving sweet potato casserole! There's nothing wrong with adding a small drizzle of maple syrup to sweet potatoes, but having these potatoes fresh in our CSA shares each week offer a great opportunity to experiment a bit and try them prepared different ways. We can simply bake them and top with a small dollop of butter, or mash them adding a sprinkle orange zest and cinnamon. They also make a good addition to soups and chilis, as seen in the chili recipe below. This chili pairs the sweet potato with savory and smokey spices, and boosts nutrition with heart-healthy black beans and one one of my all-time favorite superfoods, kale. An added bonus: In total, it uses five veggies (potatoes, kale, onion, peppers, tomatoes) from our share!
Sweet Potato Black Bean Chili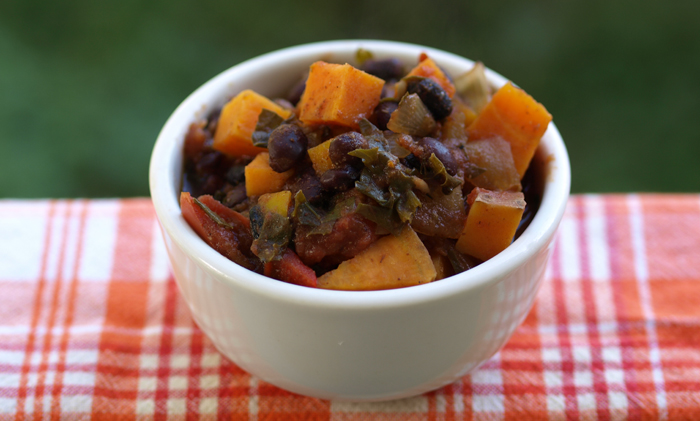 Ingredients
2 small onions, diced
3 cloves garlic, minced
1-1/2 tbsp chili powder
1-1/2 tsp cumin
1 tsp oregano
1 tsp smoked paprika
1/2 tsp crushed red pepper
2 cups chopped kale
1 cup sweet peppers, diced
3 – 4 cups sweet potatoes, scrubbed clean and diced.  Leave the skin on, but cut out any gnarly spots.
2 15-ounce cans black beans
1 24-ounce can diced tomatoes or equal amount of fresh diced tomatoes
1 cup vegetable broth
salt and pepper
Method
In a large, heavy-bottomed pot (I used a Dutch oven), sauté onion and garlic with a sprinkle of salt over medium-high heat for a couple minutes until onion begins to soften.  Mix in spices and cook for another minute. Add potato, kale and peppers and a splash of the broth and stir well.  Cover and cook for ~5 minutes until veggies begin to soften.  Add tomatoes, beans and broth, stir well and bring to a boil.  Reduce heat, cover and simmer for 20-25 minutes, stirring occasionally.  Salt and pepper to taste, serve with vegan (or dairy) sour cream and fresh cilantro.
Post sources: Nutrition Data
Post and photos by Mikaela D. Martin: Blooming Glen CSA member since 2005, board-certified health counselor, and co-founder of Guidance for Growing, an integrative wellness practice in Souderton. Read more about healthy eating and living on her site, http://guidanceforgrowing.com!