Late August and yes, the tomatoes are literally rolling in. Into the packing shed they come in from the field- colorful heirlooms and ripe red beefsteaks and sweet teeny cherries of all colors and shapes. Then as quickly as we can find homes for them they head back out into the world. Whether this is to the farmers market, CSA or wholesale, we are kept busy picking, sorting, weighing and packing.
Though our hands are busy with summer harvest, we are always looking a few months ahead. Joining the parade of bounty out of the fields this week was the winter squash. It is ready quite a bit earlier this season- our local seed rep informed us this is not an isolated event, but occurring across the region. We harvested the spaghetti squash last week, and then before Tuesday's rain came we scrambled to get the butternut squash out of the ground, followed by the kabocha and a few gigantic alien blue hubbards.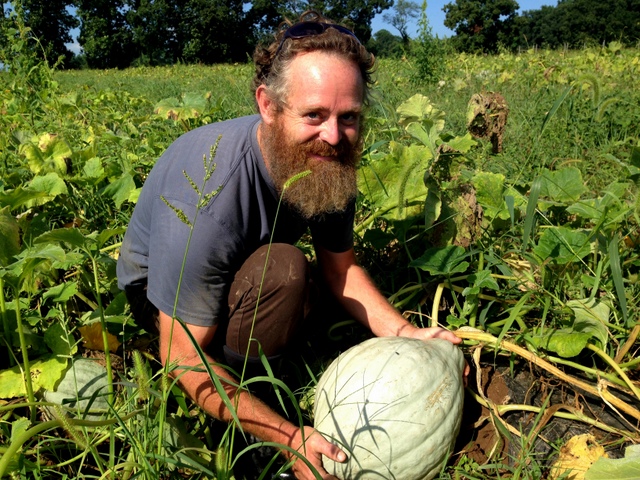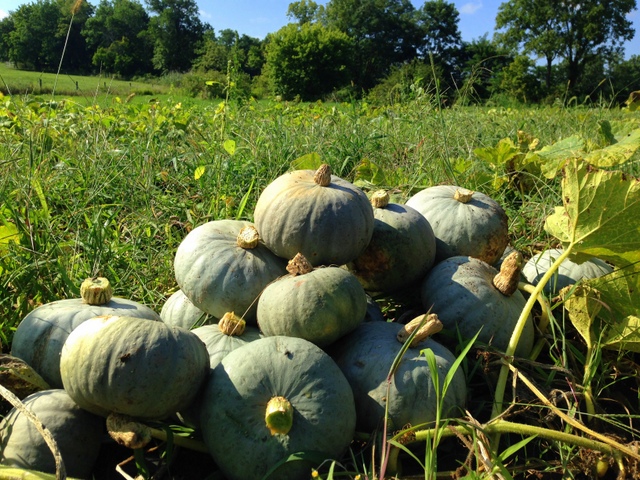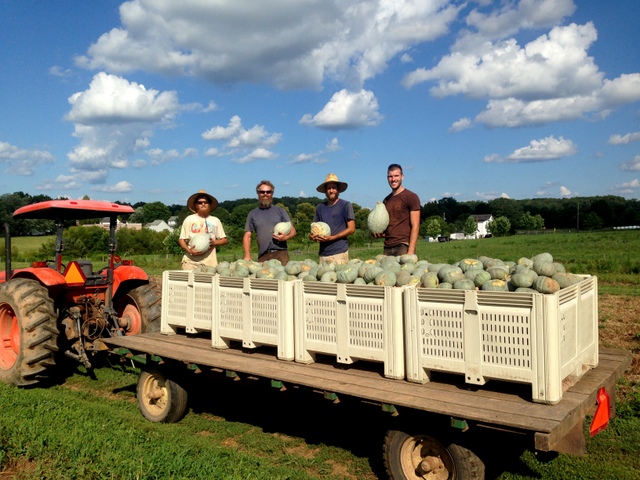 The kabocha is a corky stemmed winter squash which needs to be cured. They will get spread out on tables in a greenhouse covered with a shade cloth. This time period in a warm protected environment will enhance flavor and shelf life. They will be ready to enjoy just as the cool fall weather rolls around and we are all craving heartier fare.
Meanwhile enjoy the fruits of summer- the juicy melons, sweet delicious tomatoes, and spicy hot peppers- all the salsa fixings! Check out a previous post by Mikaela with a delicious Tomatillo Jalapeno Soup recipe, or Jana's directions for oven-dried cherry tomatoes.
Post and photos by Tricia Borneman, Blooming Glen farmer and co-owner. Tricia and her husband Tom have been farming together since 2000. Blooming Glen Farm is entering its 10th season bringing high quality certified organic vegetables, herbs, fruits and cut flowers to our local community. Tricia is passionate about food, art and nature and the intersection and expression of all three.