14 Oct

Old man winter heads our way

A flurry of floating row covers have been unfurled on the farm in masses of white waves. The focus on the farm this week has been prep for the coming cold snap headed our way this weekend. It is typically around October 10th that we see our first few light frosts, but the forecast is calling for temperatures dipping down to 28 degrees Sunday night. This is quite a freeze and cause for some alarm, so we shifted our efforts to laying hoops and row covers over all our tender greens. Swiss chard, herbs, broccoli raab, arugula, lettuces, escarole, fennel, carrots, hakurei turnips, and beets are all tucked in under their cozy covers.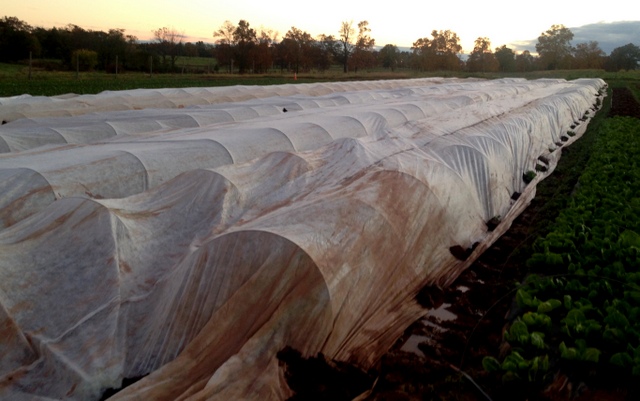 Though the roots of the carrots, turnips and beets will survive, we want to save their green tops from being smoked in the cold. We dug the last of our sweet potatoes and will be harvesting all the celeriac this week. Both these crops were in the CSA share, along with our favorite, kabocha squash. Don't put this squash on your porch for decoration- it is too delicious to miss out on! It is a very sweet thick dry squash, one of our favorites to enjoy oven roasted, scooped out and mashed.
The harvest festival on Sunday was a wonderful event- it was a perfect fall day, with a few hundred people in attendance. Twenty-four pies were entered in our 6th annual pie bake-off, the most entries ever! Sing a song of sixpence, A pocket full of rye, Four and twenty blackbirds, Baked in a pie!
Over 100 people tasted the delectable entries and cast their votes. The three winning pies in the people choice category, as well as the three judges winner's will be featured in another blog post coming soon, complete with recipes just in time for your holiday baking!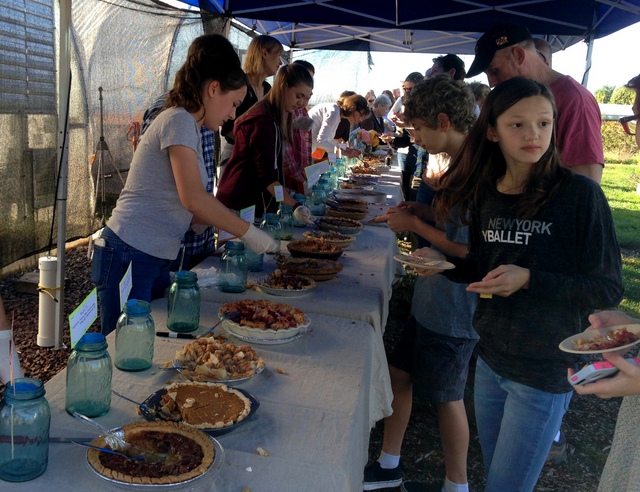 The harvest festival was a celebration of all things veggie. Pumpkins were decorated, veggie tattoos applied, and scarecrows made.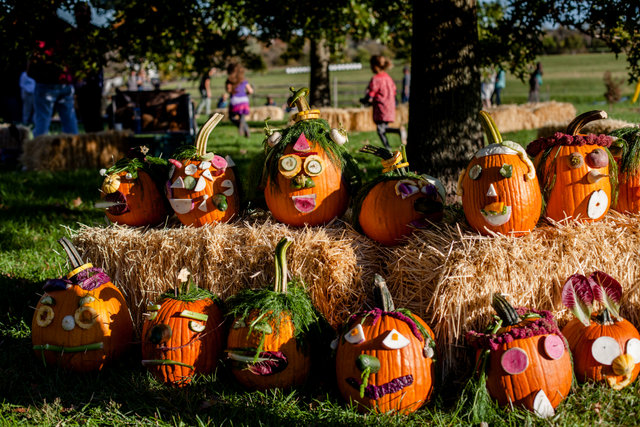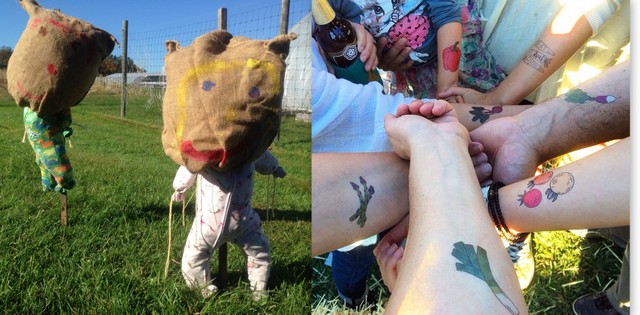 Goose Creek Pioneers kept up a steady jam of bluegrass music, entertaining young and old alike, while a steady stream of wagon rides took folks on a looping tour of the back forty, followed by a delicious potluck feast. It was a wonderful community celebration- thank you all for attending!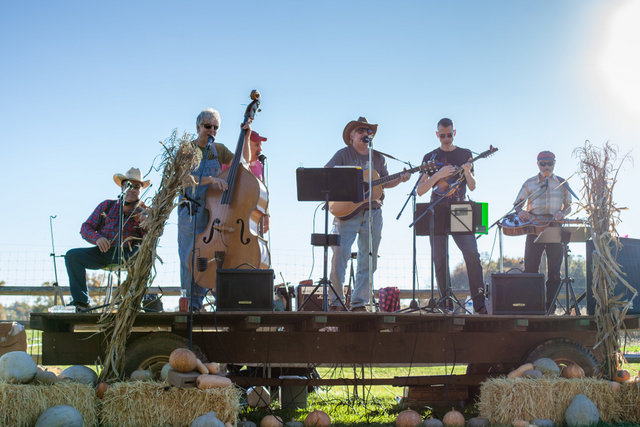 Katia McGuirk unveiled her beautiful gift to the garden- a little free farm library. The next time you are at the farm, please take a moment and visit it in the discovery garden. It is truly a magical addition, stocked with mostly children's nature and garden themed books as well as a few adult selections. Book donations are very welcome! For those who are unfamiliar, you can borrow a book from the little free library, and either return it to us, or to another little free library. There are tons in Doylestown, thanks to the efforts of my friend Marlene Pray- who inspired the idea. There is a lovely facebook page with a map and information on the little free libraries located in and around Doylestown. We are looking forward to registering ours on the official free library site. Thank you Katia- you are a blessing to this farm!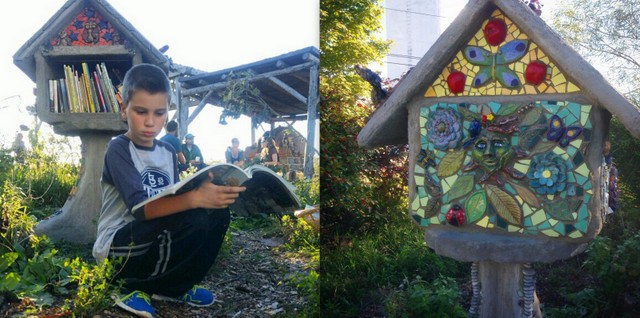 Post and photos* by Tricia Borneman, Blooming Glen farmer and co-owner. Additional photos contributed by Vanessa Lassin (of Vanessa Lassin Photography), Katia McGuirk, and Cheryl Gilmore. Tricia and her husband Tom have been farming together since 2000. Blooming Glen Farm is entering its 10th season bringing high quality certified organic vegetables, herbs, fruits and cut flowers to our local community.