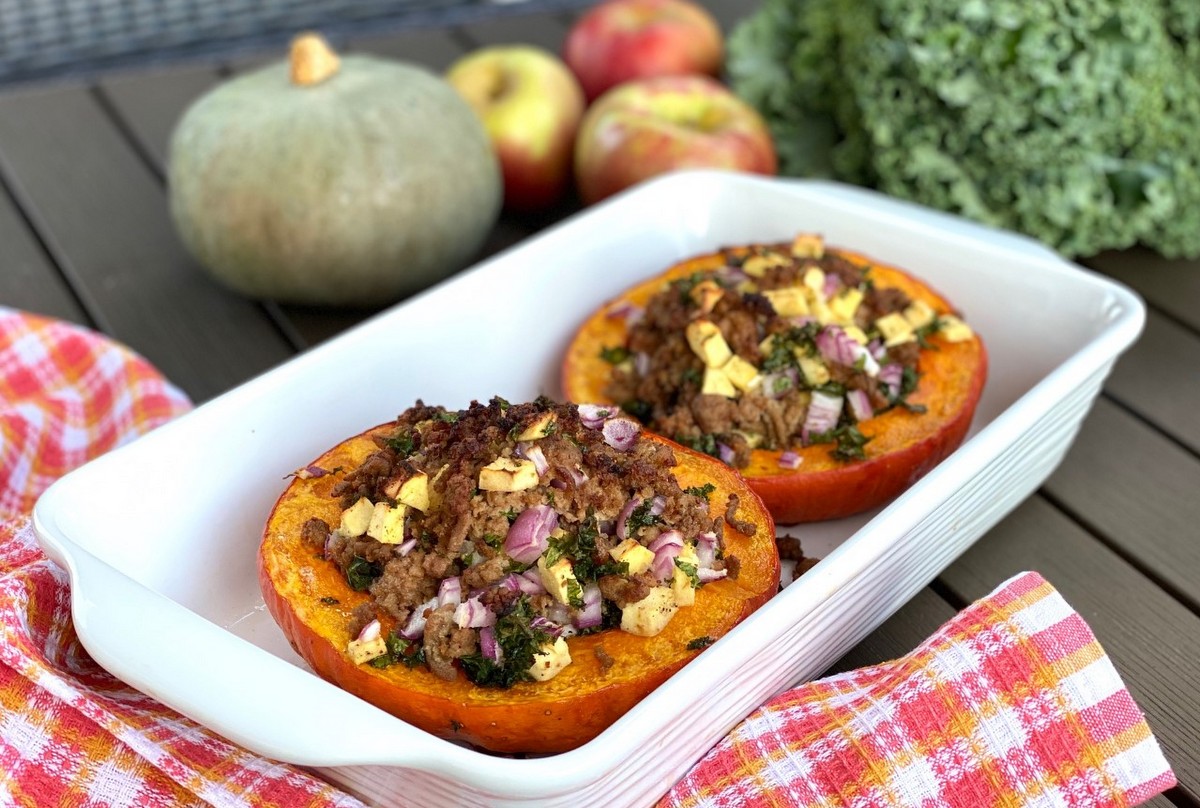 Winter squash is in season, and is the star of this simple seasonal dish. This recipe calls for Kabocha squash- Blooming Glen Farm grow three different types- green, red or gray skinned. All are interchangeable, as are other winter squash varieties, such as acorn.  This recipe creates a full meal and easily reheats for delicious leftovers.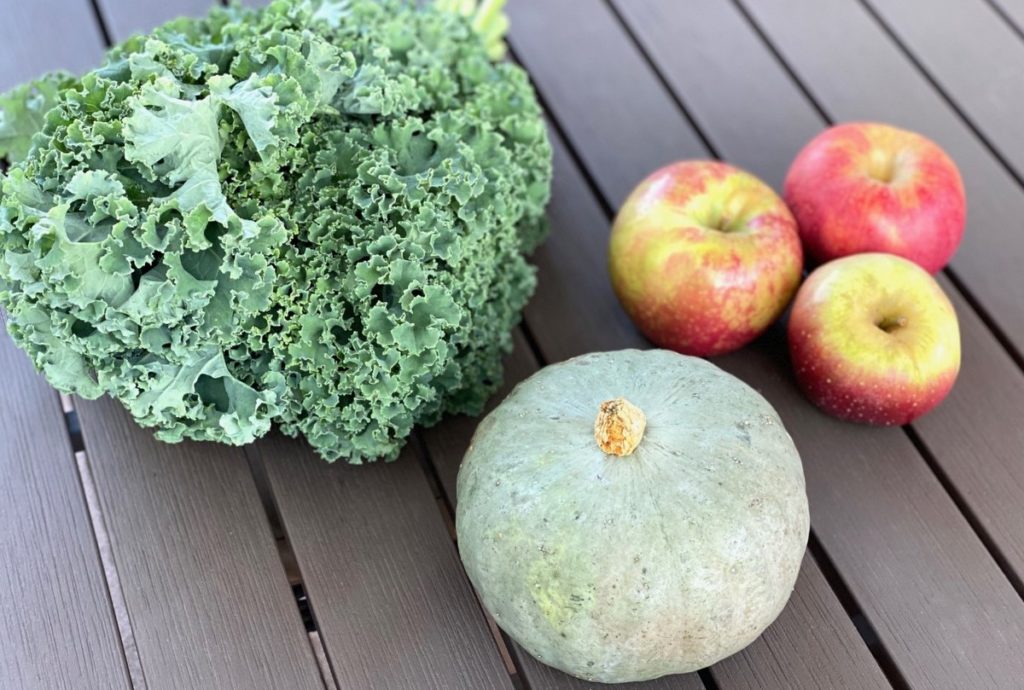 Ingredients:
1 kabocha squash
3 Tbsp avocado, olive oil, or sunflower oil
1 lb ground turkey**
1 medium onion, chopped
1 cup chopped kale
1 cup apples, peeled and chopped
½ tsp sea salt
½ tsp garlic powder
¼ tsp black pepper
2 Tbsp apple cider
Preheat oven to 400°F.
Cut a little bit off the top and bottom of the squash creating flat surfaces. Slice in half.  Remove the seeds and reserve for recipe.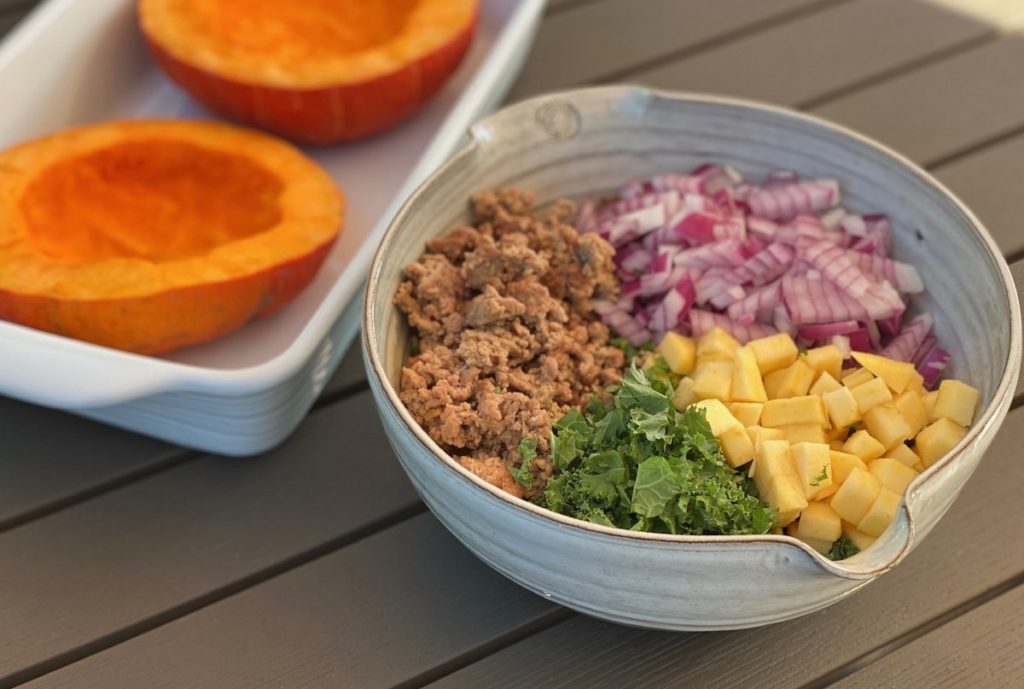 Place squash halves in baking dish flat side down. Brush with 1 Tbsp oil.
Roast squash for 30 minutes.
While squash is cooking, heat 2 Tbsp oil in sauté pan. Add turkey and cook through.  Remove from heat and set aside.
Place cooked turkey, onion, kale, apples, sea salt, garlic powder, black pepper, and apple cider in a medium bowl. Mix to combine.
Remove squash from oven and fill each half with the filling. Cook for another 25 minutes.  If you have any extra filling, place in an oven safe dish and bake as well.
After squash is done cooking, remove from oven and top with roasted squash seeds (recipe below).
Enjoy!
**For a vegetarian/vegan option, use 2 cups cooked quinoa.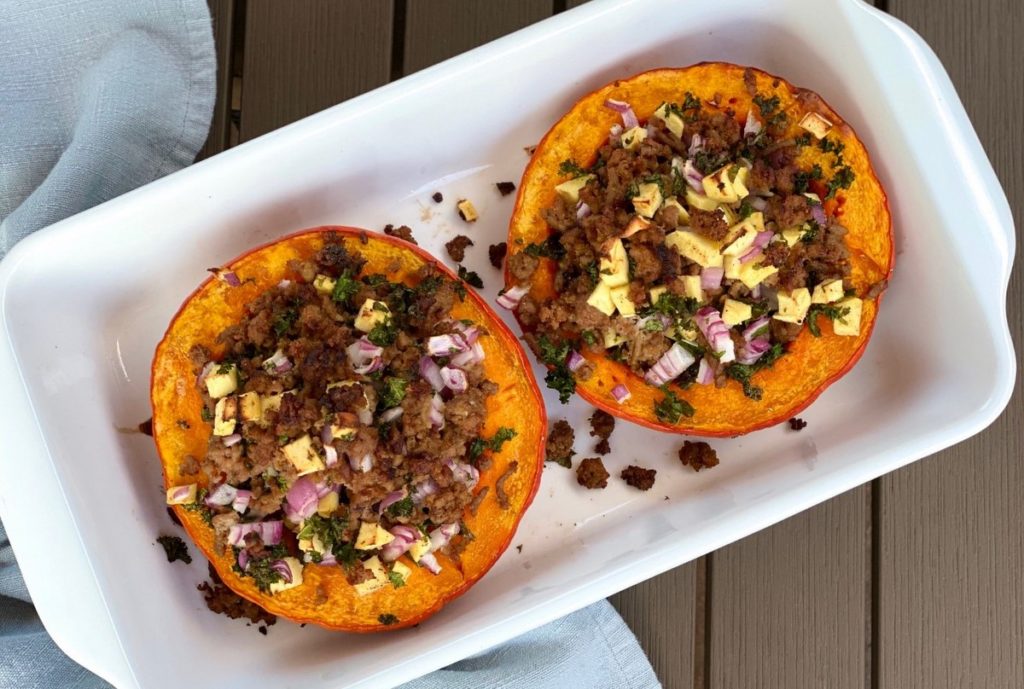 Roasted Kabocha Squash Seeds
Ingredients
Seeds from squash
1 Tbsp apple cider
¼- ½ tsp sea salt
Separate the seeds from the pulp.  Rinse well and drain.  Place in a bowl.  Add apple cider and sea salt.  Mix well.  Spread out on a baking sheet or cast iron skillet.  Roast in 400°F oven for 10-15 minutes.  Stir every 5 minutes.  Remove when seeds are dry and lightly browned.  These make a great snack, a crunchy topping for salads, or a garnish.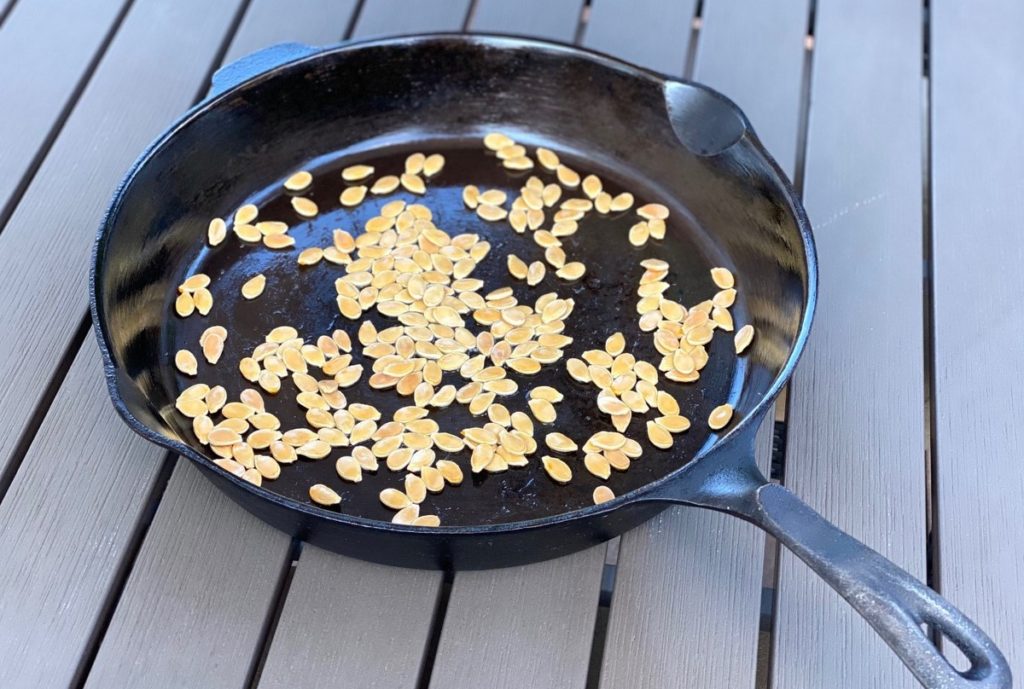 Recipe and photos by Stephanie Borzio.  Stephanie is a mom of three active boys and is an autoimmune warrior.  After battling her own health for several years, Stephanie found healing through food and lifestyle changes, including joining Blooming Glen Farm CSA of which she is a long time member.  She is a Board Certified Integrative Nutrition Health Coach who is passionate about sharing healthy living tips and real food recipes.  Instagram and Facebook: Tru You Essentials; Website: www.truyouessentials.com