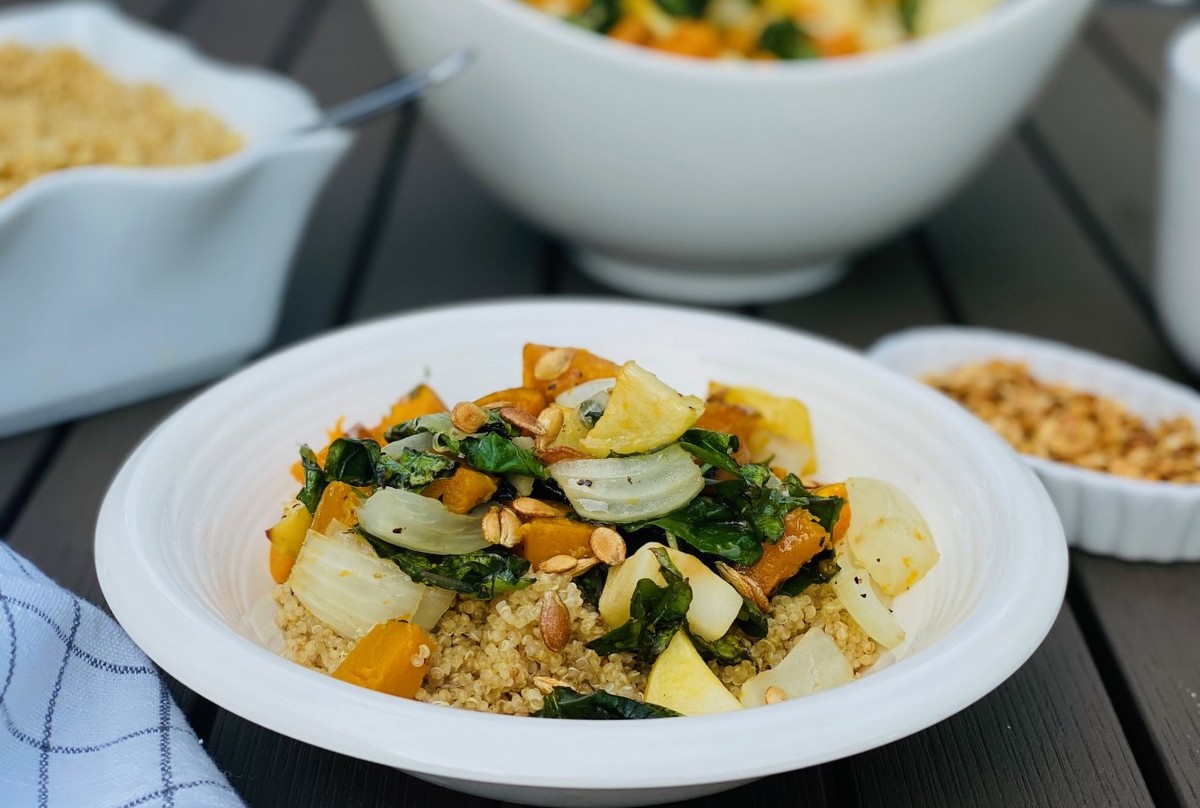 16 Sep

Autumn Inspired Grain Bowls

It's officially squash season!  We will see a variety of winter squash over the next few weeks and honeynut squash is one of my favorites.  Pair the squash with some apples and kale, roast it on a sheet pan with onions and garlic, toss with a simple vinaigrette and use it to top your favorite grains and you have the perfect autumn inspired dish.

Autumn Inspired Grain Bowls


Ingredients:
4 cups cooked grains (quinoa, rice, etc.)
2 honeynut squash*
2 sweet onions
3 cloves garlic
3 Tbsp olive oil, divided
1 tsp sea salt
½ tsp black pepper
2 medium apples
1 bunch kale

*You can substitute the honeynut squash with other winter squash.  If the skin cannot be eaten, just peel before cubing and roasting.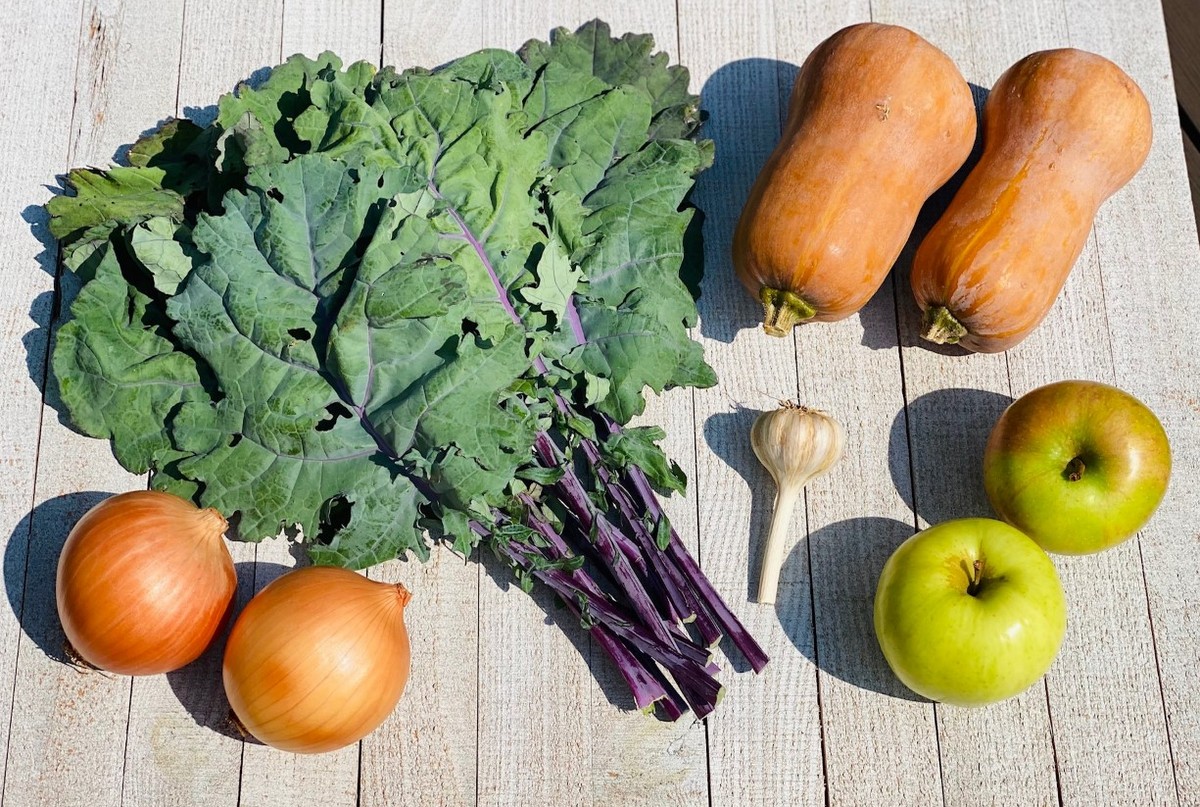 Vinaigrette Ingredients:
1/3 cup olive oil
2 Tbsp lemon juice
1 tsp maple syrup
1 tsp spicy mustard
½ tsp sea salt
¼ tsp black pepper
Preheat oven to 425°F.
Slice squash in half and remove seeds. Cut into ½- ¾ inch cubes.  Place in a large bowl.

Reserve the seeds to roast them! See below for directions.

Cut onions into 1 inch pieces. Place in bowl with squash.
Peel garlic cloves and thinly slice. Add to bowl with squash and onions.
Place 2 Tbsp oil, salt, and pepper into bowl. Mix to coat squash, onion, and garlic.
Spread produce on large sheet pan.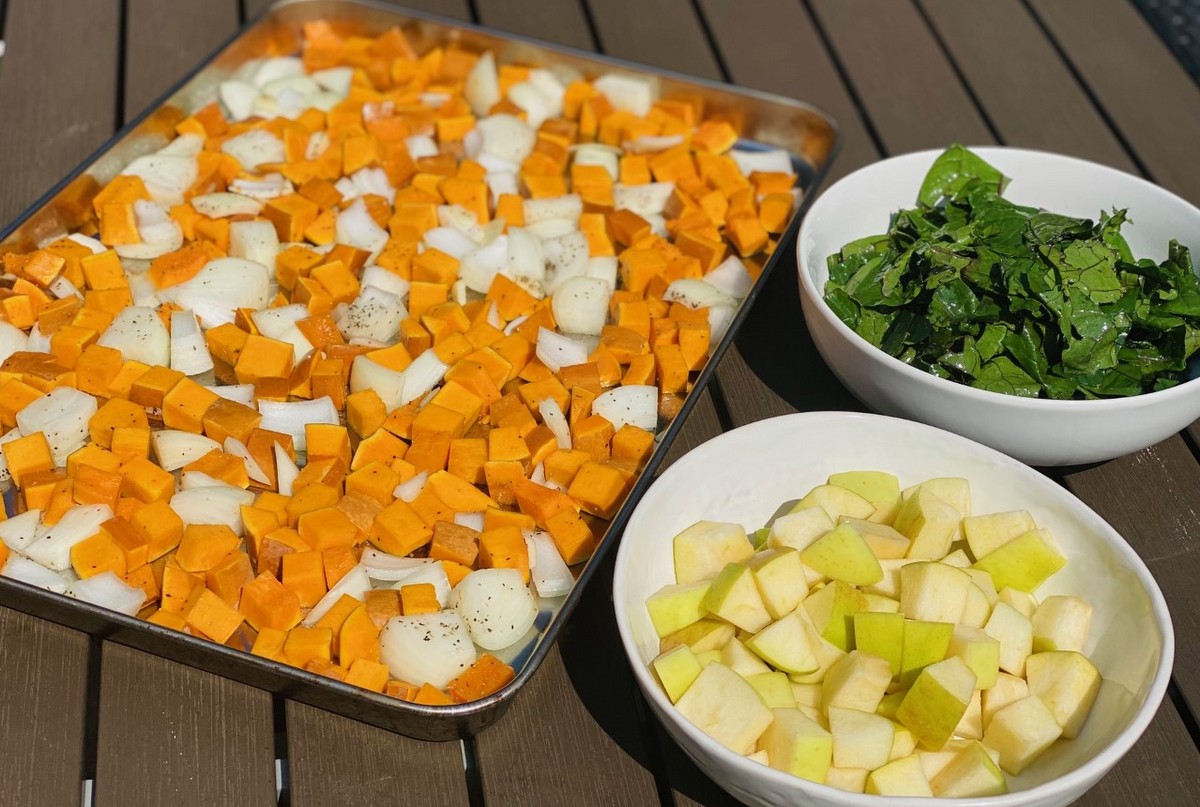 Bake for 10 minutes.
While squash mixture is cooking:

Slice apples into ½- ¾ inch cubes. Place on another sheet pan.  Ideally you want the apples to take up half of the second sheet pan so that you have room to add the kale later.
Remove stalks on the kale and chop the leaves into 1 inch pieces. Make sure the kale is dry (you can use a salad spinner to remove excess moisture if you need to).
Place chopped kale leaves in a medium bowl. Add 1 Tbsp oil and massage into kale.

Remove squash mixture from oven and mix. Return to oven and cook for an additional 10 minutes.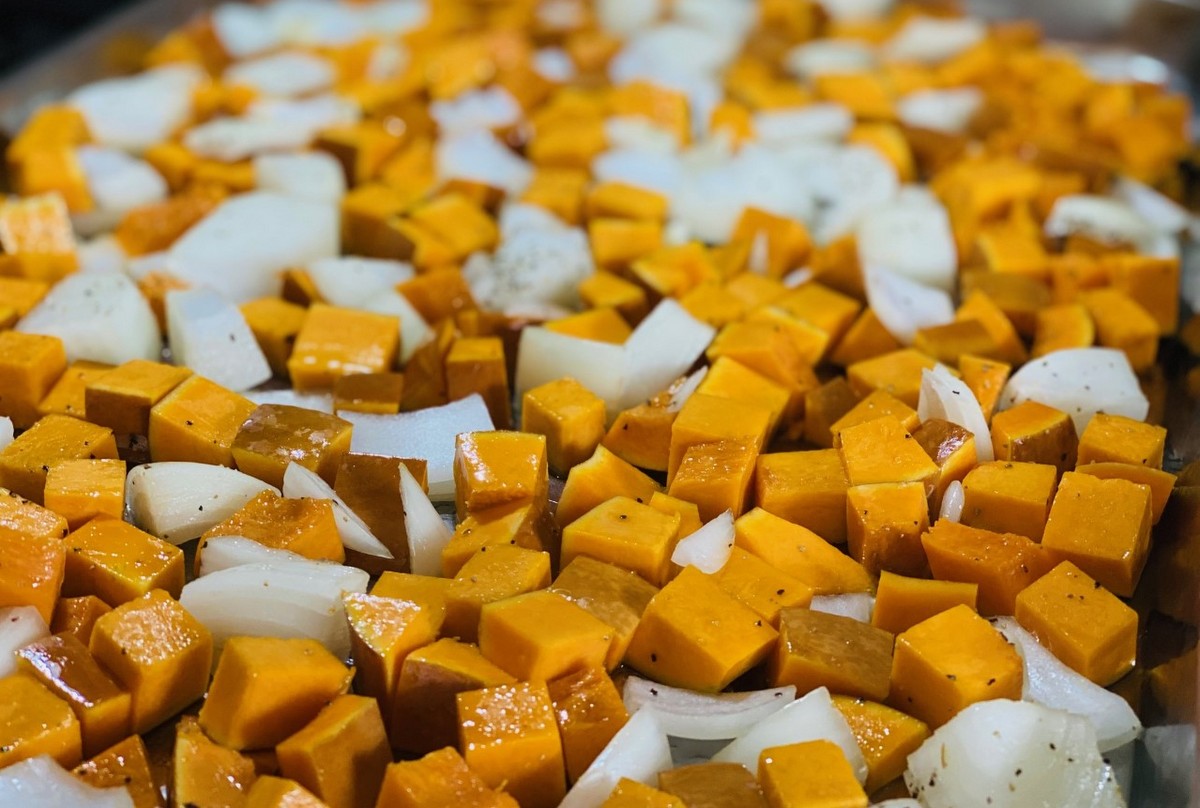 Place second sheet pan with apples into oven and cook for 5 minutes.
Remove and mix. Add kale leaves to the pan and cook for an additional 5 minutes.
Remove both sheet pans from oven and transfer all roasted produce to a large bowl. Mix well.
Combine all vinaigrette ingredients. Whisk well.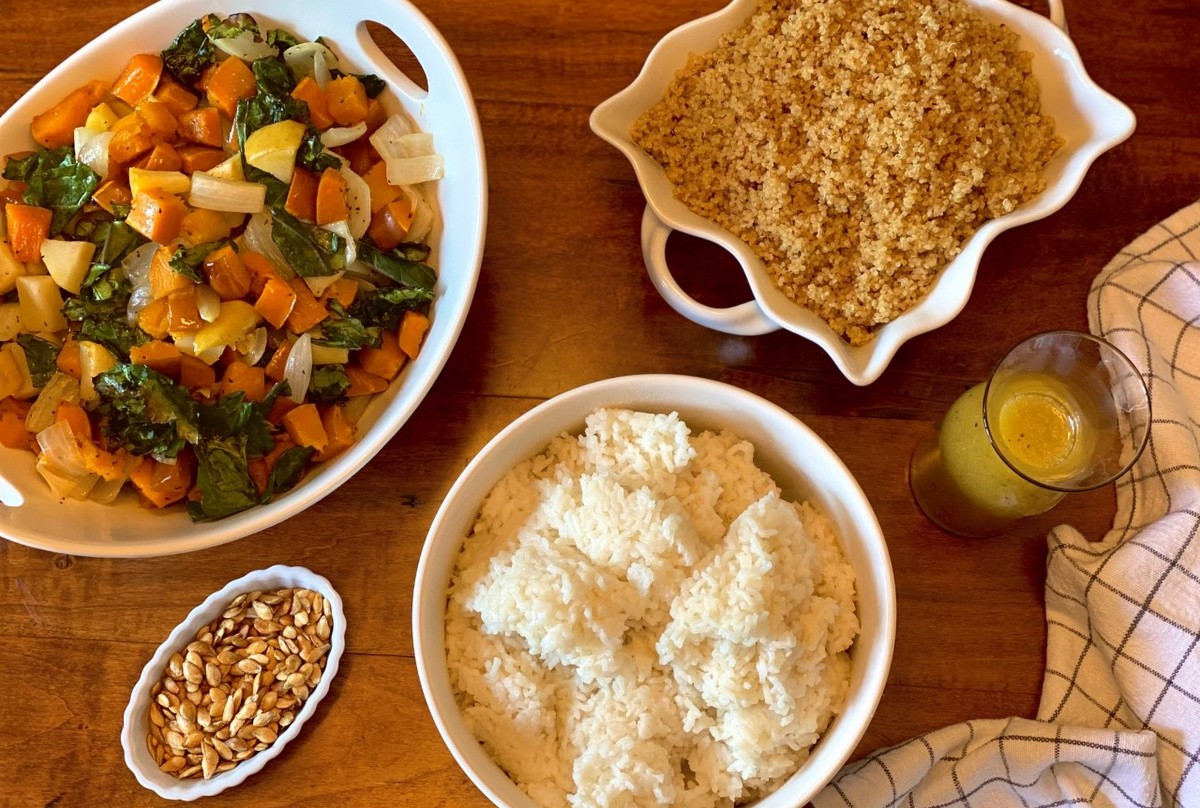 To assemble bowls:

Place cooked grain in the bottom of the bowl.
Top with the roasted squash, onion, apple, and kale mixture.
Drizzle on some vinaigrette.
Top with roasted squash seeds (see below for directions on roasting seeds).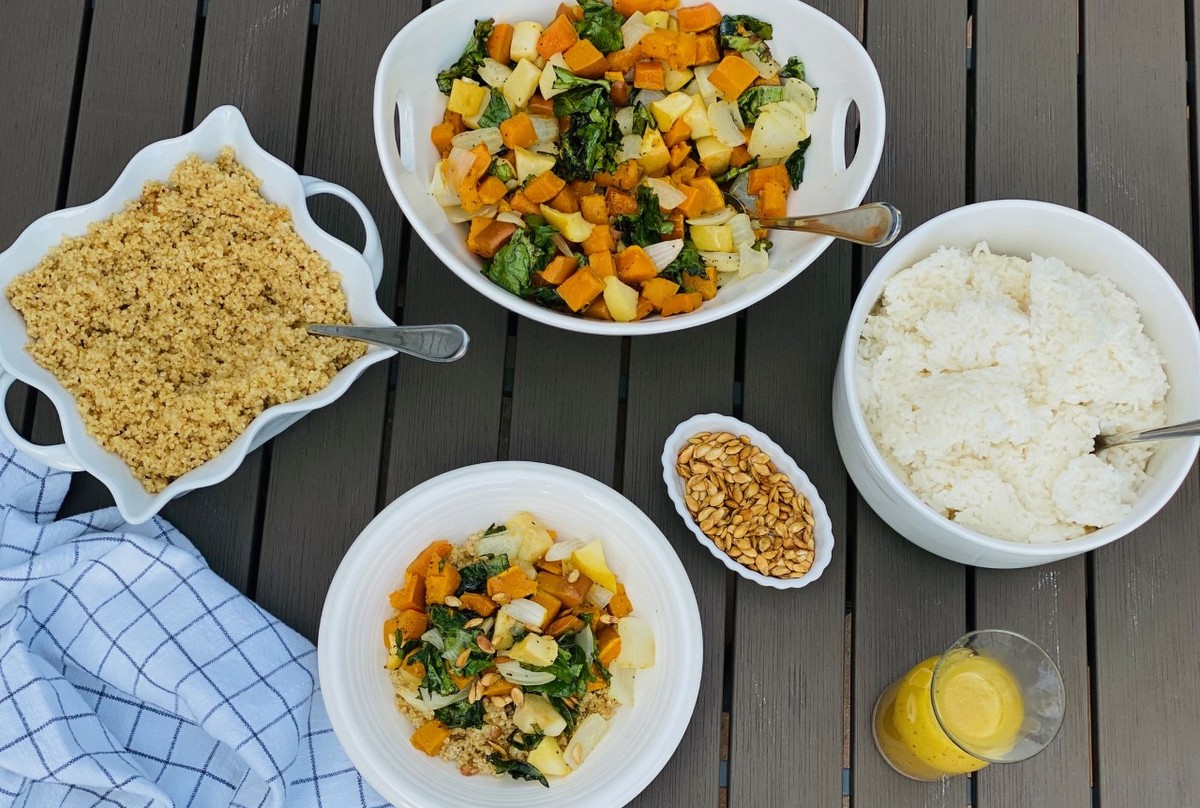 Roasted Squash Seeds– Once seeds are removed from squash, soak them in water.  Remove the pulp.  Rinse and drain in colander.  Dry on a paper towel.  Place in a bowl and add ½ tsp olive oil or avocado oil and ¼ tsp sea salt.  Mix well to combine.  Place on a small baking sheet or in a cast iron skillet.  Roast in oven at 400°F for 10-12 minutes.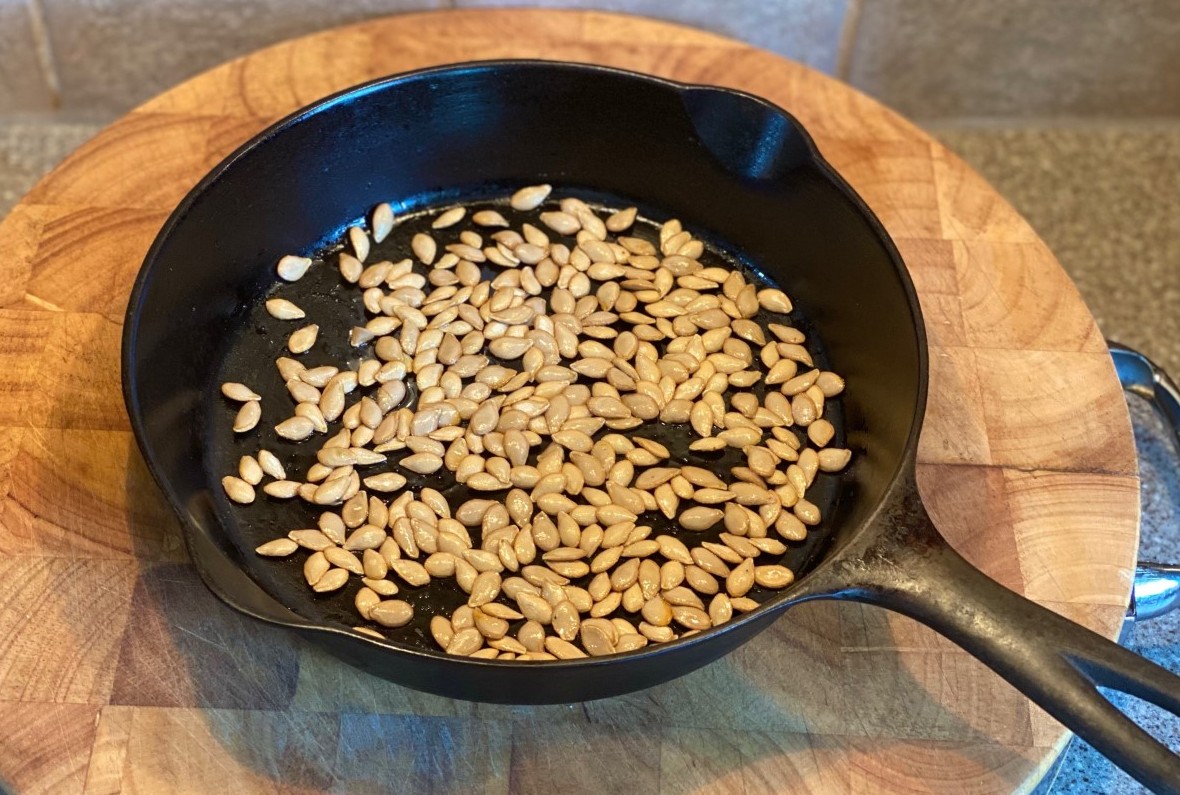 Recipe and photos by Stephanie Borzio.  Stephanie is a mom of three active boys and is an autoimmune warrior.  After battling her own health for several years, Stephanie found healing through food and lifestyle changes, including joining Blooming Glen Farm CSA of which she is a long time member.  She is a Board Certified Integrative Nutrition Health Coach who is passionate about sharing healthy living tips and real food recipes.  Instagram and Facebook: Tru You Essentials; Website: www.truyouessentials.com