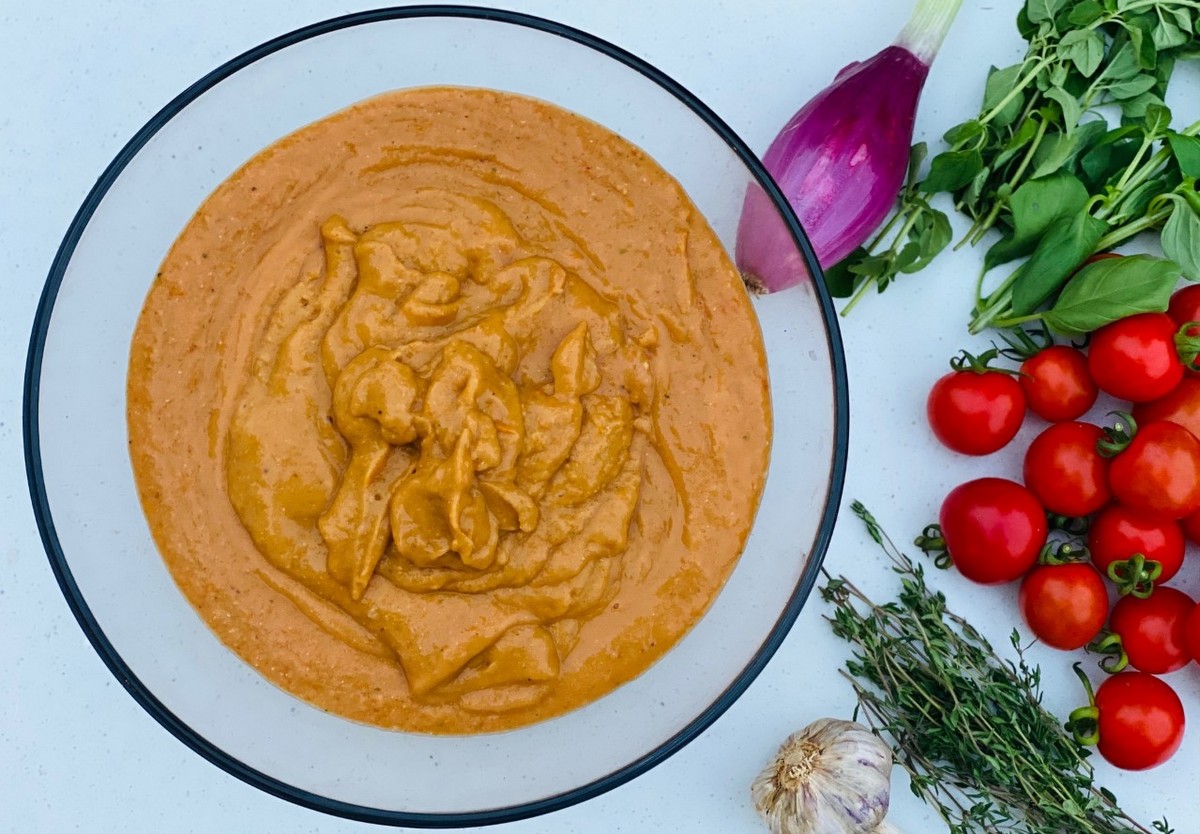 29 Jul

Roasted Tomato Sauce

It's tomato season- my favorite time of year!  The farm provides us with a plethora of tomato varieties- heirlooms, reds, plum, and cherry.  Since we have an abundance of cherry tomatoes this week, this recipe showcases them along with the onions, garlic, and fresh herbs.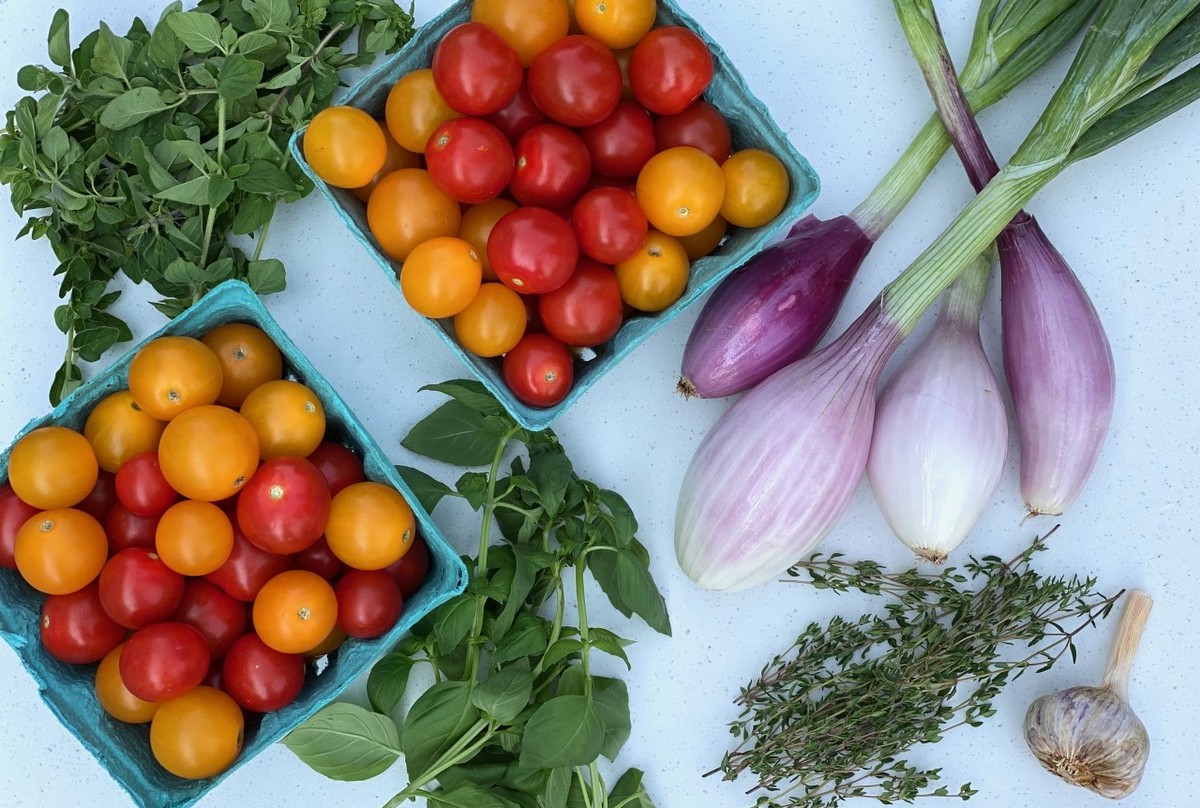 Roasted Tomato Sauce
Ingredients:
3 lbs or 2 quarts cherry tomatoes *
2-3 torpedo onions, bulbs only (reserve green tops for another recipe)
1 head garlic
2 Tbsp olive oil
1 ¼ tsp sea salt
¾ tsp black pepper
2 Tbsp fresh herbs (basil, oregano, thyme, parsley, etc.)
Preheat oven to 400°F.
Wash cherry tomatoes and place on baking sheet.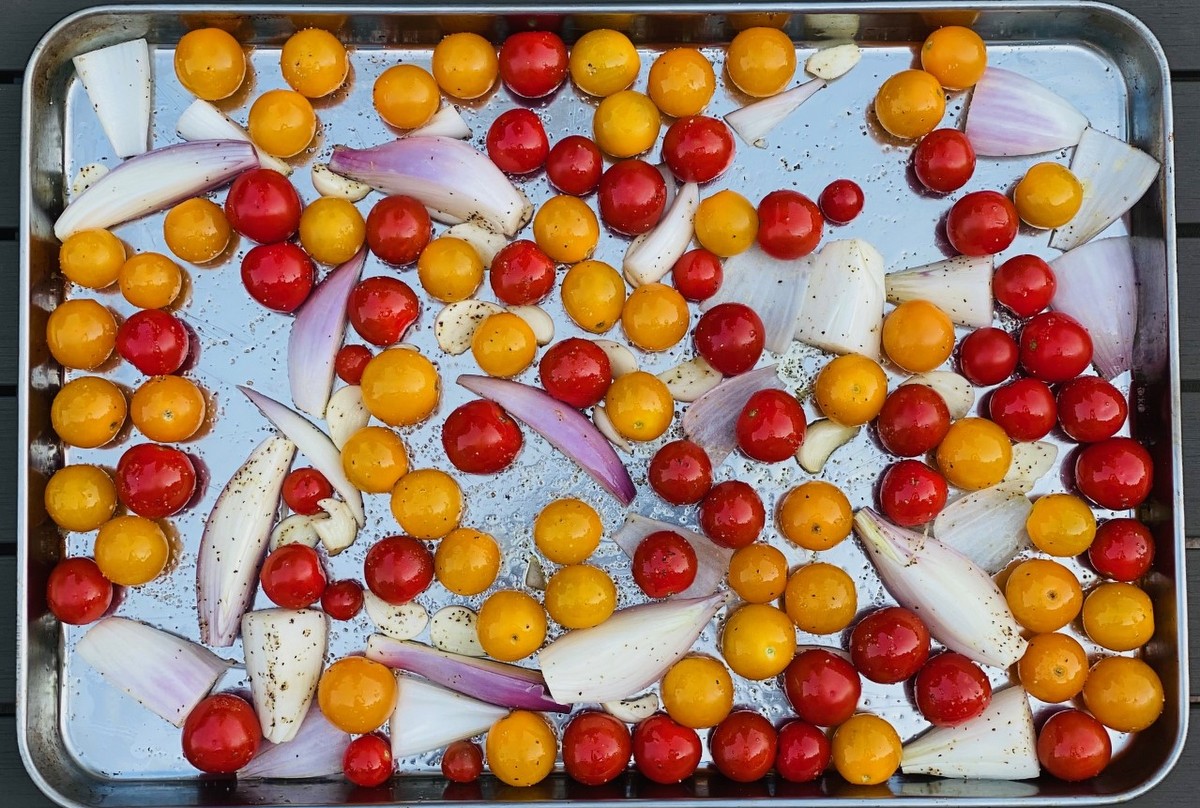 Slice onions into quarters or eighths depending on their size. Place on baking sheet with tomatoes.
Peel garlic cloves and slice in half. Place on baking sheet with the tomatoes and onions.
Drizzle olive oil on tomatoes, onions, and garlic. Sprinkle with salt and pepper.  Mix well.
Cook for 1 hour. You should see the onions and tomatoes beginning to brown on the tops.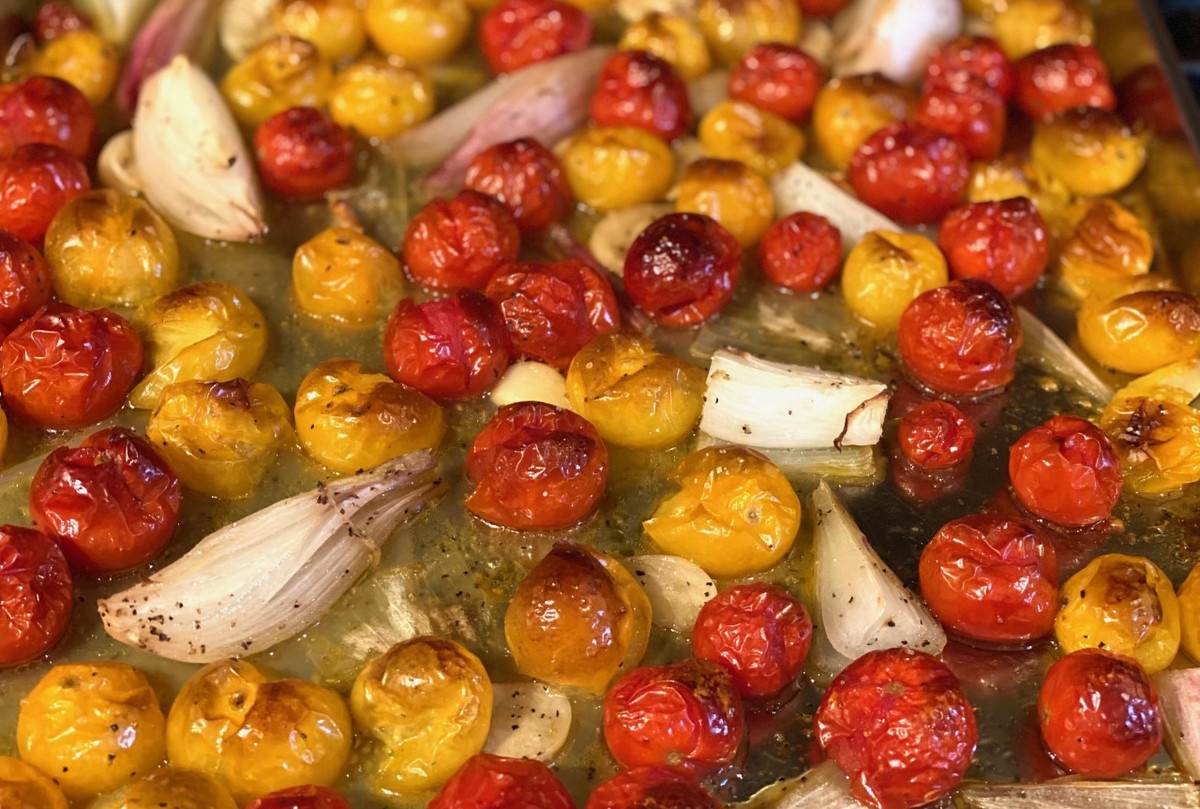 Remove from oven and let cool 10-15 minutes unless serving right away.
Transfer everything, including liquid, from baking sheet to blender. **
Add herbs and blend well. ***
To reheat, transfer to a pot on the stovetop. Heat on low until warmed through.
To freeze, place in ziplock bags or freezer containers.
Serve over zucchini noodles- "zoodles" (see below for instructions) or over your favorite pasta. Would also be great for a pizza sauce.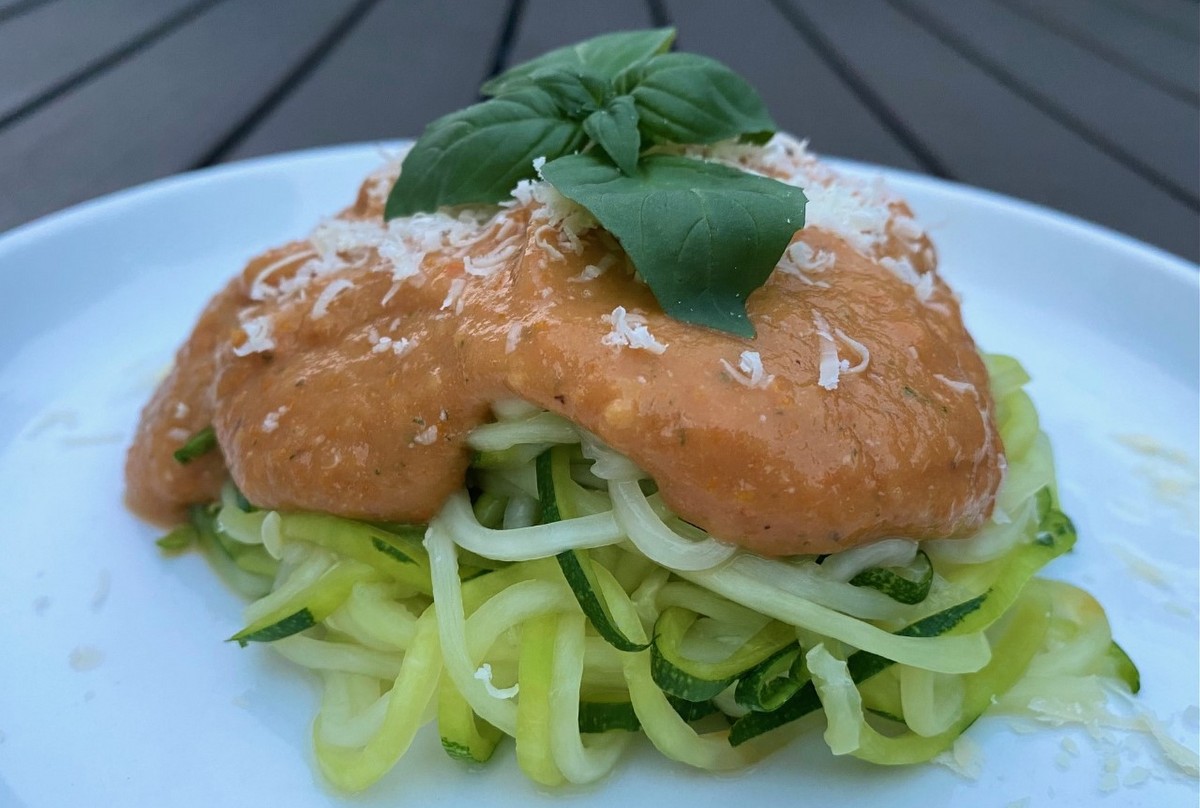 Notes:
*You can use any variety of tomato.  If you use plum tomatoes, cut them in half or quarters (depending on their size).  If you use heirlooms or reds, cut them in quarters or eighths (depending on their size).  The color of the sauce will be different depending on the color of tomatoes that you use.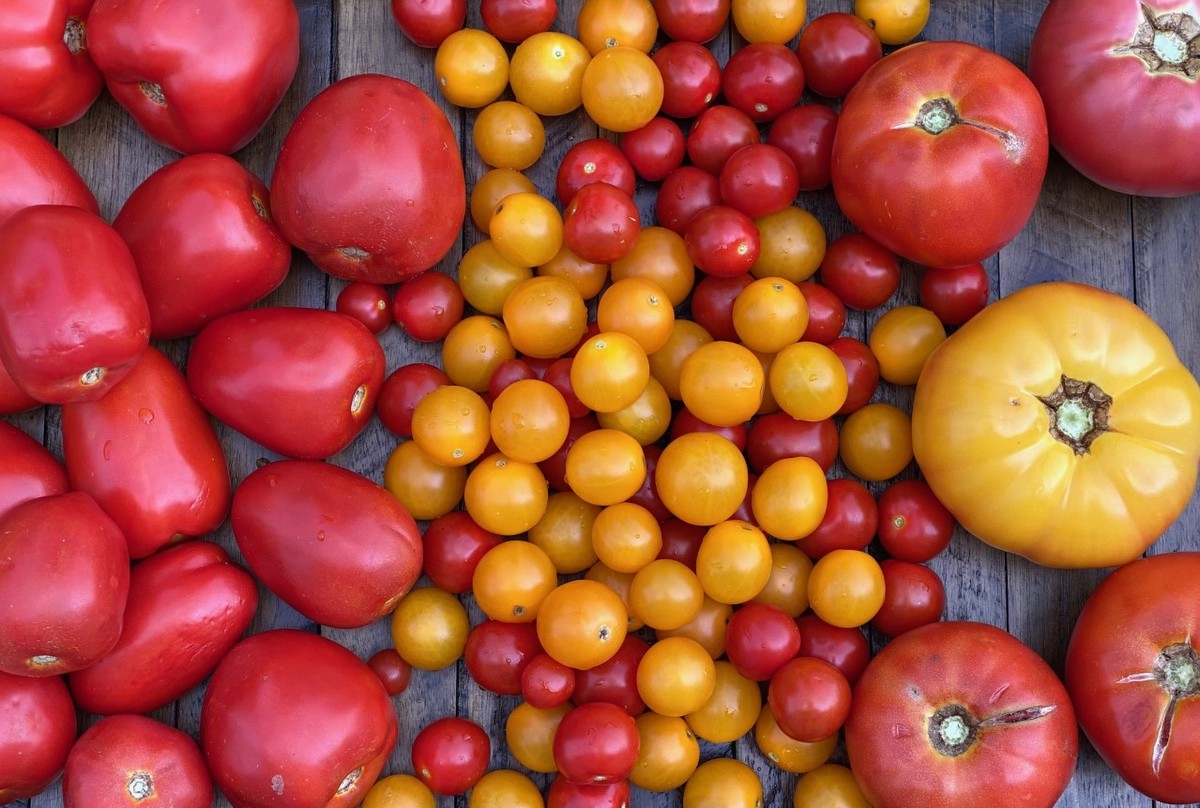 **I ended up with about ¼ cup of liquid after the produce was roasted.  The variety of tomatoes you use can increase the amount of liquid at the end.  You do not have to use it all.  If you want a thicker sauce, use less liquid and if you want a thinner sauce, use it all.
***You can also use an immersion blender.  Transfer everything to a large bowl, add herbs, and blend.  This option will give you a chunkier sauce.
Zoodles:
Spiralize zucchini or squash to make long noodles.  Bring a large pot of water to a boil.  Drop noodles into the pot and cook for 1 minute.  Remove, sprinkle with a little sea salt, and drain in colander.  Do not cook for more than a minute- the noodles will become soggy.  They just need a quick blanch.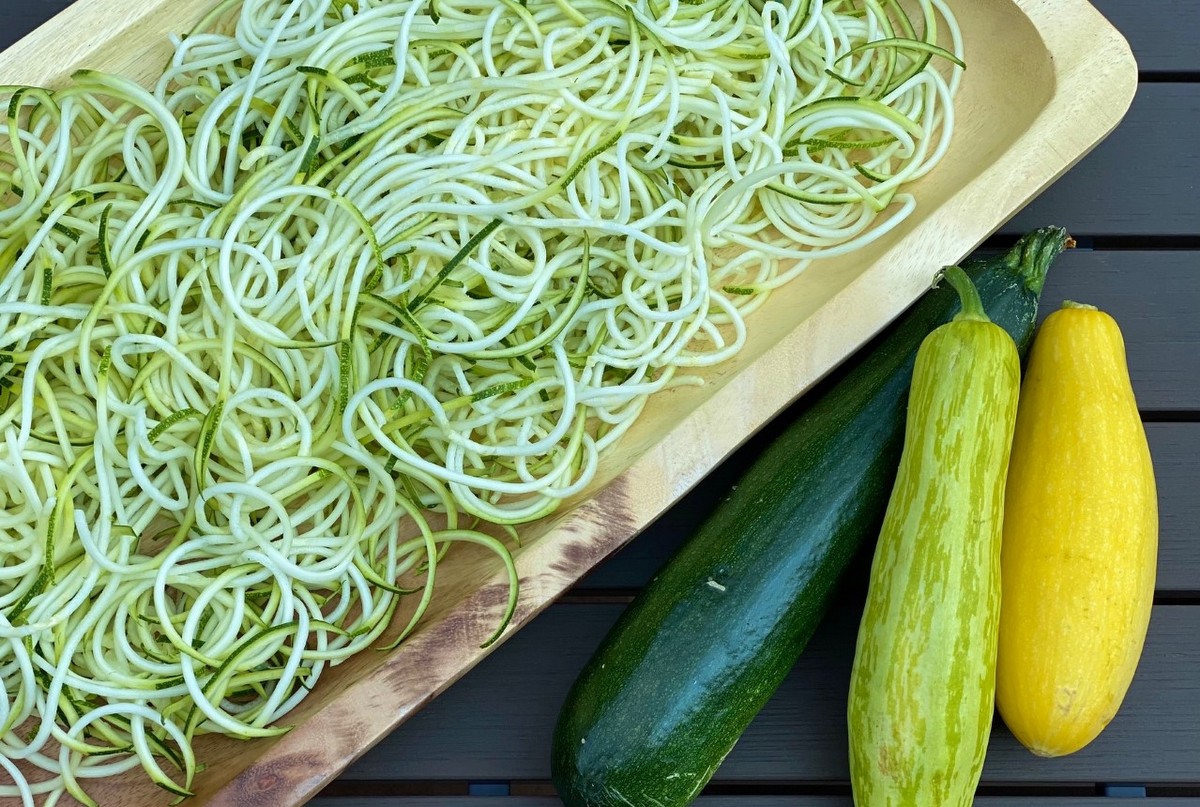 Recipe and photos by Stephanie Borzio.  Stephanie is a mom of three active boys and is an autoimmune warrior.  After battling her own health for several years, Stephanie found healing through food and lifestyle changes, including joining Blooming Glen Farm CSA of which she is a long time member.  She is a Board Certified Integrative Nutrition Health Coach who is passionate about sharing healthy living tips and real food recipes.  Instagram and Facebook: Tru You Essentials; Website: www.truyouessentials.com