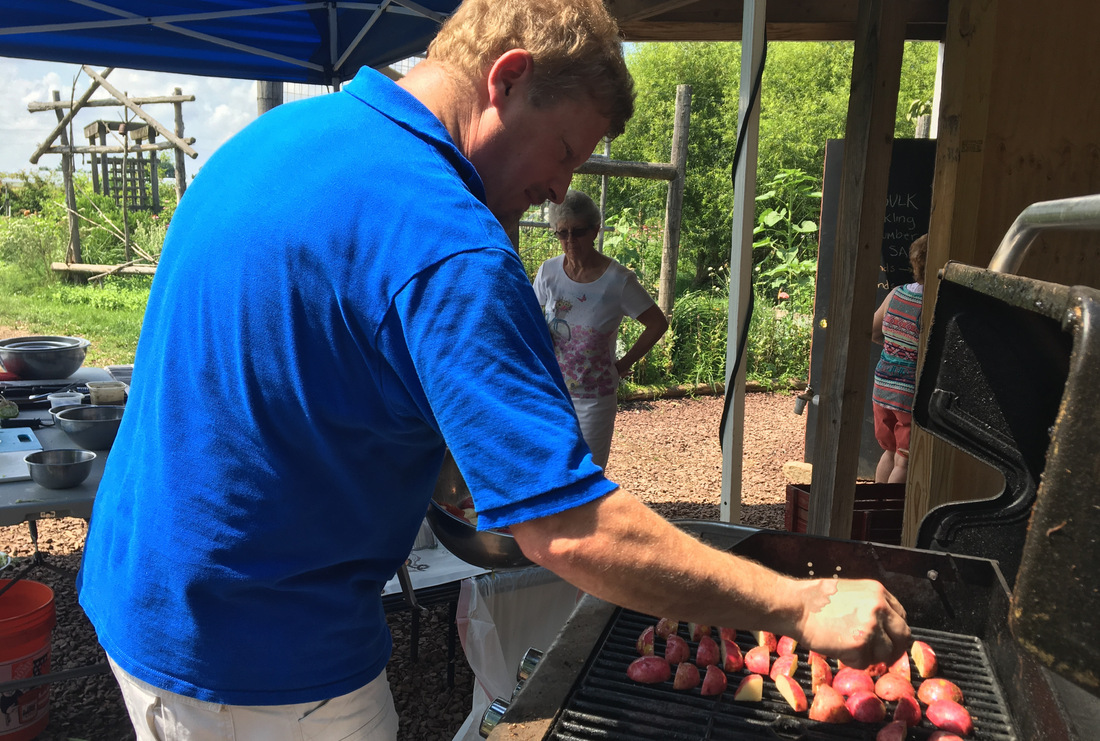 Chef Rich Baringer of Dinner's Done Personal Chef Service was at the farm Tuesday afternoon during CSA pick-up, filling the air with the delicious smells of his roasting tomatoes and grilled potatoes. Rich sampled some quick and easy dishes using farm fresh ingredients from the farm, and provided the recipes and instructions below. The dishes were so tasty (who knew mango, mint and cucumber could create such a refreshing dish), I will definitely be adding them in on a regular rotation in our household! Be sure to check out Chef Rich's website and sign up for his newsletter for more recipes and tips, or check him out on Facebook.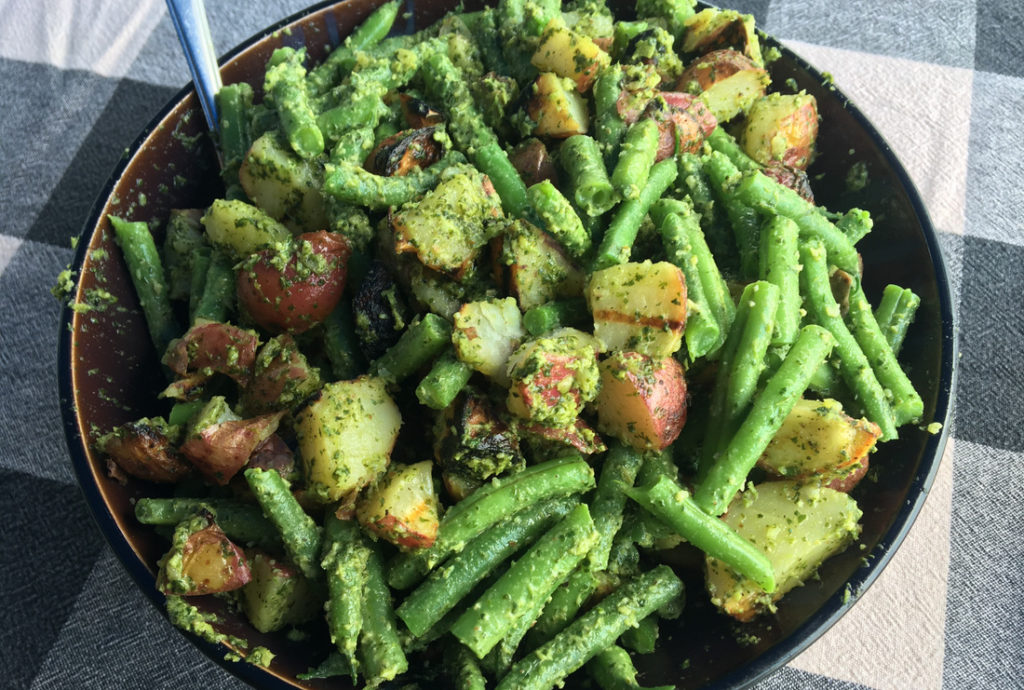 GREEN BEANS AND GRILLED POTATOES WITH CILANTRO SAUCE
Adapted from America's Test Kitchen Vegetarian Cookbook, Serves 6
Ingredients
¼ c walnuts
2 garlic cloves, unpeeled
2 ½ c cilantro (leaves and stems)
½ c olive oil, plus more for the potatoes
4 tsp lemon juice
1 scallion, roughly chopped
Salt and pepper
1 lb green beans, trimmed and cut into 2" lengths
1 lb red potatoes
Instructions
Preheat grill to high.
Cook walnuts and garlic in small skillet over medium heat, stirring often, until toasted and fragrant, 5-7 min. Transfer to bowl. Let garlic cool slightly, then peel and roughly chop.
Bring a large saucepan of water to a boil. Salt generously, and then blanch beans until crisp-tender, about 3-4 min. Drain and place beans in an ice bath to stop the cooking.
Cut the potatoes in half (if small) or in quarters (if larger). Pieces should be ¼-½" inches thick. Place in a bowl and toss with some olive oil, salt and pepper until coated. Clean and oil grill grate and grill potatoes until tender—turning to brown all sides. Remove from grill and let cool slightly. Cut into bite-sized pieces.
Meanwhile, process the walnuts, garlic, cilantro, ½ c oil, lemon juice, scallion, ½ tsp salt and 1/8 tsp pepper in food processor until smooth, about 1 min. (You may want to add a little more oil if the consistency is not where you'd like it.) Season with salt and pepper to taste. (Sauce can be refrigerated for up to 2 days.)
Toss beans and potatoes in the sauce and season with salt and pepper if needed. Serve.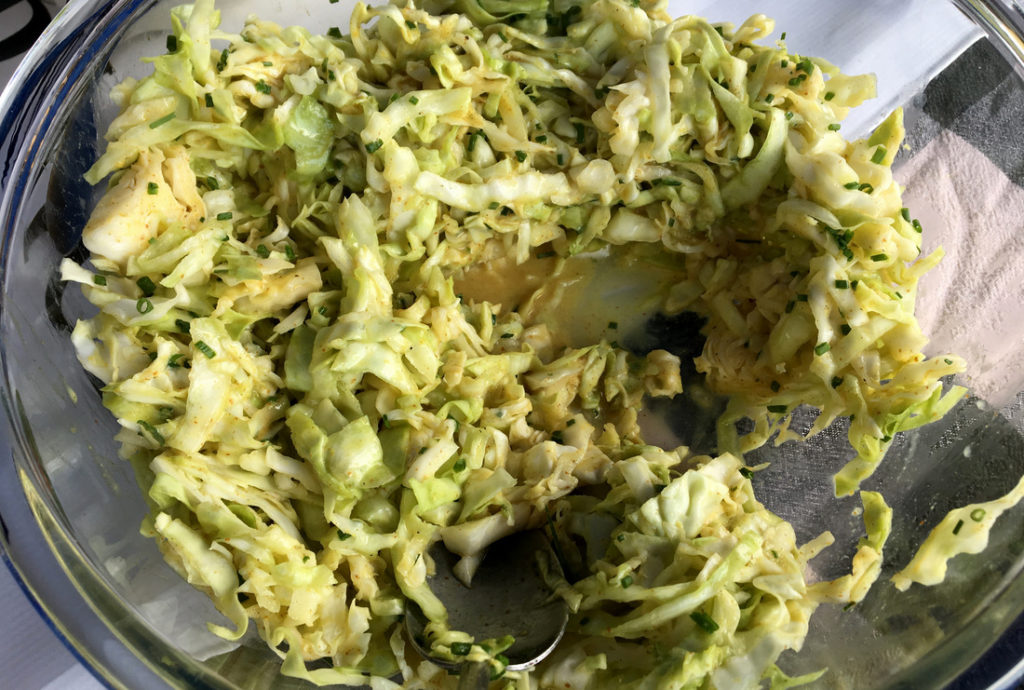 HONEY-MUSTARD COLESLAW
From Cook's Country magazine, Serves 6
Ingredients
1 head green cabbage (2 lbs), quartered, cored and sliced thin (about 12 c)
Salt and pepper
1 ½ tsp sugar
½ c spicy brown mustard
¼ c honey
3 Tbsp minced chives
2 Tbsp mayonnaise
Instructions
Toss cabbage, 1 ½ tsp. salt and sugar together in a large bowl. Transfer to a colander and set colander in bowl. Let stand until cabbage has wilted and released about 2 Tbsp. water, about an hour, stirring and pressing occasionally.
Discard liquid and wipe bowl clean. Whisk mustard, honey, chives, mayo, ½ tsp. pepper and 1/8 tsp. salt in bowl. Stir in cabbage and refrigerate, covered, until chilled, about an hour. Season with salt and pepper to taste and serve. (Can be refrigerated for up to 2 days.)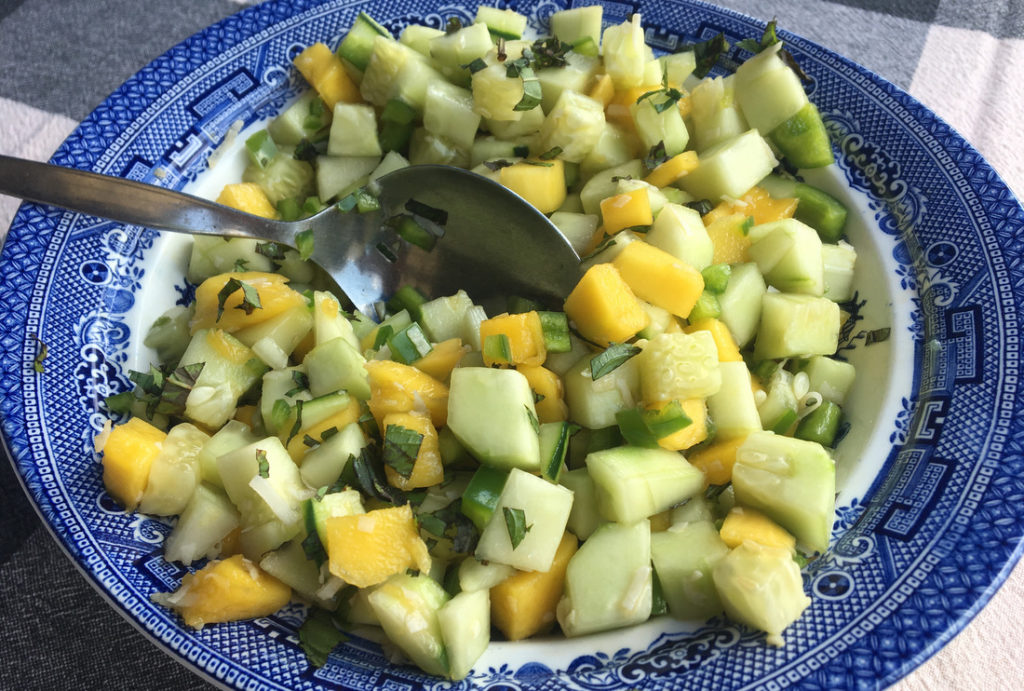 MANGO COCONUT CUCUMBER SALAD
Adapted from Moosewood Low-Fat Favorites, Serves 4
*Serve this as a side, as a condiment for fish or grilled meat or with chips as a salsa.
Ingredients
2 cucumbers, peeled, seeded and diced
½ tsp minced chile
1 Tbsp lemon juice
1 Tbsp lime juice
2 tsp brown sugar
2 Tbsp unsweetened shredded coconut
1 mango, peeled and diced
1 small red bell pepper, minced
Chopped cilantro or spearmint
Instructions
In a large bowl, combine all ingredients except herbs. Toss well. Cover and chill for 15-20 min. Garnish with herbs just before serving. Serve cold or at room temperature.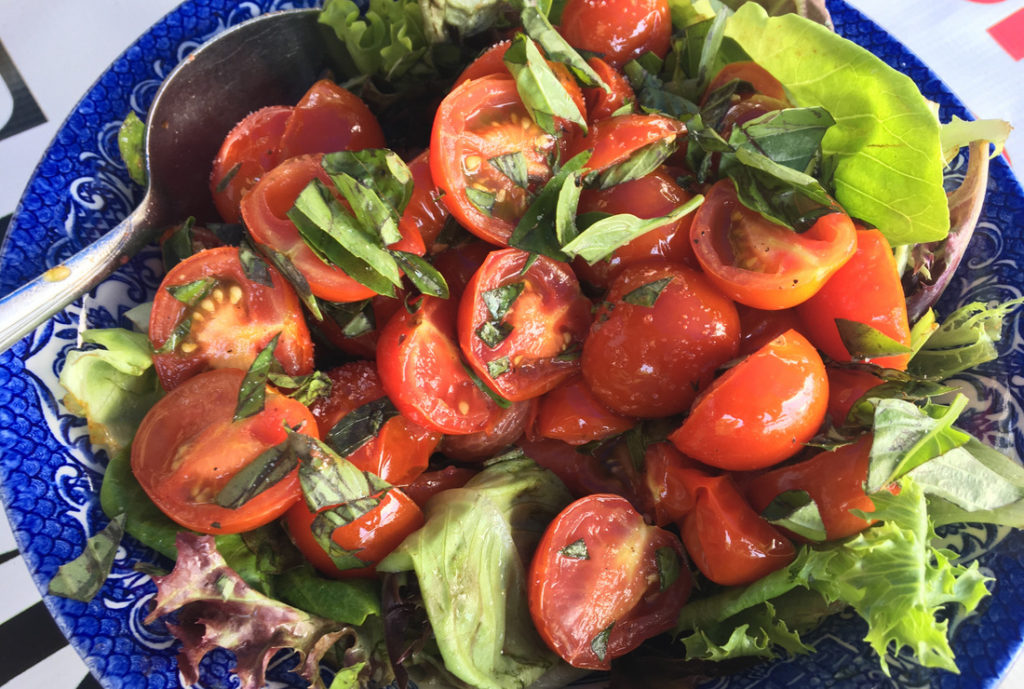 ROASTED CHERRY TOMATOES
Serves 4
For the grill, I heated a pan and sautéed the tomatoes rather than roasting. The prep is the same.  However, it takes much less time to sauté than to roast.
Ingredients
3 pints cherry tomatoes
Extra virgin olive oil
Kosher salt
Pepper
20 basil leaves, chopped or julienned
Instructions
Preheat oven to 400 degrees.
Toss tomatoes lightly with olive oil in a bowl. Transfer to a sheet pan in one layer and sprinkle generously with salt and pepper. Roast until softened—start checking after 10 min.
Toss with basil and additional salt before serving. Serve on salad greens for a delicious side.
SHAVED ZUCCHINI AND HERB SALAD WITH PARMESAN
From Milk Street magazine, Serves 4
*You can use a mix of zucchini and yellow squash if you wish.
Ingredients
1 tsp lemon zest
3 Tbsp lemon juice
3 Tbsp extra-virgin olive oil
¼ tsp honey
½ tsp kosher salt
¼ tsp pepper
1 lb zucchini
1 oz Parmesan, finely grated (about 1 c), plus extra for garnish
½ c mint, torn
½ c basil, torn
¼ c hazelnuts, toasted, skinned and coarsely chopped (optional)
Instructions
In a large bowl, whisk together the zest, juice, oil, honey, salt and pepper. Set aside.
Peel zucchini with a vegetable peeler until you reach the seeds, creating ribbons. Rotate the zucchini and keep shaving until only the core is left. Discard core.
To the dressing, add zucchini, grated cheese, mint and basil. Gently toss. Garnish with shaved Parmesan and nuts (if desired).
Post and photos by Tricia Borneman, Blooming Glen farmer and co-owner. Recipes provided by Chef Rich Baringer of Dinner's Done Personal Chef Service. Tricia and her husband Tom have been farming together since 2000. Blooming Glen Farm is celebrating its 12th season bringing high quality certified organic vegetables, herbs, fruits and cut flowers to our local community.