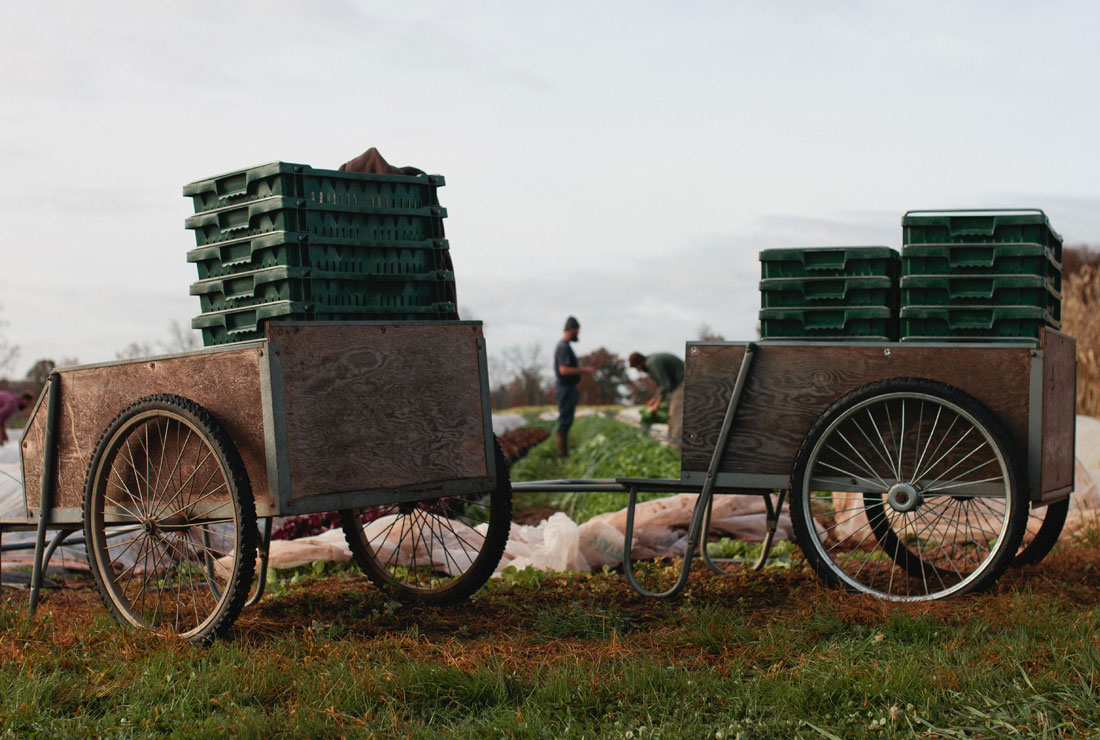 The 2015 CSA season has come to an end. This was the 10th season for Blooming Glen Farm CSA, and we think it was one of our best yet. From strawberries to tomatoes to winter squash, it has been a long bountiful harvest season. Looking back we can barely remember the wet spring, followed by the weeks and weeks of dry weather.
The last share of the season saw the addition of brussel sprouts and a Cuban pumpkin, along with favorites like frost sweetened carrots, spicy ginger and popcorn. Similar in flavor and texture to an acorn squash, I roasted the Cuban pumpkin and had enough puree to enjoy as a side to dinner and for a batch of pumpkin muffins. Our last farmer's markets of the season are this Saturday at Wrightstown and Easton. Come see us and stock up for the winter- CSA members receive 10% off at our market booth. All the winter squashes will keep for many months in a cool (not freezing) place.
With the end to the CSA season, we'd like to thank some of the faces from behind the scenes. We often talk about our field crew, but as you can imagine there are many hands involved in the chain from growing to harvest to your table. If you've been impressed by how clean the vegetables in the share are, you have these four folks pictured below to thank. We have come to rely on our CSA wash crew. No matter how many crates of veggies we harvest, no matter how much mud is clinging to their roots, they keep them moving through the wash tanks and into the cooler, all with a smile, undaunted by the rush to be ready for CSA pick-up by 1 pm sharp.
Megan Clymer has been washing with us for almost as long as the CSA has been in existence, and now she's recruited her sister Jess Schultz into the fold to lend a hand on Tuesday mornings. Les Swartley lives just down the road and grew up in Blooming Glen. He wrote a wonderful blog post a few years past with a fantastic photo of his great-grandfather, dubbed the potato king of Blooming Glen. Be sure to check it out- there's also a photo from 1914 of what was to become Blooming Glen Farm! Jen Westdyke joined Les again this season on Thursdays, and together they get the produce clean and ready to be distributed.
As we wrap up another season on the farm, we are beginning to look ahead to the next. After a bit of a breather, we will begin seed ordering, record keeping, hiring and crop planning for another year. We are also in the midst of redesigning our website- stay tuned! We very much appreciate your looking and planning ahead with us, as it is your CSA registration and payments for the 2016 season which make it possible for all the work that needs to happen in the winter months. It is this community commitment and mutual support that set us apart from other farm models, and allows us to grow and continue to prosper from year to year.
As a thank you for planning ahead, we are offering an early bird discount. Blooming Glen Farm's early bird discount is for returning members who re-register and pay for the 2016 season by Jan 1st, after which time we will open registration up to the public.
Members who register and pay by Jan 1st will receive a 5% discount. Depending on your share type that's a savings of anywhere from $21 to $40. That's no small potatoes!
This year we are trying a new registration system through Small Farm Central. We hope you will find it easy to use. Please do not hesitate to email us directly if you have any questions. To register for the 2016 CSA season, click on the following link (or copy and paste into your browser): http://bloomingglenfarm.csasignup.com. *You will need to select your share type and register first. DO NOT click on the member login button. This feature is for use after you register. Since we are using a new registration system, everyone must go through the share selection and registration process first.
With the new registration system we are able to offer the convenience of paying either through Pay Pal, or directly to the farm by check. If you choose to pay through PayPal, we will be adding on a 3% service fee to cover the fee that they charge for online transactions. We will continue to offer a down payment option- please note that you will need to make the down payment immediately and a final payment by June 1st. Both payments must be made using the same payment method you choose at registration.
Blooming Glen Farm is grateful for the opportunity to provide certified organic produce to you and your family. As we finish up our 10th season growing, we look ahead to a great 2016 season, and hope you'll share it with us!
To Register for the 2016 farm season: http://bloomingglenfarm.csasignup.com
Have a delicious Thanksgiving and a wonderful winter!
Post and photos by Tricia Borneman, Blooming Glen farmer and co-owner.  Tricia and her husband Tom have been farming together since 2000. Blooming Glen Farm is celebrating its 10th season bringing high quality certified organic vegetables, herbs, fruits and cut flowers to our local community.