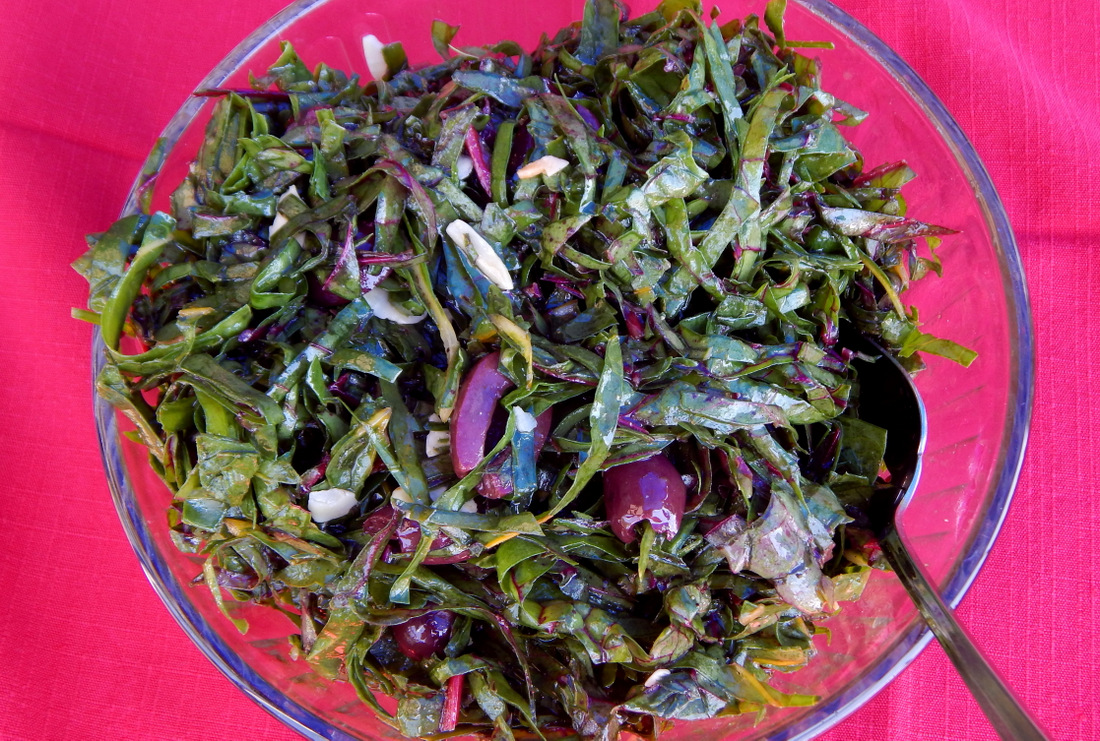 25 Jul

Swiss Chard with Olives and Lemons; Kentucky Red Slaw; Southeast Asian Coconut Grilled Zucchini

Chef Rich Baringer of Dinner's Done Personal Chef Service was grilling, mixing and sampling some wonderful dishes with ingredients straight from the farm. Here are a a few of the tasty recipes he had out that day- more can be found on his facebook page.  Rich will be back at the farm on Thursday August 16th for another demo- he's always happy to chat about farm fresh food and provide inspiration for dishes you can try at home.

SWISS CHARD WITH OLIVES AND ALMONDS (adapted from Cooking Light magazine)
Serves 4

Ingredients
1 ¼ lb Swiss chard, leaves removed (keep the stems for another use)
2 Tbsp lemon juice
1 ½ tsp extra-virgin olive oil
½ tsp salt
1/8 tsp pepper
½ Cup kalamata olives, pitted and halved
2 Tbsp sliced almonds, toasted
Slice chard leaves crosswise into very thin shreds. Place in a large bowl.
Whisk together juice, oil, salt and pepper. Drizzle over chard and toss.  Add almonds and olives and toss.
Let stand for 15 min before serving.
KENTUCKY RED SLAW (from Cook's Country magazine)
Serves 4
To chop the cabbage, cut in quarters and remove core.  Peel off several layers of leaves and slice into thin strips.  Then turn the strips 90 degrees and chop into small pieces.  Repeat for the rest of the cabbage.
Ingredients
½ Cup ketchup
¼ Cup cider vinegar
¼ Cup sugar
1 Tbsp vegetable oil
1 tsp hot sauce
Salt and pepper
1 small head green cabbage (about 1 ¼ lb), chopped fine
Whisk ketchup, vinegar, sugar, oil, hot sauce, 1 tsp salt and ¾ tsp pepper together in large bowl.
Stir in cabbage until well combined. Cover and refrigerate for at least 30 min.  Season with salt and pepper to taste.  (Can be refrigerated for up to 2 days.)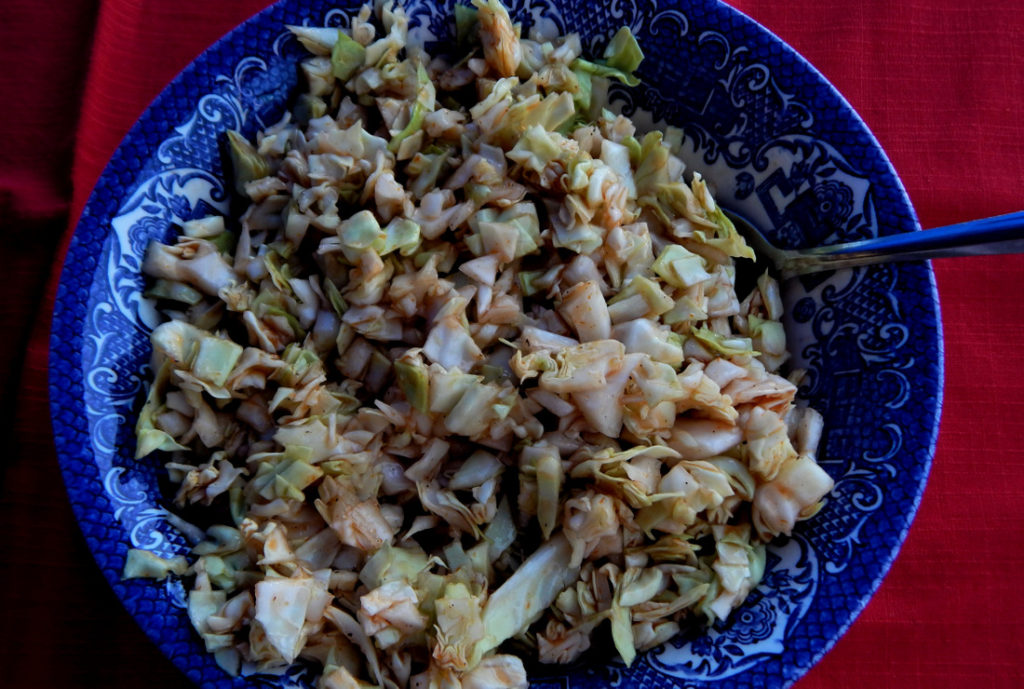 SOUTHEAST ASIAN COCONUT GRILLED ZUCCHINI (adapted from Moosewood Restaurant Low-Fat Favorites)
Serves 4
Ingredients
5 zucchini or yellow squash
2 garlic cloves, minced
1 jalapeno, minced and seeded (optional)
½ tsp turmeric
1 tsp vegetable oil, plus more for grilling
2 scallions (or use equivalent sweet onion), chopped
2 Tbsp lime juice
2 Tbsp chopped basil
2 Tbsp chopped mint
¼ Cup coconut milk
Salt
Preheat grill to high. Clean and oil grates.
Cut squash in half lengthwise, then again in half (or wedges if larger). Toss with oil and season with salt.
Grill squash until tender and slightly charred, about 8-12 min (depending how soft you want them), turning periodically. Remove and let cool slightly.
Meanwhile, heat 1 tsp oil, garlic, jalapeno and turmeric in small saucepan until sizzling. Add scallion, lime juice, basil, mint and coconut milk.  Cook until veggies are slightly softened, stirring occasionally.
When squash is done, chop into bite-sized pieces and place in bowl. Toss with sauce and season with salt to taste.  (You could also serve the squash without cutting—place spears on serving platter and top with sauce.)

Photos and recipes provided by Rich Baringer of Dinner's Done Personal Chef Service.