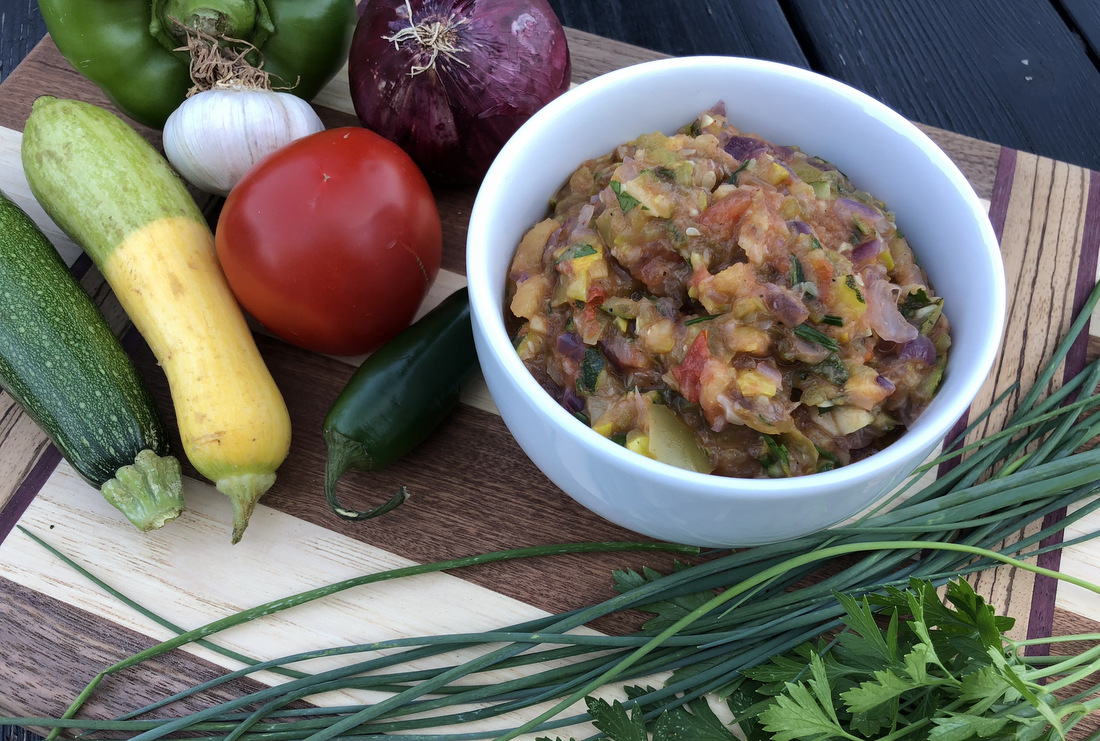 26 Jul

Grilled Tomatillo Salsa and Roasted Vegetable Chutney

This week I wanted to showcase the tomatillos and tomatoes we have been getting in our CSA shares the past few weeks.  I made a grilled tomatillo salsa and a roasted vegetable chutney.  These recipes can be used individually or used together in one meal like we did.  We used both on breakfast tacos.   Because we liked this meal so much, we had it two nights in a row for dinner!

Grilled Tomatillo Salsa

Ingredients
1 lb tomatillos, outer leaves removed
1 large onion, sliced in half
2-3 Tbsp of avocado or olive oil (for grill)
½ tsp sea salt
1/8 tsp cayenne pepper
¼ tsp black pepper
1 clove garlic
1 tsp lime juice
1 Tbsp fresh cilantro

Heat grill to about 400°F. Oil grill grates to prevent sticking. Grill tomatillos and onion until soft (about 8-10 minutes per side). Remove from grill and allow to cool for a few minutes.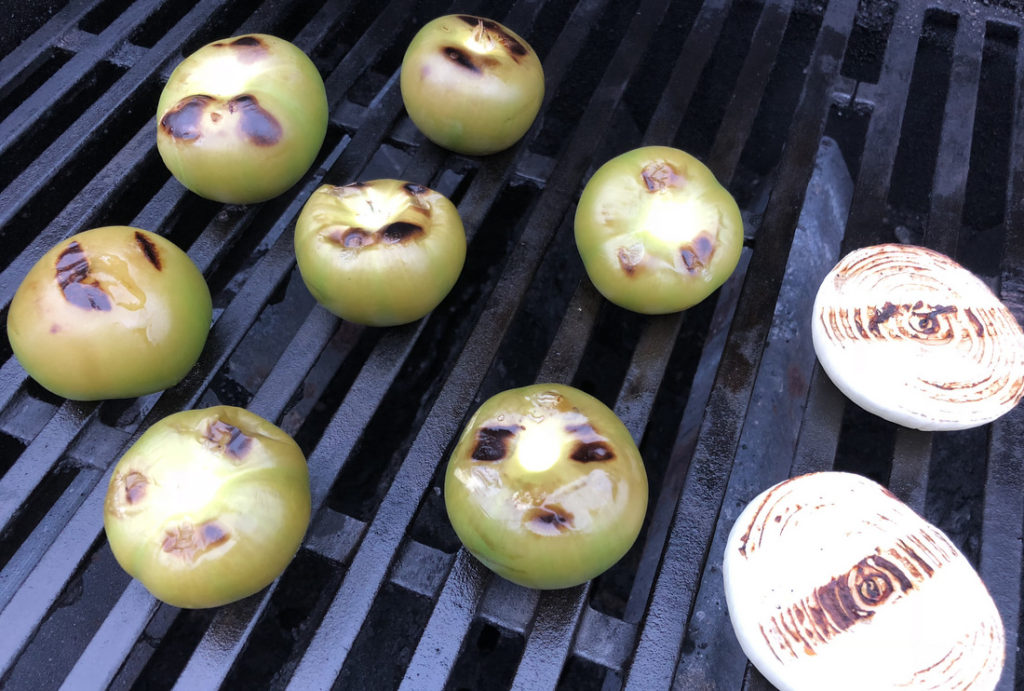 Combine grilled tomatillos, grilled onion, sea salt, cayenne pepper, black pepper, garlic, lime juice and cilantro in blender or food processor.  Blend until you get a chunky sauce texture.
Refrigerate until ready to use. Serve with your favorite chips or use as a topping for a Mexican inspired meal.
Roasted Vegetable Chutney
Ingredients
1 zucchini
1 yellow squash
1 onion
1 green pepper
3 tomatoes
1 jalapeno pepper
3 cloves garlic
3 Tbsp avocado or olive oil
1 tsp sea salt
½ tsp black pepper
¼ tsp cumin
1 Tbsp fresh chives
1 Tbsp fresh parsley
1 tsp lemon juice
Preheat oven to 300°F. Quarter the zucchini, yellow squash, and red onion.  Cut each into half-inch chunks and place on baking sheet. Remove seeds of green pepper, slice into half-inch chunks, and place on baking sheet. Slice tomatoes in half and place on baking sheet.  Slice jalapeno in half, remove seeds, and add to baking sheet.  Place garlic cloves on baking sheet.
Drizzle oil over vegetables and sprinkle on sea salt and pepper.  Roast vegetables for 15 minutes.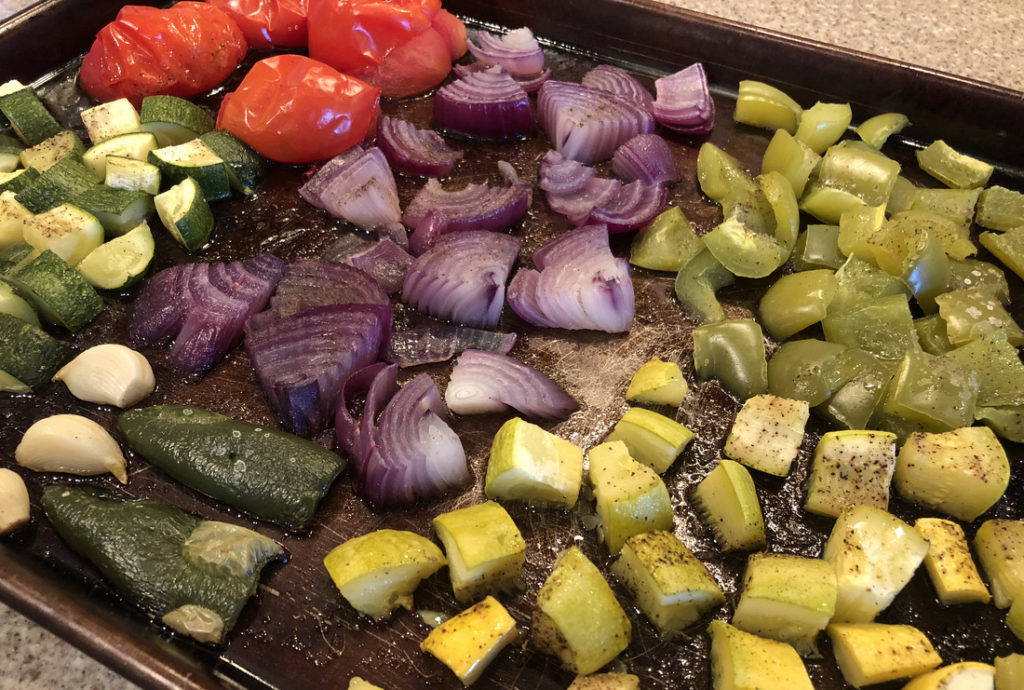 Add cumin, chives, parsley, and lemon juice to food processor.  Process until finely chopped.
Add roasted vegetables and pulse to combine.  I like to serve this chunky, but you may further process to create a smoother texture.
Season with sea salt and pepper to taste.
**This chutney can be used on a variety of dishes.  We used it on tacos, grilled pizza, and omelets.  It would also work well with crackers or even as a topping on fish, chicken, or burgers.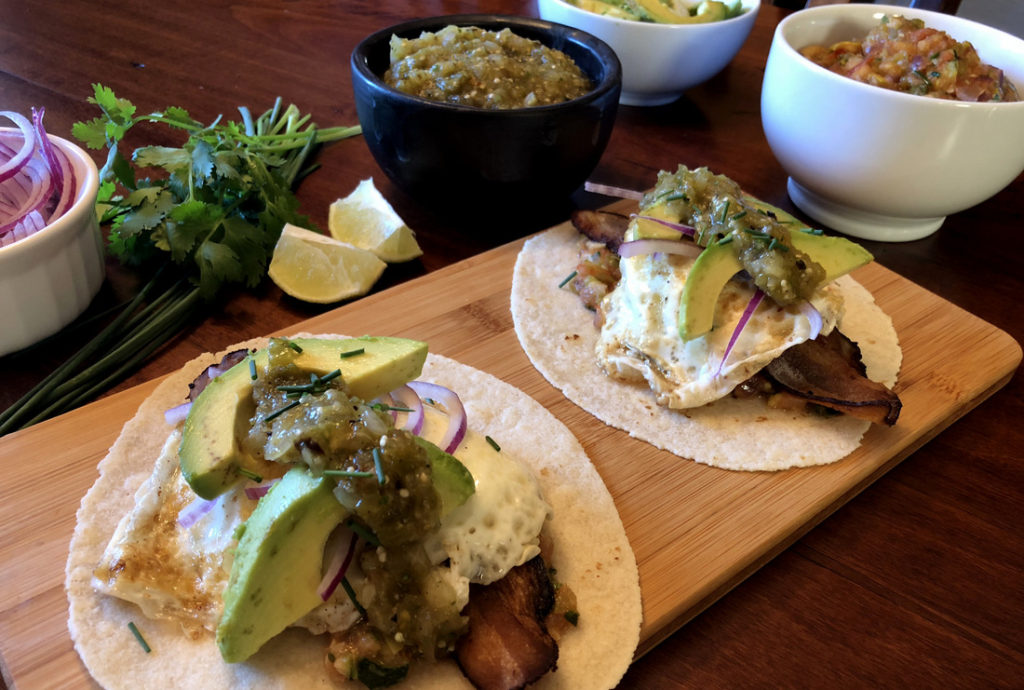 Breakfast Tacos
Ingredients
Soft tortillas (we used Siete brand, which is grain free)
Roasted Vegetable Chutney
Pastured bacon (Hershberger Heritage Farm bacon is delicious!)
Fried or scrambled egg
Onion, sliced thin
Avocado, sliced
Tomatillo Salsa
Fresh chives, chopped
Squeeze of fresh lime juice
Assemble tacos in the order listed above.  Enjoy!
Recipe and Photos by Stephanie Borzio. Stephanie Borzio is a mom of three active boys and is an autoimmune warrior. After battling her own health for several years, Stephanie found healing through food and lifestyle changes, including joining Blooming Glen Farm CSA of which she is a long time member. She is a Board Certified Integrative Nutrition Health Coach who is passionate about sharing healthy living tips and real food recipes. Instagram & Facebook: Tru You Essentials; Website: www.truyouessentials.com