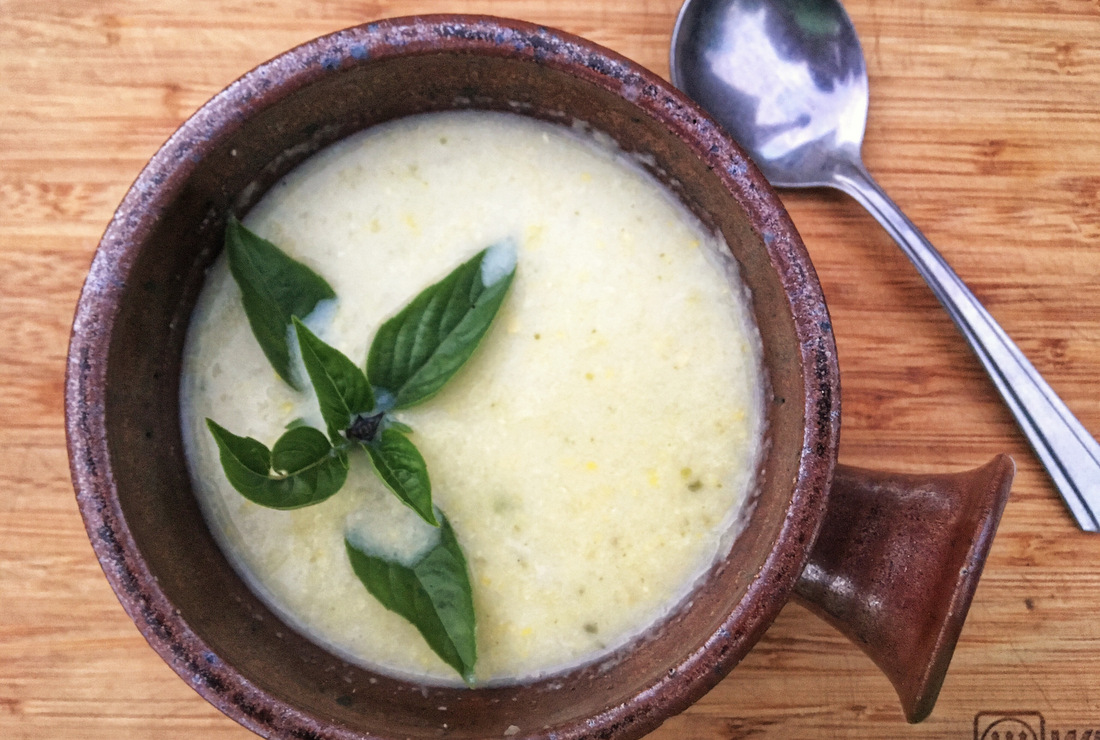 23 Aug

Chilled Corn and Coconut Soup; Fried Green Tomatoes

This soup recipe with just a few simple ingredients makes for a quick satisfying dinner and was a real hit with our family. The sweet corn from the farm, with its wonky pollination and extra juice thanks to the rainy season we've had, is perfect for this. We paired it with fried green tomatoes (hey, when the rain kills your tomatoes, make fried green tomatoes!), but a salad would also have been lovely.

Ingredients- (recipe adapted from Martha Stewart Living)
1 jalapeno hot pepper, seeded and chopped (a serrano or more than one jalapeno could be used for added heat, but we found one jalapeno was perfect for kid and adults of varying heat tolerances)
3 Cups fresh corn kernels (5 ears was perfect)
1 can coconut milk
2 1/1 Cups water
salt to taste
1 lime for fresh juice
few sprigs of thai basil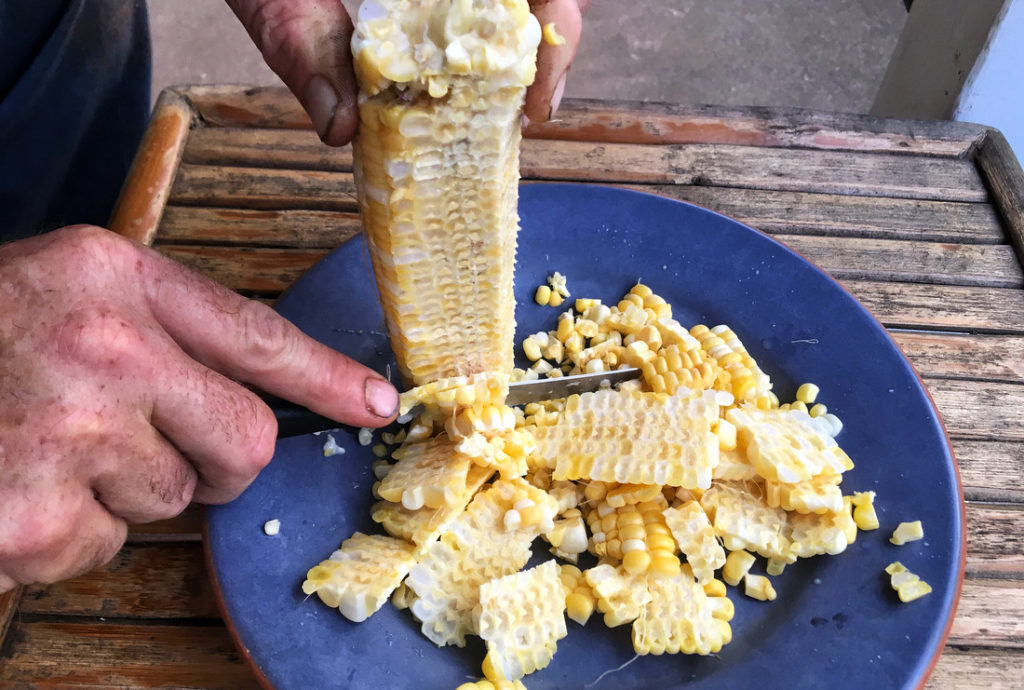 Cut your kernels off the corn cob. Bring hot pepper, corn kernels, coconut milk and water to boil in a medium saucepan. Reduce heat, and simmer until corn is tender, about 20 min.
I then used an immersion blender to blend- you could also transfer to a blender. I left some larger bits of corn but you could go completely smooth if desired. Season with salt to taste. Add half a lime fresh juice, and serve with lime wedges. Chop up thai basil, sprinkle on top of each soup bowl (don't miss this step- wow the flavor really complements this soup!). Chill for a few hours, or eat it warm or room temp. Delicious!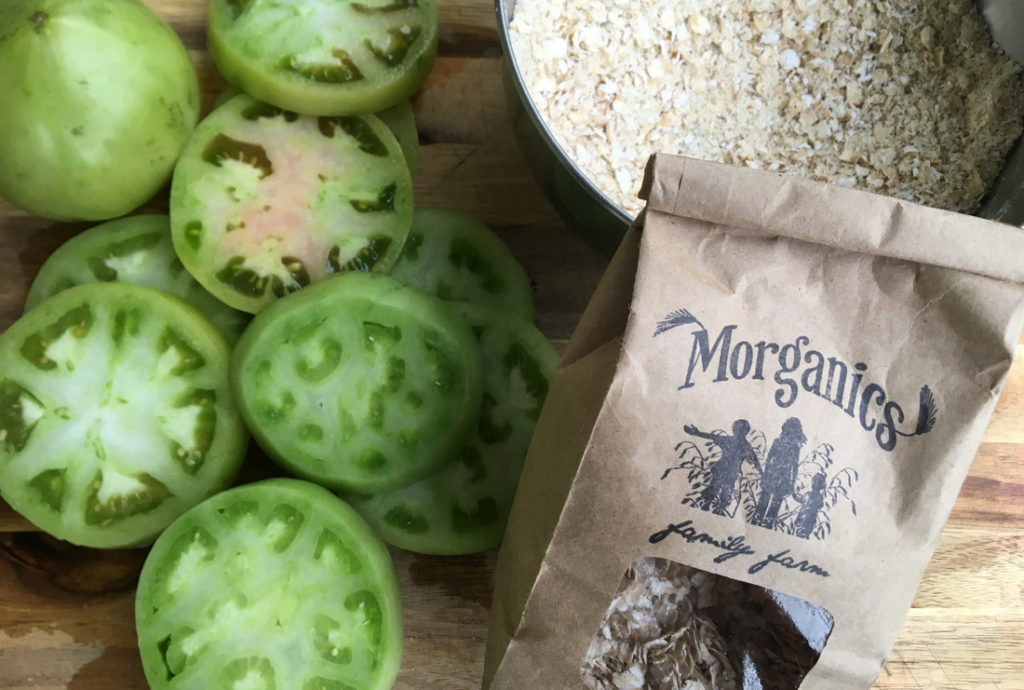 Gluten- free Fried Green Tomatoes (from Our Salty Kitchen)
Ingredients
2 large eggs
1/2 cup milk (or almond milk or buttermilk)
1 cup almond flour (or ground flax seeds, or regular flour)
1 tsp. salt
1 tsp. pepper
1 Cup ground oats (or cornmeal)
1 Cup rolled oats (not ground up)
parmesan cheese (optional, for sprinkling on top of finished fried tomatoes)
4 medium size, firm green tomatoes (2 pounds makes a lot!)- cut into 1/2 inch slices
canola oil for frying
pinch of hot pepper flakes- optional
Whisk together egg and milk. Combine dry ingredients in a shallow dish. Dip tomato slices in egg mixture, then dredge in mixture of dry ingredients. Pour oil to depth of 1/2 inch in a large cast-iron skillet, heat over medium-high heat. Drop tomatoes in batches into hot oil, cook about 2 min each side or until golden brown. Drain on paper towels. Sprinkle hot tomatoes with salt, pepper, and parmesan cheese (and optional pepper flakes) to taste.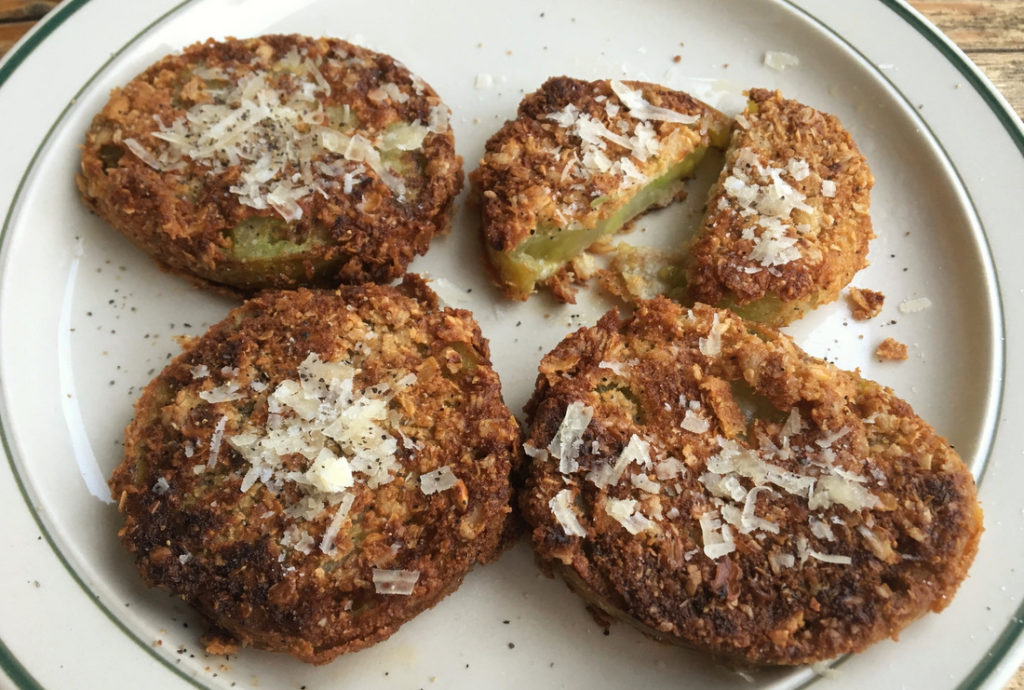 Post and photos by Tricia Borneman, Blooming Glen farmer and co-owner. Tricia and her husband Tom have been farming together since 2000. Blooming Glen Farm is celebrating its 13th season bringing high quality certified organic vegetables, herbs, fruits and cut flowers to our local community.