This week we are transitioning from the harvest of green garlic to garlic scapes. The scapes are the flowering tops of the stiff-neck garlic plants. They make a delicious side dish on their own.  My favorite way to enjoy them is tossed in olive oil, seasoned with salt and pepper and grilled on low heat until carmelized. Snapping off the scapes promotes bulb growth of the garlic. With a half an acre planted, our crew will have quite the aroma of garlic about them after snapping all those scapes!
Blooming Glen's lettuce of choice was featured in Bon Appetit magazine, "Why the Foodist Loves Little Gem."  We fell for its crisp crunchy texture and sweet flavor- a sort of combination butter head and romaine. It's relatively easy to grow, and in demand by local chefs. The leaves are perfect- snap them off from the base, until you get to the lovely heart at the center. It's great in sandwiches, salads, try it halved and grilled, or use the leaves as scoops for your favorite filling, as Chef Kristin did in last weeks demo. You can find this lettuce in your CSA share and on our farm market stands.
Out in the fields we've been dealing with a lot of insect pressure. Our greenhouse and field tomatoes have been covered in red aphids. We ordered a beneficial insect to help us out called aphidius colemani. Don't worry, these parasitic wasps are about the size of a gnat and won't sting humans. They will however sting and lay eggs in its aphid victim. We don't mess around when it comes to our tomatoes! We've seen good results in the greenhouse tomatoes. Now we have 7,500 on their way to be released in the field.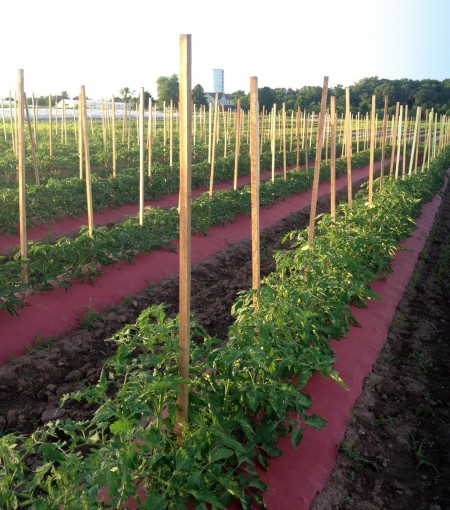 The field potatoes are coming along beautifully. With all the rain over the past month we were lucky we didn't suffer any major losses. We have heard of a few local CSAs who lost their entire crops from rot. We have an early planting that we did on beds of black mulch to capture more heat. We did lose probably 30% of those. However the field potatoes are on some of our better draining ground. Between the rains we were able to hill and cultivate, and with just the ends of the beds having washed out in the downpours, they seem fully recovered.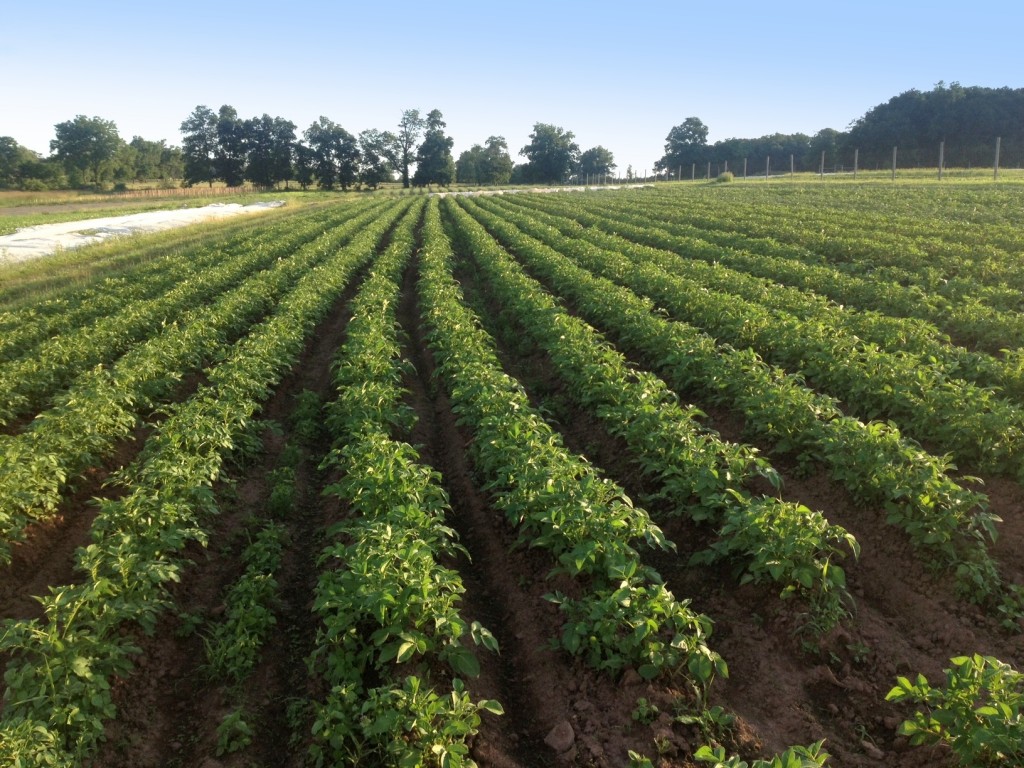 We hope to harvest one of Farmer Tom's favorite crops, new potatoes, for you within the next 3 weeks!
Post and photos by Tricia Borneman, Blooming Glen farmer and co-owner.