CSA share number 23 was this week, and the last week for half share "week A" folks. Next week is the final CSA distribution for everyone else. Re-registration info for returning members as well as Thanksgiving boxed share details have been emailed out. Please let us know if you did not receive that information. Registration for new members will open December 1st. Take advantage of an early registration discount and sign-up by Feb. 1st.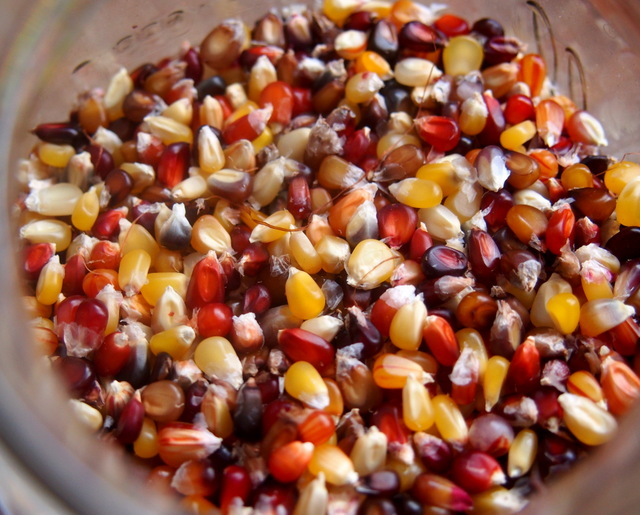 This week in the share is Blooming Glen Farm popcorn! Our crew has been hard at work removing the kernels from the cob for you. Crew member Justin was determined to find an easier, blister-free way to shell the corn. Thanks to the plans for a hand-held tool found on Mother Earth News, things went a little smoother, and relatively quickly.  
At our house we use an air popper to pop our corn. But you can just as easily make it on the stovetop, electric or gas, which I experimented with for the following recipe. I'm happy to say I did not burn it, and there were only a few unpopped kernels at the end.
Ingredients
1 Tablespoon coconut oil (I assume canola will work just as well.)
1/2 cup popcorn kernels
sea salt to taste
yield: about 9 cups popcorn
Melt the coconut oil in large pot over medium-high heat. (A heavy botom Dutch oven is preferrable but my regular 4 quart stainless worked fine- you just want a pot that has a fitted lid.) Add 3 kernels of corn and cover and cook until all 3 kernels pop.
Take the three kernels out of the pot. Add the rest of the popcorn kernels. Cover and take the pot off of the heat. Wait 30 seconds.
Put the pot back on the heat. Cook, shaking the pot occasionally. After about 2 minutes, and the popping has slowed down, remove from heat and take the lid off of the pot.  Pour it into a bowl and add your toppings. I just added sea salt to taste, which is a great complement to the mild coconut flavor imparted by the oil. You of course can add your favorite toppings, be it salt and butter, or try nutritional yeast and savory herbs like rosemary, or go for sweet with cinnamon and honey or sugar. At the harvest fest Kristin did a wonderful seasoning of dark cacao powder and cayenne pepper that was delicious.

Post and photos by Tricia Borneman, Blooming Glen farmer and co-owner. Tricia and her husband Tom have been growing together since 1996 and farming together since 2000. They started Blooming Glen Farm in 2006. Tricia is passionate about food, community, art and nature and the intersection of all four.