26 Aug

Pick a peck of peppers

These are the weeks where we are starting to really feel the affects of the early summer continual rainstorms. With all this warm dry weather it can be easy to forget that there was a period of 6 weeks or so where it poured every few days. We are feeling it now in a gap in our tomatoes- the first plantings are finished due to disease issues from too much water. Hopefully it will be just a few weeks more until our next planting comes on. In the meanwhile plum tomatoes are in the share for this week- delicious as sauce of course, or even in sautés, but my favorite is to oven roast them, slowly at a low heat to really deepen the flavor.

The peppers are filling any gaps left by the tomatoes. Bulk sweet peppers are available for purchase- these are so easy to freeze- just slice them in strips and lay them out on cookie trays in your freezer. Then they can be scooped up into freezer bags for the winter. You can dice them frozen into winter soups and sautés- or my daughter likes them right out of the freezer as a snack.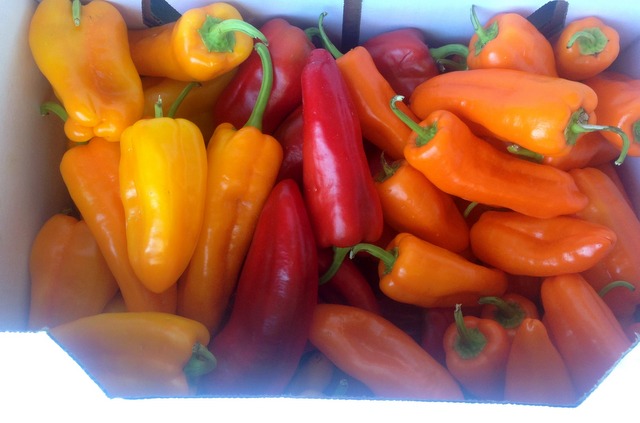 As a reflection of the harvest, our house has been enjoying stuffed peppers pretty regularly. I cook up some farro, my new favorite grain (it takes only 15 min, and has a delicious nutty flavor with a bit more texture than rice. It really holds up well which makes it perfect for stuffing peppers with). While the grain is cooking, sauté some diced veggies like onions, squash, eggplant, tomatillos, tomatoes- whatever you have on hand, then toss it all together with a handful of chopped fresh herbs. Cut the tops off some poblano peppers, and some sweet frying peppers- wow- the orange ones are really the best!- and roast them at 400 on a baking sheet for about 20-30 min. So good with a salad or a sautéed green.
This week is the last of the melons and sweet corn- a perfect way to wrap up August. It's that time to really savor the flavors of summer as cooler weather approaches. Speaking of fall greens- kale and collards are back on the scene next week- hooray! The leeks, cabbages and sweet potatoes are coming along nicely. Our direct sown fall roots are up and growing- winter radishes, turnips, beets and carrots- and are all being irrigated steadily by Justin.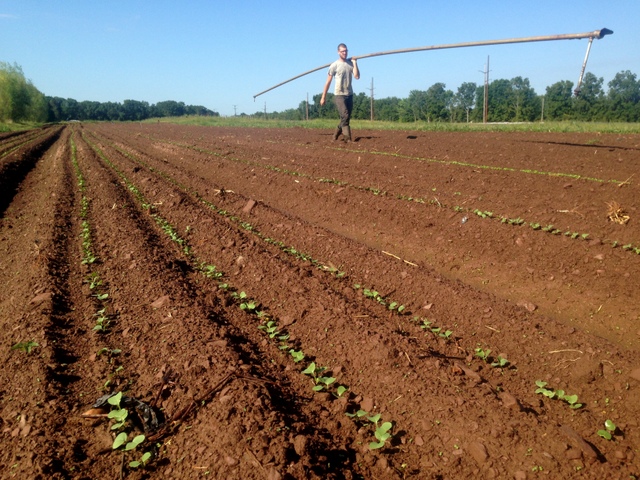 **Just a reminder that now that we have a smaller field crew as our college and high school help heads back to school, we need every minute until 1pm to be ready with your CSA share on pick-up days. Please hold off entering the distribution room until 1pm. Also, please remember that the farm is closed on Sundays. Thank you for your understanding!
Post and photos by Tricia Borneman, Blooming Glen farmer and co-owner. Tricia and her husband Tom have been farming together since 2000. Blooming Glen Farm is entering its 10th season bringing high quality certified organic vegetables, herbs, fruits and cut flowers to our local community. Tricia is passionate about food, art and nature and the intersection and expression of all three.