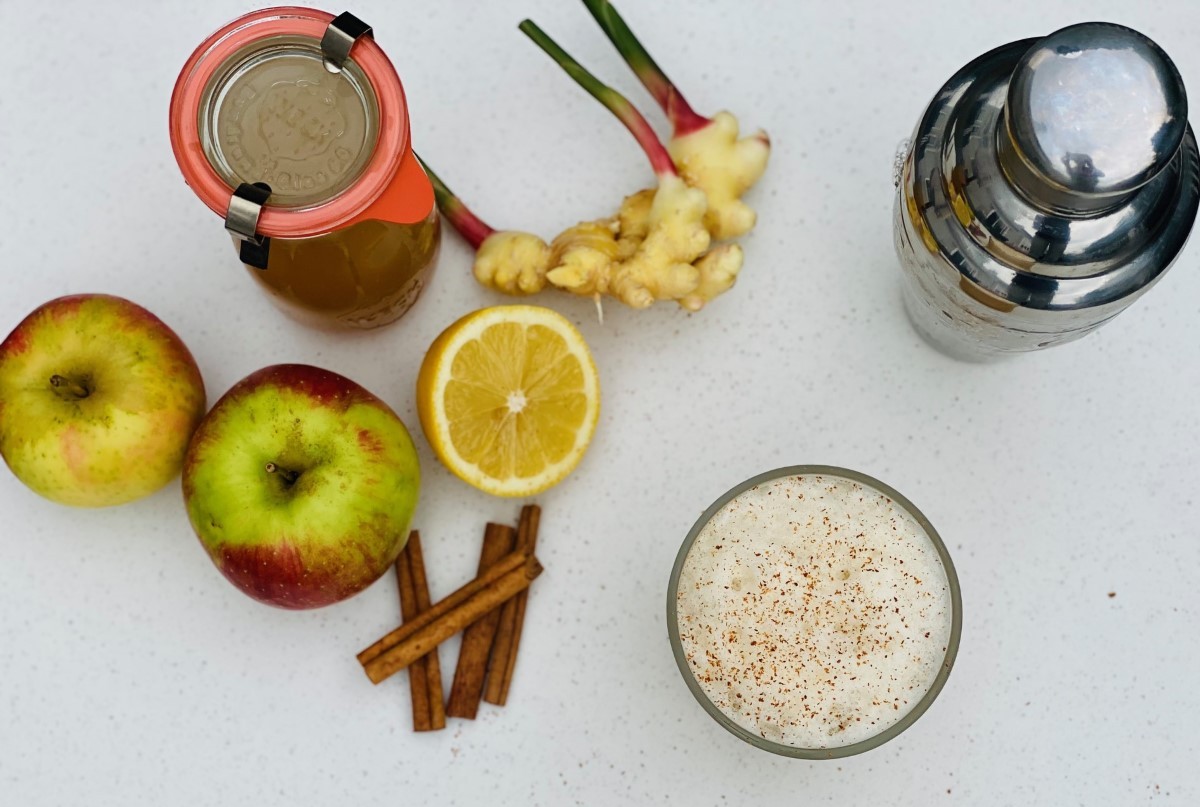 The fresh baby Hawaiian ginger has been such a beautiful treat in our shares the past few weeks.  There are so many amazing ways to use this fresh ginger.  You can use it in stir fries or soups, in smoothies or teas, pickle or crystallize it, or simply in a marinade or dressing.  Ginger not only tastes fantastic, but its nutritional benefits include supporting digestion, improving circulation, decreasing inflammation, and boosting immune systems.  In the culinary world, it is known as one of the healthiest spices you can consume.  Naturally, I wanted to make this flavorful and nutritionally dense ginger the star of this week's recipe- creating a versatile syrup that can be used in many different ways!
Ginger Syrup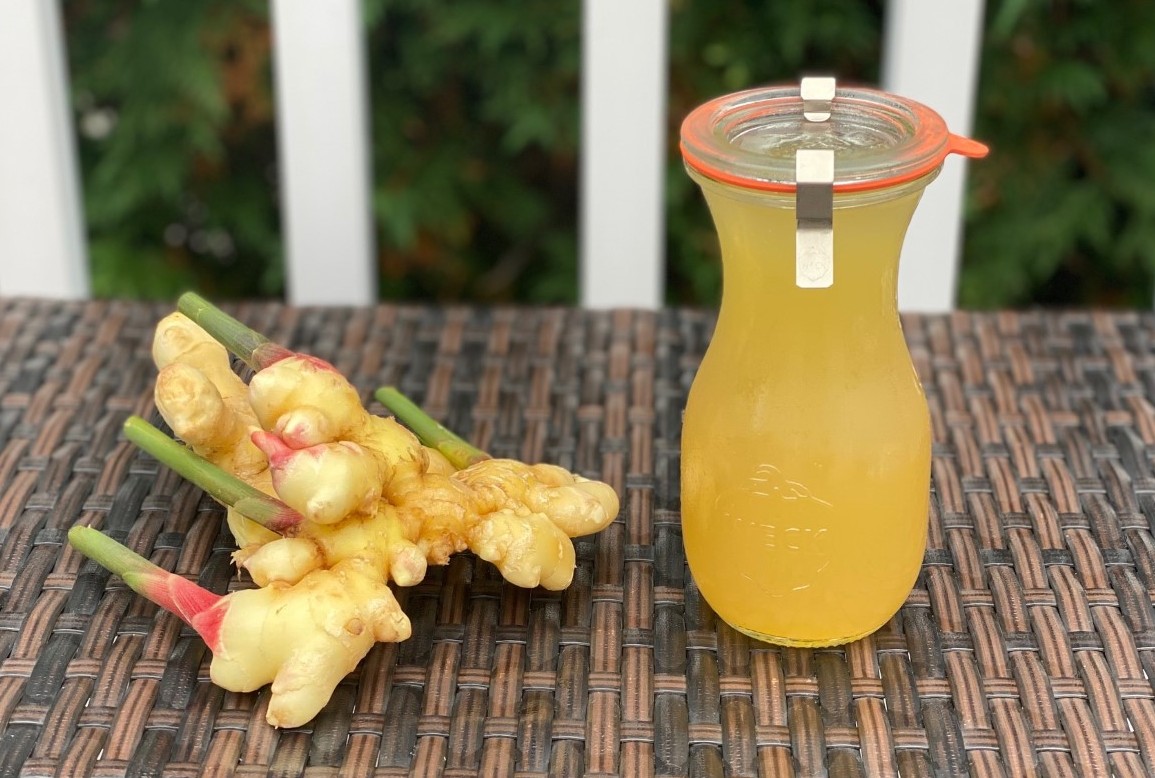 Ingredients:
2 cups water
½ – 1 cup fresh ginger, finely chopped*
½ cup honey
Combine the water and ginger in a small saucepan.
Bring to a boil. Boil for 2-3 minutes.
Reduce to a simmer and cook uncovered for 15 minutes.
Remove from heat. Add honey and stir to dissolve.
Cover and allow to sit for one hour.
Strain through a cheesecloth or nut bag. Squeeze the ginger to remove as much juice as possible.
Store the syrup in an airtight container in the fridge. This syrup will last for a few weeks in the fridge.
*Using ½ cup of chopped ginger creates a mild syrup.  Increasing the amount of ginger up to 1 cup makes a spicier version.
What can you use this syrup for?
Use in dressings and marinades.
Use in cocktails, teas, lemonades, etc.
Add to smoothies.
Add to coffee.
Drink a spoonful when feeling under the weather.
Easy Ginger Ale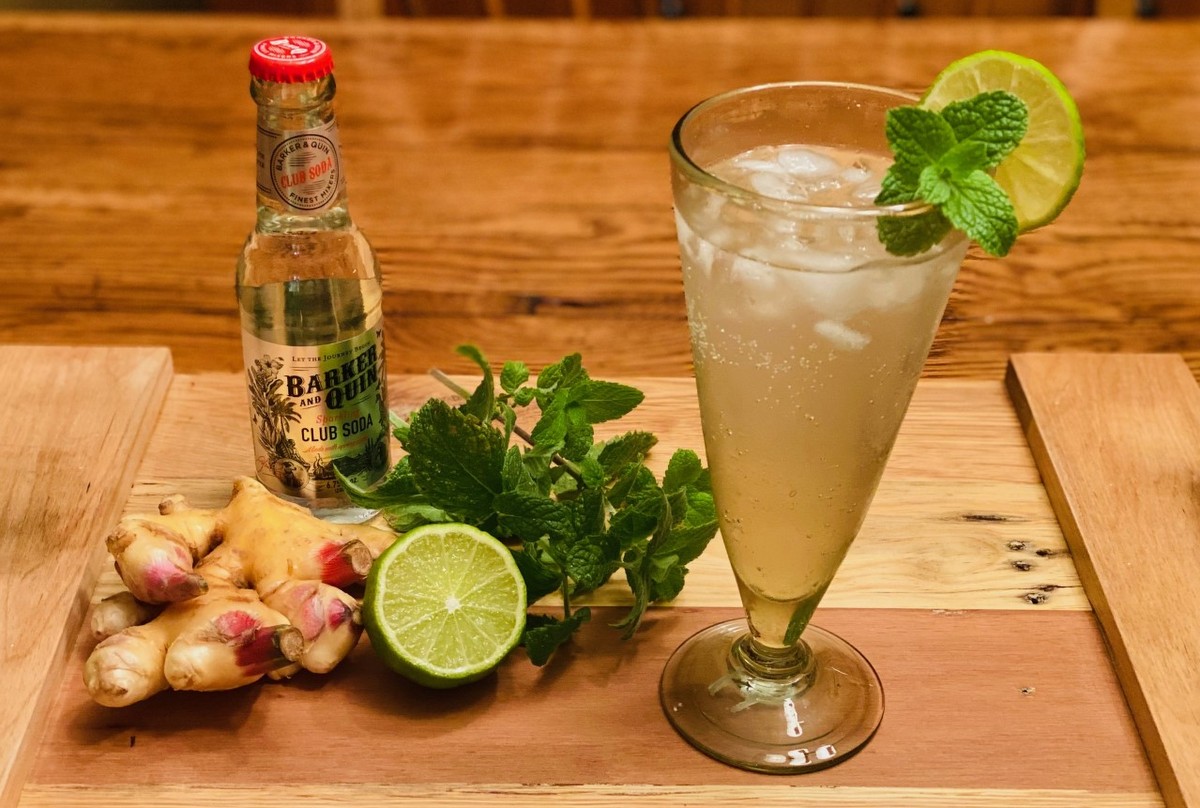 Ingredients:
3 Tbsp ginger syrup
1 tsp lime juice
6 oz club soda
4 oz ice
Lime slice and fresh mint, for garnish
Fill glass with ice.  In a measuring cup, combine the ginger syrup, lime juice, and club soda.  Pour over the ice.  Garnish with a slice of lime and mint.
Ginger Tea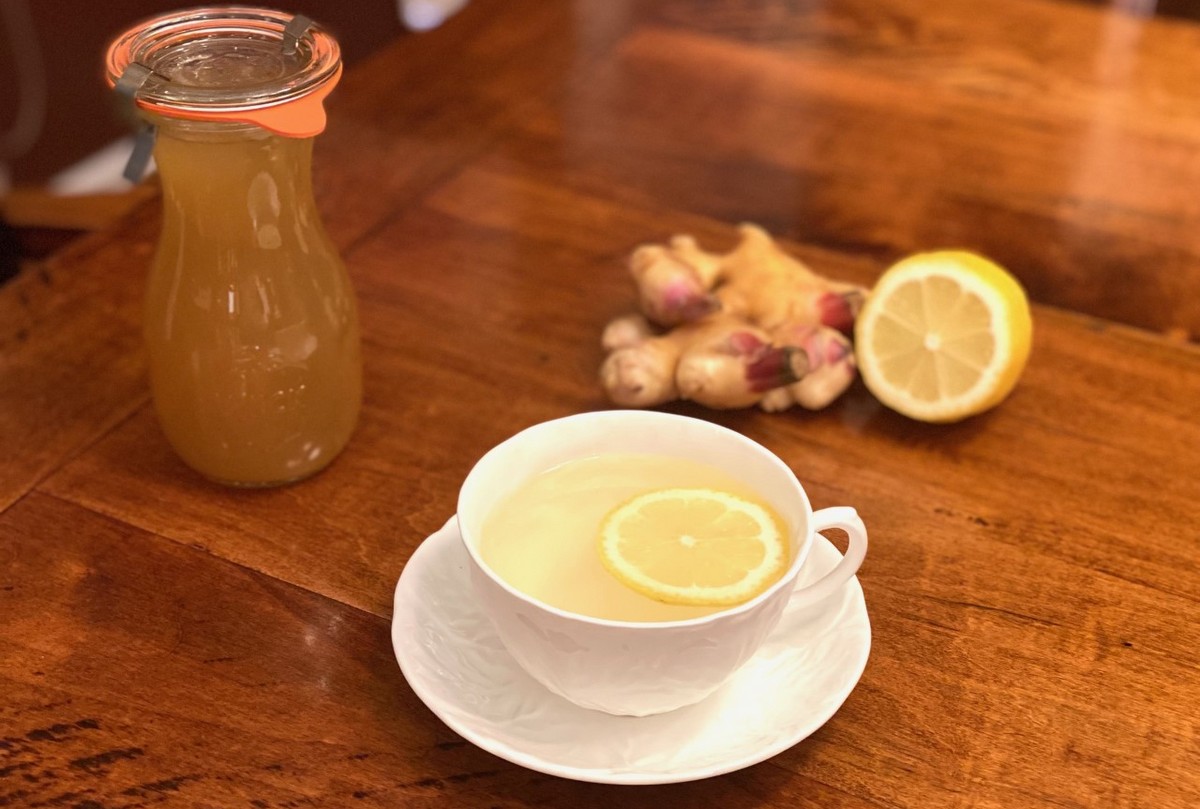 Ingredients:
1 Tbsp ginger syrup
6-8 oz hot water
1 lemon slice
Combine all ingredients in a mug.  Serve hot.
Gingerbread Latte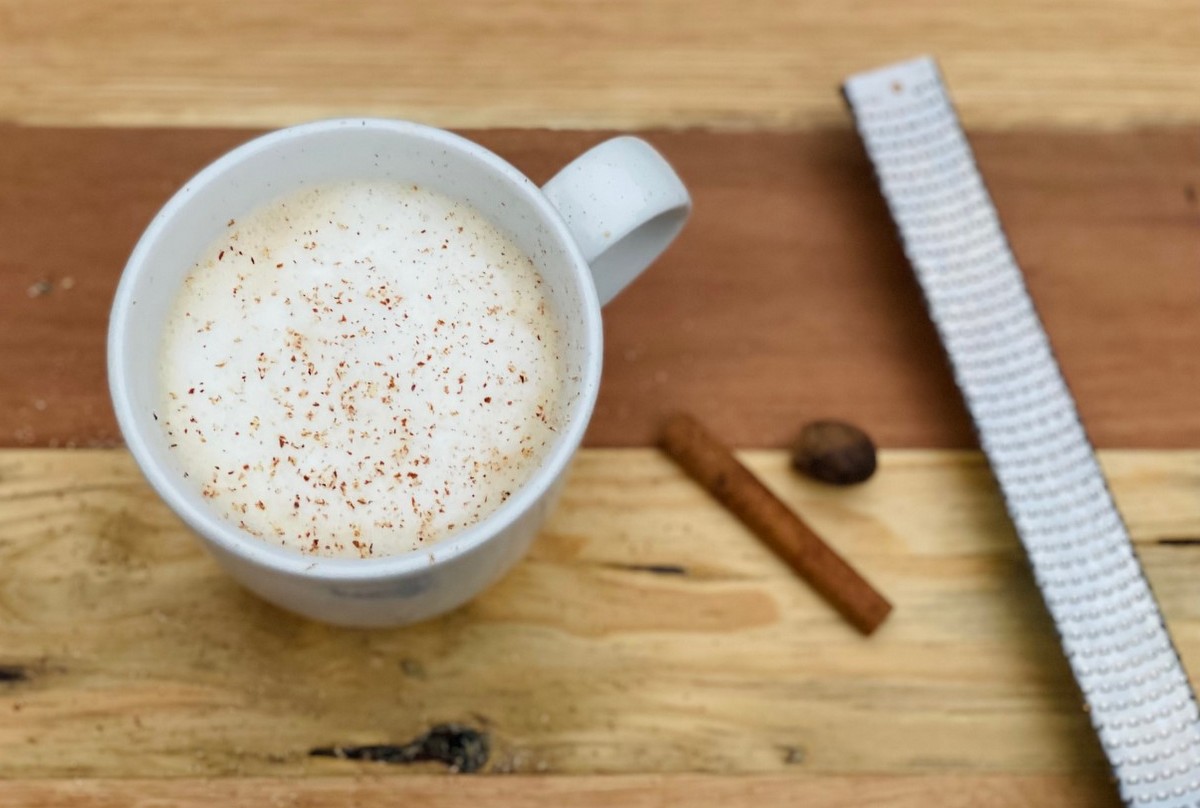 Ingredients:
1-2 shots of espresso
2 Tbsp ginger syrup
4-6 oz milk of choice
Fresh nutmeg and cinnamon, for garnish
Make espresso.  Stir in ginger syrup.  Froth or heat milk.  Pour over espresso and garnish with freshly grated nutmeg and cinnamon.
Hot Toddy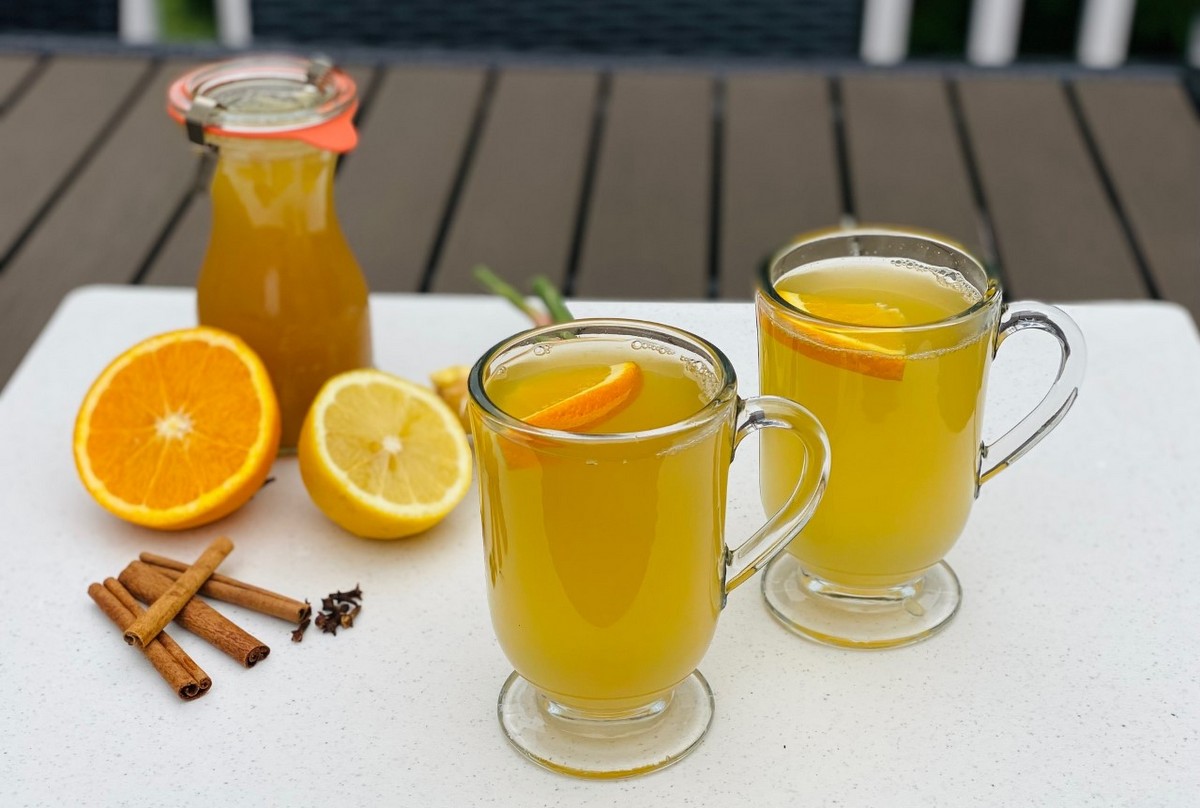 Ingredients:
8 oz water
1 cinnamon stick
5 cloves
½ tsp lemon zest
½ tsp orange zest
1 ½ Tbsp ginger syrup
1 tsp honey
1 Tbsp lemon juice
1 Tbsp orange juice
1-2 oz whiskey/bourbon**
Lemon or orange slice, for garnish
In a small saucepan, heat water with cinnamon and clove.  Bring to a boil.  Add lemon zest and orange zest and simmer for 10 minutes.  Remove from heat.  Add ginger syrup, honey, lemon juice, orange juice, and whiskey.  Strain and pour into mug.  Serve hot with a lemon or orange slice.
**Make this a mocktail by subbing the whiskey with water.
Apple Cider Whiskey Sour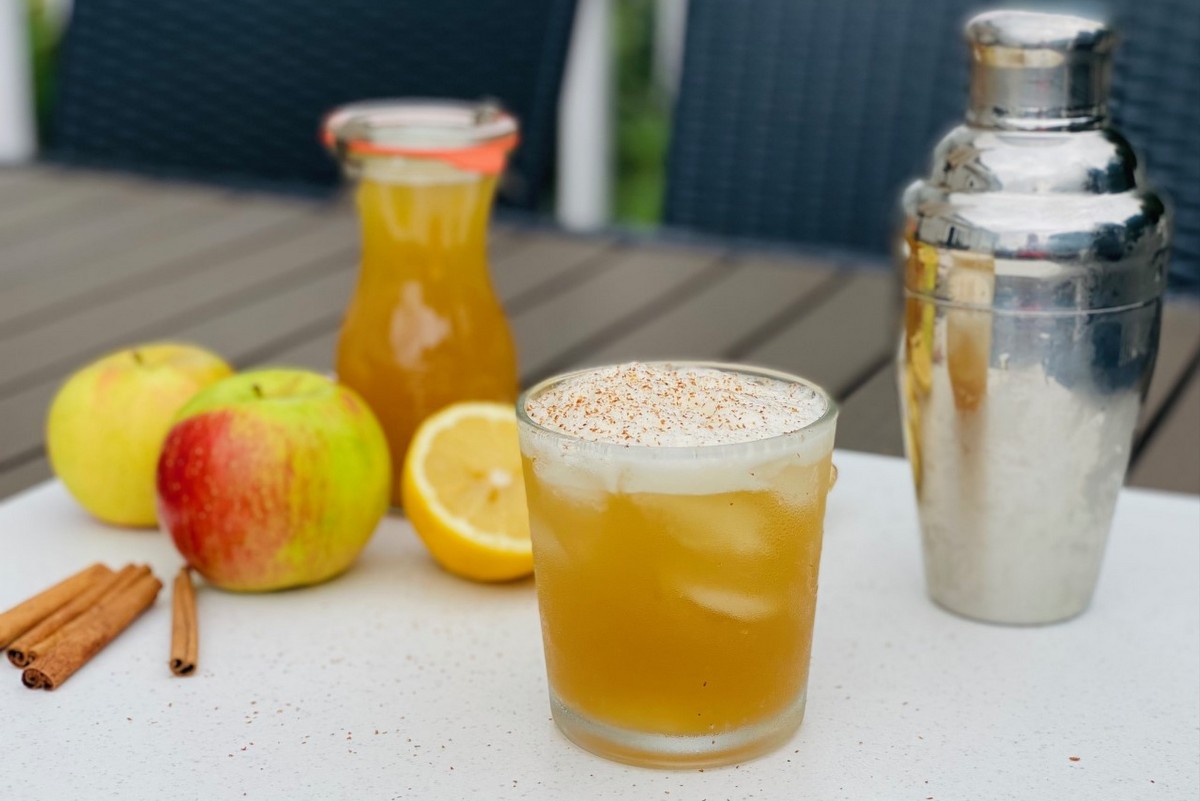 Ingredients:
Ice
¼ cup apple cider
1 Tbsp lemon juice
2 Tbsp ginger syrup
1 egg white
1-2 oz whiskey**
Cinnamon, for garnish
Fill rocks glass with ice.  In shaker, combine apple cider, lemon juice, ginger syrup, egg white, and whiskey.  Shake well.  Pour over ice and sprinkle with cinnamon.
**Make this a mocktail by subbing the whiskey with water.
Recipe and photos by Stephanie Borzio.  Stephanie is a mom of three active boys and is an autoimmune warrior.  After battling her own health for several years, Stephanie found healing through food and lifestyle changes, including joining Blooming Glen Farm CSA of which she is a long time member, and now the CSA Cooking Coach.  She is a Board Certified Integrative Nutrition Health Coach who is passionate about sharing healthy living tips and real food recipes.  Instagram and Facebook: Tru You Essentials; Website: www.truyouessentials.com