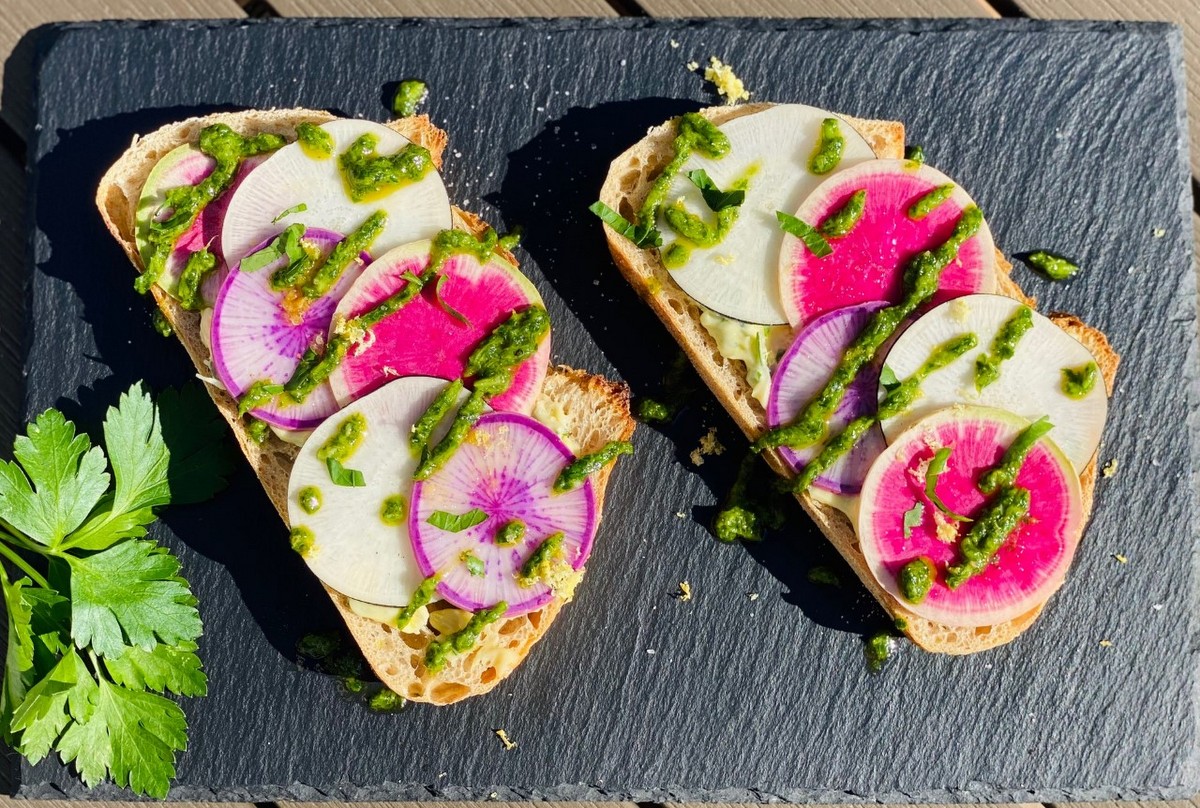 03 Nov

Radish Toast with Parsley Butter

Sometimes I look at the share we receive and immediately know what I want to create.  Other times I pick a specific ingredient to showcase.  This week I was headed in a completely different direction- I had an idea, but then I kept thinking about the beautiful winter radishes we have gotten the past few weeks.  Their color alone makes any recipe a hit.  The winter radishes- daikon, purple daikon, black, or watermelon- can all be used in this recipe.  It also utilizes the fresh parsley and arugula from this week and garlic from previous weeks.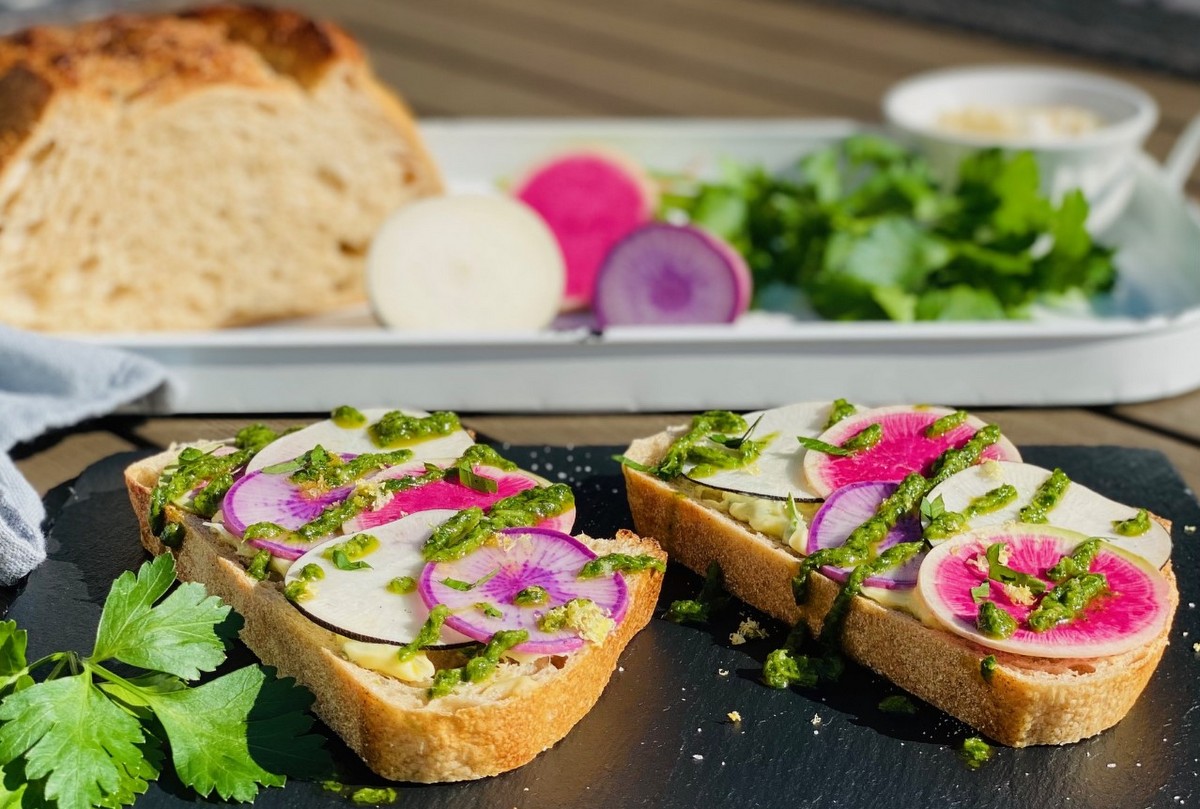 Radish Toast
Ingredients:
1 head roasted garlic (see below for recipe)
Parsley butter (see below for recipe)
Arugula parsley sauce (see below for recipe)
1-2 winter radishes
4 slices of bread (NORD sourdough bread works great)
Sea salt, lemon zest, finely chopped parsley- for garnish
Roast garlic. Then make parsley butter and arugula parsley sauce using below recipes.
Thinly slice radishes. I used a mandolin set on the thinnest setting.
Toast bread.
Assemble toast. Top toasted bread with parsley butter.  Layer radishes on top and then drizzle with the arugula parsley sauce.  Sprinkle with sea salt and lemon zest.  Garnish with finely chopped parsley.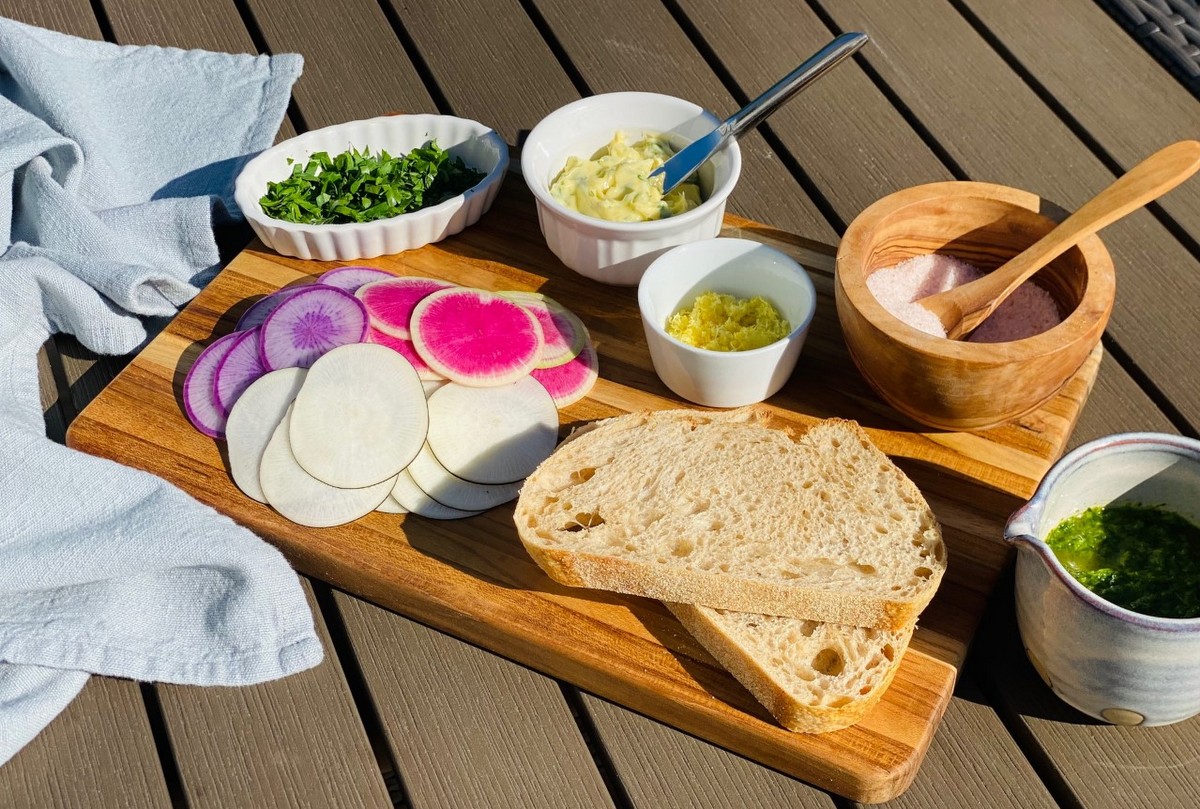 Roasted Garlic
Ingredients:
1 whole bulb of garlic
1 tsp olive oil
Slice top ¼ of an inch off of garlic bulb to expose the top of the cloves.
Place on a sheet of aluminum foil and drizzle with oil.
Wrap up in the foil and bake at 375°F for 50 minutes.
Remove and let cool.
Squeeze out each roasted garlic clove.
Great for dressings, to spread on toast, etc.
Store in an airtight container in fridge.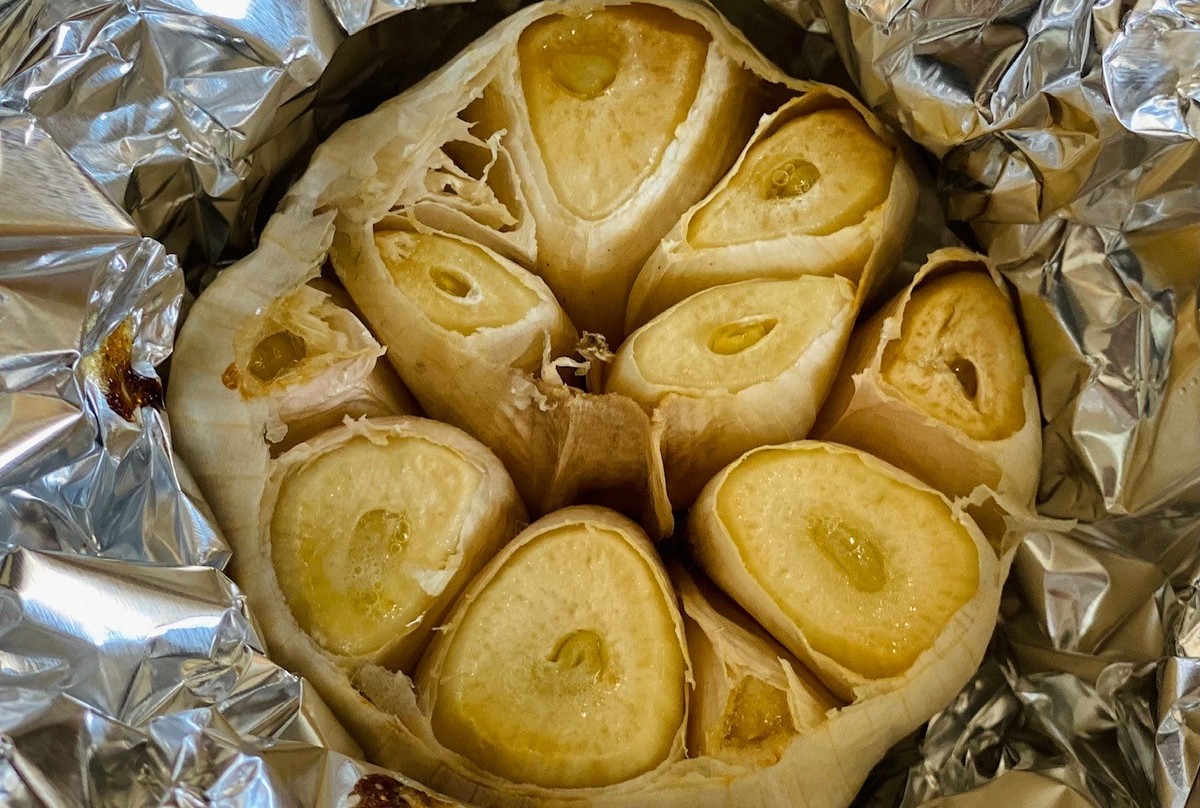 Parsley Butter
Ingredients:
4 Tbsp salted butter, softened
2 tsp fresh parsley, finely chopped
2 cloves roasted garlic
Combine all ingredients in a medium bowl and mix well.
Store in fridge.
Use for above recipe but also would be great on potatoes or your favorite steak.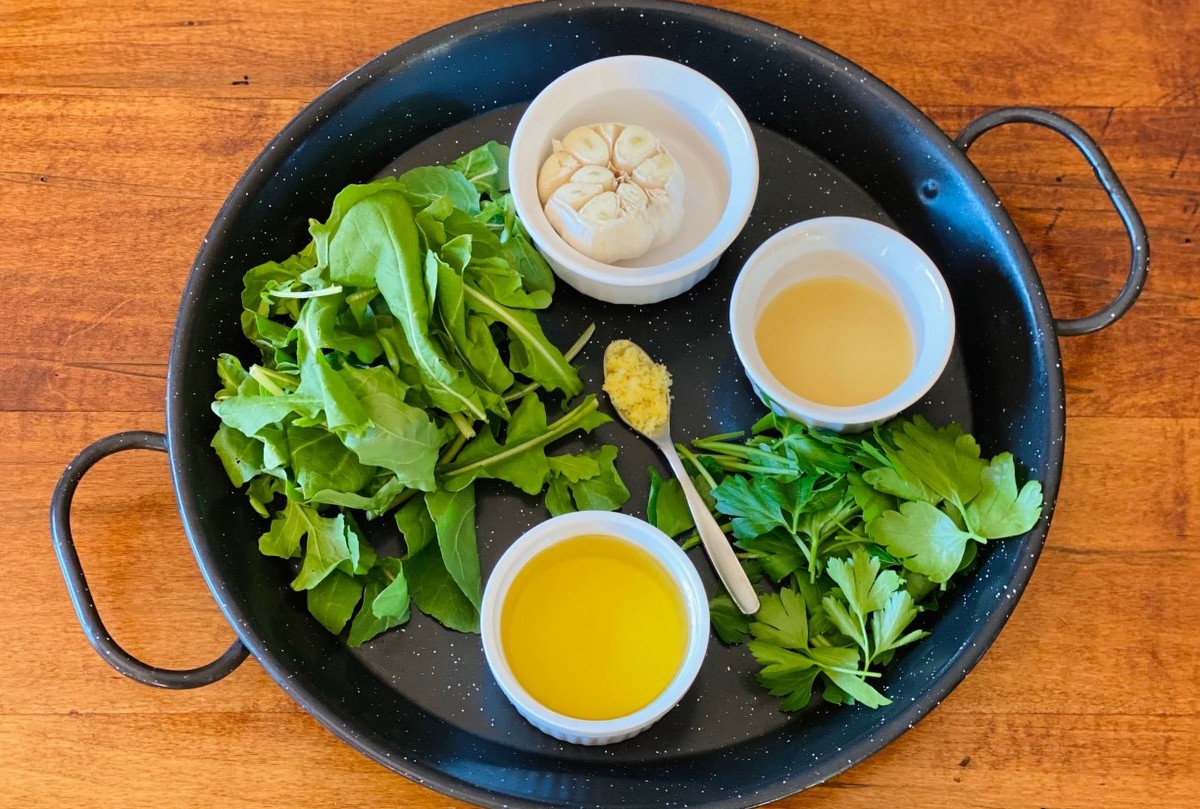 Arugula Parsley Sauce
Ingredients:
1 cup arugula, packed
½ cup parsley, packed with stems
¼ cup olive oil
3 cloves roasted garlic
1 tsp lemon zest
1 Tbsp lemon juice
¼ tsp sea salt
Pinch black pepper
Combine all ingredients in blender or food processor.
Blend well to fully combine.
Use for above recipe or try with fish, roasted veggies, etc.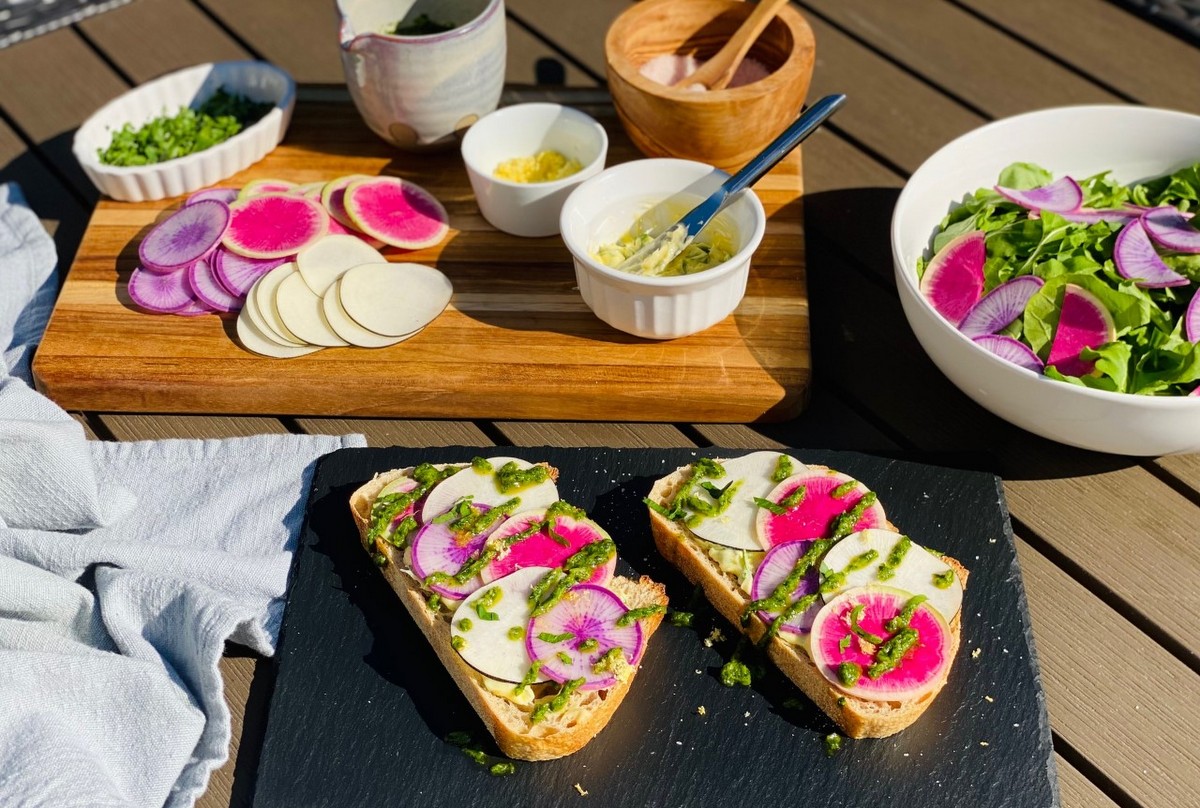 Recipe and photos by Stephanie Borzio.  Stephanie is a mom of three active boys and is an autoimmune warrior.  After battling her own health for several years, Stephanie found healing through food and lifestyle changes, including joining Blooming Glen Farm CSA of which she is a long time member.  She is a Board Certified Integrative Nutrition Health Coach who is passionate about sharing healthy living tips and real food recipes.  Instagram and Facebook: Tru You Essentials; Website: www.truyouessentials.com