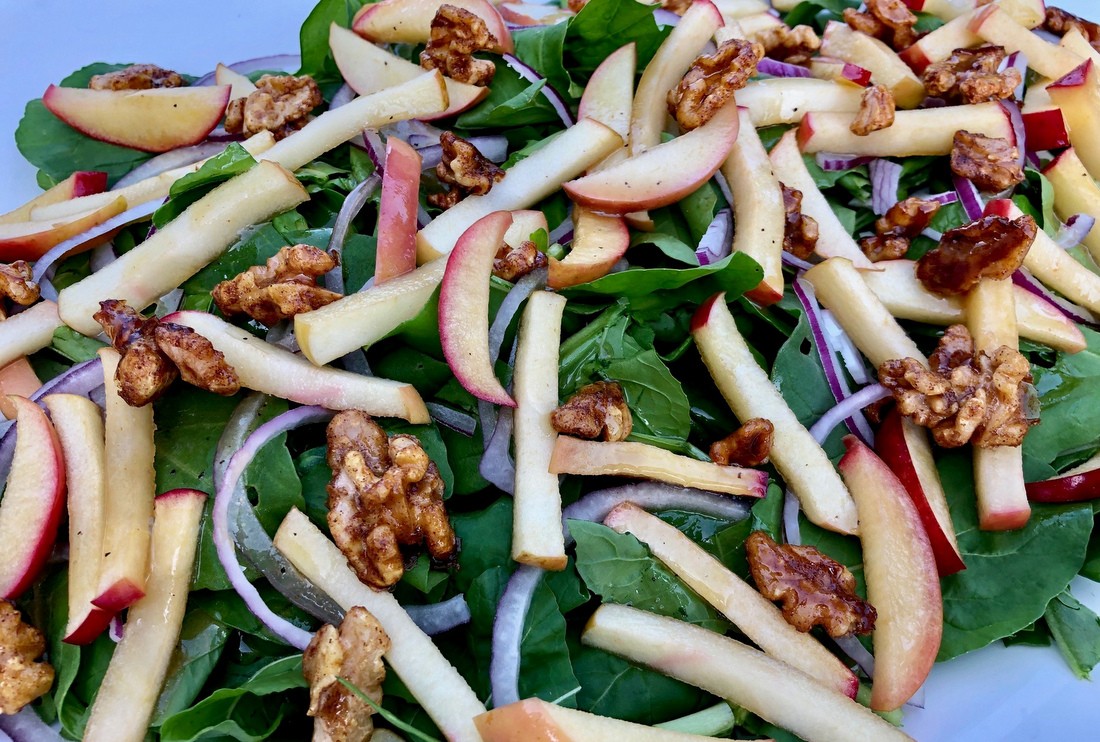 07 Oct

Roasted Apple and Arugula Salad

It is officially October and I'm so excited because this is my favorite month of the year.  I enjoy having the windows open in the house, decorating with pumpkins and cornstalks, and eating all the beautiful fall produce that we get in our CSA shares.  As I looked through this week's share, I knew that I wanted the arugula to be the star of the recipe.  Pairing it with some apples from North Star Orchard and some maple syrup from Augusta Acres Farm (available for sale at Blooming Glen Farm) makes this dish an amazing blend of some of my favorite farmers' hard work.

Salad Ingredients
½ lb arugula
½ small red onion, sliced thin
2 medium apples
1 Tbsp olive oil
2 Tbsp maple syrup
½ cup candied walnuts (see recipe below)

Dressing Ingredients
3 tsp maple syrup
4 Tbsp olive oil or avocado oil
2 Tbsp apple cider vinegar
2 tsp Dijon mustard
½ tsp sea salt
Pinch black pepper
Rinse arugula and dry. If pieces are large, you may want to cut them into smaller pieces.  Place in a large serving bowl or on a platter.
Place thinly sliced onions on top of arugula.
Preheat oven to 375°F.
Core apples and slice into matchsticks. Place in medium bowl.  Toss with olive oil and maple syrup.  Spread apples in a single layer on baking sheet.  Roast for 7 minutes.  Mix and roast for 2-3 more minutes.  Remove and let cool a few minutes.
Place dressing ingredients in a small mason jar. Cover with lid and shake well to combine.
Top salad with roasted apples, garnish with candied walnuts, and drizzle dressing on.
Enjoy!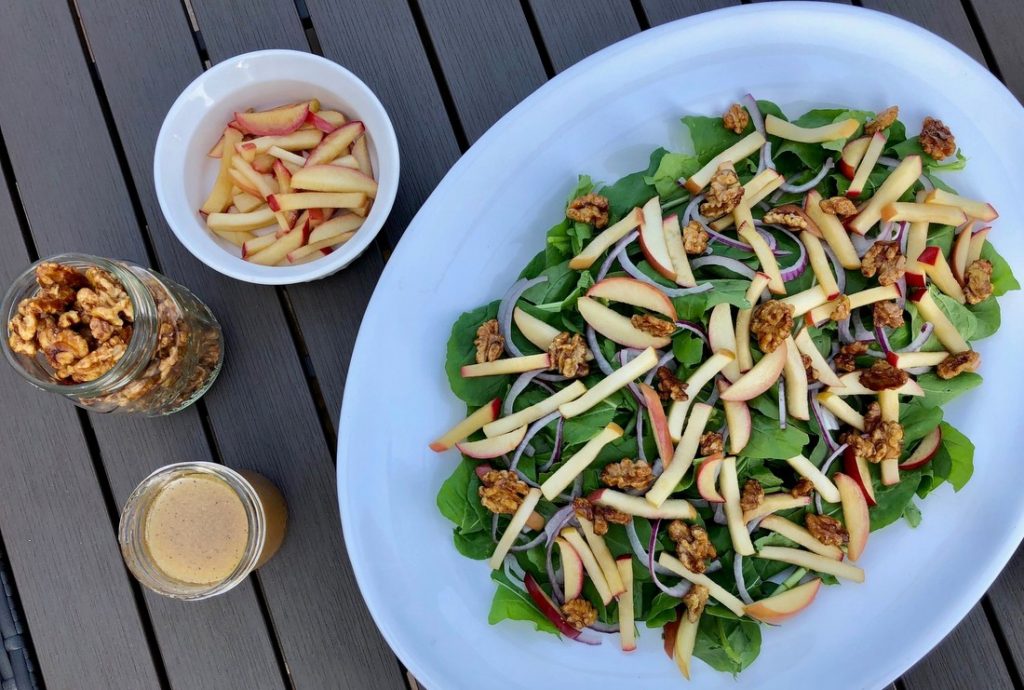 Candied Walnuts
1 cup walnuts
2 Tbsp maple syrup
½ tsp cinnamon
¼ tsp vanilla extract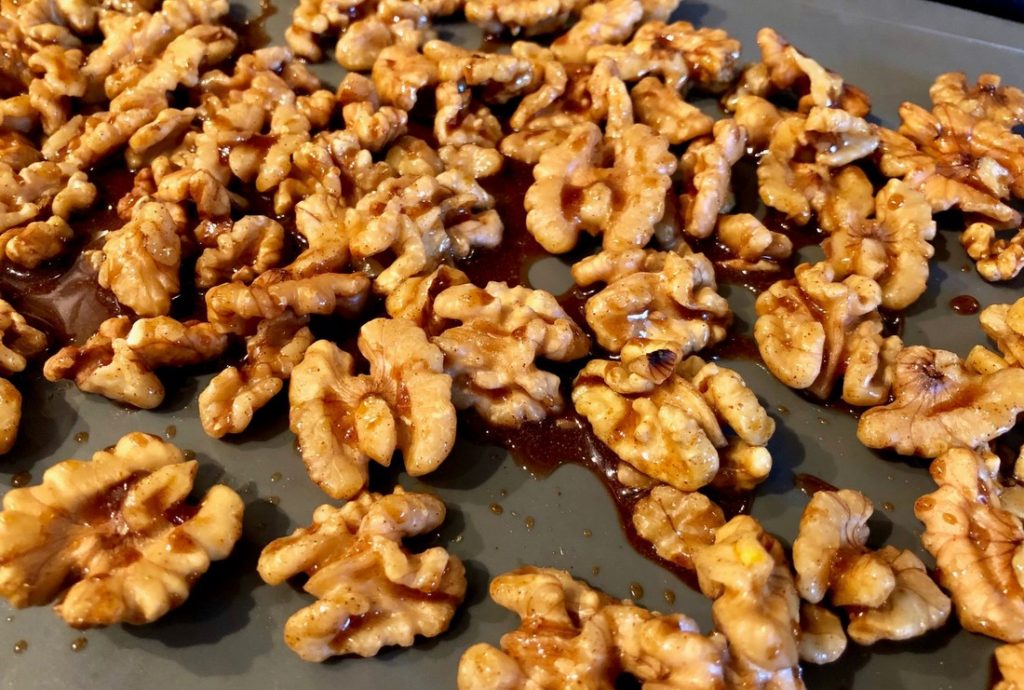 Line baking sheet with silicone baking mat or parchment paper.
Preheat oven to 375°F.
Combine maple syrup, cinnamon, and vanilla in a small bowl.
Place pecans in a medium bowl. Pour maple syrup mixture over top and toss to coat.
Spread coated pecans onto baking sheet.
Bake for 5 minutes. Mix and bake for 3 more minutes.
Allow to cool for 20-30 minutes and then break apart. Store in an airtight container.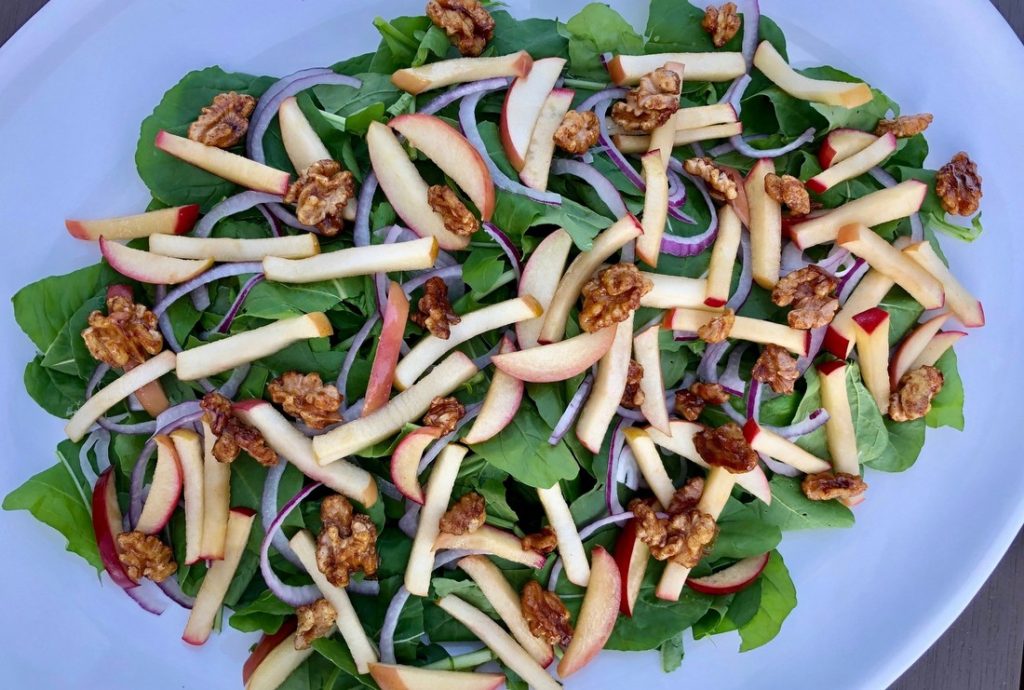 Recipe and photos by Stephanie Borzio.  Stephanie is a mom of three active boys and is an autoimmune warrior.  After battling her own health for several years, Stephanie found healing through food and lifestyle changes, including joining Blooming Glen Farm CSA of which she is a long time member.  She is a Board Certified Integrative Nutrition Health Coach who is passionate about sharing healthy living tips and real food recipes. Instagram and Facebook: Tru You Essentials, Website: www.truyouessentials.com