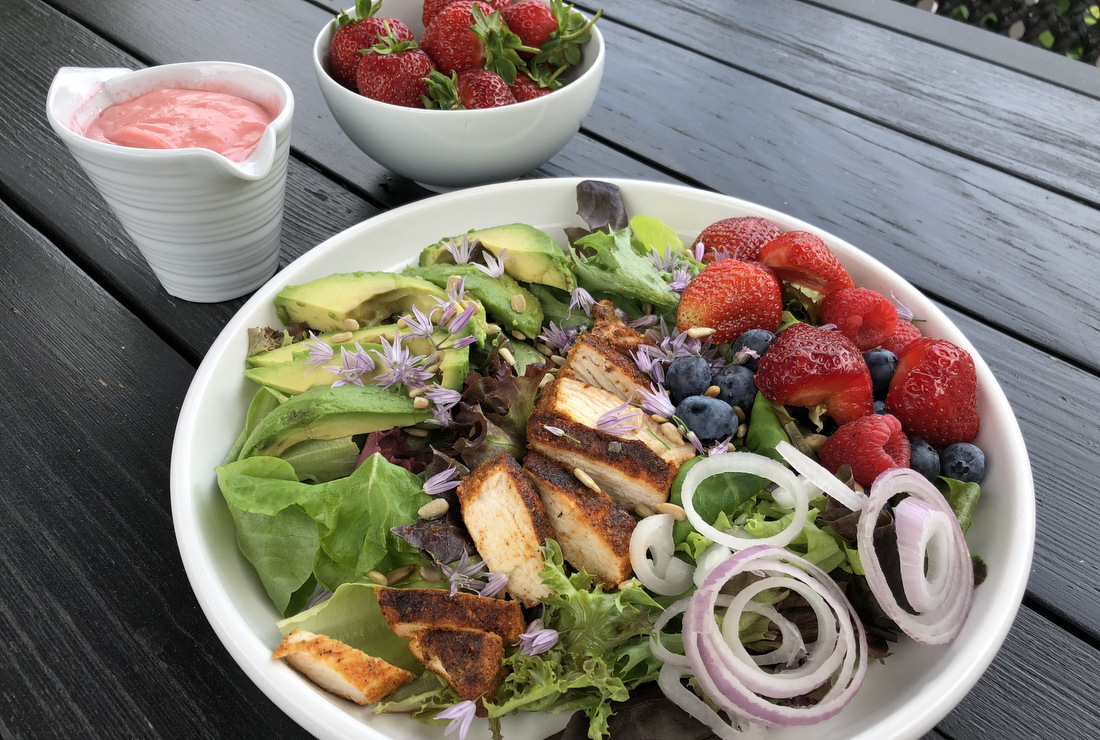 14 Jun

Summer Salad with Blackened Chicken and Strawberry Dressing

Before the strawberries wind down completely (thanks to all the rain this spring), here is a simple summer salad that highlights their wonderful flavor, made even more special with the addition of a seasonal strawberry dressing.

Blackened Chicken:
2 Tbsp paprika
1 Tbsp garlic powder
1 Tbsp onion powder
1 ½ tsp black pepper
1 tsp sea salt
¼ tsp cayenne pepper
½ tsp oregano
½ tsp turmeric
2 lbs boneless chicken breast (preferably pasture raised, available from Hershberger Heritage Farm)

Preheat grill.  Combine all spices together in bowl and mix well.  Coat both sides of chicken breasts with seasoning mix.  Cook chicken breasts on medium heat- approximately 5-7 minutes on each side (time will vary depending on thickness).  Set aside and prepare salad.

Salad:
1 large head of lettuce or mixed greens
1-2 avocados, sliced
2 medium shallots, thinly sliced (or sub in chopped scallions)
2 cups berries- strawberries, blueberries and/or raspberries
Optional- chive blossoms, sunflower seeds, pumpkin seeds, microgreens

Strawberry Dressing:
¾ cup avocado oil (or sub in olive oil)
2 Tbsp apple cider vinegar
2 Tbsp lemon juice
¼ cup strawberries
½ tsp sea salt
Pinch black pepper
1-2 tsp honey (optional)

Clean and prepare all ingredients.  To make dressing, combine all ingredients in blender and mix well.  Place lettuce on plate.  Top with sliced avocados, sliced shallots, berries, and blackened chicken.  Garnish with chive blossoms, seeds, or microgreens.  Add some of the strawberry dressing and enjoy!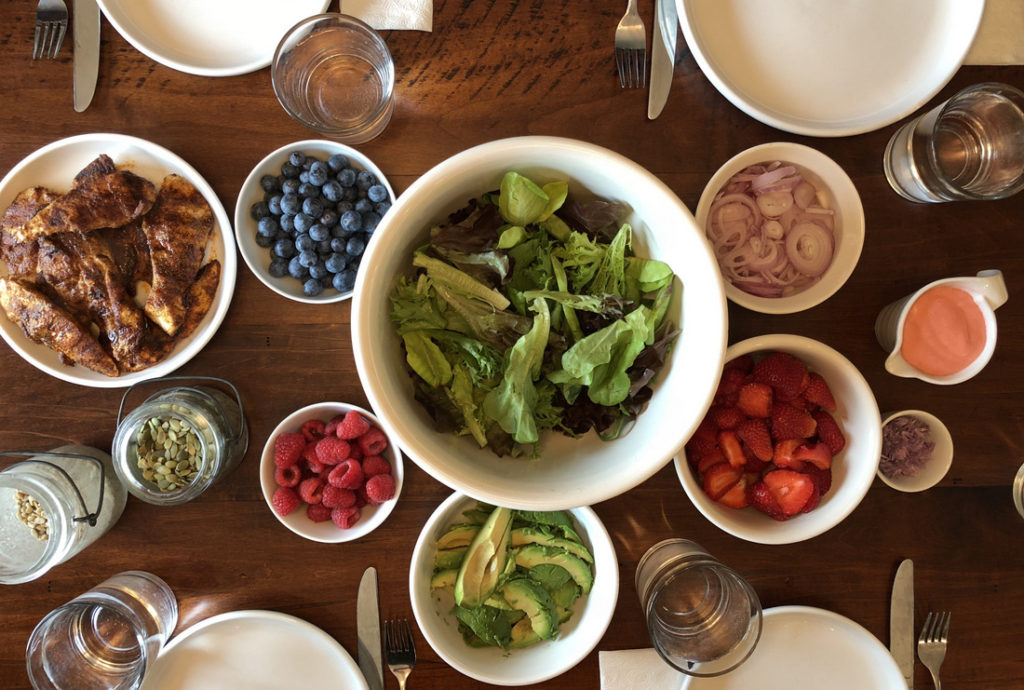 Recipe and Photos by Stephanie Borzio. Stephanie Borzio is a mom of three active boys and is an autoimmune warrior. After battling her own health for several years, Stephanie found healing through food and lifestyle changes, including joining Blooming Glen Farm CSA of which she is a long time member. She is a Board Certified Integrative Nutrition Health Coach who is passionate about sharing healthy living tips and real food recipes. Instagram & Facebook: Tru You Essentials; Website: www.truyouessentials.com
Post editing by Tricia Borneman, Blooming Glen farmer and co-owner. Tricia and her husband Tom have been farming together since 2000. Blooming Glen Farm is celebrating its 13th season bringing high quality certified organic vegetables, herbs, fruits and cut flowers to the local community.