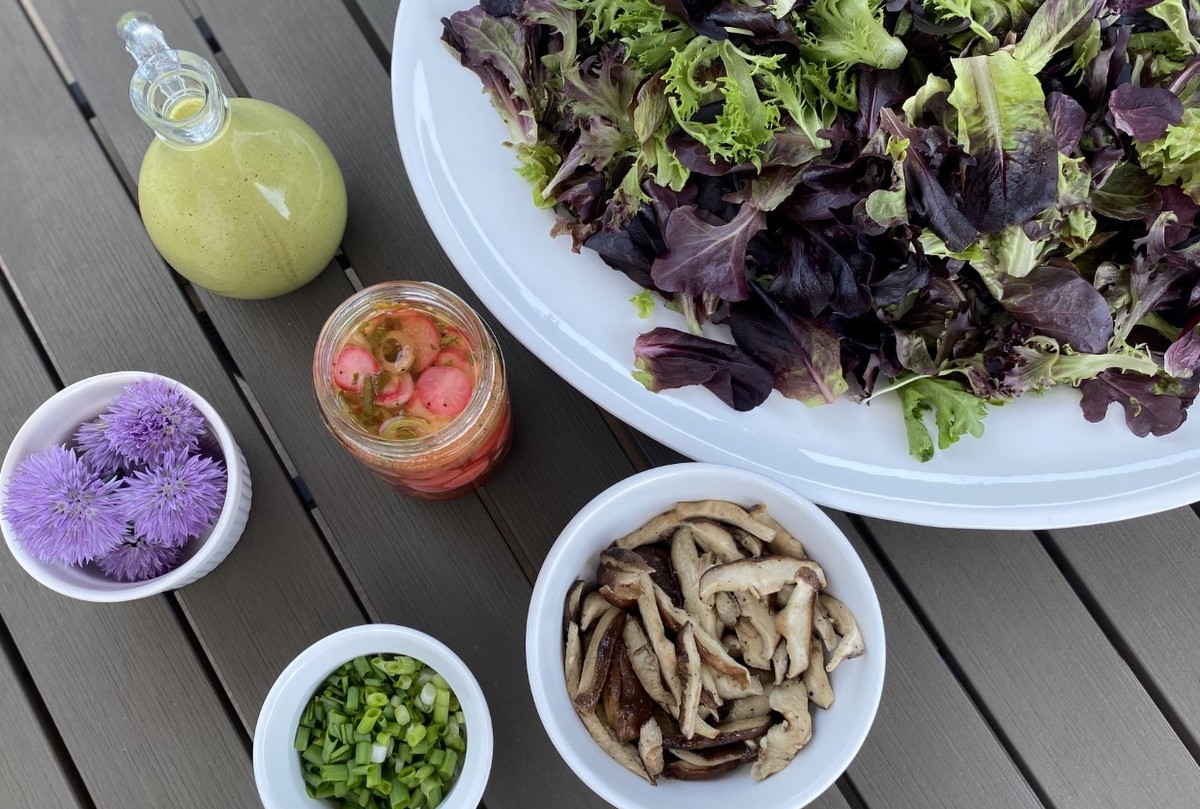 27 May

Salad Greens with Marinated Radishes and Creamy Garlic Dressing

The CSA season has officially begun and although pickup days look different than they have in the past, we are still getting beautiful organic produce from our favorite farmers.  This week's recipe started with a focus on the green garlic, but evolved into a full meal that includes the salad greens, radishes, scallions, basil, oats and shitake mushrooms as well.

Salad Ingredients:
½ lb salad greens
Marinated radishes (recipe below)
Creamy garlic dressing (recipe below)
Grilled shitake mushrooms
Chive blossoms (optional)
Rinse and dry salad greens. Place in bowl or on platter.
Make marinated radishes and allow to set while preparing the rest of the meal.
Make dressing and set aside.
Remove stems from mushrooms and wash caps. Slice and place in bowl.  Add 2 Tbsp avocado or olive oil to pan.  Place pan on grill to heat.  Once oil is hot, add sliced mushrooms and cook for about 5 minutes.  Add ¼ tsp sea salt, 1/8 tsp black pepper, and 1/8 tsp garlic powder and stir to combine.  Place mushrooms in bowl to serve.
Chop scallions and place in bowl.
If you have access to chive blossoms, I like to add them as a garnish if available.
I served this salad with each item in separate bowls, but feel free to put everything together over the salad greens if you want.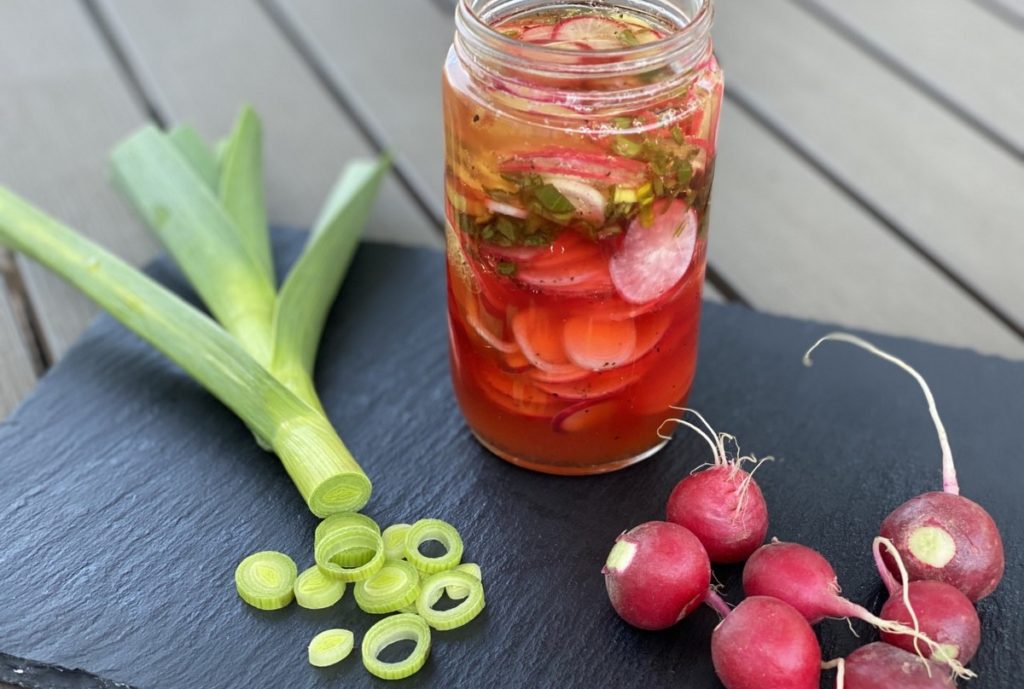 Marinated Radish Ingredients:
½ bunch radishes, greens removed
½ stalk green garlic
½ cup apple cider vinegar
¼ cup avocado or olive oil
1 Tbsp honey
½ tsp sea salt
¼ tsp black pepper
Thinly slice radishes using a mandolin.
Thinly slice green garlic using both the white and green parts.
Place radishes and green garlic in a glass jar.
In a small pot, combine apple cider vinegar, oil, honey, salt, and pepper.
Heat to boil, mixing well.
Remove from heat and carefully pour over the radishes and green garlic. Place lid on jar and allow to cool for at least 30 minutes.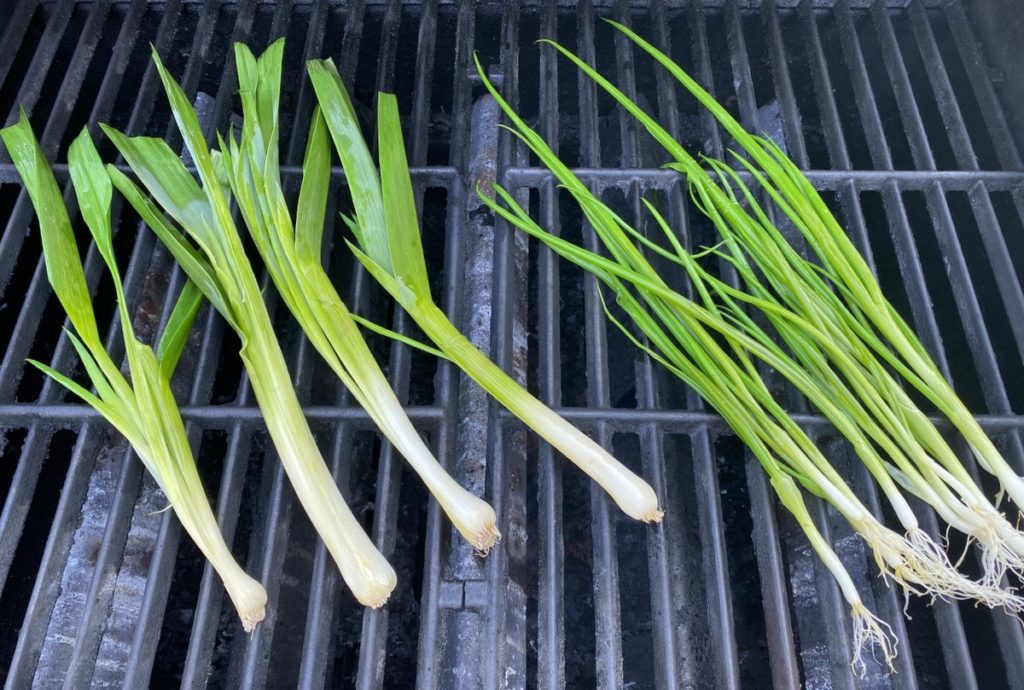 Creamy Garlic Dressing Ingredients:
1 ½ stalks green garlic
6 small scallions
½ cup homemade oat milk **
3 large basil leaves
½ lime, juiced
¼ cup apple cider vinegar
¼ cup + 3 Tbsp olive oil (divided)
½ tsp sea salt
¼ tsp black pepper
Rinse green garlic and scallions.
Slice green garlic stalks in half lengthwise.
Drizzle green garlic and scallions with 1 Tbsp olive oil.
Preheat grill and then reduce heat to low.
Place green garlic and scallions on grill.
Cook scallions for 2-3 minutes and green garlic for 4-5 minutes. Flip halfway through cooking time.
Remove from grill and trim roots off, as well as any pieces that are overcooked.
Place all dressing ingredients in blender (use the remaining ¼ cup + 2 Tbsp olive oil). Blend until smooth, about 30 seconds.
** Homemade Oat Milk- soak ¼ cup oats in about ½ cup water for 30 minutes.  Drain water and rinse oats.  Blend with ½ cup water for 30-60 seconds.  Strain through a nut bag or cheesecloth.  This makes about ½ cup oat milk, which the recipe calls for.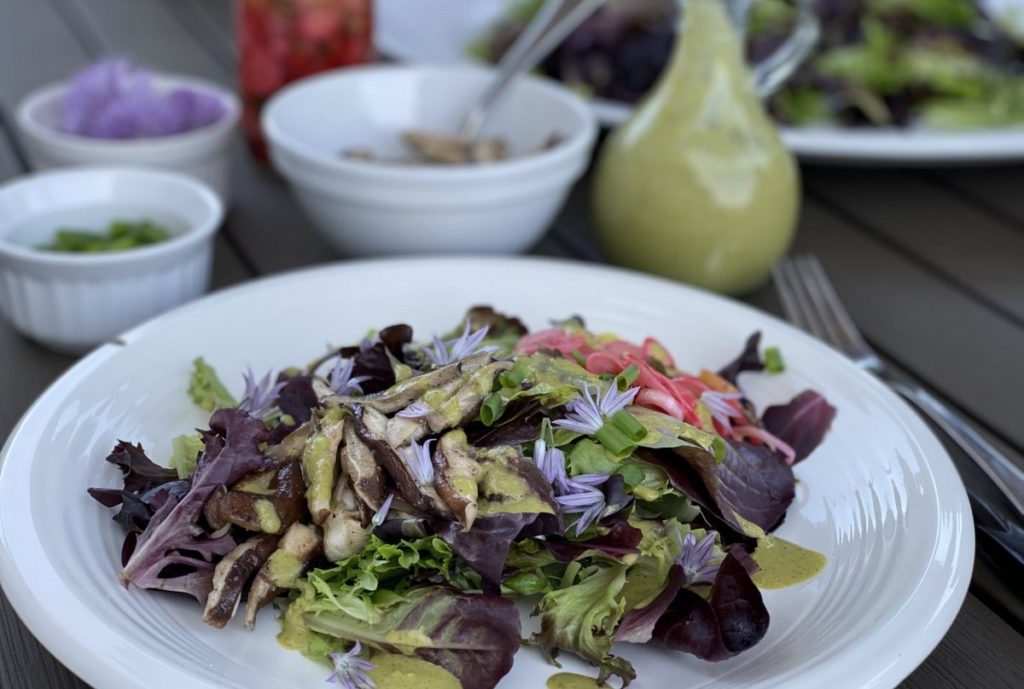 Recipe and photos by Stephanie Borzio.  Stephanie is a mom of three active boys and is an autoimmune warrior.  After battling her own health for several years, Stephanie found healing through food and lifestyle changes, including joining Blooming Glen Farm CSA of which she is a long time member.  She is a Board Certified Integrative Nutrition Health Coach who is passionate about sharing healthy living tips and real food recipes.
Instagram and Facebook: Tru You Essentials
Website: www.truyouessentials.com