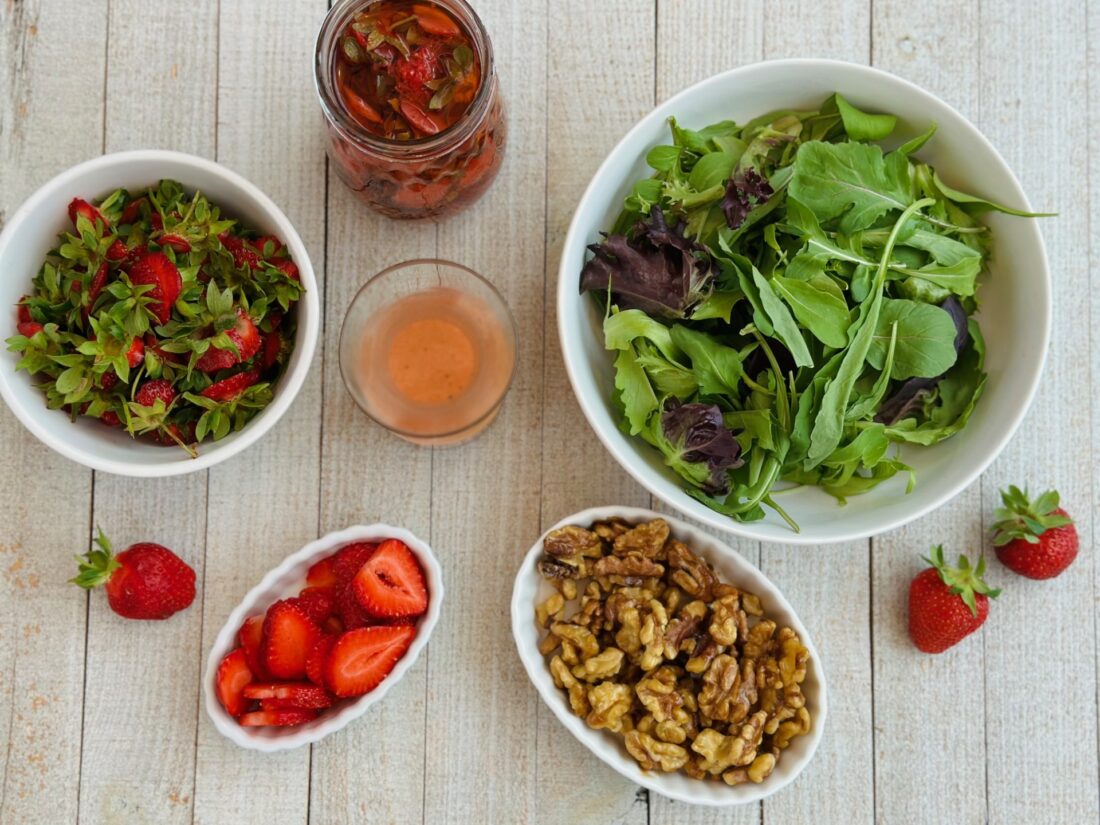 25 May

Strawberry Top Vinegar

The strawberry fields are bursting with beautiful, sweet strawberries for us to enjoy.  It's easy to simply eat a whole bowl of these wonderful farm fresh berries in one sitting.  One of my goals is to always try to find new ways to incorporate produce into interesting recipes.  This recipe focuses on using the tops of the strawberries which we generally throw away or compost.  You can still enjoy a bowl of fresh strawberries but save the tops and use them in this infused vinegar recipe. The strawberry vinegar can then be turned into a vinaigrette for a delicious seasonal spring salad.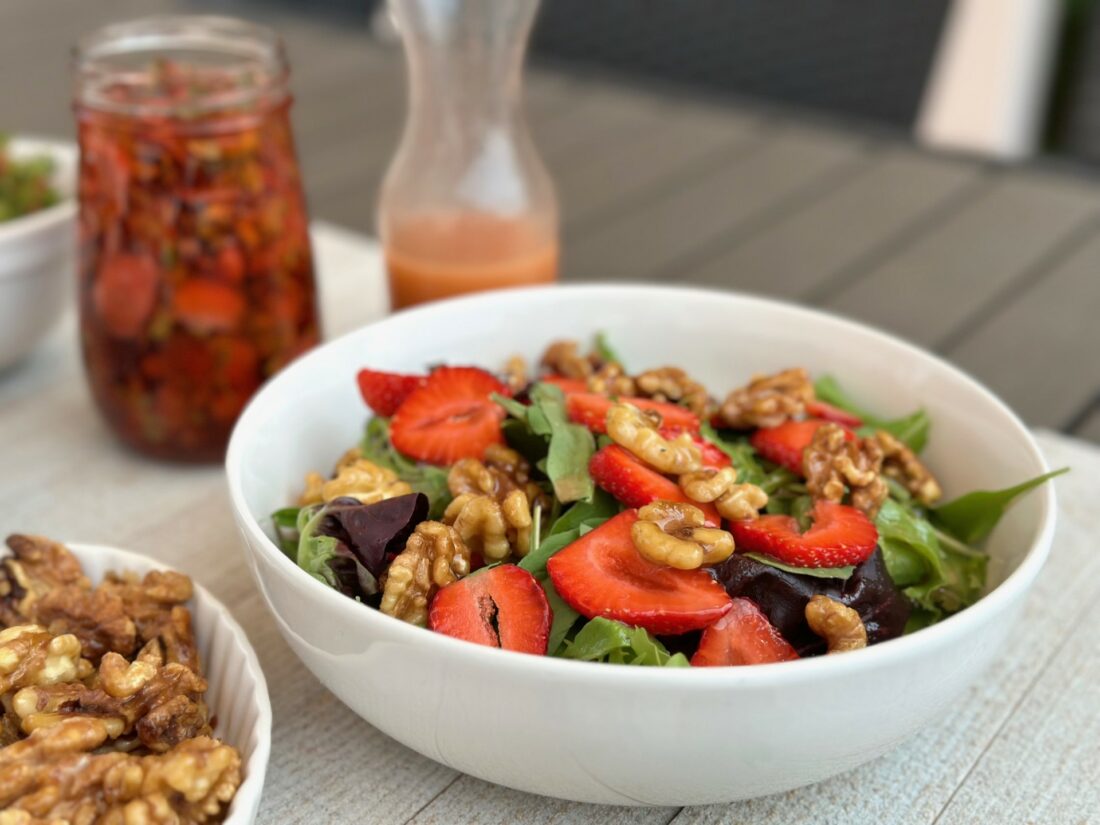 Strawberry Top Vinegar
Ingredients:
1 cup strawberry tops
1 ½ cups white wine vinegar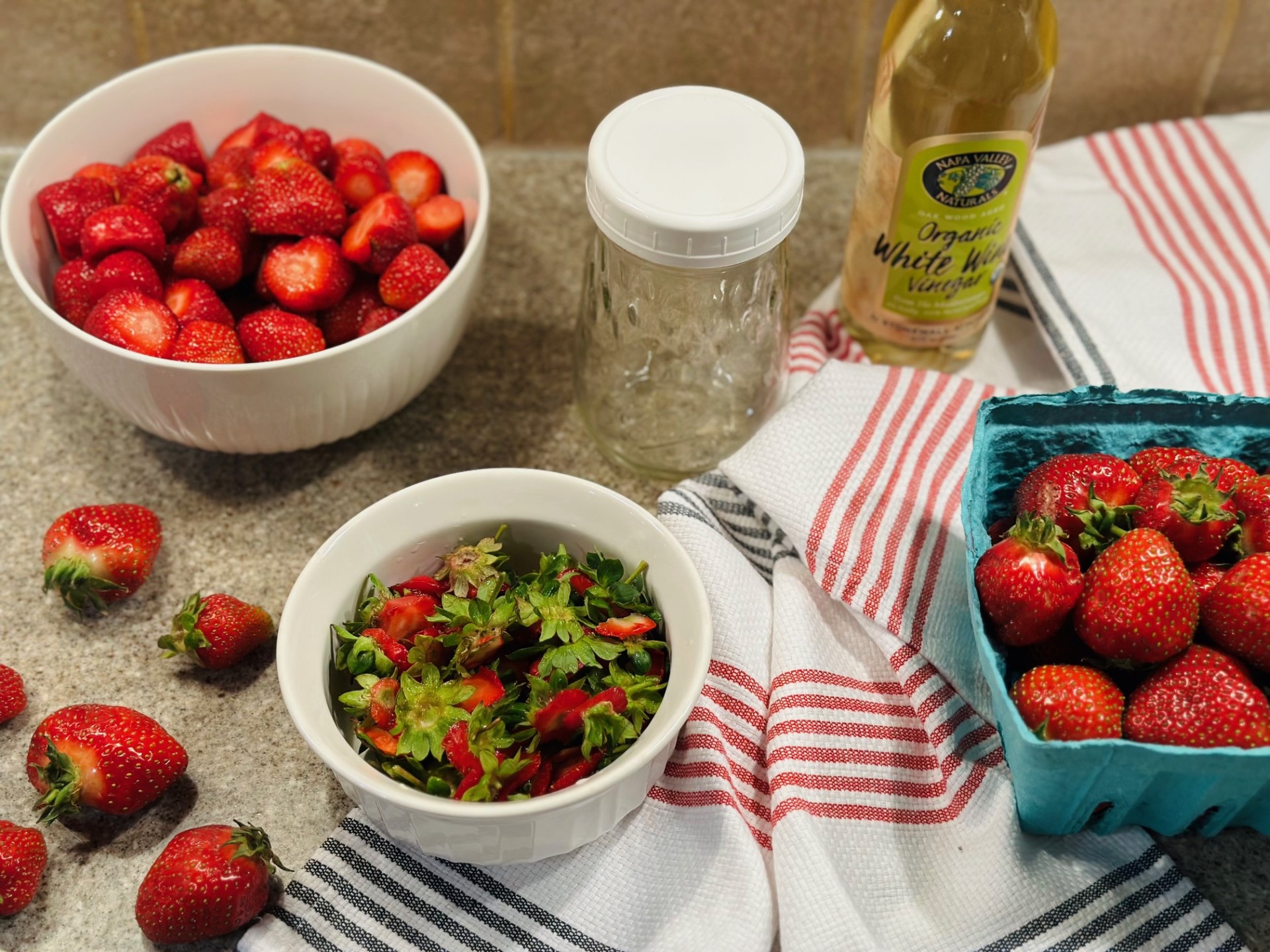 Rinse the tops (hulls) of the strawberries and pat dry.
Place the tops in a glass container.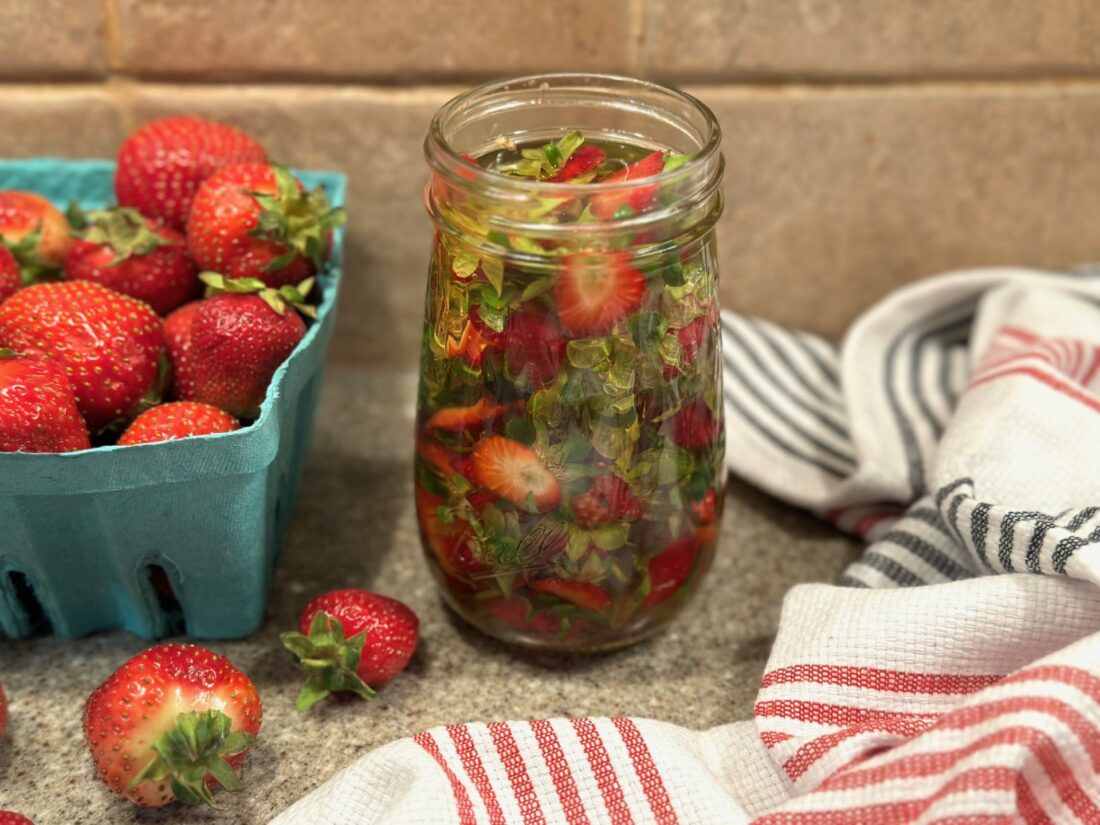 Top with vinegar and place lid on. Best to use a plastic lid, as a metal one can tarnish with the vinegar.
Gently shake the jar to mix well.
Allow to sit on counter for at least 24 hours.
Strain strawberry tops and store strawberry vinegar in a glass jar in the fridge. It will last for weeks.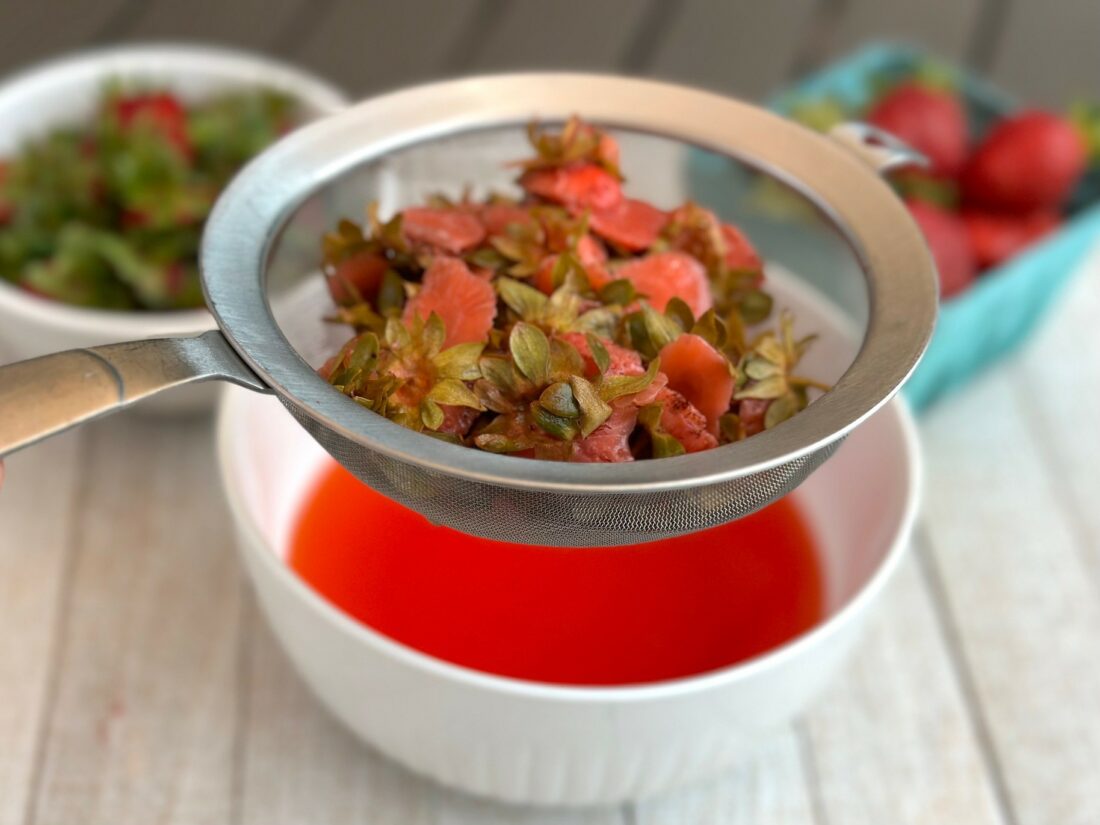 Use this strawberry vinegar for marinades, dressings, etc.
Simple Spring Salad:
*I used this vinegar to create a simple vinaigrette.  Combine 1 Tbsp strawberry vinegar with 2 Tbsp olive oil.  Season with sea salt and black pepper to taste.
*Make a batch of candied walnuts from the recipe on the blog (Roasted Apple and Arugula Salad – Blooming Glen Farm).  I did leave out the cinnamon in this recipe to make it go better with the strawberries.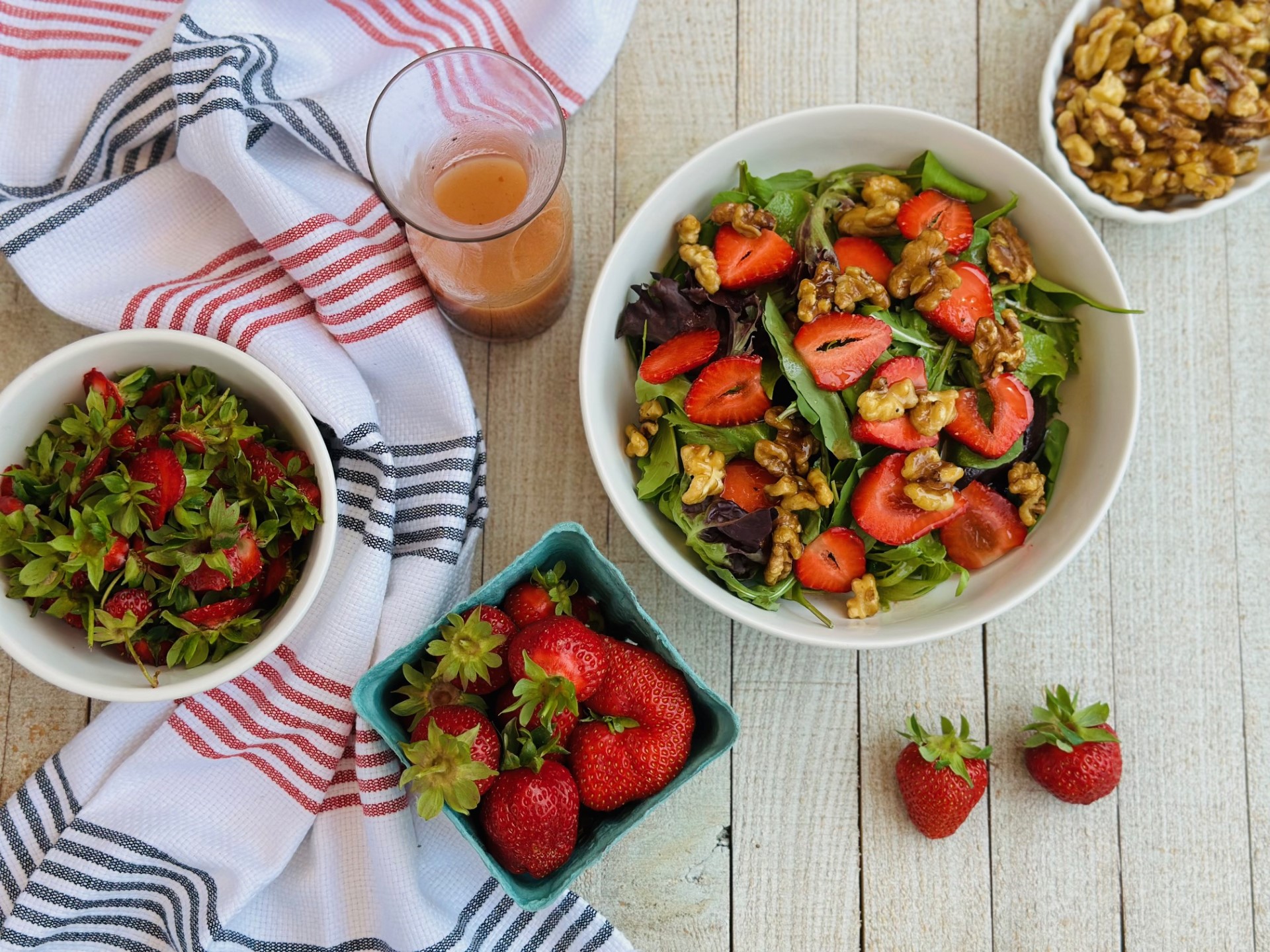 *Fill a medium bowl with salad greens, arugula, and/or spinach.  Add some sliced strawberries and some candied walnuts.  Drizzle on the vinaigrette and enjoy!
Recipe and photos by Stephanie Borzio.  Stephanie is a mom of three active boys and is an autoimmune warrior.  After battling her own health for several years, Stephanie found healing through food and lifestyle changes, including joining Blooming Glen Farm CSA of which she is a long time member.  She is a Board Certified Integrative Nutrition Health Coach who is passionate about sharing healthy living tips and real food recipes.  Instagram and Facebook: Tru You Essentials; Website: www.truyouessentials.com