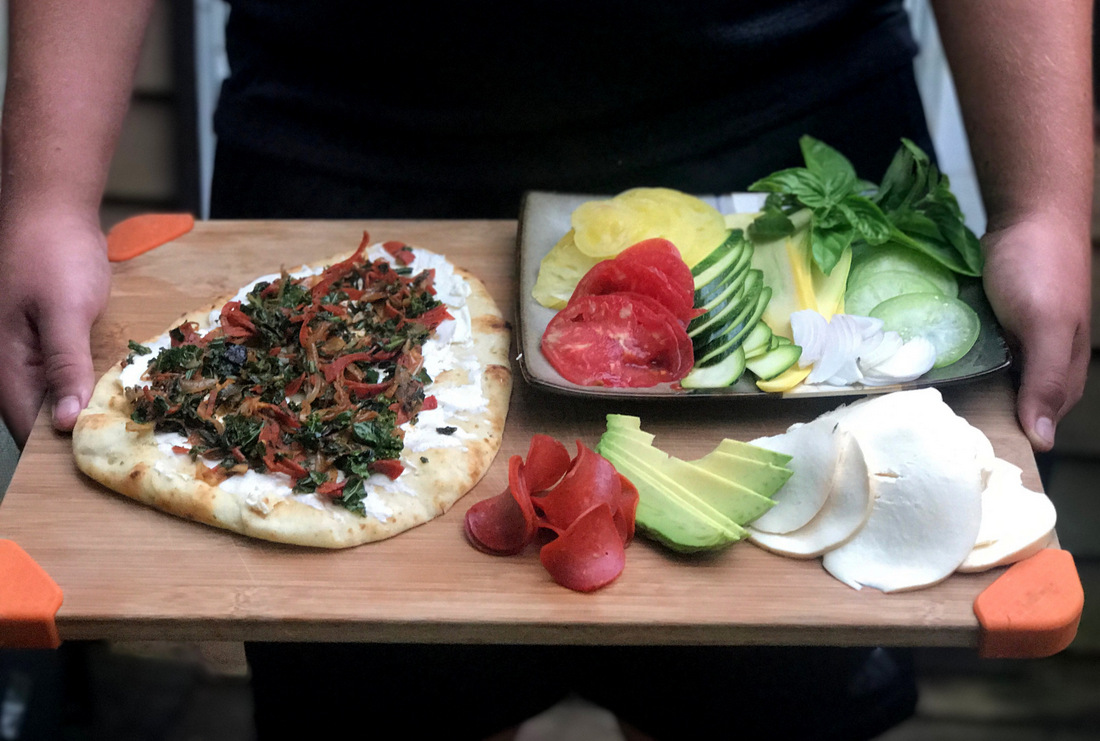 18 Jul

Summer Time Flat Bread

We eat our fair share of pizza around here but none of them ever come with dandelion greens or fresh from the farm garlic (until now). This recipe was born from my love of a veggie sandwich I ate many moons ago out west. It had cream cheese and sprouts and avocado and cucumber, on yummy thick seedy bread. It has always stuck with me and I like to recreate those flavors and textures. I used store bought flatbread but if you're feeling especially eager, make it.

I probably could have stopped this recipe with the greens and pepperoni, because it was just that good that my mind started imagining it in all sorts of creations. Pasta, eggs, ice cream….. probably all tasty. The trick to getting my kids to eat this was to slice the veggies SUPER THIN so they kind of melt away in the oven. The secret ingredient here is a whole head of garlic. I find that it makes the bitterness of the dandelion more palatable and with the addition of the sweetness of the onion and smokiness of the pepperoni, it's a winner.

As seen in the photo, leaving a teenage boy alone with a blank flatbread, cheese and smoked meats results in a far different kind of delicacy.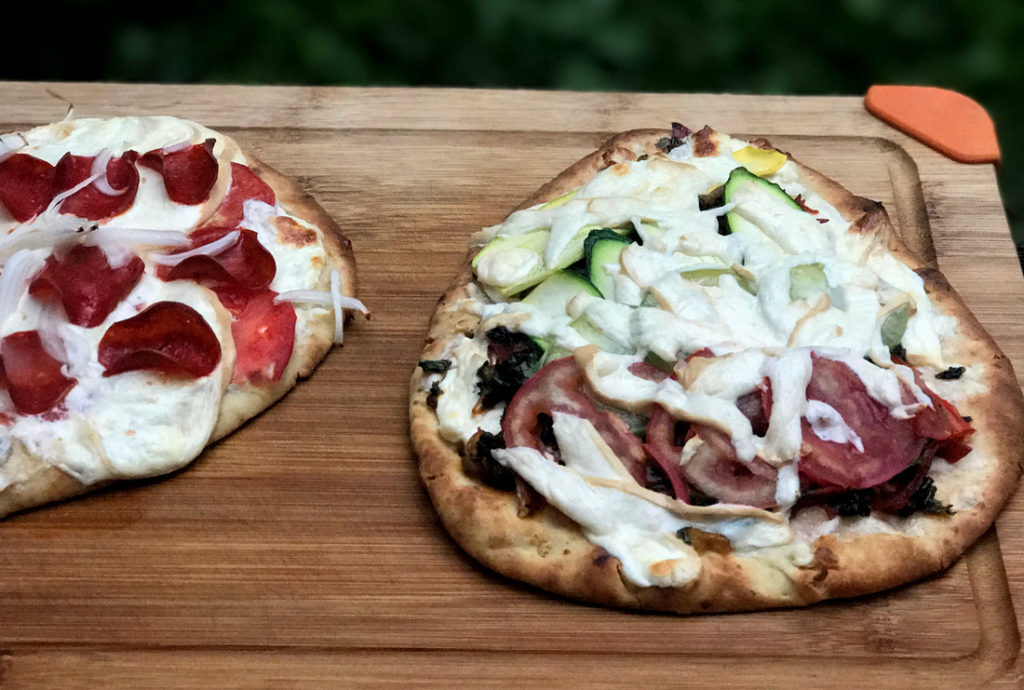 1 head of garlic – smashed and chopped
1/2 onion – sliced thin
2 cups dandelion/kale/chard mix – chopped very fine
2 Tbs olive oil
1/2 tsp cumin
1/2 tsp chili powder
2 Tbs water
1/2 C pepperoni or bacon
salt and pepper
Over medium heat slowly saute the garlic and onion until golden and softened. Add the greens, meat, cumin, and chili powder and sauté further about 5 minutes. Add water to pan to deglaze and allow to reduce another 5 minutes or so. Add salt and pepper too taste. Smear flatbread with 2 Tbs cream cheese. Drizzle with olive oil. Salt and pepper to taste. To build, spread an even layer of greens atop the cream cheese and oil, follow with thinly sliced veggies to your liking. I used tomatoes, zucchini, tomatillo and more sweet onion. Here, the cheese is smoked mozzarella but cheddar or provolone would be delicious as well. Bake in a 400 degree oven for 10 minutes and broil for another 4-5 depending on your broiler. Remove and sprinkle with chopped basil and a drizzle of olive oil. I enjoy mine with some sliced avocado. Enjoy!
Recipe, post and photos by Kristin Moyer, a local mom and chef who loves to eat, write and play with her food.