02 Sep

Freekah Stuffed Peppers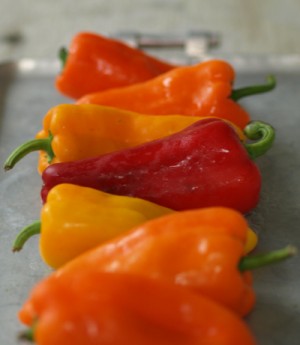 It's pretty hard to resist the sweet taste and rainbow color of the frying peppers finding their way into our share the past few weeks.  Peppers are standard in most of our diets, but did you know that they also provide a huge dose of vitamins C and A to our diets?  They're also high in phytonutrients, which help us fight off an array of illnesses and disease.  Add to that their fiber content and these little guys are a lot more than just good looks! As with most veggies, we can get the most nutrition from eating them raw.  Chopped up, you can top salads and tacos with them.  Sliced, enjoy them dipped in hummus or a black bean dip.
The stuffed pepper recipe below uses cooked peppers, which are certainly still healthy, especially since we're adding fresh tomatoes and the whole grain, freekeh. Freekah, young green wheat that's been toasted and cracked, is super rich in fiber, provides essential minerals, and is a good source of plant-based protein.
Ingredients
4 peppers, sliced in half lengthwise and cored (choose the largest ones you have)
1-1/2 cup diced peppers
2 cups diced tomatoes
1 tbs fennel
1 tbs oregano
1 tbs basil
1/2 tbs Italian seasoning
1/2 tsp salt
1/4+ tsp crushed red pepper
1 package of freekah (8 oz)*
2 cups broth
1 cup bread crumbs
3 tbs nutritional yeast (or parmesan or romano cheese)
1+ cup marinara or spaghetti sauce
* Freekah is available in the natural/organic section of the grocery store and at health food stores. If you can't find it or want to use a gluten-free grain, you can substitute freekah for brown rice (increase simmer time below to 40-50 minutes) or quinoa (decrease cooking time below to 15 minutes).
Method
Saute onion until translucent. Add garlic, sauté 1 minute. Add spices and salt and sauté for a couple minutes. Add peppers and tomato, stir and cook for 4-5 minutes. Add broth and bring to a boil. Stir in freekah and mix well. Cover, reduce to a simmer and cook for 20 minutes, adding more broth or water if necessary.
Preheat oven to 350 degrees. In a baking dish, cover the bottom with a light layer of marinara or spaghetti sauce.
Remove veggie and freekah mixture from the stove, add bread crumbs and nutritional yeast and stir until everything is well combined. Stuff pepper halves with mixture, and place in a single layer in the baking dish. Top peppers with a spoonful of marinara or spaghetti sauce. Cover and bake 35 minutes, checking occasionally to see is more sauce should be added to the bottom of the dish. Uncover and broil for 3-5 minutes, making sure pepper halves have softened.

Post sources and recommended links:
Cooked red pepper's nutritional profile on Nutrition Data.
Bell peppers on World's Healthiest Foods.
What is freekah? on the Freekah Foods website.
Post and photos by Mikaela D. Martin: Blooming Glen CSA member since 2005, board-certified health counselor, and co-founder of Guidance for Growing, an integrative wellness practice in Souderton. Read more about healthy eating and living on her site, http://guidanceforgrowing.com!