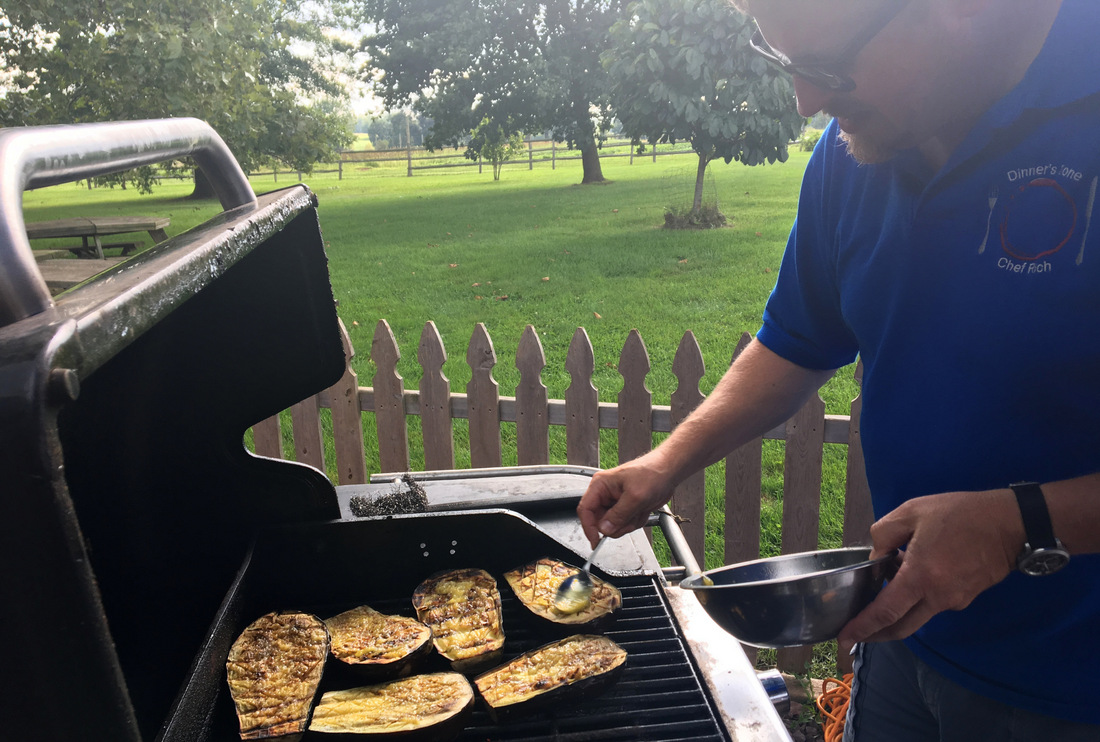 06 Sep

Late Summer Recipes with Chef Rich

Chef Rich Baringer of Dinner's Done Personal Chef Service was at the farm last week for his second demo of the season. Rich used farm fresh ingredients to create some simple, delicious dishes. The first one features eggplant (what are you making with your eggplants? Share your favorite recipes with us), and the second features the sweet Italian frying peppers. Be sure to check out Chef Rich's website and sign up for his newsletter for more recipes and tips, or check him out on Facebook.

Grilled Eggplant with Sesame and Herbs (from Milk Street magazine)

Serves 6
*If you want, you can scoop the flesh out to a bowl rather than serving in the skins.

Ingredients
2 medium eggplant (1-1.5 pound each), halved lengthwise
½ cup extra-virgin olive oil, divided, plus more for serving
Kosher salt and pepper
6 garlic cloves, grated
½ cup parsley, finely chopped
½ cup mint, finely chopped
6 Tbs. sesame seeds, toasted
1 Tbs. lemon zest
2 Tbs. lemon juice

Instructions
Prepare grill for high-heat indirect grilling.

Score flesh of eggplant in crosshatch pattern, ¾" apart. Use ¼ cup oil to brush on flesh, then season with salt and pepper. In a small bowl, combine remaining oil with garlic.

Grill cut side down on hot side of grill until well browned, 5-10 min. Flip to skin side down on cooler side of grill. Brush garlic-oil onto eggplant, pushing down into the cuts. Cover and cook until a skewer gets no resistance from the narrow end of the largest eggplant, 20-30 min.

In a small bowl, stir together parsley, mint, seeds, zest, 1 tsp. salt and ½ tsp. pepper. Use a spoon to remove flesh from skin, but leave it in place. Top each half with the herb topping and carefully mix together. Drizzle with oil and lemon juice. Serve warm or at room temp.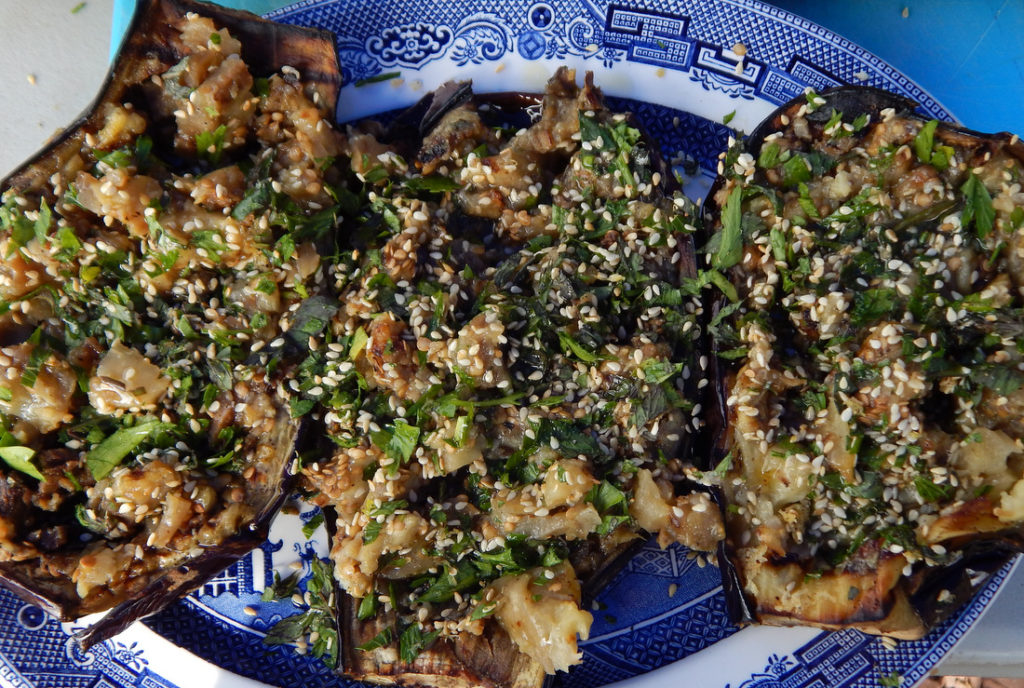 Peperonata for Bruschetta (adapted from America Farm to Table by Mario Batali)
Serves 6
*This recipe uses the peppers on grilled bread, but you could eat them as a side dish or as a condiment for grilled fish or meat.
Ingredients
3 Tbs. extra-virgin olive oil
1 red onion, julienned
2 red bell peppers, cored, seeded and cut into thin strips, *sub in sweet red frying peppers
2 yellow bell peppers, cored, seeded and cut into thin strips, *sub in sweet orange frying peppers
2 jalapenos, seeded and thinly sliced
2 anchovy fillets, rinsed and chopped
2 Tbs. sherry or red wine vinegar
Kosher salt and pepper
1 tsp. marjoram leaves, roughly chopped
6 slices crusty bread (1" thick)
4 garlic cloves
Instructions
In a large sauté pan, heat the oil until almost smoking. Add onions, peppers, jalapenos and anchovy and sauté until edges are browned and softened, about 4 min. Add vinegar, salt and pepper to taste, reduce heat to medium and cook 5-7 min more until peppers are tender.       Season with salt and pepper to taste and set aside to cool. Stir in marjoram.
Grill or toast bread, turning once until marked with grill marks or golden brown. Rub garlic around circumference of toast and top with pepperonata. Serve warm.
*Peperonata is a traditional Italian dish of fried sweet peppers, onions and plum tomatoes.  A google search will yield a number of variations.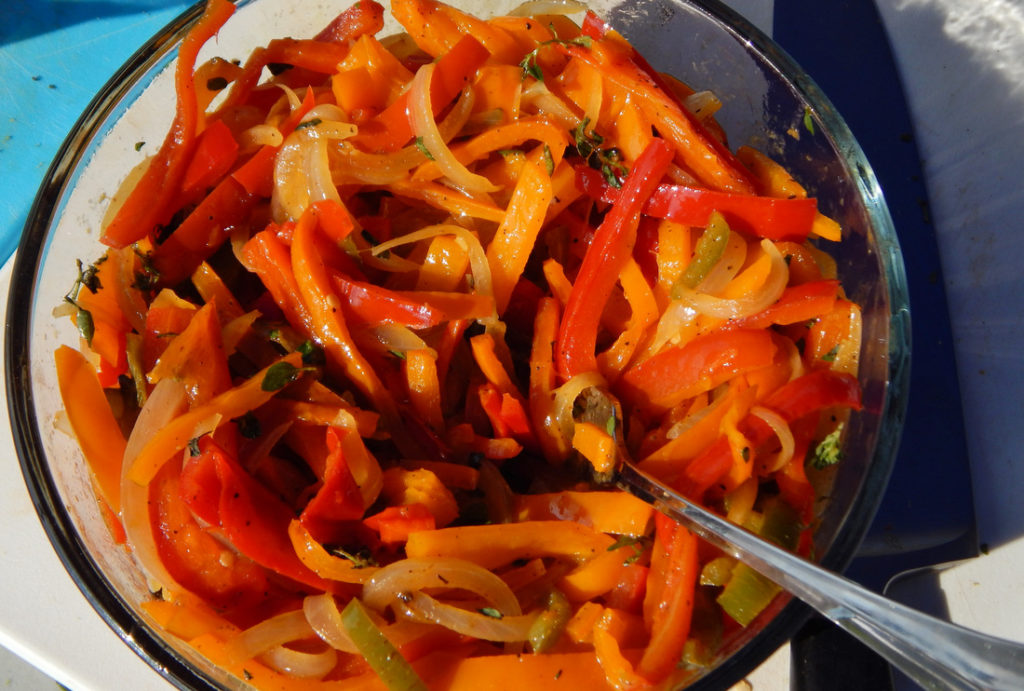 Post by Tricia Borneman, Blooming Glen farmer and co-owner. Recipes and photos provided by Chef Rich Baringer of Dinner's Done Personal Chef Service. Tricia and her husband Tom have been farming together since 2000. Blooming Glen Farm is celebrating its 12th season bringing high quality certified organic vegetables, herbs, fruits and cut flowers to our local community.