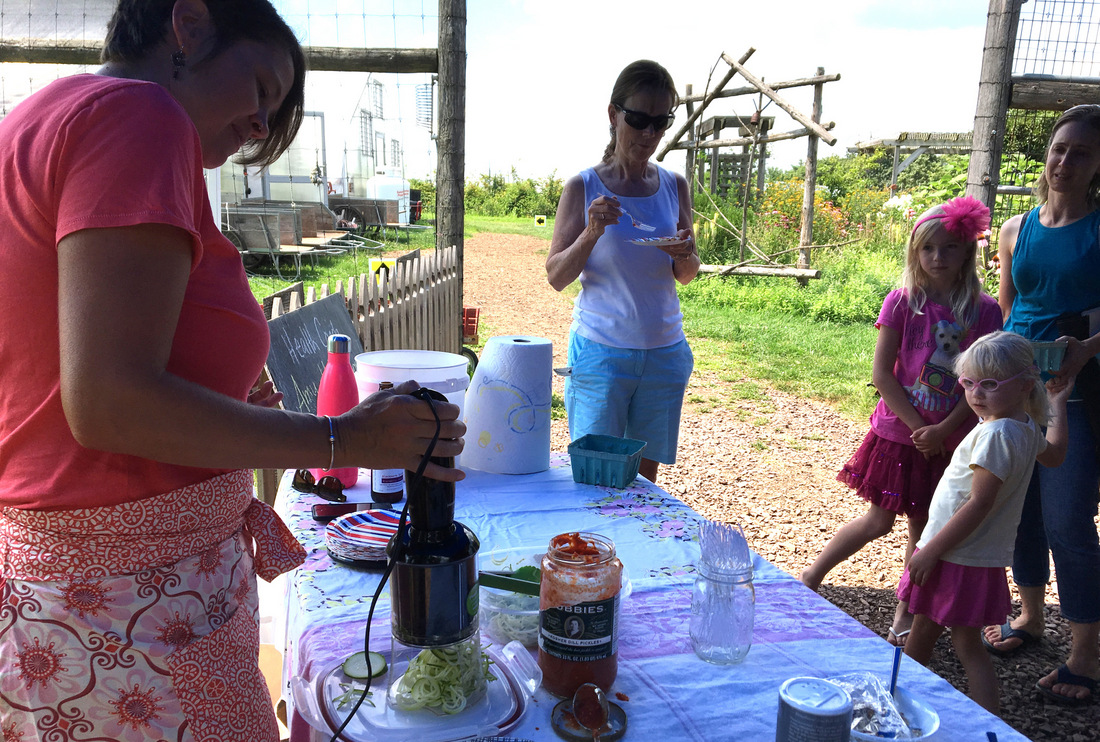 14 Aug

Zucchini Spaghetti with Easy Lentil Marinara

Health Coach Amy Hutchinson was at the farm last week and demonstrated how to make spiralized zucchini noodles. Zucchini noodles are all the rave, but this is one trend that's on point. It's a pretty fantastic way to eat lots of fresh raw zucchini (though you can also lightly sauté the noodles if you prefer). The "zoodles" are delicious topped with pesto and cherry tomatoes, or a more traditional marinara sauce that's made exceptional by using farm fresh produce and herbs. Amy provides some recipe suggestions below. If you want to add zucchini noodles to your summer repertoire, there are lots of different inexpensive spiralizer models online at amazon.com or at places like Bed, Bath and Beyond.

ZUCCHINI SPAGHETTI WITH EASY LENTIL MARINARA, serves 4

Author: In Sonnet's Kitchen

Ingredients
1 cup dried french lentils
2 cups water
3 tablespoons olive oil, divided
1 medium yellow onion, diced
2 garlic cloves, minced
2-15 oz cans organic tomato sauce
1 teaspoon dried basil
1 teaspoon dried oregano
½ teaspoon dried thyme
6 medium zucchini, spiralized into pasta
salt and black pepper to taste
½ yellow onion halved and sliced

Instructions
Add lentils and 2 cups of water to a medium pot. Bring to a boil and then lower to a simmer and cook until lentils are tender and liquid is evaporated, about 30 minutes.
Meanwhile, add 1 tablespoon olive oil to a pan over medium heat. Add the onion and sauté for 5 minutes, or until translucent. Add the garlic cloves and sauté for an additional minute, until fragrant.
Add the tomato sauce, basil, oregano, thyme, and salt and pepper to taste. Simmer on low for 20 minutes.
When lentils are done cooking, add them to the sauce and simmer for an additional 5 – 10 minutes.
In a separate pan, add the remaining tablespoon of olive oil and sauté the zucchini pasta for 5 – 10 minutes, until desired tenderness is achieved.
In another sauté pan, cook onions until browned and crispy.
Divide the pasta among four plates and top with lentil marinara and fried onions. Serve hot.
Notes:
Fresh zucchini will often lose moisture as the zucchini pasta cooks so be sure to drain any liquid that has built up in the pan. The recipe holds well as leftovers, but the zucchini does tend to release extra moisture as it sits so be sure to drain pasta before serving.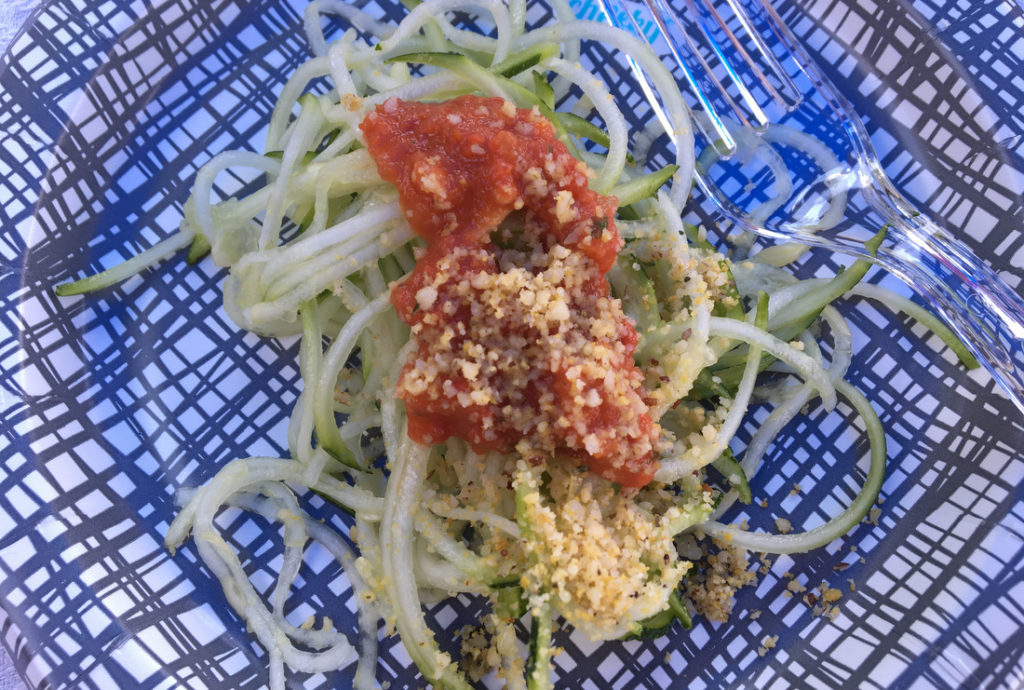 RAW VEGAN MARINARA SAUCE over ZUCCHININI NOODLES
Ingredients
6 roma tomatoes or equivalent cherry tomatoes, chopped
1/3 c dried tomatoes
1 sweet pepper, seeded and chopped (or 1 green bell pepper)
1-2 dates, pits removed
Handful of fresh basil
2 cloves garlic, chopped
Fresh or dried oregano
1 T balsamic vinegar
1 T olive oil
Instructions
Add all ingredients to a powerful blender or food processor. Blend until desired consistency.
Topping options
Fresh Lemon or Thai Basil
Kalamata olives, pitted and chopped
Walnuts, chopped
VEGAN PARMESAN CHEESE : https://minimalistbaker.com/5-ingredient-vegan-parmesan-cheese/
Recipes provided by Amy Hutchinson, a recent graduate of the Institute for Integrative Nutrition and a Certified Integrative Nutrition Health Coach. Amy is the mother of 3 very busy girls and understands the complexities of the weeknight and the importance of a home cooked meal.  She helps clients with planning and prepping and provides quick, easy, delicious and mostly "clean" recipes and meal plans for busy families.  Amy also helps families reduce their sugar and caffeine intake.  She believes that eating healthier and cleaner  can lead to making other overall healthy choices and decisions effecting our wellbeing.  Visit Amy at http://www.healhc.com/ on Facebook as Amy Hobson Hutchinson and Instagram as Healhealthcoach.
Honor where you are today. Eliminate that which does not serve you. Align mind body and soul. Live the life you are meant to live.