10 Jun

Kohlrabi and Radish Salad

We are thrilled to introduce you to plant based nutrition educator Kris Keating. Kris has joined us at Blooming Glen on Tuesday and Thursdays to prepare lunch for our hungry farm crew. It's no small task to feed 14 field weary farmers- I advised her to approach it like she was feeding a team of athletes. And what wonderful meals we have enjoyed so far! Kris, founder of the Soleil Kitchen, is a chef with a focus on fresh organic whole foods. Kris is excited to be a part of Blooming Glen Farm and to continue her mission of putting healthy plant based cuisine ideas within reach of the local community. She will be sharing some of her wonderful recipes (and stunning photos) with you through this blog and hopefully doing some demos and tastings during CSA pick-ups as well.

Kohlrabi and Radish Salad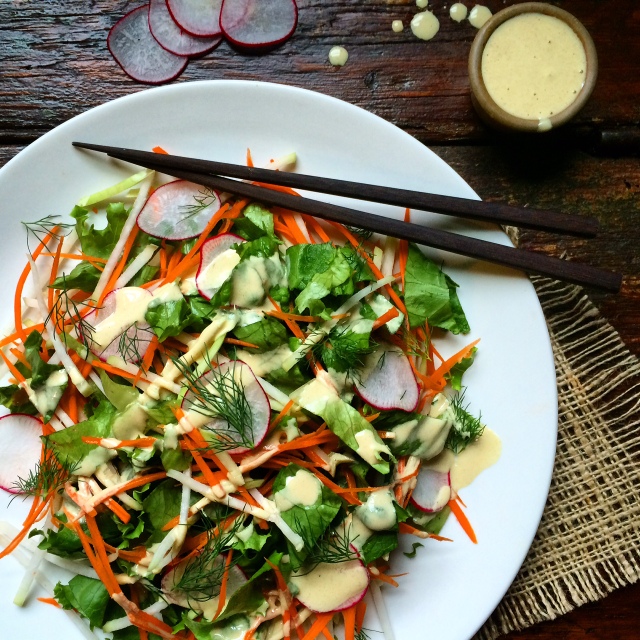 Ingredients, Serves 2 entree or 4 appetizer
1 head green leaf lettuce, chopped
1 medium kohlrabi, julienned (or 2 small)
2 carrots, julienned
4 radish, sliced finely
2 tbs dried cranberries
A few fresh dill sprigs
Toss all ingredients together in large bowl except radish, cranberries, and dill. Divide evenly among two/four plates and garnish with sliced radish, cranberries, and fresh dill sprigs. Pair this with the creamy lemon-garlic dressing and you have a colorful and delicious salad with a unique blend of farm-fresh flavors and textures.
Note: An easy and quick way to julienne your vegetables at home is by using a handheld mandoline. Kyocera makes an inexpensive and good quality mandoline that can be purchased on Amazon.com for less than $25.
Creamy Lemon-Garlic Dressing
Ingredients, Makes about 4 servings
1 cup water
1/4 cup cashews
2 tbs tahini
2 tbs fresh lemon juice
2-3 dried dates
1 tsp apple cider vinegar
2 cloves garlic (or 1 tsp granules, or 1 stalk green garlic)
1/2 tsp sea salt
Pinch of tumeric (for color)
Blend until smooth using a high-speed blender. Store leftovers in a sealed glass container in the fridge for up to 5 days.
Note: If you do not have a high-speed blender, you can soften the dates and cashews by soaking them in 1 cup of water overnight. You can then prepare your dressing in the morning using a standard blender.
Photo and recipe by Kris Keating, plant based nutrition educator, detoxification specialist and raw food chef and instructor.
As a certified Raw Food Chef and Instructor from Living Light Culinary Arts Institute in Fort Bragg, California, Kris incorporates a creative blending of culinary art and raw food nutrition into her meal preparations. She has a special knack for transforming simple whole foods into tasty dishes that are not only minimally prepared but beautifully presented as well. Kris enjoys creating recipes that inspire people to return to eating more fresh plant-based and embrace the valuable connection between cuisine and health. For consultations, classes and more, check out her website, Kris Keating Consulting or follow her on her Facebook page where she will also be posting her delicious recipes from the farm.