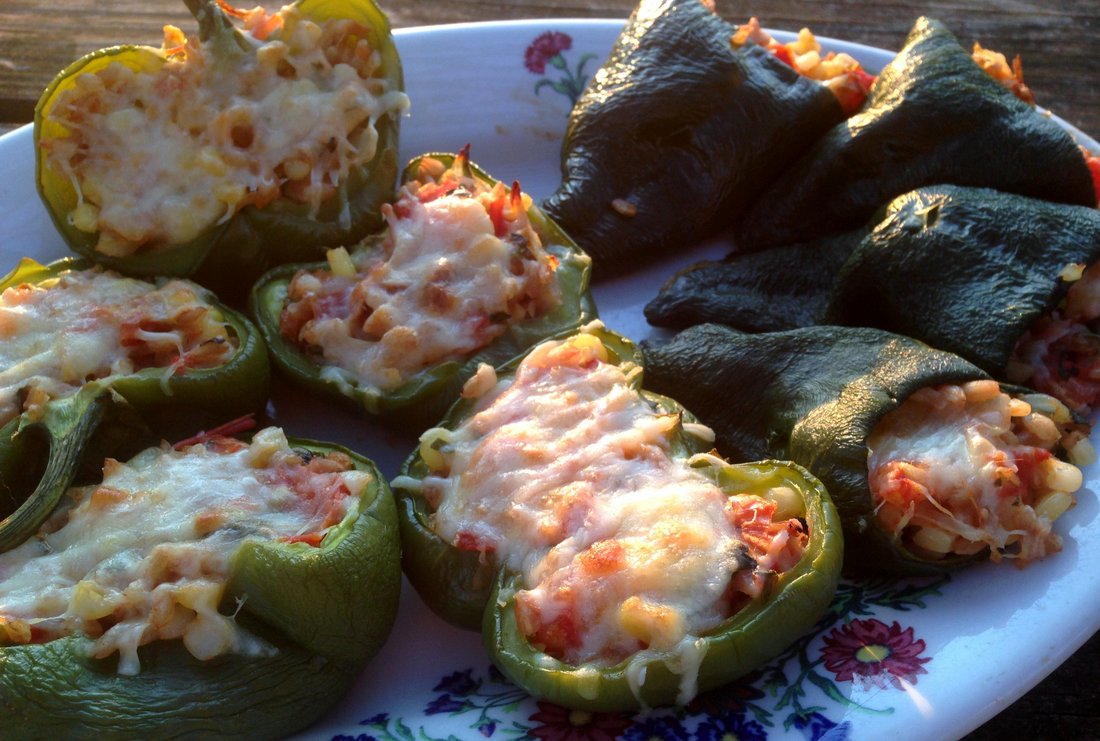 28 Jul

Farro Stuffed Peppers

Farro is an ancient grain, similar in appearance to rice, but with a more nutty nuanced flavor and a chewy texture. To prepare whole grain farro you need to think ahead and soak the grains overnight, but you can cheat and get the semi-pearled variety, which cooks in 15-25 minutes, and is available at most grocery stores and whole foods stores. Whole farro retains all the grain's nutrients; with semipearled part of the bran has been removed but still contains some fiber.

I fell in love with farro after making this one-pan farro with tomato dish from Smitten Kitchen. If you aren't familiar with the blog Smitten Kitchen, you should be! Her seasonal recipes that highlight the delicious flavors of farm fresh veggies always impress me- it is super easy to search her site by ingredient, and pull up lots of ideas. You can choose a simple recipe like the one pan farro and tomatoes, or get a little more ambitious, like this delicious zucchini galette I made with our zucchini and some farmers market ricotta from Fulper Farms (they have a stand at the Wrightstown Farmers Market on Saturday's). And don't get me started on Smitten Kitchen's desserts!

So when I saw the first harvest of our giant green bell peppers, I knew I wanted to stuff them with some sort of farro mixture. I brought 3 cups of water to boil and threw in a cup of farro and simmered it until the grains were the texture I wanted (chewy but not mushy), about 30 minutes. Some people say to simmer covered, I did it uncovered but had to add water periodically as it cooked off, so covered is probably a better bet (or start with more water and simmer gently).

In a large saucepan I sautéed in olive oil 4 cloves of garlic and one thinly sliced onion (you could use a sweet onion or the red torpedo's). Then I added in a chopped tomato (or two), about a cup of leftover cooked corn kernels from our dinner the night before (cut off the cob). I also diced up a chicken breast from Hershberger Heritage, also leftover from grilling the evening before, and threw in a handful of chopped basil. Then I added most, but not all of the cooked and drained farro.  I simmered everything until the juices from the tomato were running.

Meanwhile, I cut two bell peppers in half lengthwise, seeding and coring them, being careful not to pierce the walls of the pepper. I also cut the tops off of some poblano peppers. The peppers went into a steamer basket for 15 minutes. Let cool enough to handle and carefully lay out on a cookie tray. Preheat your oven to 400 degrees. Spoon the farro mixture into the pepper halves, and stuff into the poblanos. Sprinkle with grated parmesan and mozzarella (or whatever cheese you have on hand). Bake for 20-25 minutes until cheese is melting and peppers are slightly browned. You can really improvise with the ingredients and scale depending on how many peppers you are stuffing and what you have on hand. Removing the seeds of the poblanos does reduce their heat, but I noticed that the membrane that the seeds are attached to is very hot, so as we got closer to the tip of the pepper, we were in for some delicious heat. You can either try to remove this membrane better than I did, or save the poblanos for those in your family who like that smoky heat.

Serve with a tossed salad- chopped romaine, cucumbers, grated carrots (and a glass of white wine?). Delicious!

Post and photos by Tricia Borneman, Blooming Glen farmer and co-owner.  Tricia and her husband Tom have been farming together since 2000. Blooming Glen Farm is celebrating its 11th season bringing high quality certified organic vegetables, herbs, fruits and cut flowers to our local community.