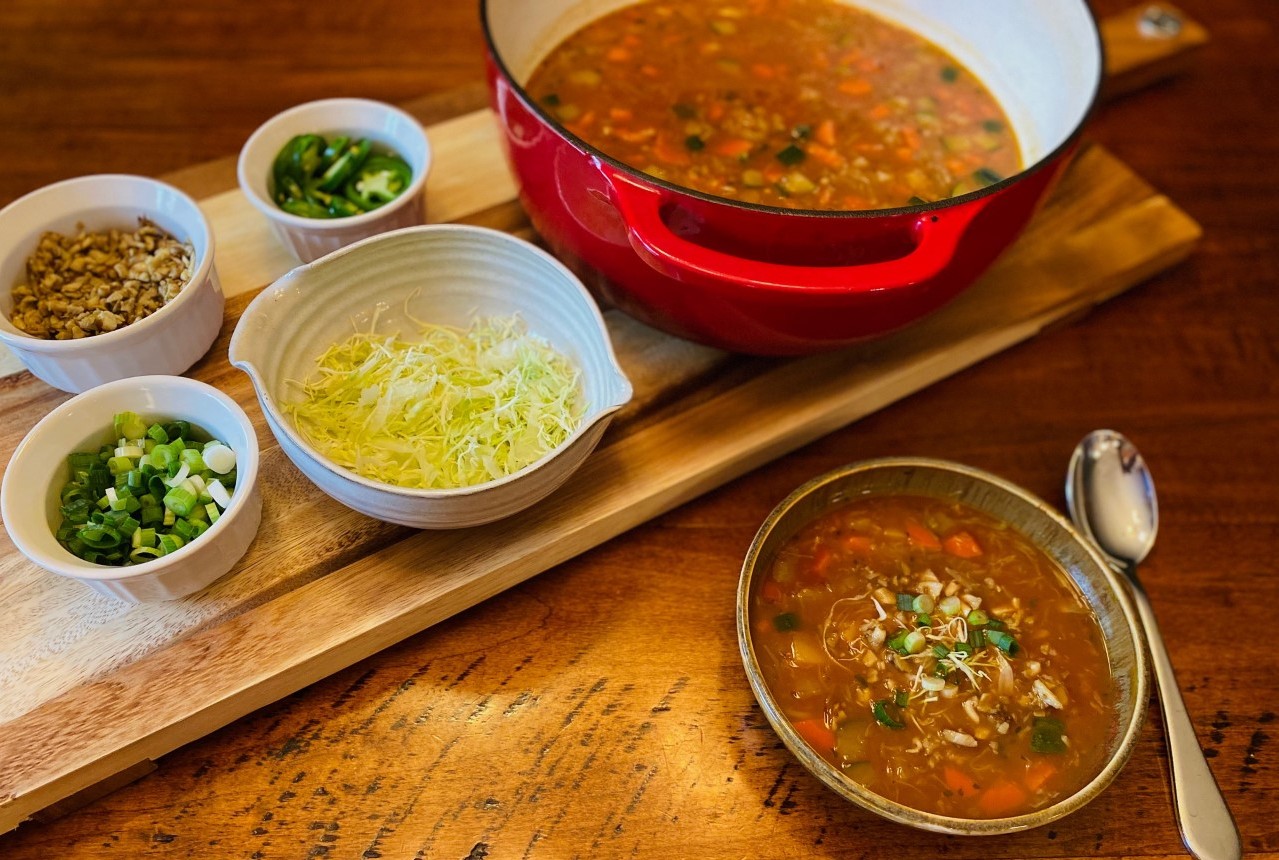 30 Sep

Vegetable Soup

As the weather begins to cool, it is the perfect time to simmer some soup on the stove top.  This vegetable soup combines several of the items in our CSA shares this week, (and any stray zucchini you may have floating around your fridge).  Serve as a meal with a side of your favorite fresh bread and then heat up leftovers for lunch during the week.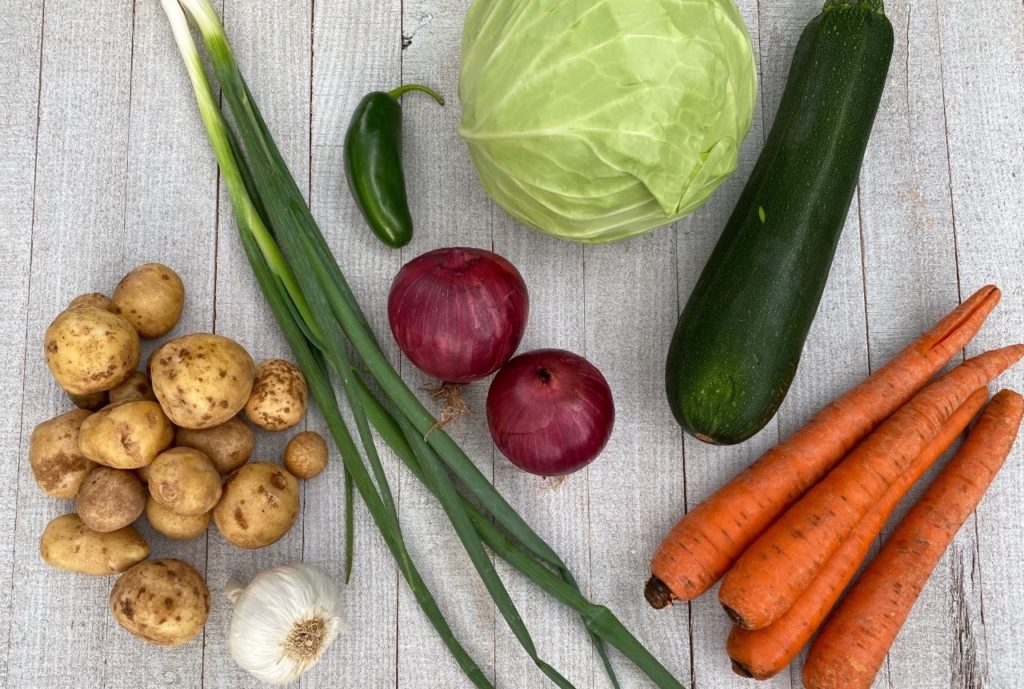 Ingredients:
3 Tbsp olive oil or avocado oil
2 medium onions (red or yellow), chopped
4 large carrots, peeled and chopped (or sub in hakurei turnips)
2 cups diced potatoes (leave skins on)
3 large cloves garlic, minced
6 cups broth (bone broth- chicken or beef, or vegetable broth)
2 cups diced zucchini
¼ cup tomato paste
1 tsp sea salt
½ tsp black pepper
1 tsp dried parsley (or 1 Tbsp finely chopped fresh parsley)
½ head cabbage
Scallions, chopped (for garnish)
Jalapenos, sliced thin (for garnish)
Heat oil in large saucepan or Dutch oven.
Add onions and sauté for 3 minutes.
Add carrots, potatoes, garlic, and broth. Bring to a boil.
Reduce to a simmer, cover, and cook for 10 minutes.
Add zucchini, tomato paste, salt, pepper, and parsley. Cover and cook for 10 more minutes.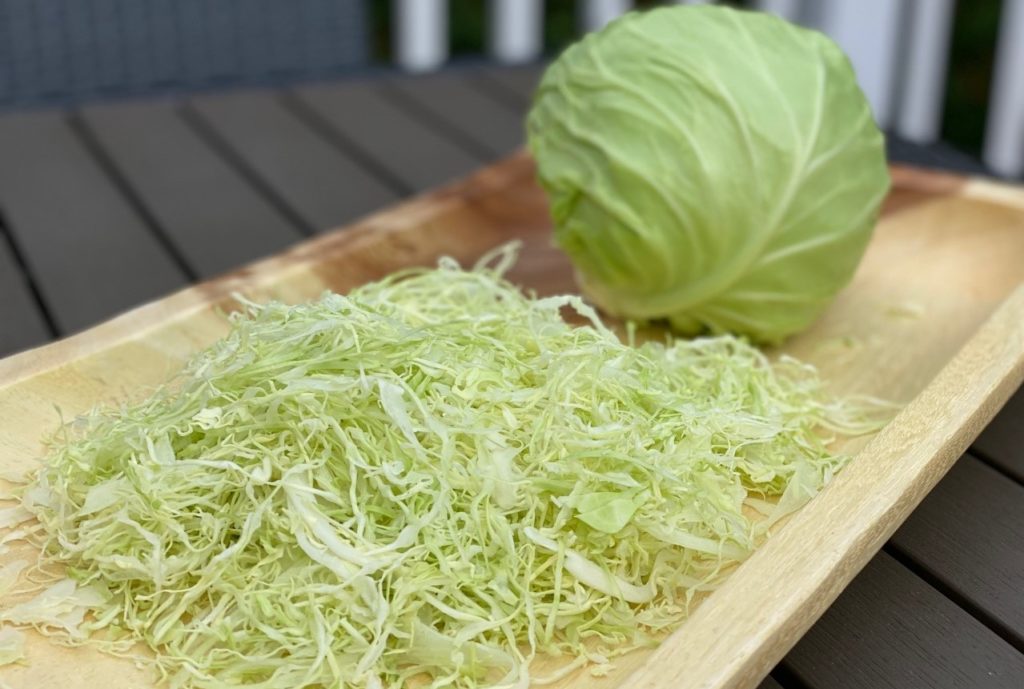 Finely shred cabbage. Reserve ¼ of the shredded cabbage for garnish.  Place the rest of the shredded cabbage into the soup.  Cook uncovered for 5 minutes.
Serve immediately.
Garnish with shredded cabbage, scallions, and/or jalapenos.
*I also finely chopped our Golden Oyster mushrooms from this week's mushroom share from Primordia Farms.  I sauteed them in a little olive oil.  We used them as a garnish on the soup also.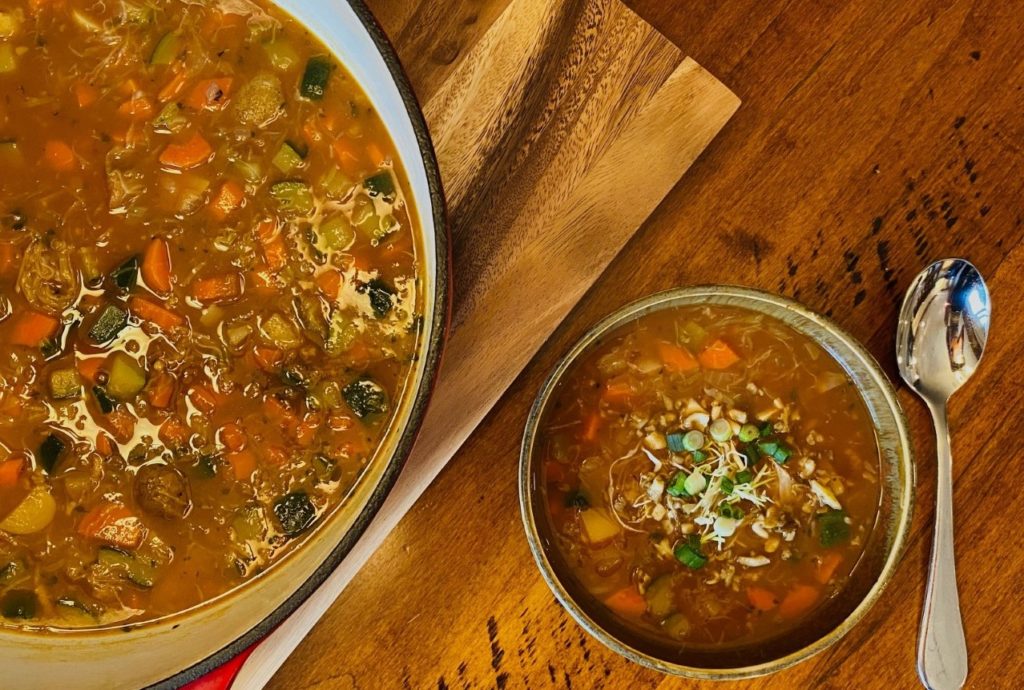 Recipe and photos by Stephanie Borzio.  Stephanie is a mom of three active boys and is an autoimmune warrior.  After battling her own health for several years, Stephanie found healing through food and lifestyle changes, including joining Blooming Glen Farm CSA of which she is a long time member.  She is a Board Certified Integrative Nutrition Health Coach who is passionate about sharing healthy living tips and real food recipes.  Instagram and Facebook: Tru You Essentials; Website: www.truyouessentials.com