21 Jun

Bitter sweetened: Sautéed Radicchio & Onions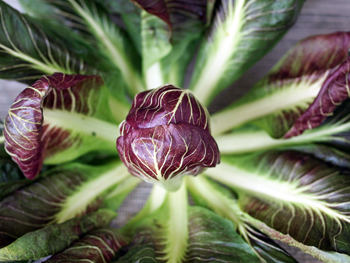 Radicchio (pronounced rad-EE-key-o) is a leaf chicory common in Italian and Mediterranean cooking that is familiar to us mostly because of its inclusion in "spring mix" salads. Nutritionally, radicchio is low in saturated fat, and very low in cholesterol. It's a very good source of vitamins C, E, and K, folate, potassium, copper, and manganese, and a good source of fiber, vitamins B5 (pantothenic acid) and B6, iron, magnesium, phosphorus, and zinc.  The presence of vitamins C and E, zinc, and carotenoids, give radicchio antioxidant properties. Antioxidants protect and repair cells from the damage caused by free radicals that contribute to many chronic diseases (including heart disease), cancers, inflammatory conditions (including arthritis), and immune system dysfunction.
While radicchio is clearly a great veggie to include in our diets, one issue that most people have with it — myself included! — is its bitter flavor.  This bitterness is actually due to intybin, a substance in radicchio that is beneficial to our blood and digestive systems, and is traditionally used for its sedative, analgesic, and antimalarial effects. There are two ways to diminish the bitterness: either soaking in ice water for 30 minutes (for salads and slaws), or cooking. The recipe below uses the latter method, and also the common practice of including sweet ingredients (fresh citrus, honey, raisins and figs are common in radicchio dishes) to further cut any bitterness. Note that simply soaking or cooking in no way eliminates radicchio's bitterness, but simply lessens it.
References and recommended links: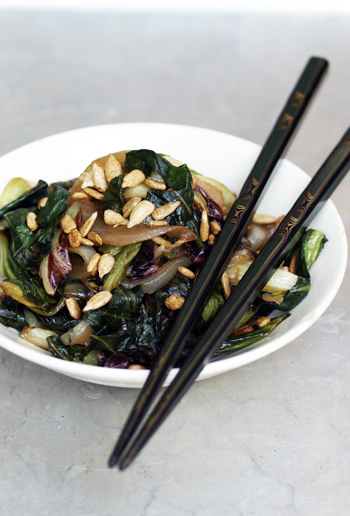 Sautéed Radicchio & Sweet Onion
Ingredients
1-1/2 tsp olive oil
1 large Vidalia onions (or other sweet onion), sliced (~2 cups)
1 head radicchio with outer green leaves, cut into ribbons (~4 cups)
3 tbsp balsamic vinegar
3 tsp agave (or other sweetener)
Salt and pepper to taste
Method
Heat oil in large skillet over medium heat. Add onions and cook until they become soft and translucent, stirring often, about 7 minutes. Add vinegar and stir to blend. Add radicchio, agave, salt, and pepper. Continue cooking, tossing frequently, until radicchio is tender, about 5 minutes.  Serve hot, at room temperature, or chilled. Serving suggestions include:
On it's own, topped with sunflower or sesame seeds, as a small dish or snack (pictured)
As a side dish, topped with chopped nuts or cheese, for diner
With smoked mozarella or gruyère as a topping on a white pizza
As a filling for an omlete or quiche
In a sandwich or wrap
With roasted garlic and oil as a pasta topping
With roasted veggies as a salad topping
Post and photos by Mikaela D. Martin: Blooming Glen CSA member since 2005, board-certified health counselor, and co-founder and -owner of Guidance for Growing, an integrative wellness practice in Souderton. Read more about healthy eating and living on her site, http://guidanceforgrowing.com!