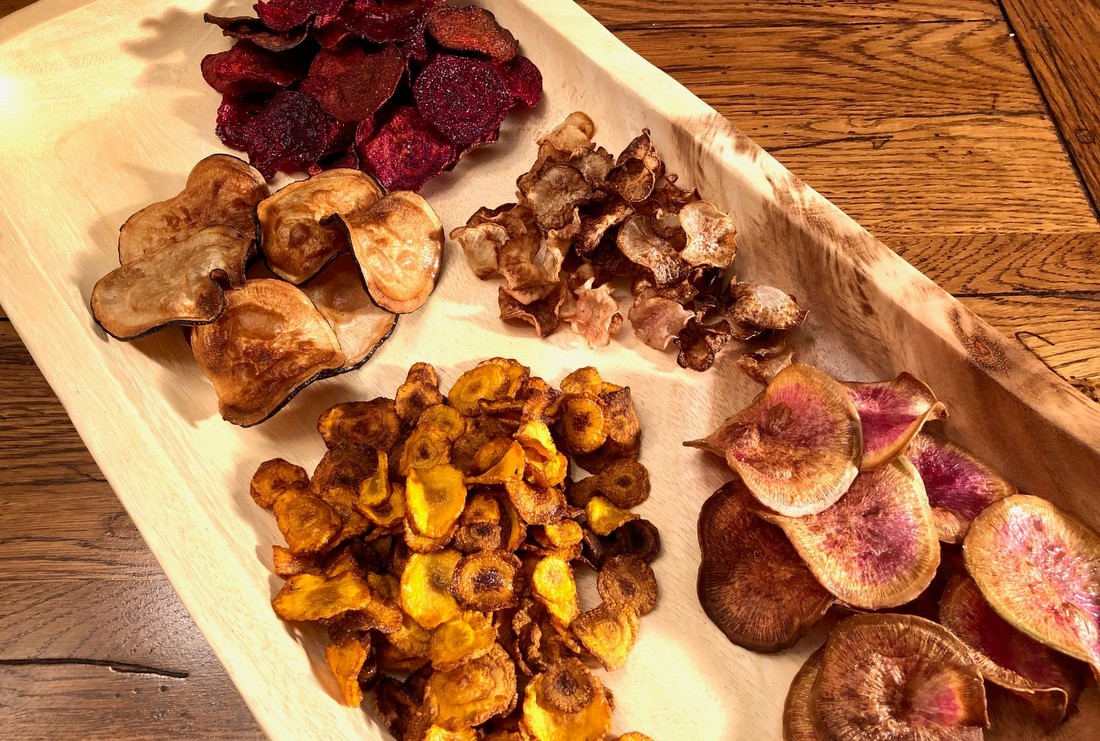 05 Nov

Veggie Chips

As the CSA begins to wind down to its last few weeks, we are blessed with lots of fall root vegetables.  There are so many vegetables that you can turn into "chips", so feel free to play around with this recipe for whatever is in your refrigerator or pantry.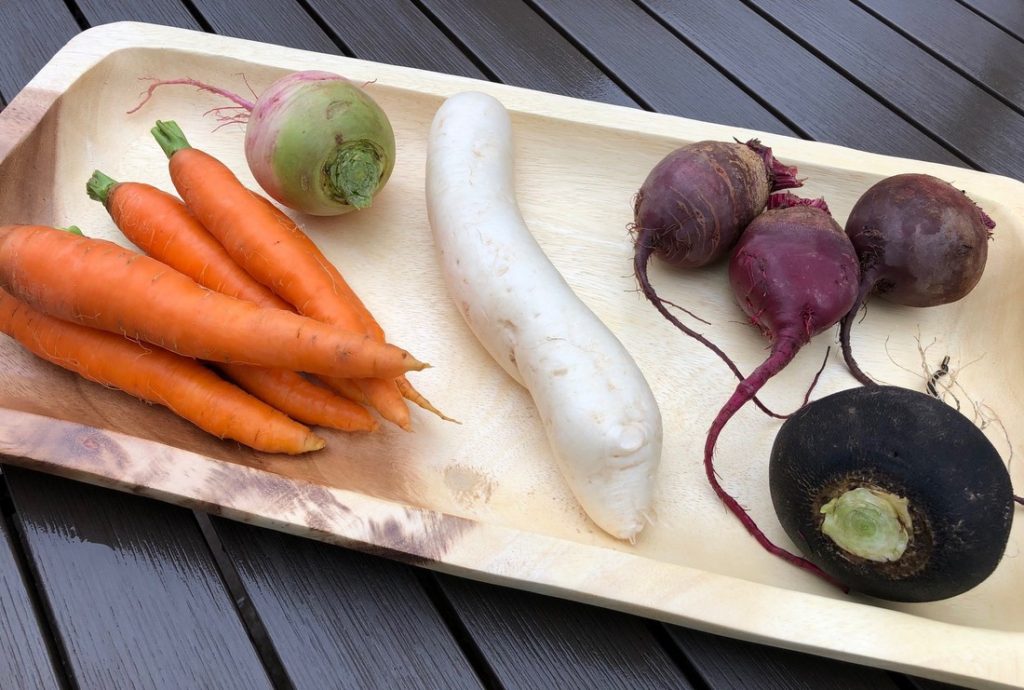 Ingredients:
2-3 carrots
1 watermelon radish
1 black radish
2 beets, peeled
½ daikon radish
1-2 tsp sea salt
4 cups cooking fat (lard, tallow, coconut oil, etc.)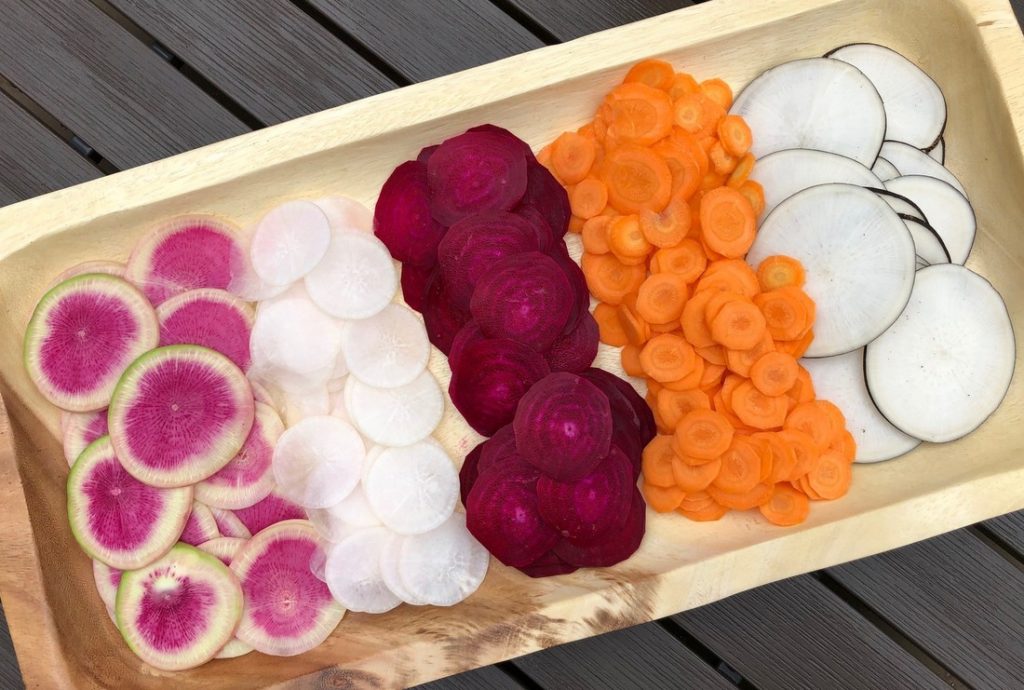 Seasoning Ingredients:
3 tsp sea salt
1 tsp garlic powder
½ tsp cayenne pepper
Thinly slice vegetables on mandolin (use the thinnest setting).
Lay each vegetable slice on a paper towel or cloth towel. Sprinkle with sea salt and let sit for 10 minutes.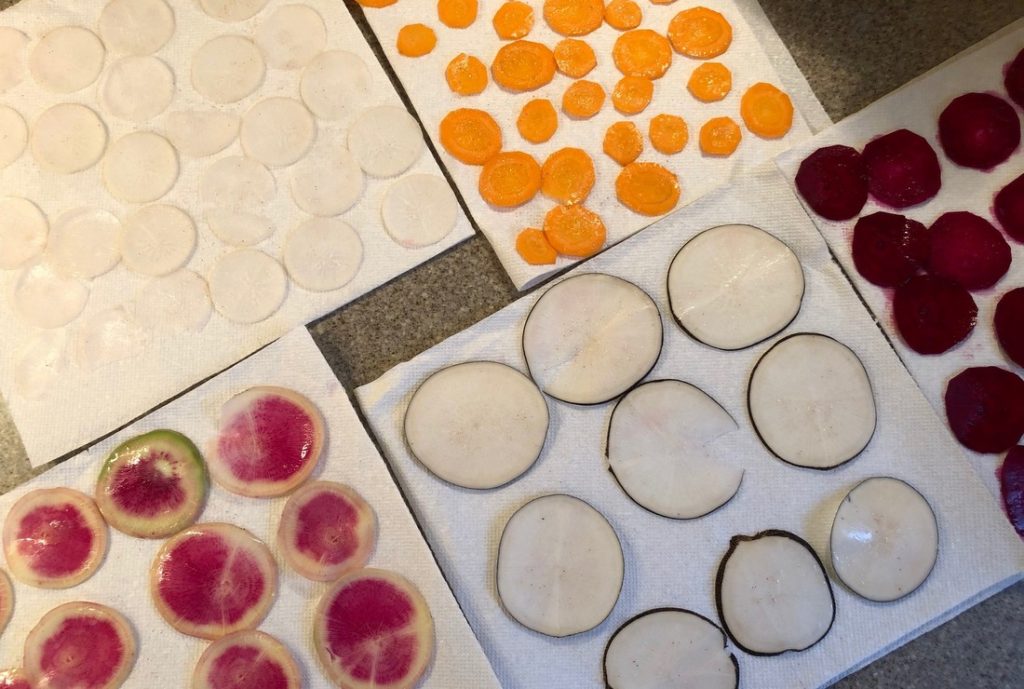 Heat cooking oil in Dutch oven on stove top.
You can test the temperature of the oil by placing one vegetable slice in the hot oil. It should sizzle and begin cooking right away, but not cook so fast that it burns.  Adjust the temperature of the oil as needed.
Wipe the "sweat" off of the vegetables and drop in the hot oil one at a time.
Put in several slices so that there is one layer of vegetables cooking in the oil.
Allow the vegetables to cook and the edges to lightly brown. When they begin to look crispy, flip them.  Each type of vegetable with take a different amount of time to cook.  Just pay close attention to them.
When each vegetable slice is done cooking, remove from oil and place on paper towel lined plate to cool.
Mix seasoning ingredients together in a small bowl.
Sprinkle hot chips with a little bit of the seasoning mix.
Repeat until all slices are cooked, seasoned, and cooled.
Serve these chips as a side by themselves or with your favorite dip/sauce.
Enjoy!
*These are best served the day they are made.  They do not really store well because they lose their crispiness!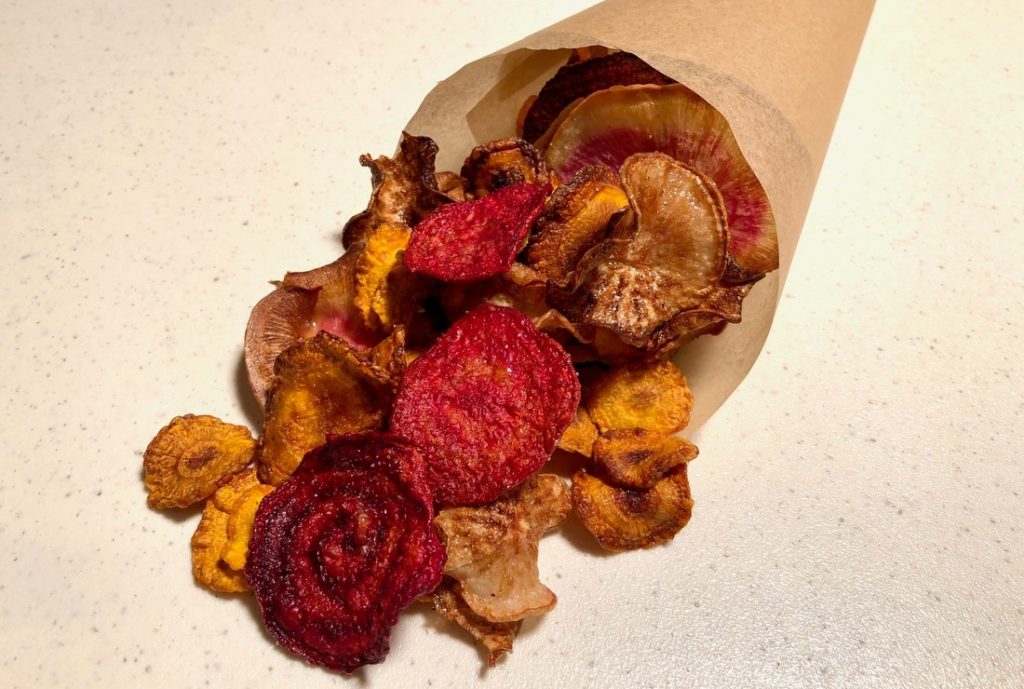 Recipe and photos by Stephanie Borzio.  Stephanie is a mom of three active boys and is an autoimmune warrior.  After battling her own health for several years, Stephanie found healing through food and lifestyle changes, including joining Blooming Glen Farm CSA of which she is a long time member.  She is a Board Certified Integrative Nutrition Health Coach who is passionate about sharing healthy living tips and real food recipes. Instagram and Facebook: Tru You Essentials, Website: www.truyouessentials.com