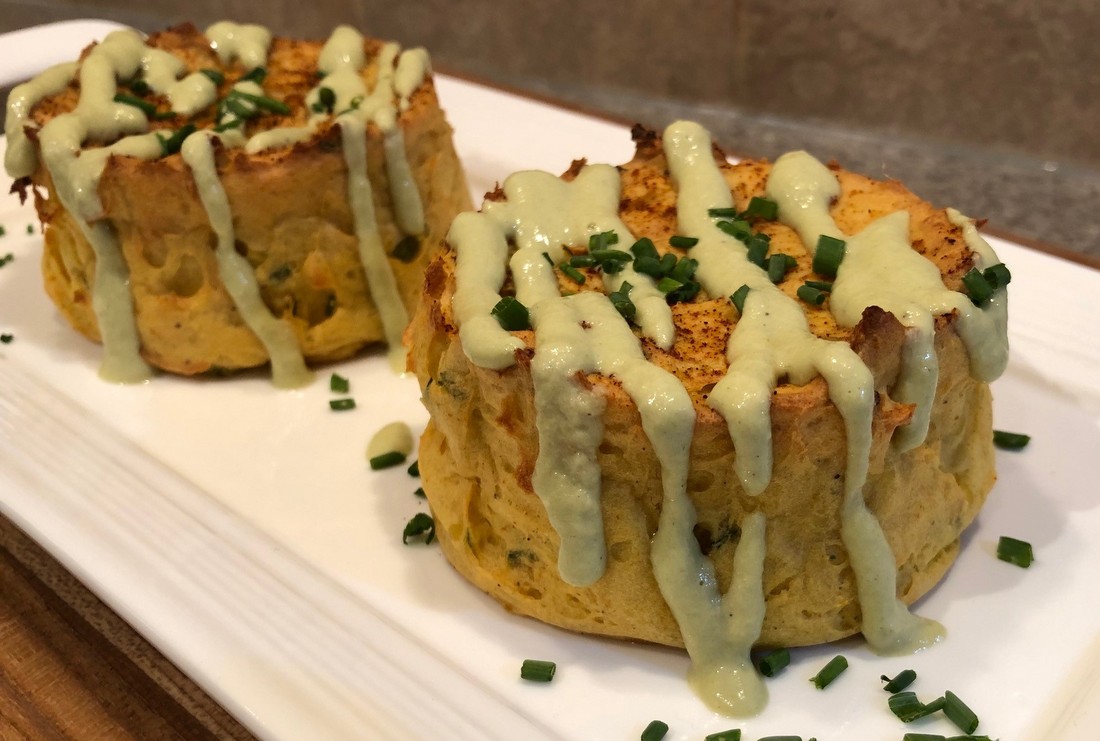 21 Oct

Mashed Potato Cakes with Creamy Leek Sauce

Potatoes can be mashed, baked, fried or roasted.  They can be used in stews, shredded and cooked as a breakfast side, or sliced and grilled.  They are incredibly versatile and are used in a variety of different recipes.  This week I wanted to showcase them in a very different way.  These mashed potato cakes can be a great side dish to any meal.  We served them alongside sautéed greens and grilled pork chops.  I even made a second batch to freeze and use as a quick side for a future meal.

Potato Cake Ingredients:
2 lbs potatoes, peeled and rinsed
2 Tbsp butter (can also use coconut oil)
¾ tsp sea salt (plus a few pinches to season water)
¼ tsp black pepper
½ tsp onion powder
½ tsp garlic powder
¼ tsp paprika (plus a little bit for garnish)
2 eggs
2 Tbsp fresh chives, finely chopped
Fill a large pot halfway with water. Add a few pinches of sea salt.
Cut potatoes so pieces are about the same size. Place in pot of water.  Bring to a boil.
Reduce to a simmer. Cook until potatoes are fork tender.  Cooking time will vary depending on size of potato pieces and type of potato used.
Drain potatoes. Place them in a large bowl or a stand mixer.  Mash well.
Preheat oven to 375°F.
Add in butter, sea salt, black pepper, onion powder, garlic powder, and paprika to mashed potatoes. Mix well.
Add in eggs and chives. Mix well to combine all ingredients.
Line a baking sheet with parchment paper. Use a ring mold to shape the cakes.  *I used a ring mold that was 3 inches in diameter and 1 ½ inches high. If you don't have a mold, feel free to shape them by hand or create a mold using aluminum foil.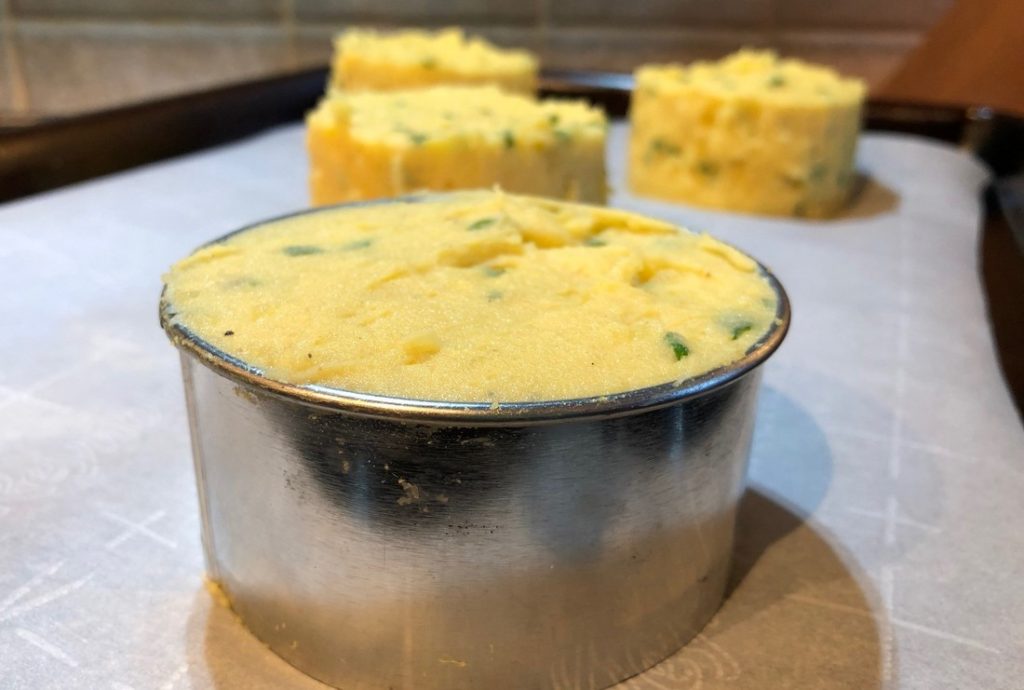 Fill the mold with the potato mixture, pressing down the sides to fill the mold. Use a butter knife to release the cake from the mold. Gently lift the mold away from the cake.
Continue to make cakes until all of the potato mixture is gone. This recipe makes about 5-6 cakes depending on size of mold.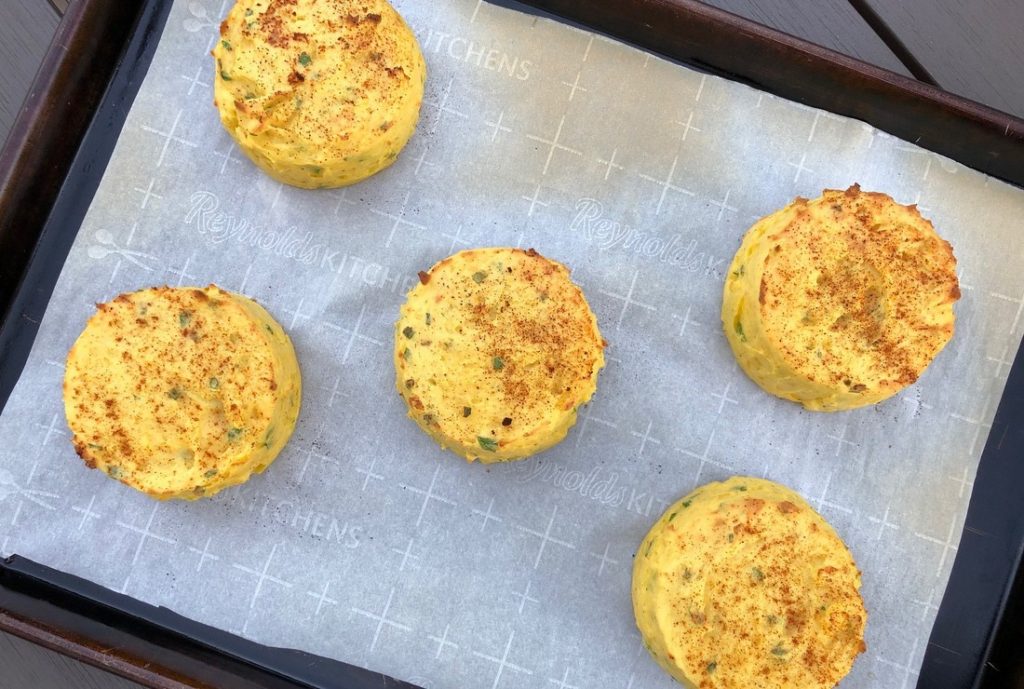 Sprinkle the tops of the cakes with a little paprika. **You can actually freeze the cakes at this point.  Place the baking sheet in the freezer. Once cakes are frozen, remove from sheet and place in airtight container in freezer. When ready to use, thaw the cakes and bake as directed in recipe.
Bake the cakes for 20 minutes or until the outside is crispy. Broil for a minute or two to get the tops golden brown.
To serve, place cake on plate. Drizzle with creamy leek sauce (recipe below) and garnish with fresh chives.

Creamy Leek Sauce Ingredients
2-3 leeks, thoroughly washed and thinly sliced (white and light green parts)
1 Tbsp avocado oil or butter
4 cloves garlic, chopped
1 cup almond (or other type) milk
¼ tsp sea salt
Pinch black pepper
¼ cup cashews (soaked for at least 1 hour in hot water)
Heat oil or butter in small saucepan. Sauté leeks for 3 minutes on medium to low heat.
Add in garlic and cook for 2 more minutes.
Add in almond milk, salt, and pepper. Heat until warm.
Remove from heat. Blend leek mixture with soaked cashews until a smooth, creamy sauce is formed.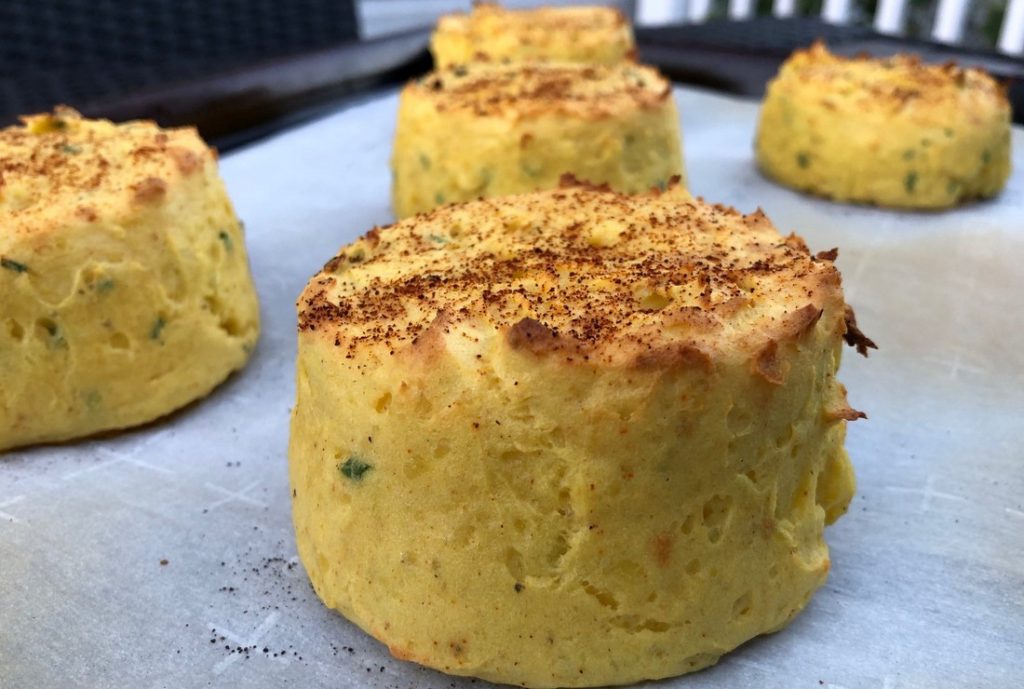 Recipe and photos by Stephanie Borzio.  Stephanie is a mom of three active boys and is an autoimmune warrior.  After battling her own health for several years, Stephanie found healing through food and lifestyle changes, including joining Blooming Glen Farm CSA of which she is a long time member.  She is a Board Certified Integrative Nutrition Health Coach who is passionate about sharing healthy living tips and real food recipes. Instagram and Facebook: Tru You Essentials, Website: www.truyouessentials.com