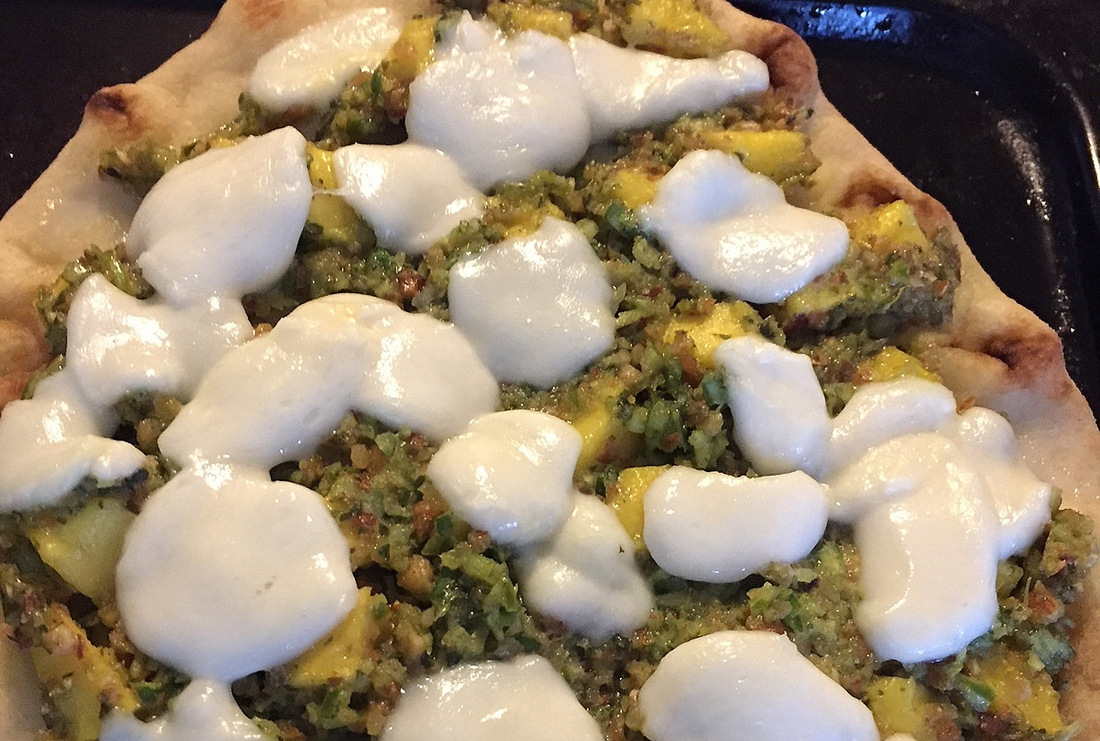 Springtime always offers an abundance of garlic flavor with garlic scapes and green garlic. The scapes are the curly flowering stem of the garlic and are removed to encourage the bulbs in the ground to fatten up. Green garlic, on the other the hand, is almost like a scallion. It is removed from the ground before reaching the maturity of a garlic head you find in the grocery store. They offer slightly different tastes, but can be used interchangeably. So how can we use these spring delectables? Both can be chopped and used in dressings and marinades, stirred into eggs, grilled on their own and made into pesto. Be sure to freeze leftovers, the season for scapes and green garlic is very short.
How to Store: Scapes can be placed in a paper bag and kept in the fridge for up to a month.
How to Freeze: Chop them into 1-inch pieces and freeze in zipper freezer bags. This makes it easy to grab a handful of garlic scapes and add them to soups, stews, stir fry, or anywhere else that you would use garlic.
Garlic Scape Chutney on naan bread, adapted from http://www.feastingathome.com/ makes a personal pizza or a stunning appetizer. Add a nice green salad and a weeknight dinner is complete!  This spread is so tasty that you can freeze half and use on any meat or fish. For vegetarians or gluten free option, use it with grilled eggplant, squash, zucchini or on a baked potato!
Garlic Scape Chutney on Naan Bread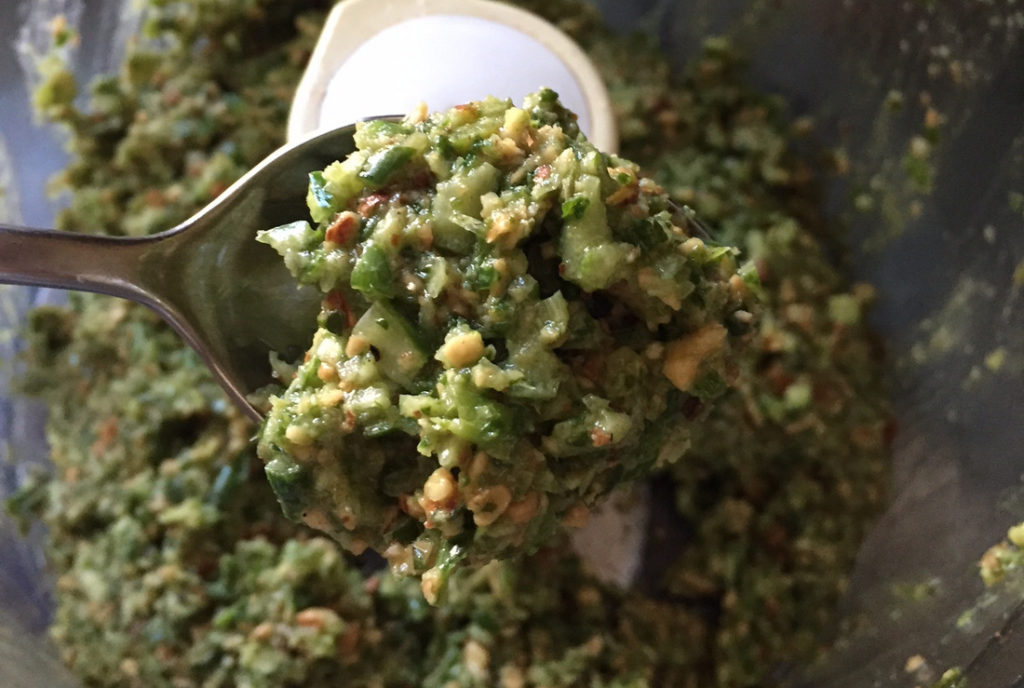 Fire up the grill or broiler!
Ingredients
1 package of naan
¾ cup chopped garlic scapes, tops removed
½ cup fresh mint packed (or sub in Italian parsley or cilantro)
½ cup roasted or almonds
½ tsp. kosher salt
½ tsp black pepper
½ jalapeño or Serrano pepper- for a little kick (optional)
1 T lime juice ⅓ C olive oil.
1 diced mango ( I prefer champagne they are small and sweet!)
Olive oil or Melted butter for brushing
1 C Melty cheese- such as mozzarella, queso fresco, or paneer
Instructions
Place all chutney ingredients (garlic scapes through lime juice) in a food processor and process until granular.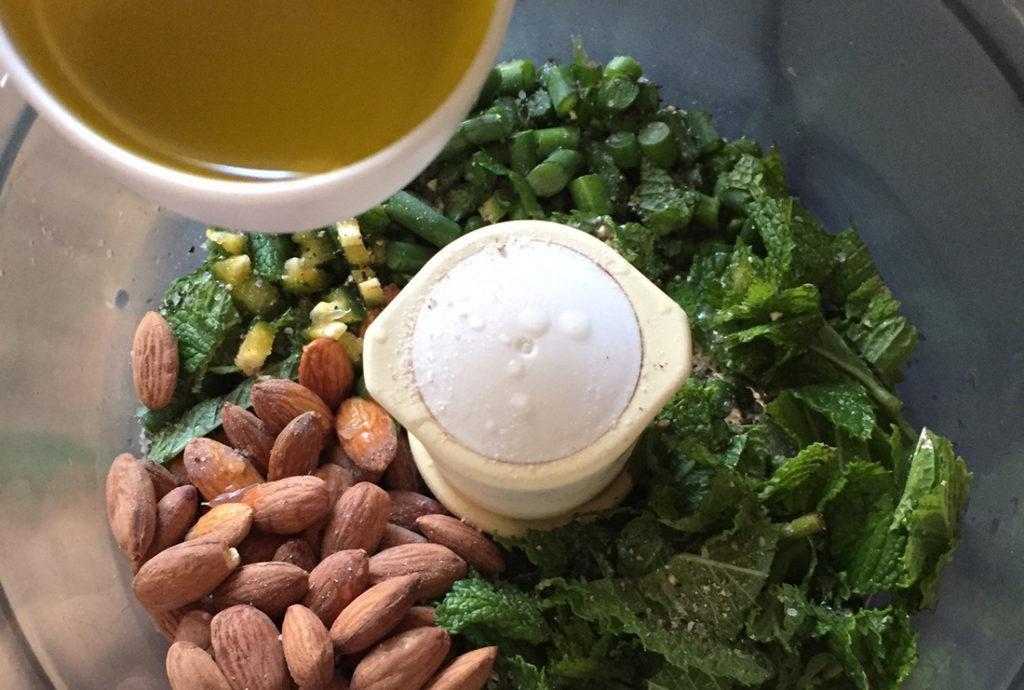 Gently fold in the diced mango.  Spread over the Naan and top with cheese of choice. Grill or broil until the naan is warmed through and the cheese is melty. Enjoy!
Here is a recipe that uses the scapes or green garlic with greens that you are sure to have on hand in the spring: Greens with Green Garlic & Prosciutto
For more recipe ideas visit: All About Green Garlic and Garlic Scapes
Bok Choy
Bok Choy is a phenol filled phytonutrient packed power food that contains over 70 antioxidants and is an excellent source of Vitamins A, C and K. This powerhouse is filled with cancer-fighting properties and the list goes on: What is Bok Choy Good For?  In other words this is one healthy vegetable! Bok Choy has been used in Chinese cuisine for centuries and has thankfully begun to make its way into the American diet. It is a versatile veg that can be pickled, sautéed, steamed, or chopped and eaten raw in salads. I LOVE bok choy in this easy homemade Miso soup!  It makes a lot, so you will have plenty of leftovers for lunch.
How to Store Bok Choy: Wrap in a moistened paper towel in a ziplock bag and put it in the fridge.
How to Freeze Bok Choy: Boil washed and trimmed bok choy for 2 minutes. Then plunge into ice water for 2 minutes. Pack dried bok choy in Freezer Zipper bags. Remove as much air as possible from bag. Place in the deepest part of the freezer.
Hearty One-Pot Meal Miso Soup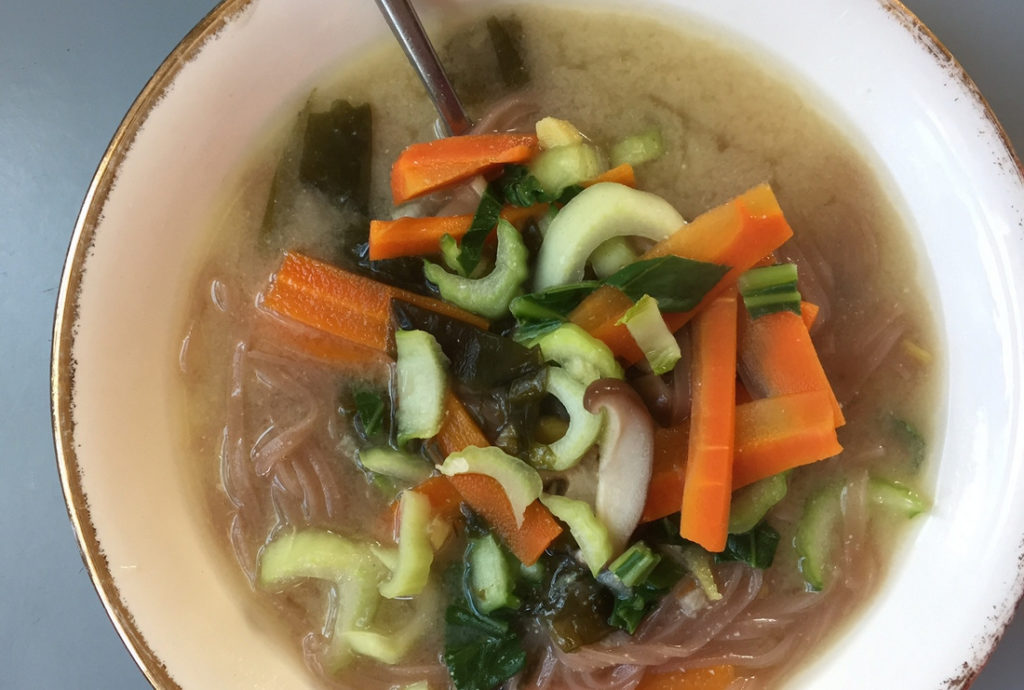 PREP TIME 15 mins
COOK TIME 30 mins
TOTAL TIME 45 mins
Author: Susan Voisin
Serves: 8
Ingredients
1/2 teaspoon toasted sesame oil, or coconut oil
1 tablespoon ginger-root, peeled and minced
4 cloves garlic, minced (or sub in 4-6 chopped garlic scapes)
12 cups water
1/2 tablespoon wakame or other seaweed
1 1/2 cups carrots, cut into matchsticks (or substitute other root vegetables from the share, like hakurei turnips)
5-8 ounces shiitake mushrooms
1 1/2 cups frozen shelled edamame
5 ounces Vietnamese brown rice noodles, uncooked (1/2 here ½ for next week)
1 pound bok choy, cut into 1/2-inch slices (or sub in other spring greens- swiss chard, kale, spinach or escarole)
6 to 8 tablespoons mellow white miso (found in the refrigerator section of grocery store)
Instructions
Heat the sesame oil in a large, non-stick soup pot. Add the ginger and garlic and cook for one minute. Add the water, wakame, carrots, and dried mushrooms and bring to a simmer. Cover and simmer for 15 minutes, or until mushrooms are tender. Add the edamame and cook for another 5 minutes.
Add the noodles and the bok choy, cover, and cook until noodles are tender, about 7 minutes.
Place the miso in a bowl and add about 1/2 cup of the hot soup broth. Stir or whisk until there are no lumps and then add it back to the pot and heat through but do not boil. Taste and add more miso as needed.
Nutrition Information
Serving size: 1/8 of recipe Calories: 160 Fat: 2.9g Carbohydrates: 27.9g Sugar: 3.4gSodium: 691mg Fiber: 4.1g Protein: 9g
For more recipe ideas: http://www.marthastewart.com/1502518/bok-choy-recipes
Blog post and photos by Amy Hutchinson, a recent graduate of the Institute for Integrative Nutrition and is a Certified Integrative Nutrition Health Coach. Amy is the mother of 3 very busy girls and understands the complexities of the weeknight and the importance of a home cooked meal.  She helps clients with planning and prepping and provides quick, easy, delicious and mostly "clean" recipes and meal plans for busy families.  Amy also helps families reduce their sugar and caffeine intake.  She believes that eating healthier and cleaner  can lead to making other overall healthy choices and decisions effecting our wellbeing.  Visit Amy at www.healhc.com on Facebook as Amy Hobson Hutchinson and Instagram as Healhealthcoach.
Honor where you are today. Eliminate that which does not serve you. Align mind body and soul. Live the life you are meant to live.