One of the items we get almost every week in our CSA shares is kale.  When we first joined the CSA 8 years ago, I hated kale!  Yes that's right…I did not like this amazing superfood.  I never knew what to do with it and didn't really enjoy the taste.  Over the years, I have experimented with this wonderful vegetable and love creating new dishes with it.  It is now one of my favorite vegetables!  You can enjoy this Kale Caesar Salad as a side dish or your main meal.
Salad Ingredients:
1 bunch kale
Avocado or olive oil
Avocado slices
1 cup cashews
Pinch sea salt
¼ cup sunflower seeds
2 Tbsp pumpkin seeds
¼ cup hemp hearts
Dressing Ingredients:
½ Avocado
1 ½ Tbsp lemon juice
½ tsp sea salt
¼ tsp black pepper
2 scallions, finely chopped
½ cup water
1/3 cup mayonnaise
1/3 cup garlic scapes, finely chopped
Wash kale. Remove stems and chop. Place in large salad bowl.  Add 1-2 Tbsp of avocado or olive oil.  Toss to coat and then massage the kale leaves.
In a small skillet, add 2 tsp avocado or olive oil. Heat to medium heat and then add cashews.  Toast cashews for 1-2 minutes stirring constantly.  Remove from heat and add a pinch or two of sea salt.
Make superseed mixture. In a small bowl, combine sunflower seeds, pumpkin seeds, and hemp hearts.
Make dressing by combining all ingredients in a small bowl. Whisk together or blend.  If the dressing is too thick, just add a little more water.
To serve, add kale to plate or bowl. Top with toasted cashews, superseed mixture, avocado slices, and dressing.
**You can always add bacon or chicken to this dish.  Hershberger Heritage Farm is one of our favorite places to source pastured bacon and chicken!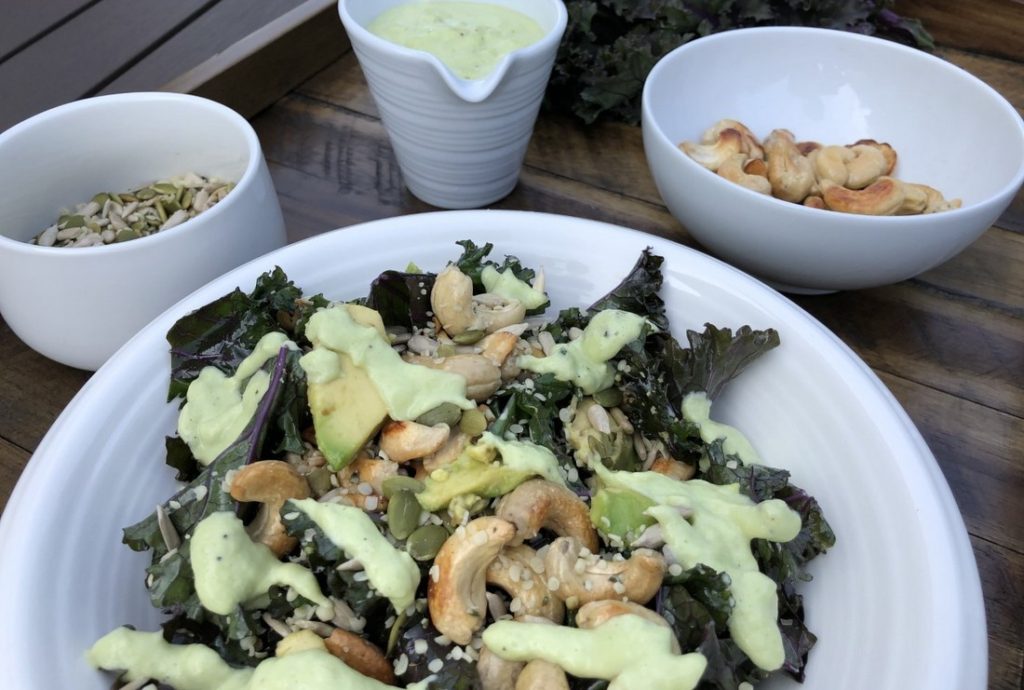 Recipe and photos by Stephanie Borzio.  Stephanie is a mom of three active boys and is an autoimmune warrior.  After battling her own health for several years, Stephanie found healing through food and lifestyle changes, including joining Blooming Glen Farm CSA of which she is a long time member.  She is a Board Certified Integrative Nutrition Health Coach who is passionate about sharing healthy living tips and real food recipes.
Instagram and Facebook: Tru You Essentials, Website: www.truyouessentials.com