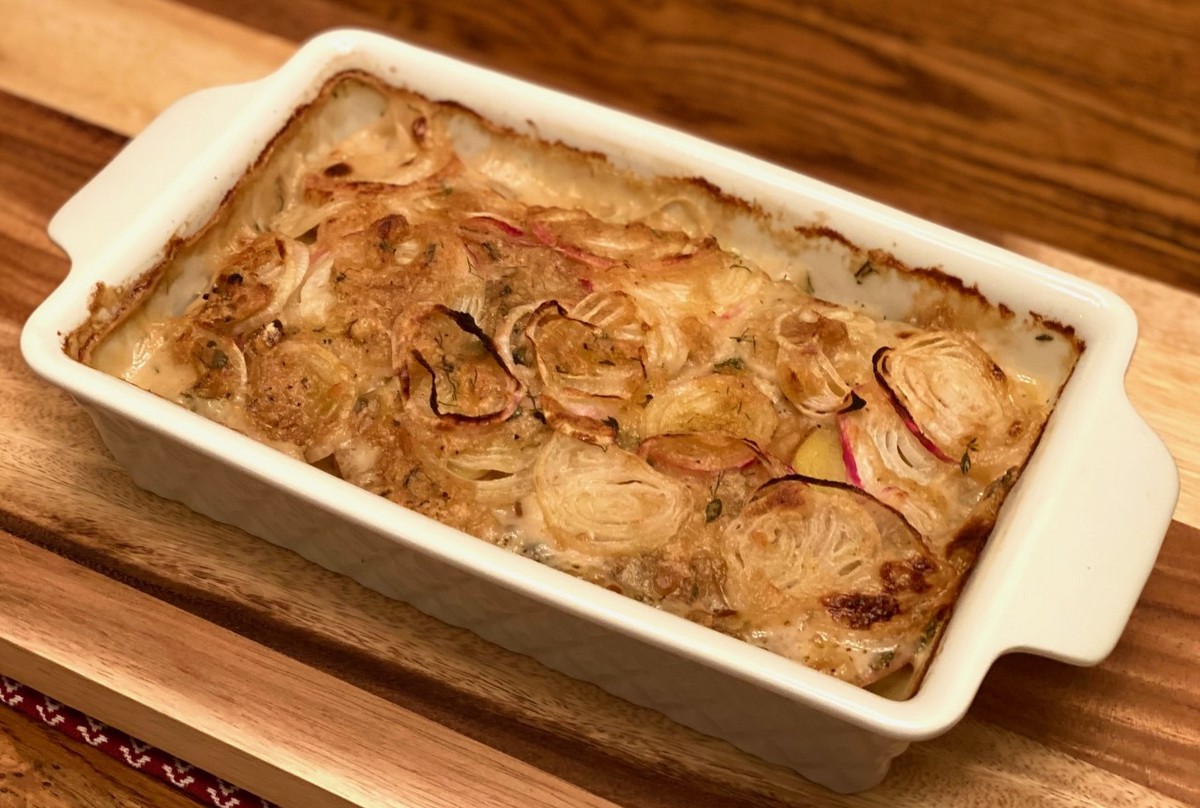 New potatoes are freshly harvested from the ground and are uncured.  Leaving their thin skins on adds color, flavor and nutritional value to culinary dishes.  Combining these potatoes with butter, spices, and fresh herbs in a casserole make a great side dish.
Herb Scalloped Potatoes
Ingredients:
1 lb new potatoes
2 fresh torpedo onions (bulb only- reserve tops for another recipe or broth)
6 Tbsp salted butter, divided
½ cup flour (for gluten free options- use an all purpose blend or cassava flour)
1 tsp sea salt
¼ tsp black pepper
¾ tsp paprika
2 Tbsp + 1 tsp minced fresh herbs (dill, thyme, rosemary, sage, etc.)
2-3 cloves fresh garlic, minced
¼ cup parmesan cheese or nutritional yeast
2 cups milk (dairy or nondairy)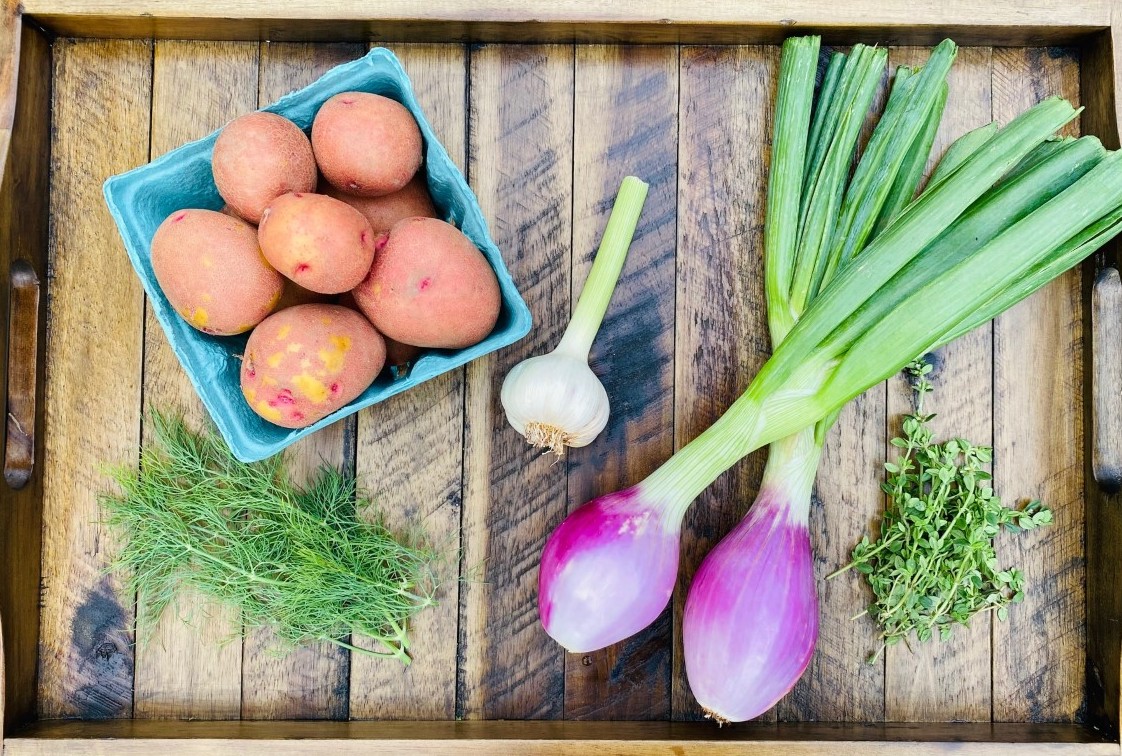 Preheat oven to 375°F.
Thinly slice potatoes. I used a mandolin set on 1/8 inch setting.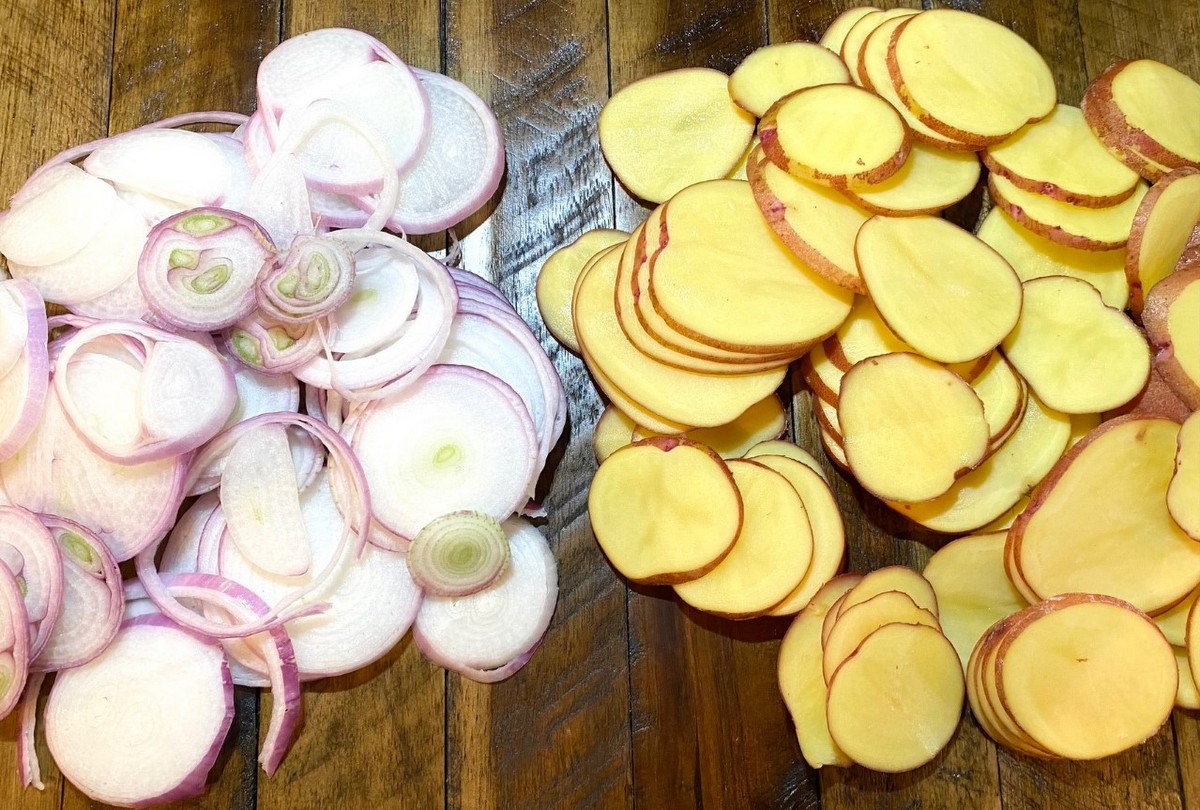 Thinly slice onions.
Use 1 Tbsp butter to grease baking dish. I used a 6 x 10 inch pan.
In the baking dish, layer half of the potatoes and then half of the onions.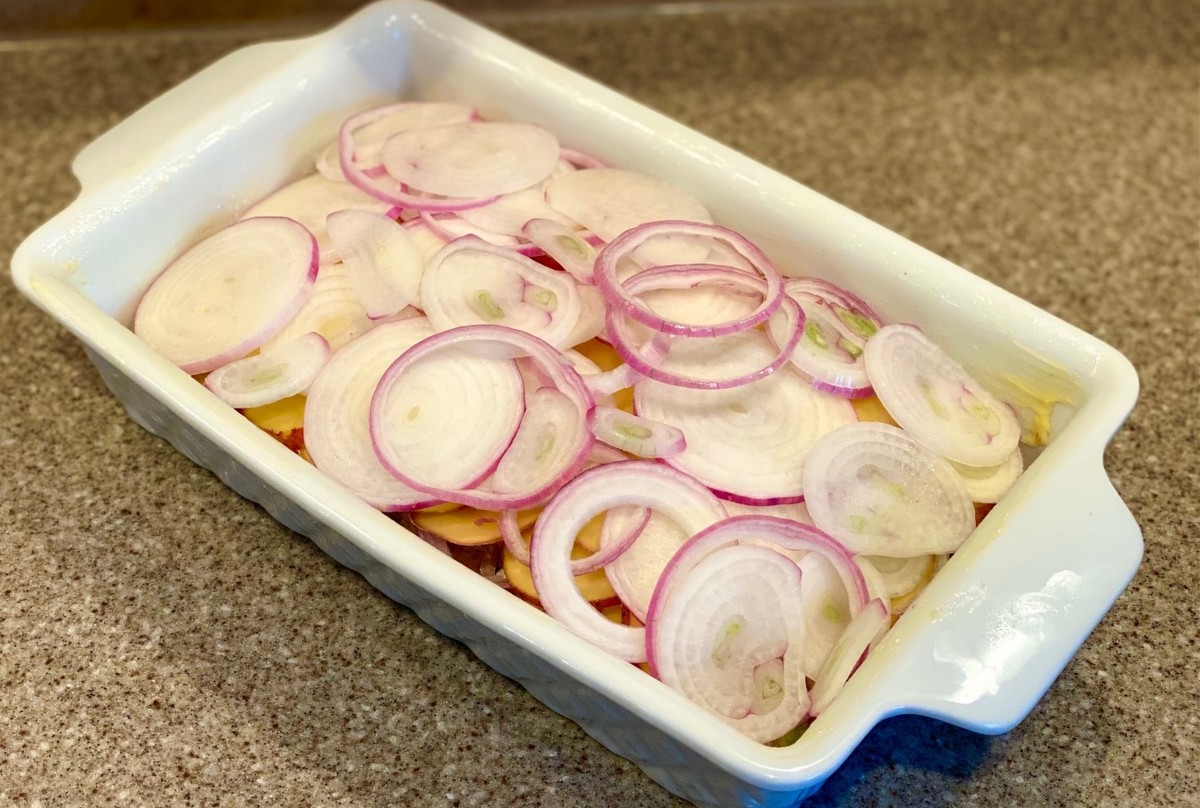 Cut butter into thin slices and place 3 Tbsp on top of the onions.
In a medium bowl, mix flour, sea salt, black pepper, paprika, 2 Tbsp fresh herbs, garlic, and parmesan cheese or nutritional yeast.
Sprinkle half of the flour mixture into the baking dish on top of the onions and butter.
Layer the rest of the potatoes, then the rest of the onions, then the rest of the butter (2 Tbsp), and finally the remaining flour mixture.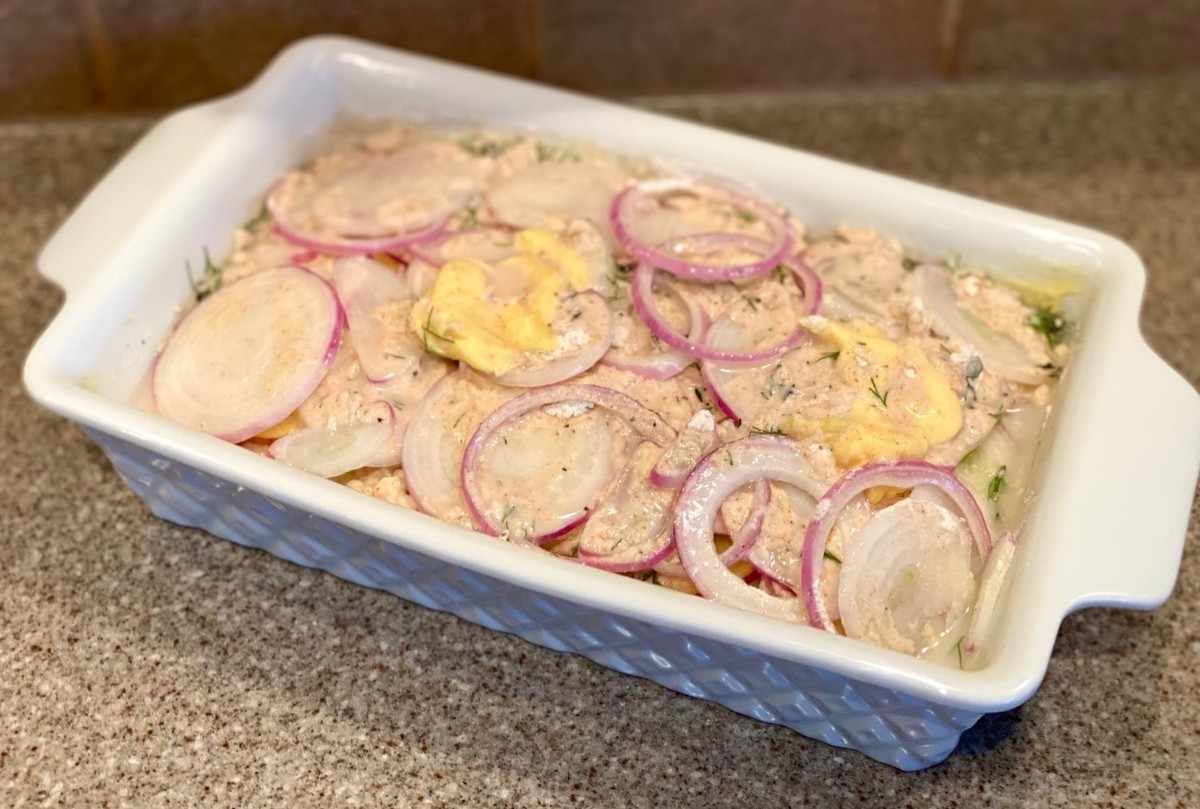 Slowly add milk to the dish.
Cover with foil and bake for 45 minutes.
Remove foil and bake for an additional 15 minutes.
Broil for 3-5 minutes to crisp top. Remove from oven and let stand for 5 minutes.
Top with remaining 1 tsp fresh herbs and a few sprinkles of paprika before serving.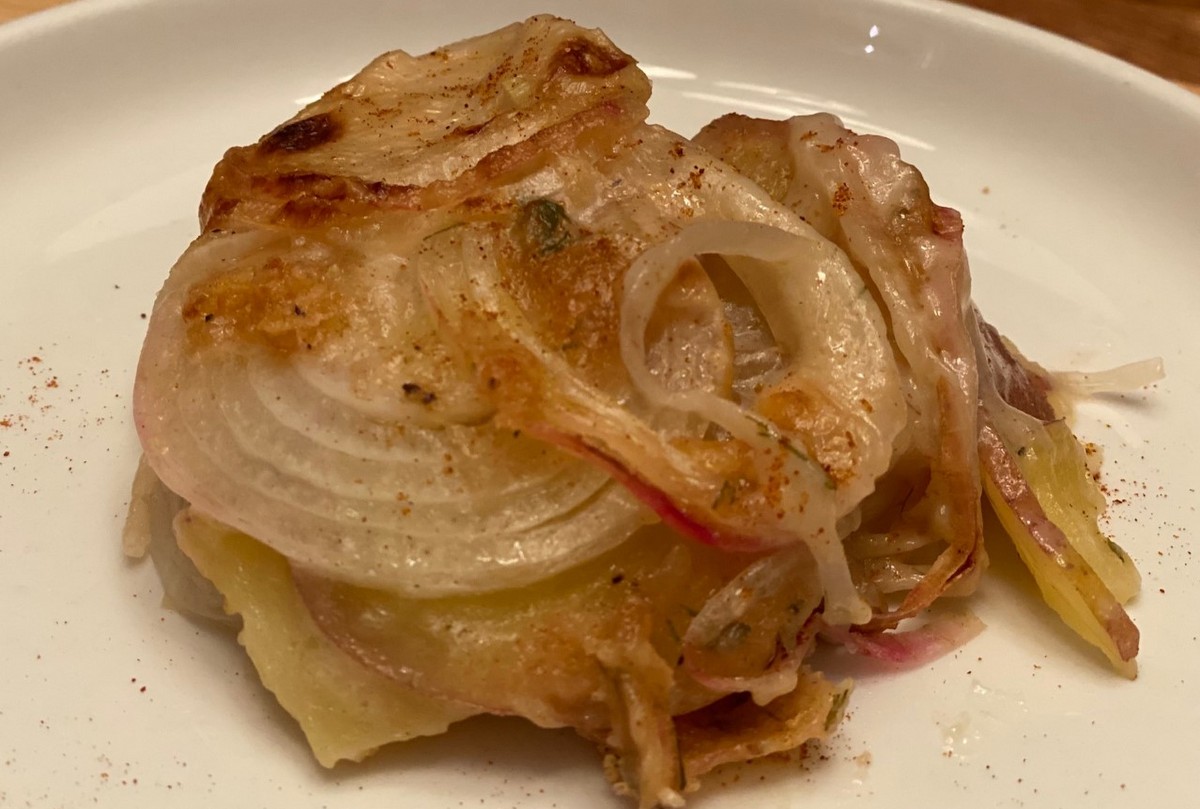 Notes:
*To make dairy free- use vegan butter, nutritional yeast, and dairy free milk.
*Can prepare in advance and refrigerate before cooking.
*Leftovers reheat really well.
Recipe and photos by Stephanie Borzio.  Stephanie is a mom of three active boys and is an autoimmune warrior.  After battling her own health for several years, Stephanie found healing through food and lifestyle changes, including joining Blooming Glen Farm CSA of which she is a long time member.  She is a Board Certified Integrative Nutrition Health Coach who is passionate about sharing healthy living tips and real food recipes.  Instagram and Facebook: Tru You Essentials