I'm sure you are as excited as we are to have the first batch of this season's potatoes make its way into your CSA share. Fresh out of the dirt, these pink little nuggets have a flavorful, earthy goodness that is hard to beat. One important thing to note about this week's variety–Dark Red Norland–is that they are a "new" potato and have not been cured, so the skin is really delicate. This is great because you don't have to peel them, but it also means they will look a little tattered from tumbling in our root washer.
I still think they are mighty pretty : )
The first thing I usually want to do when potatoes come into season (besides mashing them with a pound of butter) is make a simple cold potato salad. Since I'm looking for a new way to incorporate more fresh herbs into my dishes, I concocted this "fancy" version of potato salad with four kinds of herbs and those delicious yellow wax beans you have the choice of picking this week. I encourage you to eat this one warm or at room temperature. The flavors seem to develop much better. ENJOY!
Herb Potato Salad with Yellow Wax Beans
*This recipe actually uses 7 items from this weeks share!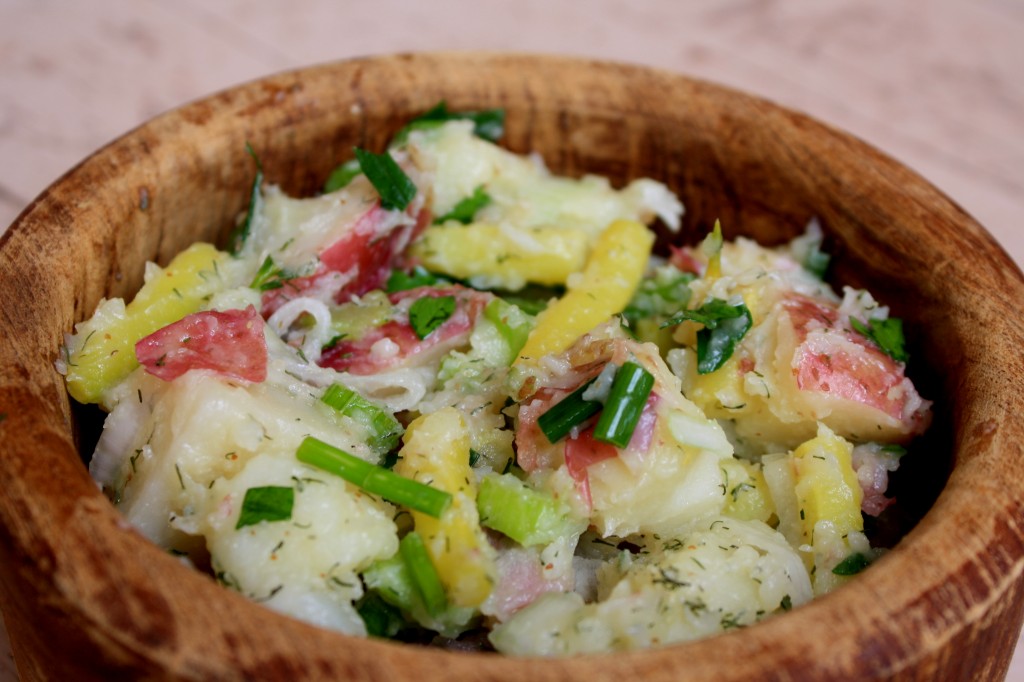 -Cut 2 pounds of new potatoes into bit size cubes and bring them to a boil in a large pot of salted water. Boil for 10 minutes or until "fork tender".
-In the meantime, chop:
1 sweet onion
1 bunch of celery (about 5 stalks)
a handful each of chives, parsley, dill, and french tarragon
-Cut the stems off of a half-quart (or 1/2 pound) of  fresh yellow wax beans (green beans can also be used). Blanch them in boiling water for 2-3 minutes and then transfer immediately into a bowl of ice water. Chop into bit-size bits. [***I actually just threw them in with the potatoes that were already boiling on the stove and it turned out just great!]
-Drain the cooked potatoes and toss in the beans, veggies and herbs.
-Pour in a simple vinaigrette made with 3 tablespoons of red or white wine vinegar, 6 tablespoons of olive oil, 2 teaspoons of dijon mustard, and salt to taste.
Recipe and photos by Jana Smart- Blooming Glen Farm employee and frequent creator of creative recipes using farm fresh seasonal ingredients. Check out more of her recipes on her food blog http://www.agrarianeats.blogspot.com/