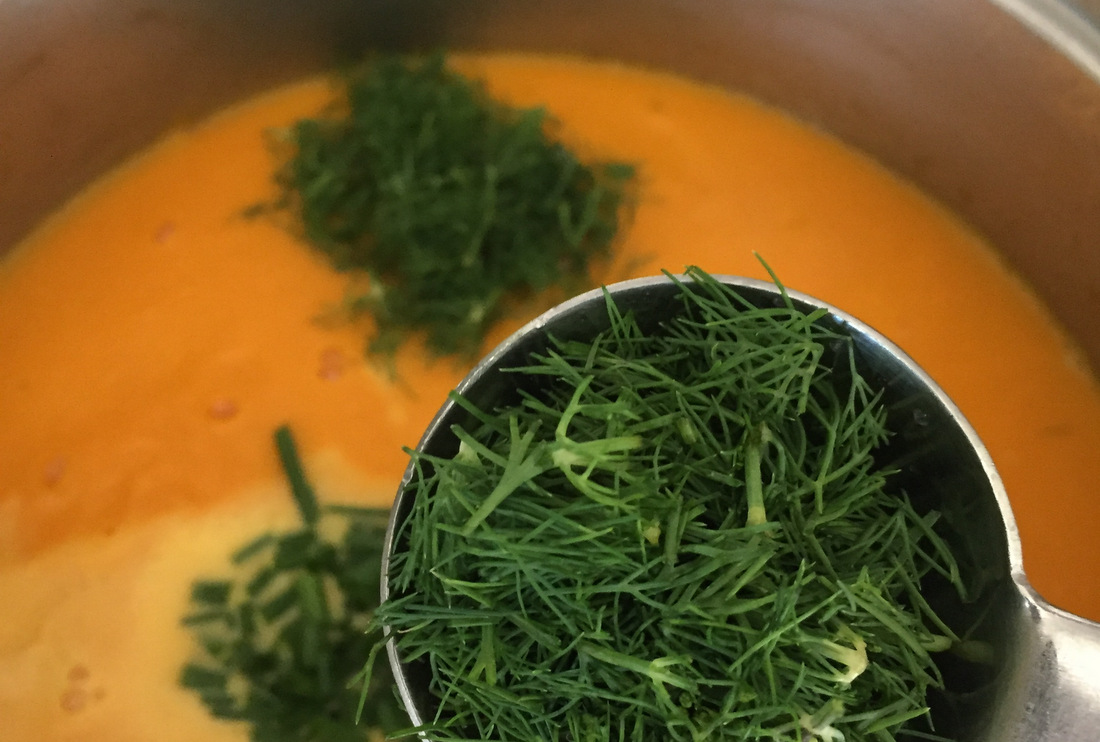 Did you know that Dill has anti-inflammatory properties, helps with insomnia and is useful in treating hiccups?  In fact, Dill has many health promoting components and would be a good addition to your food palette. Dill can be used in dressings, dips, pickling, added to sautéed vegetables and salad greens. Read more about dill at https://www.organicfacts.net/health-benefits/seed-and-nut/dill.html
Dressing – www.epicurious.com/recipes/food/views/creamy-dill-dressing-101084, https://www.acedarspoon.com/4-ingredient-creamy-dill-salad-dressing/
Dip – http://allrecipes.com/recipe/16761/creamy-dill-dipping-sauce/
It may not be soup weather, but this could be a great lunch option if prepared the night before, especially if you work in a chilly air conditioned office!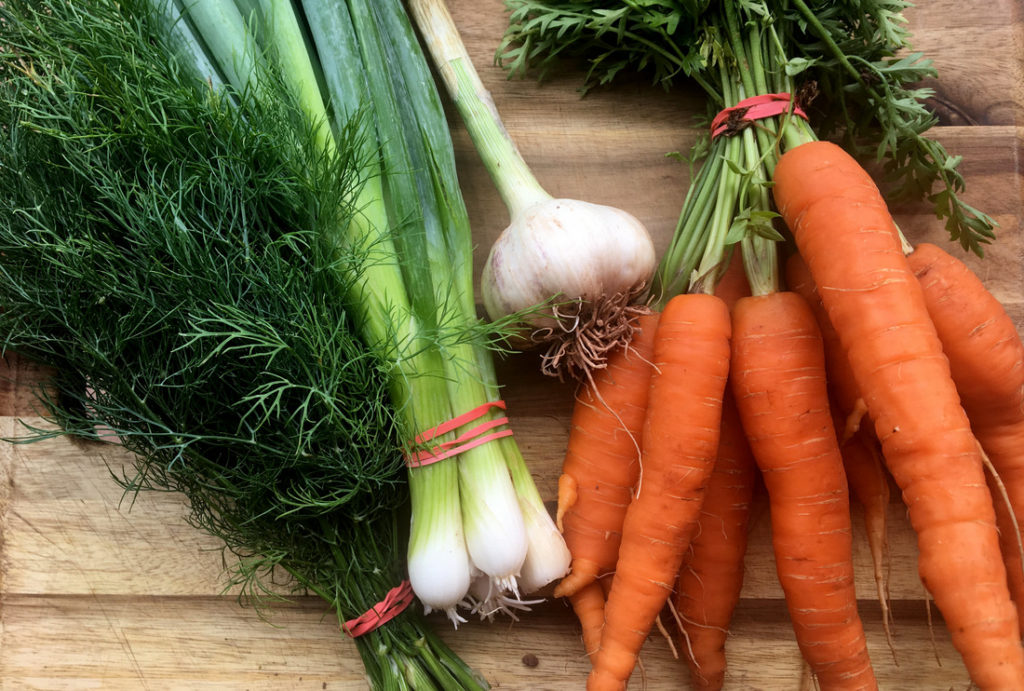 Ingredients
1 pound carrots, sliced
2-3 cloves garlic, minced
1 cup onion, chopped
2 Tablespoons butter
1 Tablespoon olive oil
Salt
3 ½ Cup chicken or veg stock
¾ c milk
2 Tablespoons chopped fresh dill
2 Tablespoons chopped fresh chives
In a large sauce pan over medium heat melt butter and add olive oil. Add carrots, onions, garlic and salt. Let simmer and soften for several minutes, until carrots are just tender. Add stock and bring to a boil. Reduce heat and simmer about 20 min until carrots are soft.  Puree the mixture in a blender or food processor, in batches if needed. Return to sauce pan and add milk and herbs. Heat through and serve!
KALE SALAD two ways
Kale is the hottest celebrity in the vegetable world right now and for good reason! It belongs to the Brassica family along with cabbage, broccoli, cauliflower etc. It is packed with antioxidants and health-promoting phytochemicals that can help protect against prostate and colon cancers.  Kale can also boost your immune system with it's antibacterial, antiviral and rich vitamin and mineral components.
Storage: to prevent quick softening or wilting of the leaves, tear the kale into bite size pieces, leaving out the tough part of the stem. Store with a moistened paper towel in a zip-lock bag.
Vegan Caesar Dressing:
From – https://minimalistbaker.com/5-minute-vegan-caesar-dressing/
Ingredients
1/4 cup plain hummus
1 teaspoon spicy mustard
½ teaspoon lemon zest
2-3 teaspoons lemon juice
2 teaspoons capers finely chopped
3 teaspoons caper brine
3 Tablespoons minced garlic
1-2 Tablespoons olive oil
Salt and Pepper
Combine the ingredients in a small bowl and stir with a whisk. If it too thick, add a little hot water to thin it out. Will store in the fridge 5-7 days in a sealed container or jar.
After the kale is torn into bite size pieces, drizzle olive oil and a spritz of lemon juice to the kale and massage them in with your hands for 1-2 minutes. This breaks the kale down making it softer and easier to digest. Add the dressing!
Kale with Almonds and Cranberries
Drizzle torn kale with olive oil, lemon juice, maple syrup and salt. Massage the kale for 1-2 minutes.  Add a handful of dried cranberries and sliced almonds (or keep it seasonal and try kale salad with fresh cherries, or try chopped pecans and fresh peaches). Enjoy!
Blog post and photos by Amy Hutchinson, a recent graduate of the Institute for Integrative Nutrition and is a Certified Integrative Nutrition Health Coach. Amy is the mother of 3 very busy girls and understands the complexities of the weeknight and the importance of a home cooked meal.  She helps clients with planning and prepping and provides quick, easy, delicious and mostly "clean" recipes and meal plans for busy families.  Amy also helps families reduce their sugar and caffeine intake.  She believes that eating healthier and cleaner  can lead to making other overall healthy choices and decisions effecting our wellbeing.  Visit Amy at www.healhc.com on Facebook as Amy Hobson Hutchinson and Instagram as Healhealthcoach.
Honor where you are today. Eliminate that which does not serve you. Align mind body and soul. Live the life you are meant to live.