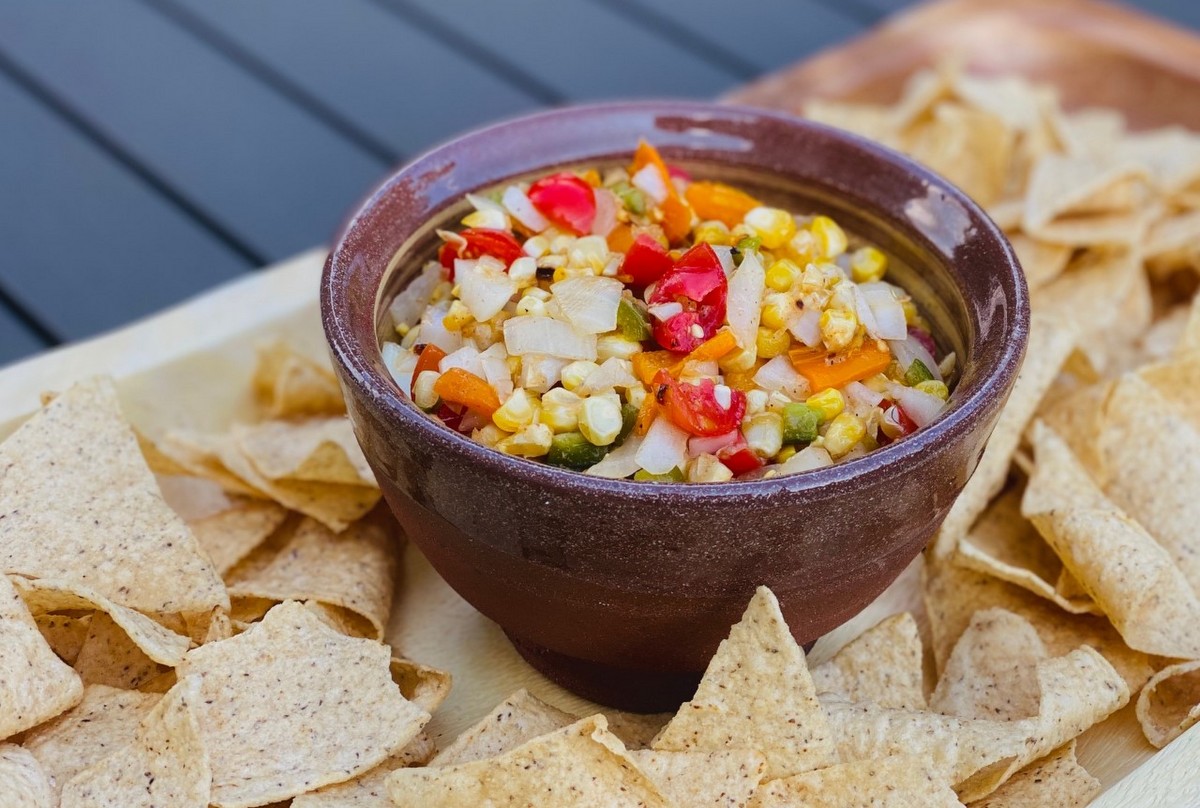 The organic sweet corn we have been receiving has been a wonderful addition to our CSA shares.  While it is fantastic just grilled or boiled and served as a side, it also makes a great addition to salsa.  Pair it with some peppers, onions, and tomatoes and it becomes a tasty appetizer or a great topping for fish or chicken.
Grilled Corn Salsa
Ingredients:
4 ears corn
1 medium onion
2 jalapeno peppers
2-3 sweet peppers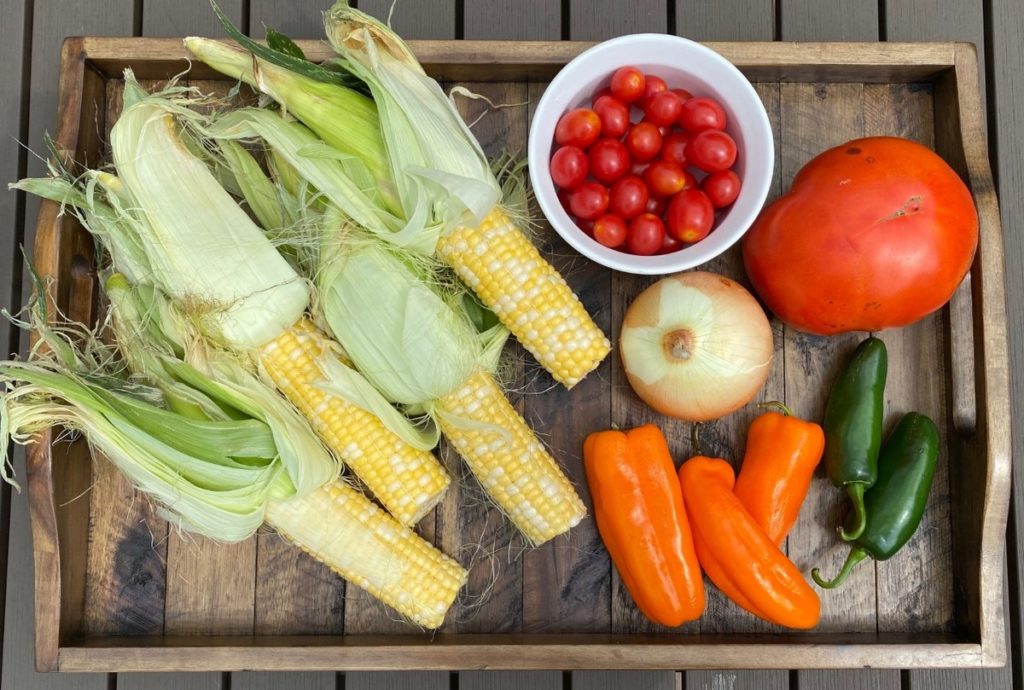 5 Tbsp olive oil, divided
1 cup tomatoes, chopped **
3 Tbsp lime juice
2 Tbsp apple cider vinegar
¼ tsp chili powder
½ tsp sea salt
¼ tsp black pepper
½ tsp garlic powder
Peel corn and remove silk. Remove skin from onion and cut off top and bottom.
Rub 2 Tbsp olive oil on corn, jalapeno peppers, sweet peppers, and onion.
Heat grill to 375-400°F.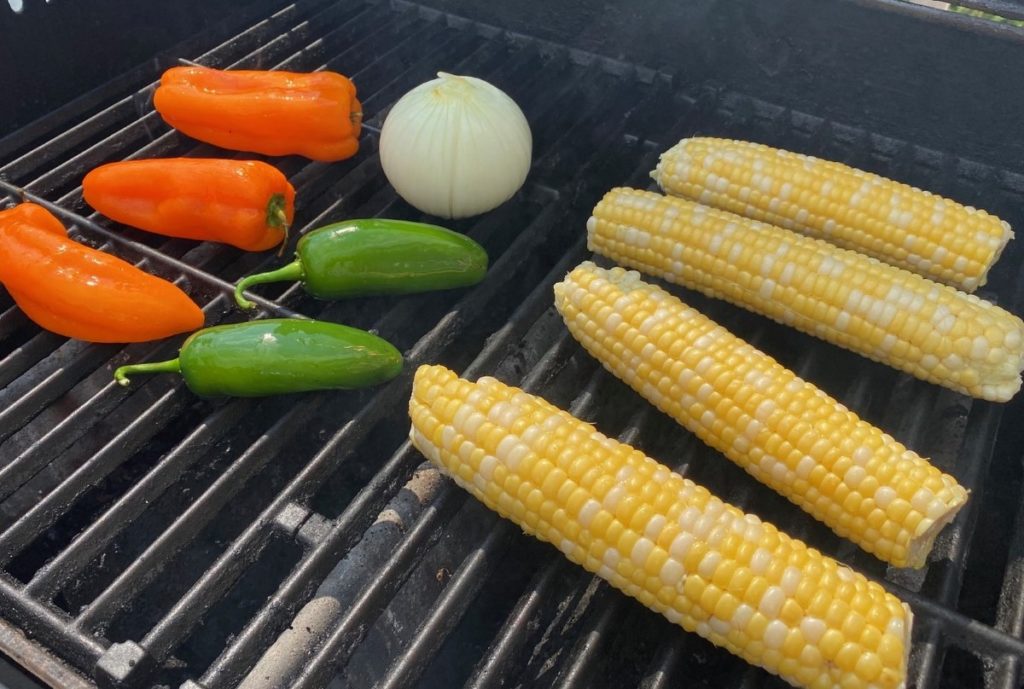 Grill the corn, jalapeno peppers, sweet peppers, and onion. Rotate produce every few minutes.  Remove jalapeno peppers, sweet peppers, and onion after 8-9 minutes of cooking.  Remove corn after 20 minutes of cooking.
Let vegetables cool.
Remove corn kernels from husks and place in large bowl. Remove seeds and stems from sweet peppers and jalapeno peppers.  Chop peppers and place in bowl.  Dice onion and place in bowl.  Add tomatoes to bowl and mix.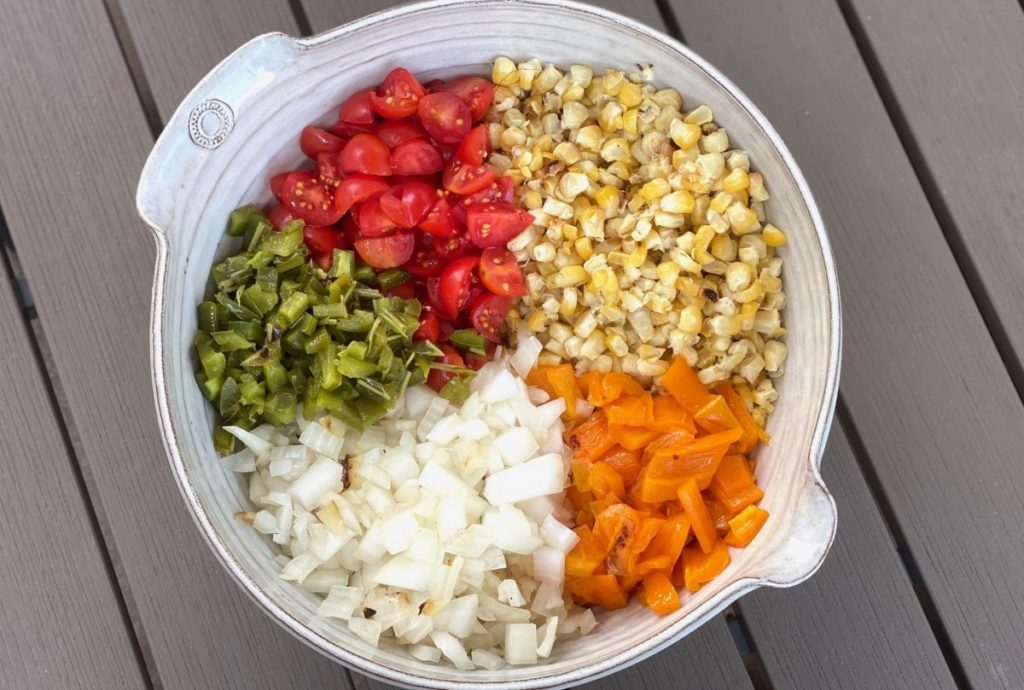 Mix lime juice, apple cider vinegar, 3 Tbsp olive oil, and spices in small bowl. Mix well and pour over vegetables.
Allow to marinate at least 30 minutes before serving.
Store in the refrigerator for up to a week.
Serve with chips or pair with a chicken or fish dish.
**You can use any kind of tomato for this recipe- beefsteak, Roma, heirloom, or cherries.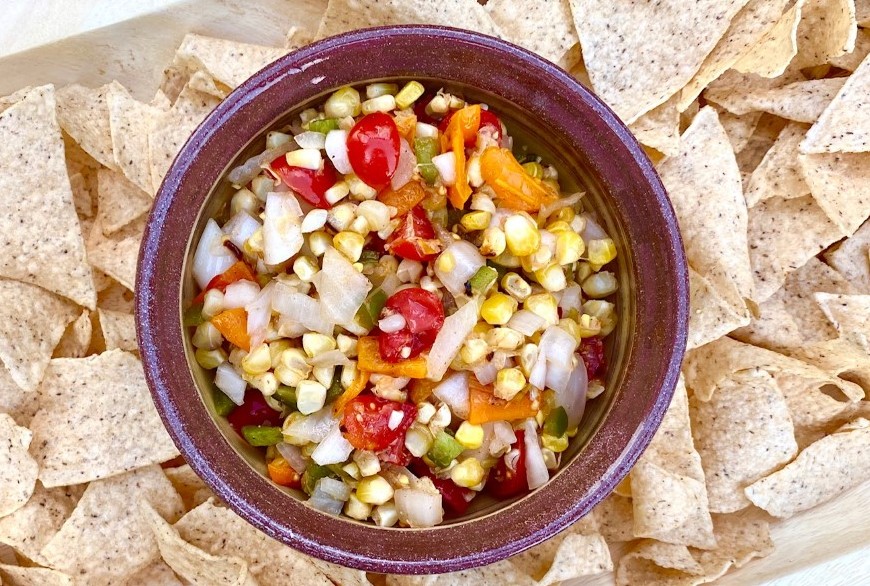 Recipe and photos by Stephanie Borzio.  Stephanie is a mom of three active boys and is an autoimmune warrior.  After battling her own health for several years, Stephanie found healing through food and lifestyle changes, including joining Blooming Glen Farm CSA of which she is a long time member.  She is a Board Certified Integrative Nutrition Health Coach who is passionate about sharing healthy living tips and real food recipes.  Instagram and Facebook: Tru You Essentials