So what's the deal with pea shoots anyway? Their delicate leaves, curly-cue tendrils and succulent stems are popping up everywhere: at farmers markets, in CSA shares, and at your local health food stores. Pea shoots have long been prominent in Asian cuisine, but there are a few reasons for their newfound popularity.

For one, tender pea shoots tempt us with the promise of Spring, and with it warm weather and spring vegetables harvested from newly awakened soil. Even better, with a kid-friendly delicious flavor, pea shoots taste like fresh-from-the-vine peas, but much younger and sweeter.
Another reason they've become so popular is those crafty farmers of yours are always looking for something they can grow quickly and easily. Pea shoots offer the flavor of a pea, but can be harvested in just 10-21 days, depending on the time of year. At Blooming Glen Farm they are grown in trays of soil, on benches in a heated greenhouse, providing a nutrient dense crop that can be succession grown through the cold winter months.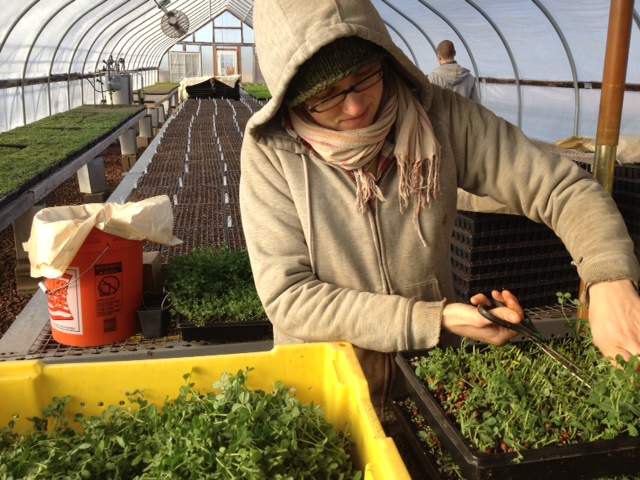 So how nutritious are these little sprouts?  For just 10 calories and no fat, take a look at the nutrients in 2 cups of raw pea shoots: 35.5% of your recommended daily intake of Vitamin C, 15% of Vitamin A, 8.75% of Vitamin E, 132% of Vitamin K, 10.5% of Folate, 5.75% of Thiamin, 7% of Riboflavin, and 4.75% of Vitamin B-6. Pea shoots are also packed full of carotenes— strong antioxidants that protect cells from damage and help prevent certain diseases.
So now that we've established that they are both nutritious and delicious, how do you cook with them? Most simply- enjoy raw in a fresh salad; they can take the place of lettuce or simply enhance any mix of greens with the pea shoot's spring flavor. I love to add toasted walnuts, dried cherries and cranberries, and a warm vinaigrette, or for a quick side, serve a mound of pea shoots with just a squeeze of lemon. You can also easily swap them in for any soft, leafy green in a recipe- they cook very similar to baby spinach. Lightly stir-fry them with sesame oil and garlic or wilt them into any pasta dish or risotto, contributing a bright fresh taste. Another option: add pea shoots to a soup or scrambled eggs near the end of the cooking time. Check out our blog for a recipe for flatbread topped with butternut squash, goat cheese and pea shoots or Ensalata di Roso (Rice salad) with Pea tops.

To prepare and store pea shoots, there are just a few things to know. As a delicate green, it's best to eat them within just a few days of purchase. They should be stored in the fridge like you would lettuce; and when ready to eat, coarse or yellow stems removed, and the pea shoots rinsed in cold water and drained to let dry.
This time of year, Blooming Glen Farm's pea shoots can be found at the Easton Farmers Market Winter Mart on Saturdays from 10-1pm at the Nurture Nature Center, and at the Bucks County Foodshed Aliance's Wrightstown Winter Farmers Market on the fourth Saturday of the month from 10-11am. And thanks to a new Healthy Eating Initiative spearheaded by a committed parent, pea shoots from Blooming Glen Farm made their way to the salad bar last week at Durham Nockamixon Elementary School in Palisades school district. A few new pea shoot converts were made!
Photos and text by Tricia Borneman, Blooming Glen farmer and co-owner. Ensalata di Rosa photograph by Kate Darlington.