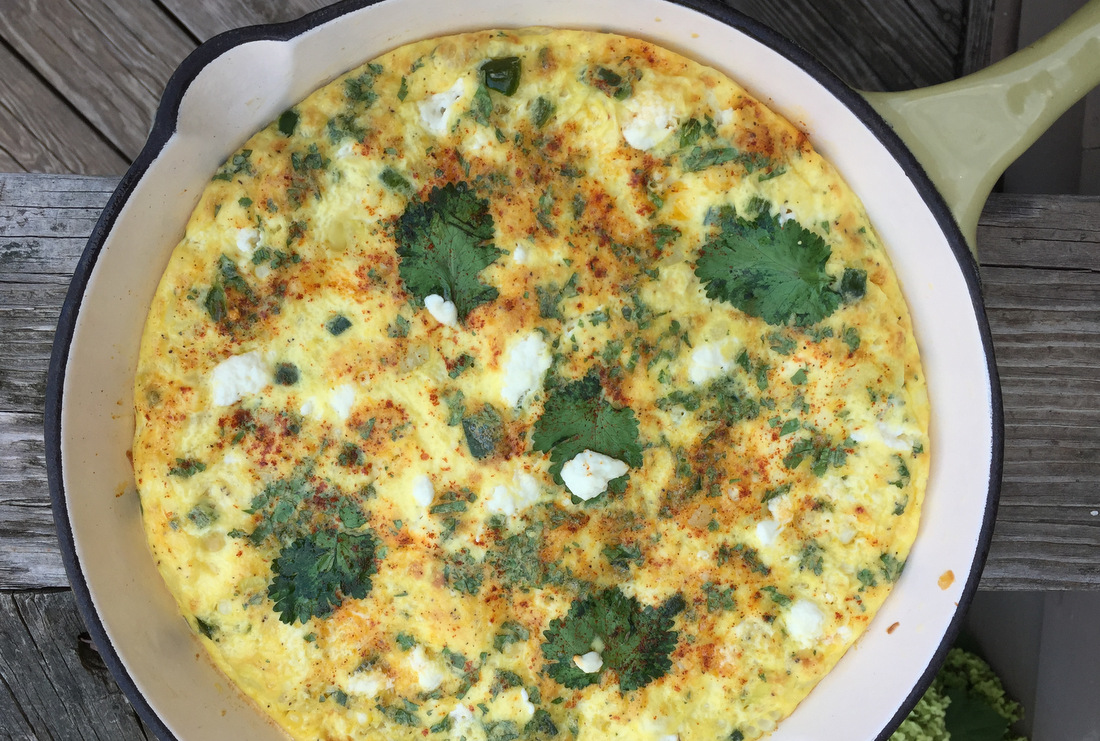 Posole (or pozole) is a traditional soup in Mexico often served Christmas eve, and in many parts of the country on Thursdays and Saturdays all year round. Traditional Posole rojo, or "red" posole, is made with pork shoulder or shanks, red chiles, and lots of hominy corn. This Posole verde is made with roasted tomatillos and poblano chiles. The toppings allow you to customize your bowl to your liking.
The poblano is a mild chili pepper originating in the state of Puebla, Mexico. Dried, it is called ancho or chile ancho, from the Mexican Spanish name. According to Dr. Josh Axe, poblanos have many nutritional benefits including cancer fighting vitamins and antioxidants such as vitamin B2 and glutathione, immune boosting power and they can help with weight loss.
Storage: Place the fresh peppers into a brown paper bag and store in the crisper section of the refrigerator. Poblano peppers will hold their flavor and quality for 1 week.
Drying: Airdrying and Dehydrator methods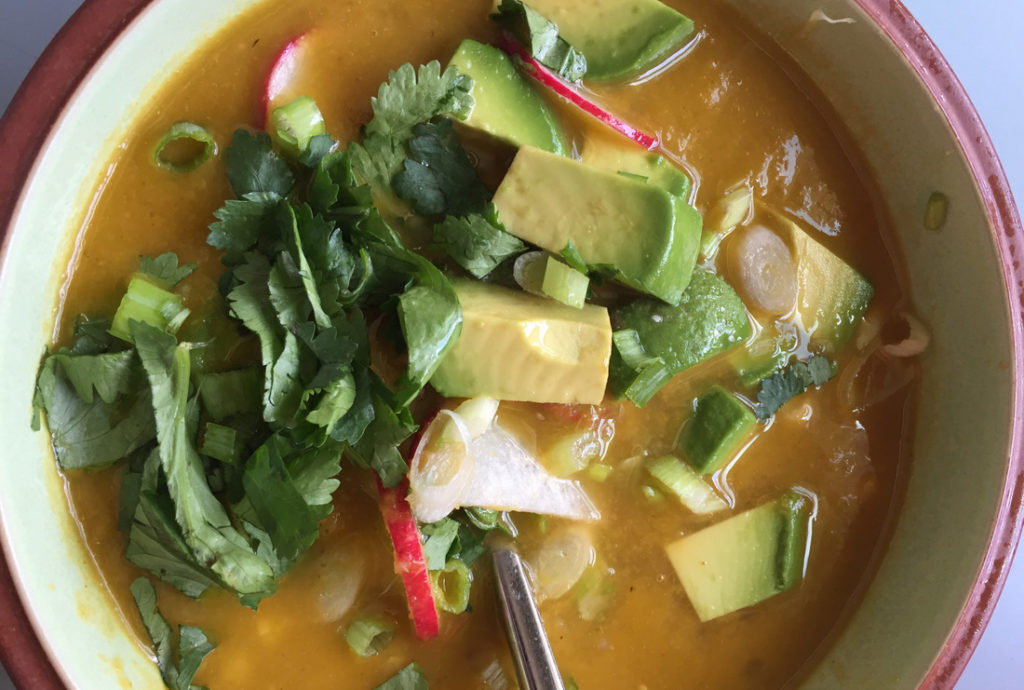 Easy Posole
Source: It's All Good by Gwyneth Paltrow
Ingredients
1 pound tomatillos, papery layer removed, stems discarded and roughly chopped
1 large sweet or red onion, peeled and roughly chopped
2 poblano peppers, seeds removed and roughly chopped
1 jalapeño, seeds removed and chopped
Extra Virgin Olive Oil
Sea Salt
4 cups veggie stock
3 sprigs of cilantro
28 oz can Hominy or 4 ears of sweet corn, kernels only
Toppings
1 ripe avocado, diced
1 handful of cilantro, chopped
2 scallions, white and light green parts, thinly sliced
2-3 red radishes, sliced
1 lime, cut into wedges
Instructions
Preheat oven to 425 degrees. On a sheet pan or large baking dish toss the tomatillos, onion and peppers with enough olive oil to coat. Add a large pinch of salt. Roast, stirring occasionally, until veggies are soft and slightly browned, about 20 min.
Transfer the roasted veggies to a powerful blender along with 1 cup of stock and puree until completely smooth. Transfer the mixture to a large pot along with the rest of the stock, the cilantro and the hominy or corn. Bring to a boil, lower the heat, and simmer for about 15 minutes. Season with salt. Remove the cilantro sprigs and ladle soup into bowl(s). Add any or ALL of the toppings you desire. (I like them all!) Enjoy!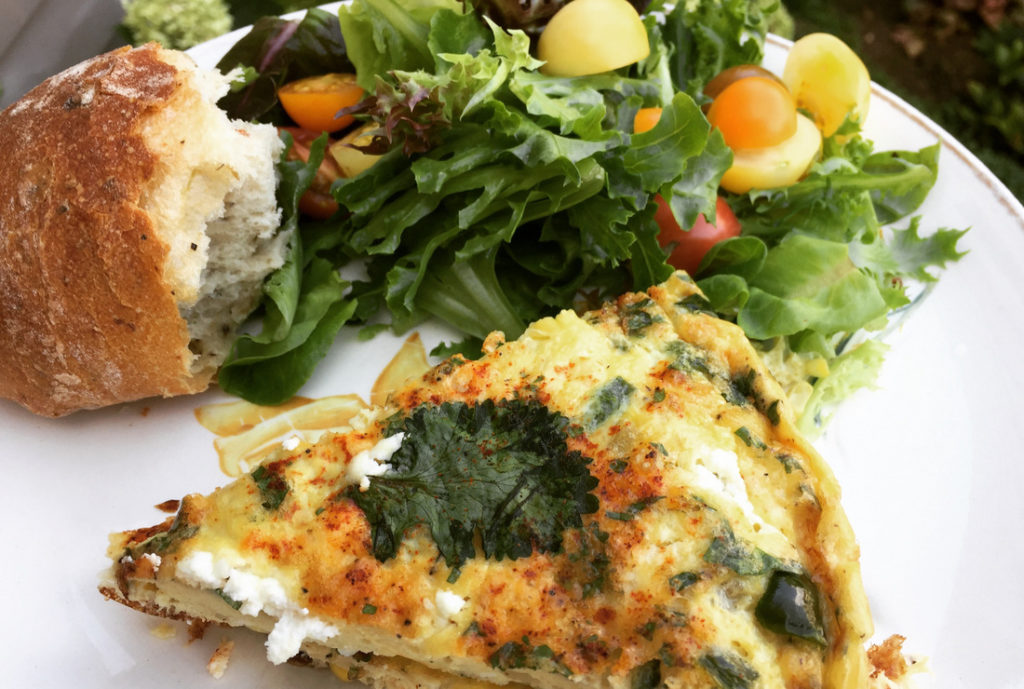 Poblano and Corn Frittata
Ingredients
6-8 large pasture raised eggs
¼ sweet onion, chopped
1 poblano pepper, chopped
2 ears of corns. Kernels removed
I handful of cilantro, chopped
Drizzle of milk
2 Tbs. goat cheese, crumbled
1 Tbs. ghee or pasture raised butter
Instructions
Turn oven to broil. Scramble/whisk eggs, a drizzle of milk and goat cheese in a bowl with salt and pepper.
Using an oven safe skillet, sauté onion and pepper on medium low heat in the ghee until soft. Add corn, some cilantro and egg mixture.
Continue to cook over medium low heat without stirring, until the edges are firm and pulling away from the sides of the pan, about 5-8 min. The frittata should be mostly cooked, but the top will still be slightly undercooked.
Place the skillet under the broiler for 3-5 min, until the top is firm and beginning to turn golden brown. Enjoy!
Blog post and photos by Amy Hutchinson, a recent graduate of the Institute for Integrative Nutrition and is a Certified Integrative Nutrition Health Coach. Amy is the mother of 3 very busy girls and understands the complexities of the weeknight and the importance of a home cooked meal.  She helps clients with planning and prepping and provides quick, easy, delicious and mostly "clean" recipes and meal plans for busy families.  Amy also helps families reduce their sugar and caffeine intake.  She believes that eating healthier and cleaner  can lead to making other overall healthy choices and decisions effecting our wellbeing.  Visit Amy at www.healhc.com on Facebook as Amy Hobson Hutchinson and Instagram as Healhealthcoach.
Honor where you are today. Eliminate that which does not serve you. Align mind body and soul. Live the life you are meant to live.