Strawberries are here, no need to fear!! As red and ripe as they are, they are almost through their season. Soon we will say goodbye to strawberries for the year. Strawberries for our markets are picked from the field at sunrise. From our CSA share, the members go into the strawberry field and pick for themselves. Strawberries do not just come and go in the blink of an eye. The plants produce strawberries and their flowers continue to bloom and turn into strawberries. Hurray for strawberries!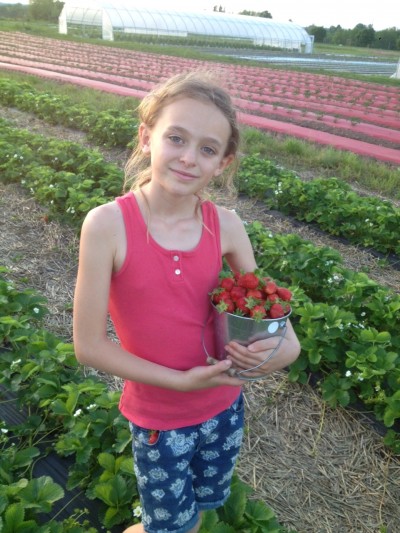 My mom makes Strawberry Shortcake every strawberry season. It is so delicious. Here is the recipe.
Strawberry Shortcake
Serves 8 (modify for less)
6 cups strawberries, rinsed, hulled and quartered
1 1/4 cups plus 2 tablespoons sugar
3 cups all-purpose flour
4 teaspoons baking powder
3/4 teaspoons salt
12 tablespoons cold (1 1/2 sticks) unsalted butter, cut into small pieces.
2 cups heavy cream
2 large eggs
1/2 teaspoon vanilla extract
Preheat oven to 375. In a medium bowl, toss the strawberries with 3/4 cup sugar; let sit to bring out the juices.
In a food processor, pulse flour, baking powder, 1/2 cup sugar, and the salt until combined. Add butter, and pulse until mixture resembles coarse meal but with some pea-size bits of butter remaining, 10-12 times. In a medium bowl whisk together 1/2 cup cream and the eggs; pour over flour mixture, and pulse until some large clumps begin to form, 25-30 times.
Using a half-cup measuring cup, gently pack dough, invert, and then tap out into a baking sheet. Repeat to form 8 biscuits. Bake until lightly golden, about 20 minutes. Transfer to a rack to cool, about 15 minutes.
Beat remaining 1 1/2 cups cream and 2 tablespoons sugar with the vanilla until soft peaks form.
Slice biscuits in half horizontally. Spoon strawberries and their liquid over bottom halves. Spoon whipped cream on strawberries, and replace top halves of biscuits.
Recipe courtesy of MarthaStewart.com
Written by Dakota, a 9 year old farm girl who loves to chase her chickens, read books, ride her bike and cuddle with her dog. Her favorite thing about growing up on a farm is getting to eat the food that grows right outside her door. Photo by Tom Murtha.