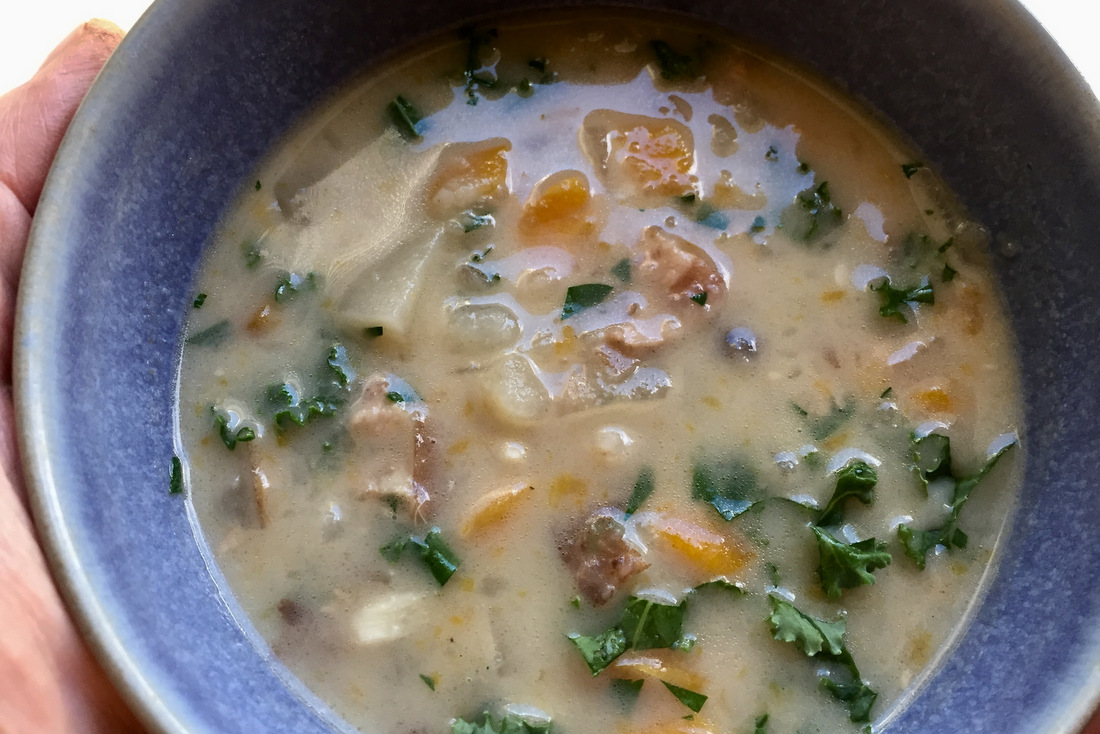 03 Nov

Nutty Brussel Sprout Salad & Slow Cooker Potato Vegetable Soup

The key to delicious and nutritious Brussel sprouts is not to overcook them! Studies show they best way to get to their high levels of Vitamin K and Vitamin C is to steam your brussels.  These detoxifying little cabbages can boost the bodies natural defenses, making this cool season crop a must for the cold months.  Brussel sprouts are a great source of magnesium, phosphorous and riboflavin.  Serve them steamed with balsamic vinegar, nuts and a sprinkle of cheese.  I cooked these in a nonstick skillet on a lower heat for about 8 minutes. By adding a bit of water or stock, you can achieve the steaming effect.

Another very popular way to enjoy brussel sprouts is oven roasted. The process of oven roasting sweetens and caramelizes the flavor. This recipe by Mark Bittman has you pan fry them a bit then finish them off in the oven for a delicious salty, garlicy side.

Storage tips: Brussel sprouts on the stalk will store for a longer period then cut ones.  Fresh cut brussels stored in a plastic bag will last unwashed and untrimmed in the fridge for about a week. Keep in the crisper. Trim, remove the outer leaves and clean just before using. Freezing – Blanch small brussel sprouts for about 3 minutes, medium for 4 minutes and large ones for 5 minutes. Do not overheat or overcook the sprouts!  Immediately place brussel sprouts  in a freezable container and put in the freezer.  Use within a few months.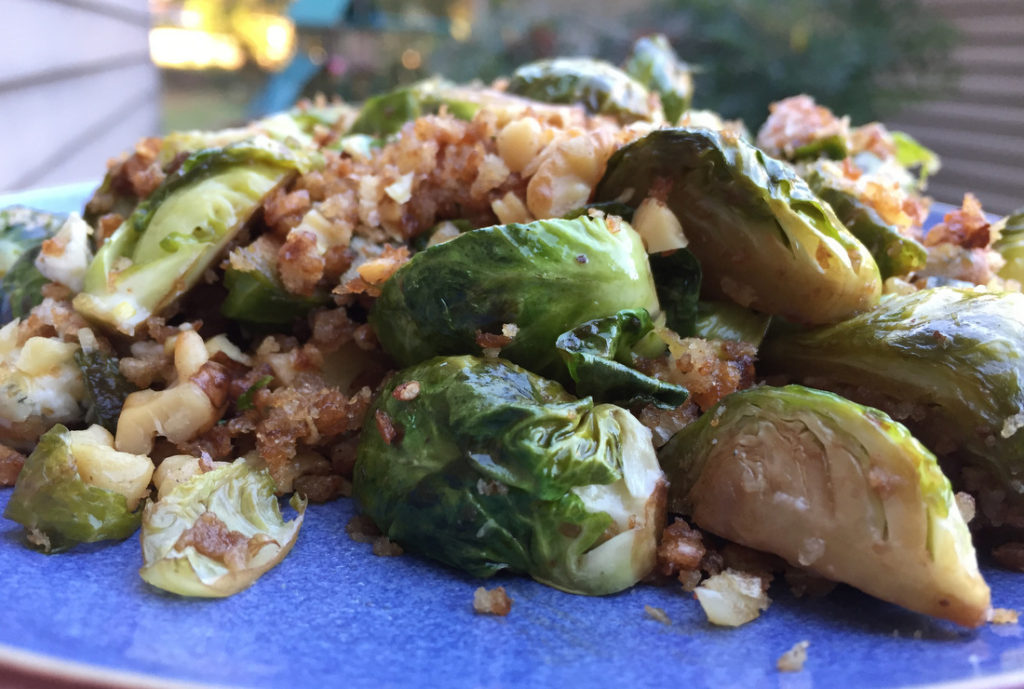 Nutty Brussel Sprout Salad
Ingredients
¾ pounds of Brussel sprouts, trimmed and halved or quartered depending on size
1 garlic clove, minced
1/3 Cup fresh breadcrumbs
1 ½ teaspoon oive oil or pasture raised butter
Salt and pepper to taste
1 Tablespoon balsamic vinegar
1 ½ Tablespoon walnuts, chopped and toasted
½ ounce crumbled blue cheese (can also use parmesan or asiago)
Instructions
Heat oil 1 teaspoon oil in a skillet over medium heat. Add garlic and cook 1 minute.  Add breadcrumbs and cook another minute or until slightly browned. Put aside in a small bowl.
Heat remaining oil or butter. Add Brussel sprouts and cook about 8 minutes until tender crisp. Remove from heat and toss with breadcrumb mixture salt and pepper. Toss with walnuts and cheese.
Slow Cooker Potato Vegetable Soup
The bacon adds smokiness and the coconut milk adds creaminess. This is a quick, simple soup for a busy fall day. AND it smells oh so good!  If you consume dairy, you can also follow this recipe, where I got my inspiration from.
Ingredients
2 pounds red or yellow (Yukon) potatoes, scrubbed and diced
1 medium yellow onion, diced
2 cloves garlic, smashed
2 large carrots, diced
6 slices cooked bacon, chopped
4 Cups vegetable or chicken stock
1 Tablespoon ghee or pasture raised butter
1 teaspoon salt+ more to taste
¾ – 1 Cup coconut milk
1 Tablespoon fresh parsley, chopped
4-5 Kale leaves, chopped into small pieces
Toppings (optional)- Scallions or chives, Cheddar Cheese, Bacon
Instructions
To your slow cooker pot, add chopped potatoes, onion, garlic, carrots, bacon, ghee and stock; season with salt. Allow the vegetables to cook on low for about 4-6 hours (mine was done in 5). With a potato masher, or large spoon, mash up the soup a bit for a creamier consistency. Before serving add the coconut milk, parsley and kale. Add additional salt and pepper to taste and the toppings. Enjoy!
Blog post and photos by Amy Hutchinson, a recent graduate of the Institute for Integrative Nutrition and is a Certified Integrative Nutrition Health Coach. Amy is the mother of 3 very busy girls and understands the complexities of the weeknight and the importance of a home cooked meal.  She helps clients with planning and prepping and provides quick, easy, delicious and mostly "clean" recipes and meal plans for busy families.  Amy also helps families reduce their sugar and caffeine intake.  She believes that eating healthier and cleaner  can lead to making other overall healthy choices and decisions effecting our wellbeing.  Visit Amy at www.healhc.com on Facebook as Amy Hobson Hutchinson and Instagram as Healhealthcoach.
Honor where you are today. Eliminate that which does not serve you. Align mind body and soul. Live the life you are meant to live.