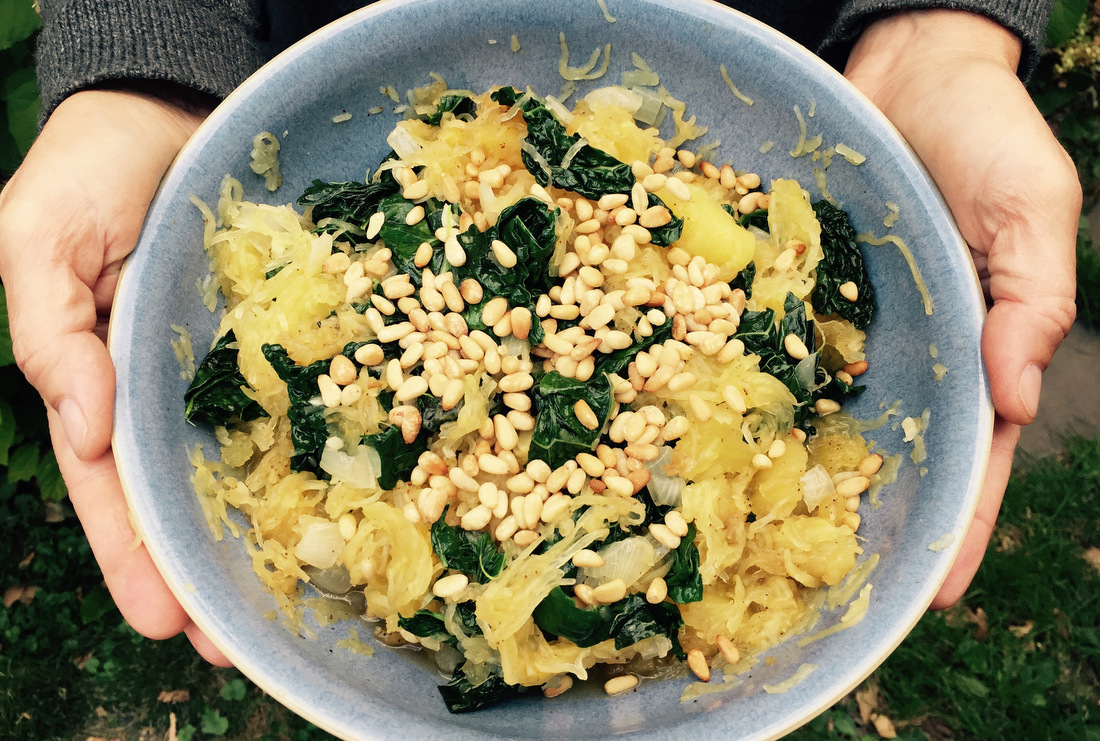 18 Oct

Winter Squash and Fall Salads

Nothing says fall to me like kale, apples, winter squash and soups! I love roasting squash, adding it to chili and pureeing it for soups.  Soup might be the first thing that comes to mind when the weather turns cool, but how about pairing that warm soup with a fall salad? Winter roots like carrots, beets, turnips, radishes, and celeriac all add a delicious medley of flavors, whether eaten raw or mellowed and sweetened when roasted.

In the following recipe, I used a spaghetti squash from the share a few week's ago,  but you could use any of the winter squashes paired with kale for a sweet and bitter effect. For example, delicata squash are much smaller, easier to clean and cut and you don't need to peel them.  Their texture is creamier than a butternut and can be pan or oven roasted.  Acorn Squash, which is very high in Vitamin C, is perfect for roasting and stuffing. And of course butternut is divine when roasted and tossed in fall salads. Experiment with the flavors of fall!

Roasted Winter Squash and Kale Salad
Adapted from Pioneer Woman, 4 – 8 Serving

Ingredients
1 whole Winter Squash
Olive Oil
Salt And Pepper
1 -2 bunches Kale, Stalks Removed And Torn Into Pieces
1/2 whole Onion, Diced
1/2 teaspoon Chili Powder
2 T toasted pine nuts
1 teaspoon Balsamic Vinegar
Drizzle of maple syrup

Instructions
Preheat the oven to 350 degrees.  With a sharp knife, VERY CAREFULLY cut the spaghetti squash in half lengthwise. (Stick the knife into the center of the squash, then cut down. Again—be careful!) Scoop out the seeds and pulp in the center and discard. Place the squash, cut side up, on a large baking sheet. Rub a little olive oil over the cut surface, then place the pan in the oven for 1 hour or until a fork is easily inserted into the squash. Or alternatively, you can roast it whole, just poke lots of holes in it first with a sharp knife.

To roast delicata squash or acorn squash follow the links above. Butternut can be cubed and roasted, roasted in two halves on a cookie sheet, (or cubed and used in soup recipes).

While the squash is cooking, sauté the kale: Heat 1 tablespoon olive oil in a large skillet over medium-high heat. Add the onion to the pan and cook for 3 to 4 minutes, or until starting to turn color. Throw in the kale, sprinkle in some salt and pepper, and stir to sauté until the onions are golden about the kale is partly cooked, about 5 minutes. Set aside.

When the spaghetti squash is cooked, use a fork to scrape the stringy squash out of the shell. Add the squash to a bowl. Mix together 1 tablespoon olive oil with the balsamic vinegar. Drizzle it over the squash, sprinkle with salt and pepper, and add the chili powder. Toss to combine.  Add the squash to individual bowls, then top with a good amount of sautéed kale and pine nuts.

FALL SALADS

Cabbage, Kale, Fennel, Carrots, Broccoli !!! Each of these salads boasts with cool season veggies.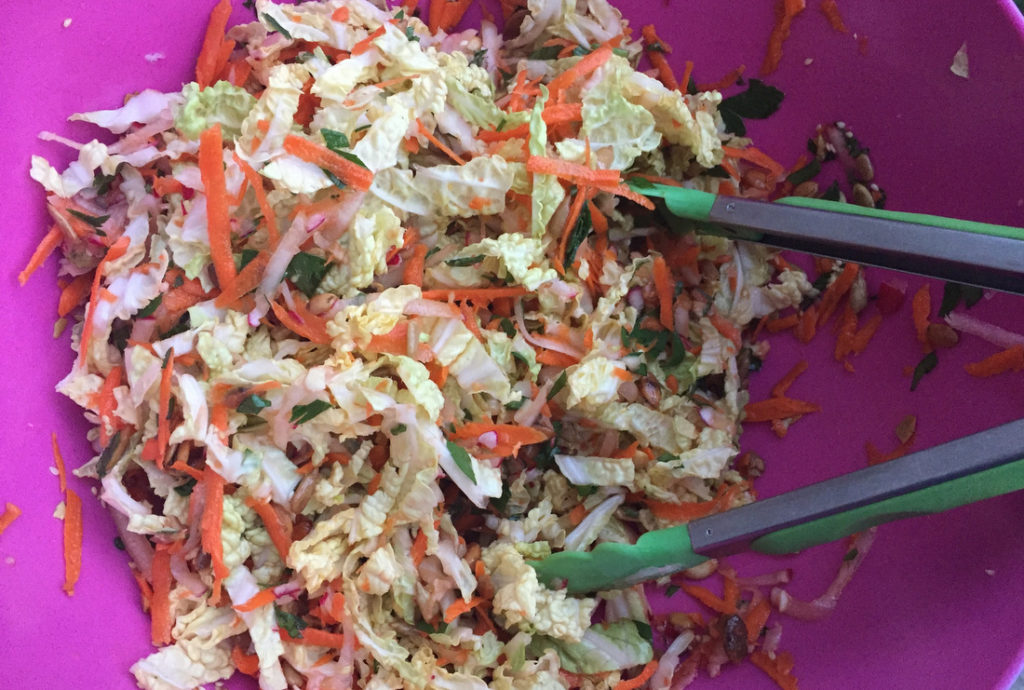 CABBAGE SALAD
Adapted from Cookie and Kate, 4 to 6 side servings
Ingredients
Coleslaw:
4 cups thinly sliced cabbage
2 large radishes, grated
2 cups shredded carrots (grate them on a box grater, in a food processor, or julienne the carrots with a sharp knife)
1/4 cup chopped fresh parsley
Up to 3/4 cup mixed seeds (I used mostly pepitas—AKA green pumpkin seeds—and sunflower seeds, with some sesame seeds and poppy seeds)
Lemon dressing:
1/4 cup olive oil
2 to 3 tablespoons lemon juice, to taste
1 clove garlic, pressed or minced
1/2 teaspoon ground cumin
1/2 teaspoon salt
Instructions
In a medium serving bowl, combine the prepared cabbage, carrots and parsley. Set aside.
Measure out your seeds into a small skillet. Toast over medium heat, stirring frequently, until the seeds are fragrant and the pepitas are starting to make little popping noises. Pour the toasted seeds into the mixing bowl and toss to combine.
To make the dressing, in a small bowl, combine the olive oil with 2 tablespoons lemon juice. Add the garlic, cumin and salt and whisk until thoroughly blended.
Drizzle the dressing over the slaw and toss until all of the ingredients are lightly coated in dressing. Taste and add an additional tablespoon of lemon juice if the slaw needs a little more zip. Serve immediately or cover and refrigerate to marinate for up to several hours.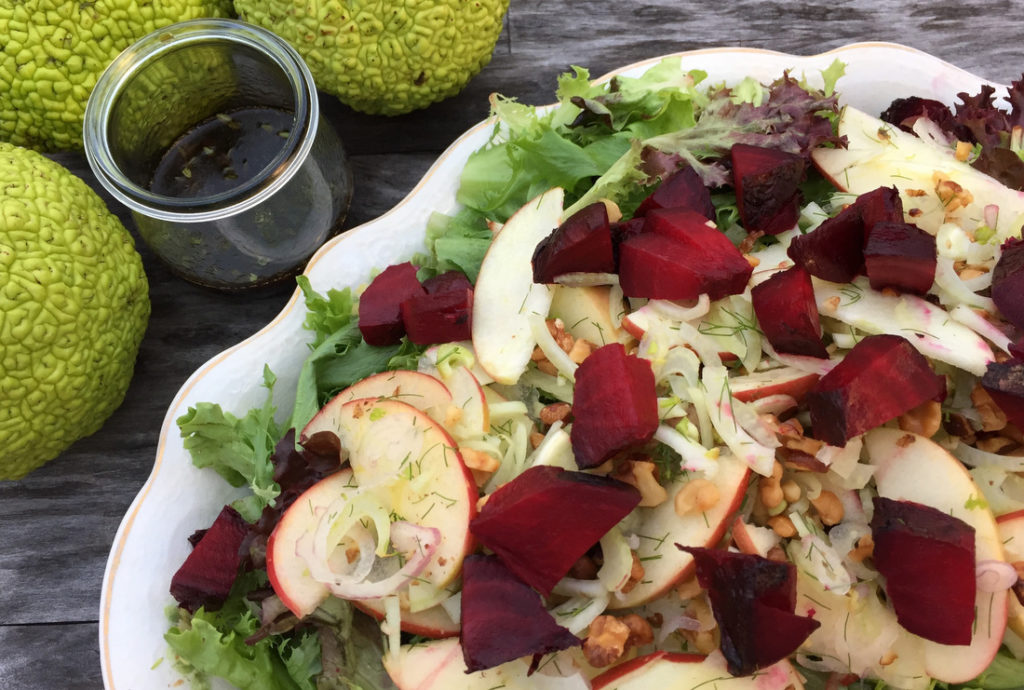 FALL FENNEL, APPLE, BEET SALAD with Honey Thyme Vinaigrette
Ingredients
Dressing:
¼ cup extra-virgin olive oil
2 tablespoons Balsamic Vinegar
1 tablespoon honey
3-4 sprigs of thyme
¼ teaspoon salt
¼ teaspoon freshly ground pepper
Salad:
2 large or 5 small beets, roasted
1 shallot, thinly sliced
1 large crisp, sweet apple, such as Honeycrisp or Ambrosia, thinly sliced
1 medium or 2 small fennel bulb, quartered and thinly sliced, fronds reserved and chopped
Juice of 1 Lemon
6 cups salad greens
2 tablespoons of toasted walnuts
⅓ cup crumbled blue cheese (optional)
Instructions
To roast beets, set oven temp to 400 F. Cut beets in half (uniform sizes) with skin on and roast on a baking sheet for 20-40 mins, depending on size of beets. A fork should be inserted with ease.  Let cool then peel the skin off with a paring knife.  Dice the beets.
While beets are roasting prepare the dressing – whisk oil, vinegar, honey salt and pepper in a bowl, add thymes springs and crush with the whisk – let sit.
To a large bowl, add apple, fennel bulb and fronds and toss with Lemon juice. On a large platter, place a bed of salad greens and add apple-fennel mixture, shallots, beets and walnuts. Drizzle with vinaigrette. Serve and enjoy!
CURRY ROASTED VEGETABLE & LENTIL KALE SALAD
From Minimalist Baker, Serves 2-4
Ingredients
Vegetables:
4 carrots, cut into bite-size pieces (~ 2 cups)
2 tablespoons avocado or melted coconut oil, divided
Pinch each salt and pepper
1 teaspoon curry powder, divided
1 red bell pepper, sliced (~1 1/2 cups)
1 small head broccoli, chopped (~2 cups)
Salad:
1 large bundle kale, stems removed, roughly chopped (~4 cups)
3 tablespoons tahini
2 tablespoons lemon juice
1 tablespoon maple syrup
1/2 teaspoon apple cider vinegar
3-5 tablespoons water to thin
1 cup cooked brown or green lentils
Curry Dressing:
2 tablespoons green curry paste (DIY or store-bought)
1 lemon, juiced (or 2 tablespoons)
1 tablespoons maple syrup, plus more to taste
Pinch each salt and black pepper
optional: 1 tablespoons olive oil
Water to thin
Instructions
Preheat oven to 375 degrees F (190 C) and line a large baking sheet with parchment paper.
Add carrots to a small mixing bowl with drizzle with 1 tablespoon oil, a pinch each salt and pepper, and 1/2 teaspoon curry powder. Toss to combine. Then arrange on the baking sheet.
Roast for 12 minutes. In the meantime, add bell pepper and broccoli to the same mixing bowl and drizzle with remaining 1 tablespoon oil, salt, pepper, and 1/2 teaspoon curry powder. Toss to combine.
Once the carrots reach the 12-minute mark, remove from the oven and increase heat to 400 degrees F. Add the peppers and broccoli to the pan. Then roast for 10-15 minutes more or until all vegetables are tender and slightly golden brown.
In the meantime, add the kale to a large mixing bowl. In a separate small mixing bowl, add the tahini, lemon juice, maple syrup, and apple cider vinegar and whisk to combine. Thin with water 1 tablespoon at a time until thin and pourable.
Pour dressing over the kale and massage with hands or tongs / serving spoons. Spread the kale over a serving platter or keep in mixing bowl for serving. Top with lentils and set aside.
To make the curry dressing, use the same small mixing bowl from the tahini sauce and add the curry paste, lemon juice, maple syrup, salt, pepper, and oil (optional). Whisk to combine. Then add water until thin and pourable.
Taste and adjust flavor as needed, adding more lemon juice for acidity, curry paste for intense curry flavor, salt for saltiness, or maple syrup for sweetness. Set aside.
Remove roasted vegetables from the oven and add to the salad and lentils. Top with half of the curry dressing and serve with the remaining curry dressing. Garnish with fresh cilantro (optional).
Enjoy immediately. Store leftovers in the refrigerator up to 3-4 days, though best when fresh.
Blog post and photos by Amy Hutchinson, a recent graduate of the Institute for Integrative Nutrition and is a Certified Integrative Nutrition Health Coach. Amy is the mother of 3 very busy girls and understands the complexities of the weeknight and the importance of a home cooked meal.  She helps clients with planning and prepping and provides quick, easy, delicious and mostly "clean" recipes and meal plans for busy families.  Amy also helps families reduce their sugar and caffeine intake.  She believes that eating healthier and cleaner  can lead to making other overall healthy choices and decisions effecting our wellbeing.  Visit Amy at www.healhc.com on Facebook as Amy Hobson Hutchinson and Instagram as Healhealthcoach.
Honor where you are today. Eliminate that which does not serve you. Align mind body and soul. Live the life you are meant to live.