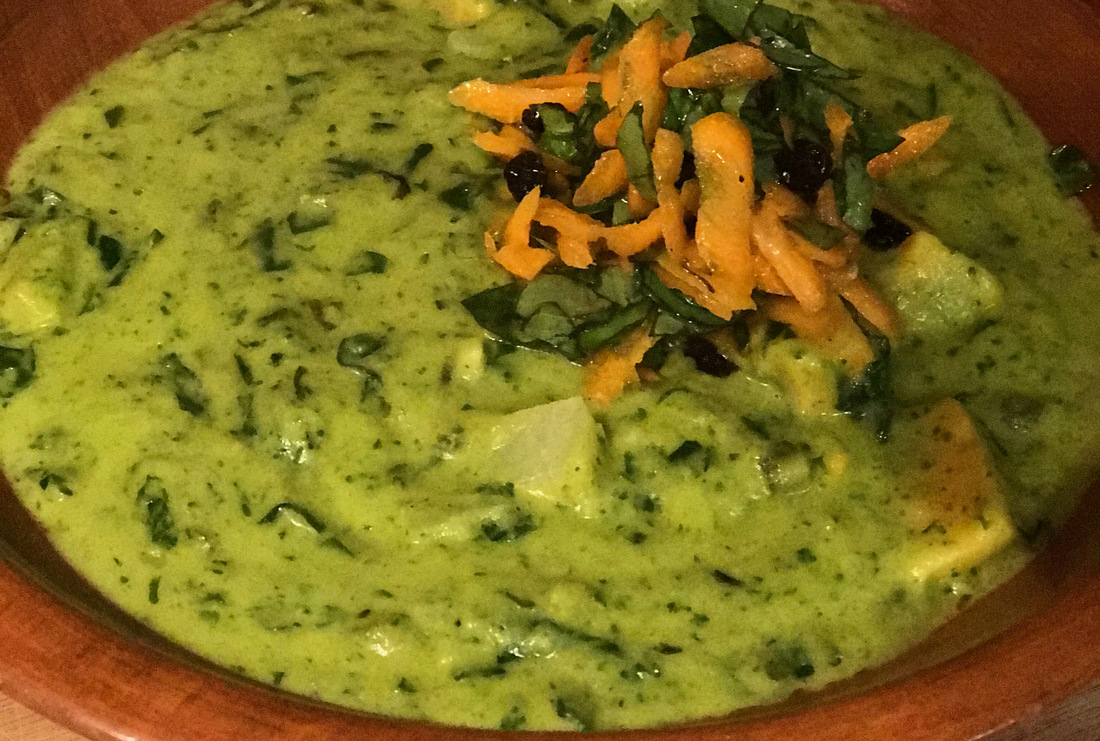 07 Jun

Mom Soup, kid approved

Let's be real. Life is a busy place. Most of use join a CSA with the intention of hand cooking delicious and nutritious meals for our families throughout the week, feeling good about our efforts as parents and spouses. In my world, reality means very little time is left in my busy schedule to plan and prepare full blown meals most days. In the summer we eat a ton of soup, salad and sandwiches.

Being a single working mom of two young children, it's my foremost priority that the quality of the ingredients I'm using to prepare their meals takes precedence. Fancy shmancy delivery isn't often in the cards. Some days, I feel the lack of self care it takes to feed myself something hand spun and crafted with ease and intention. Some days, I crave sitting alone in the sunshine, enjoying a meal for one. Meals are eaten standing, driving, almost asleep, and in hurried stressful situations enough these days. Tis life. Out of sheer necessity, moms all over America are feeding our little humans off the fly by the seat of our pants, menu between engagements and such.

Smoothies are popular for a reason, folks. Plopping the weeks bounty into a pot, blender, juicer, bowl, or food processor is just so darn simple and simplicity is what moms cherish in our hot pursuit of sustainable time management. Soup is by far one of the easiest and quickest no-brainer ways to play hide the vegetable with our kids or make ourselves a small bowl of lunch in between work, tasks, and chores. I've said it before and I'll say it again, I don't rely heavily on recipes to guide and inspire my cooking.

Soup is so forgiving and adaptable in a pinch when on the fly hungry happens. These are the days of fancy pressure cookers and other kitchen gadgets. I'm a simple gal on a budget and honestly I am intimidated by a lot of those kitchen tools. I do use a crock-pot from time to time, mostly for broth. Broth is a key ingredient in soup. I use mostly veggie or organic chicken broth in most of my recipes. I will leave the broth recipe and inspirational post for another day. This is a soup recipe for one. Mom soup. There will likely be leftovers. Freeze it for another day.  My kids might eat this, or they might have cereal for dinner while I savor it (*Recipe update: Kid approved, no leftovers). Obviously, the recipe can be adapted to feed however many people you'd like. I am merely setting it up as a small indulgence, perhaps with a small salad and slice of crusty bread from Bread Box & Bakery. Root vegetables and cream are a decadent palate for so many creative accompaniments. Think Hershberger Heritage Farm bacon or thinly sliced apples from North Star Orchard. For this rendition, I am using coconut milk and vegetable stock for the soup and garnishing with quick maple marinated carrot salad using Augusta Acres Farm Maple Syrup. So, without further ado….here is the( loose) recipe. Enjoy.

1  potato – I am using a yam this time, peeled and diced
2 hakurei turnips – cleans and diced
1 kohlrabi – peeled and diced
4 scallions, chopped
4 garlic scapes – sliced thin
2 leaves kale – cleaned and chopped
1 handful of escarole – cleaned and chopped
1/4 cup coconut cream or heavy cream
2 Tbs. Coconut aminos or Tamari
dash hot sauce
herbs of your liking, to taste

In a medium sized soup pot cook the garlic, onion  and scapes in 1 Tbs. oil until fragrant and slightly browned. Next, add in the root veggies and enough stock to just cover the veggies. Season with salt and pepper to taste. At this point you can add the aminos. This will also be fantastic with a sprinkle of nutritional yeast if you happen to have some on hand. Stir and cover. Allow to simmer on medium/low until veggies are tender, about 20 minutes. Take a taste to check for salt. Not enough, add more. If time allows, you have the option of pureeing either half of or all of the soup. Either a blender or a handheld immersion blender works. I like mine slightly blended. Back into the pot it goes for the addition of cream and  the greens. Herbs of any kind are perfect here as well, I used a substantial amount of basil. Stir with your favorite spoon. Cook gently another 10 minutes until the greens are silky and soft. Gently, swirl in a few dashes of your favorite hot sauce for that balance of acidity to creaminess ratio.

Allow the soup to thicken slightly, lid off on low temperature while you grate some carrots into a small bowl. Toss with a few raisins, 1 tsp. maple, 1 tsp vinegar or citrus and 1 tsp oil and a little salt and pepper. To serve, ladle into your most self indulgent bowl or mug and gently place a spoon of carrot mixture in the center. Savor.

Post and photos by Kristin Moyer, a local mom and chef who loves to eat, write and play with her food.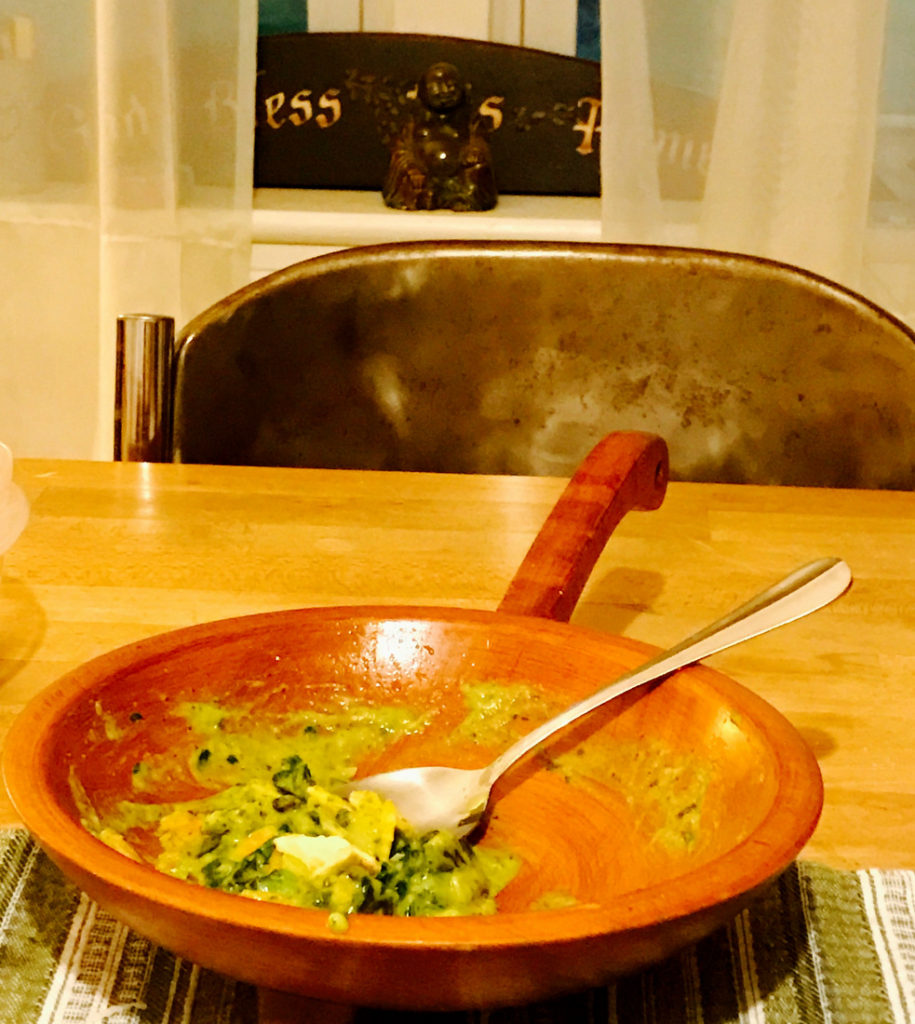 Post editing by Tricia Borneman, Blooming Glen farmer and co-owner. Tricia and her husband Tom have been farming together since 2000. Blooming Glen Farm is celebrating its 13th season bringing high quality certified organic vegetables, herbs, fruits and cut flowers to our local community.