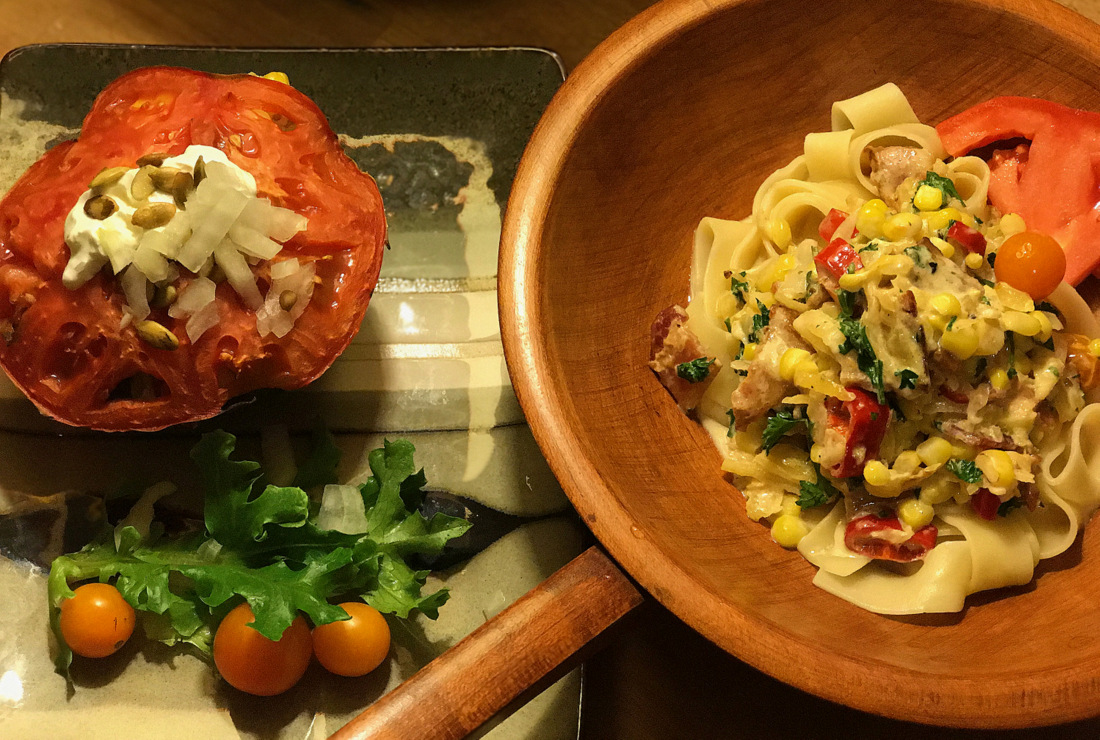 17 Sep

Popper Squash and Squash-ta Alfredo

As summer comes to an end, I find myself enjoying my time in the kitchen more. The stagnant heat has given way to some breezier warmth which makes me crave comfort food. These days my kids are busy with sports and school so, like always, time is a pinch. I feel happy and content on those nights where I can pull off two farm fresh meals that both kids enjoy- followed of course by dish-washing shenanigans and some good old rough housing. It's hard to feel connected as a family some days…. which can drag into weeks and months if I'm not mindful to carve out those special nourishing evenings. Sometimes few and far between are the glimpses of the old time picture of "The American Dream" that lives somewhere in my fantasies. I can't express my gratitude enough for the gift of Earth and Harvest…. work of the men and women, and the sacrifice of a family that does whatever it takes to feed me and my community. The challenges and responsibility bestowed upon the hands and hearts of our farmers is a duty of service and reciprocity that lends its vows to honorable harvest and stewardship year in and out. Thank You Blooming Glen Family for feeding my family.

Popper Squash

Ingredients
1 Acorn Squash (or Butterkin)
1/2 onion – diced
1 cup cooked rice or other grain
2 ears corn de-cobbed
1 poblano or jalapeno – roasted and diced
1 jalapeno – roasted and diced
2 T cream cheese – cut into bite sized chunks
1/4 tsp. cumin
salt and pepper to taste

Cut the acorn squash in half, scoop seeds, drizzle with oil of your choice and roast face down on a baking sheet along with the peppers, about 25-30 minutes on 400.

In the meantime, mix in small bowl the remaining ingredients and season to taste.

Remove roasted squash from oven and carefully spoon each half with the rice mixture.

Thinly slice big rounds of red tomato, lay atop the stuffed squash, season with salt and pepper, drizzle with oil and place under the broiler for an additional 10 minutes until the tomato is softened and browned.

Remove and serve with a dollop of sour cream, cilantro, and a sprinkle of pepita seeds.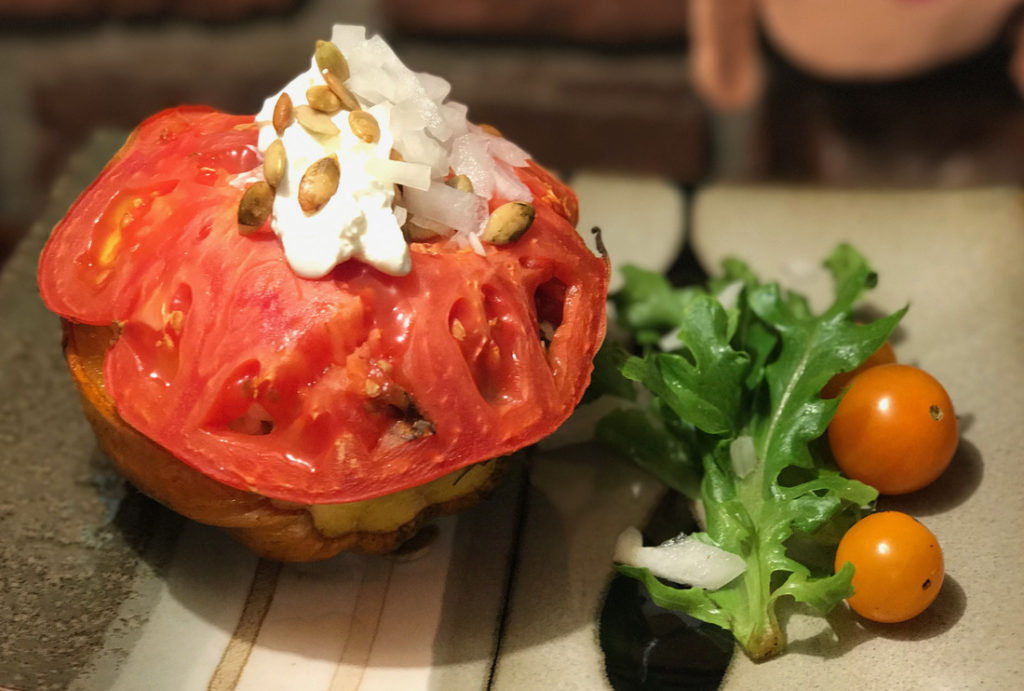 Squash-ta Alfredo
Ingredients
1/2 any choice of winter squash – grated
1/2 onion – grated
6 slices bacon
2 cloves garlic
4 tiny peppers
2 ears of corn – de-cobbed
handful cherry tomatoes
1/2 pint heavy cream
1/4 cup parmesan cheese
1 T black pepper
1/2 lb wide pasta
Over medium heat, sauté your veggies until softened and browning. Add the heavy cream and reduce 2-3 minutes. Finish with parmesan and black pepper. Toss with hot pasta. Serve with sprinkle of fresh parsley or other fresh herbs.
Recipe, post and photos by Kristin Moyer, a local mom and chef who loves to eat, write and play with her food.