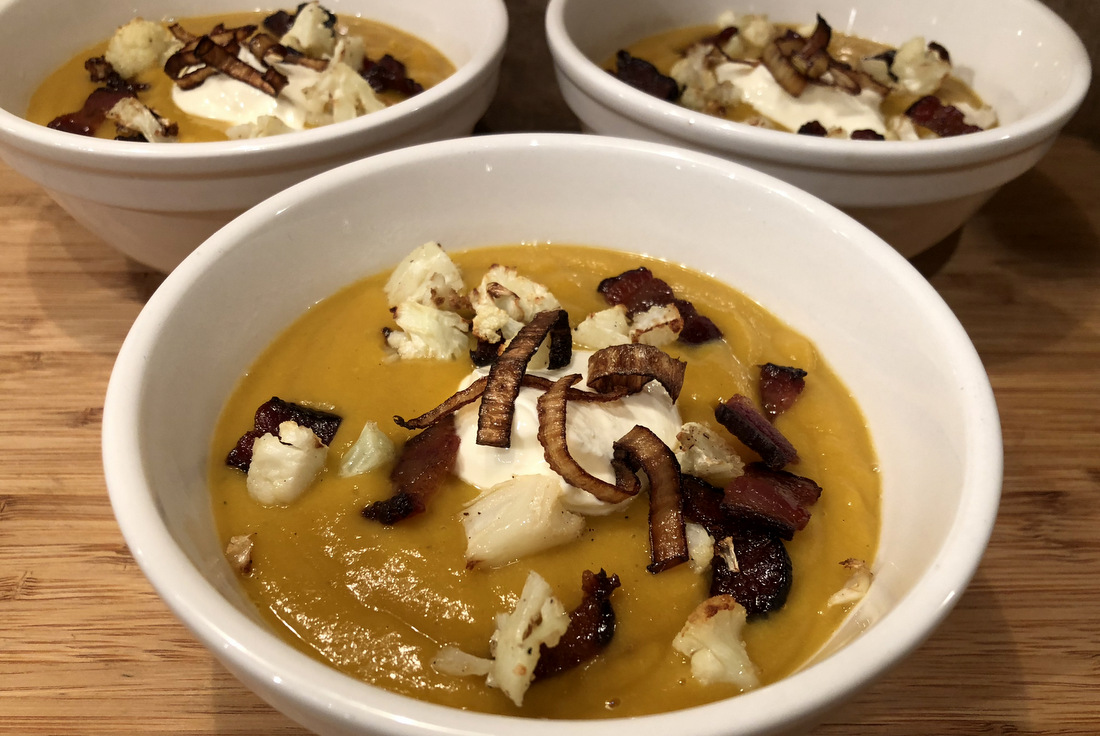 24 Oct

Savory Sweet Potato Soup

We are reaching the last few weeks of our CSA shares and are seeing all of the wonderful autumn vegetables that our farmers have worked hard to provide for us.  This recipe uses the sweet potatoes, leeks, and celery that made their way into our baskets or bags last week.  It's definitely a soup that freezes well, so feel free to cook and freeze half for later.

Ingredients
3 Tbsp olive oil or avocado oil
3 leeks- chopped (about 2 cups for soup; reserve 1/3 cup for garnish)
1 cup celery- chopped (include stalks and leaves)
5 cloves garlic- crushed
7 cups broth (vegetable, chicken or beef)
1 head cauliflower- chopped (¾ head for soup; reserve ¼ head for garnish)
2 lbs sweet potatoes- peeled and chopped
1 tsp sea salt
½ tsp black pepper
1 ½ tsp onion powder
Optional garnishes: sour cream, almond yogurt, cashew cream, bacon bits, broiled cauliflower bits*, fried leeks**, chives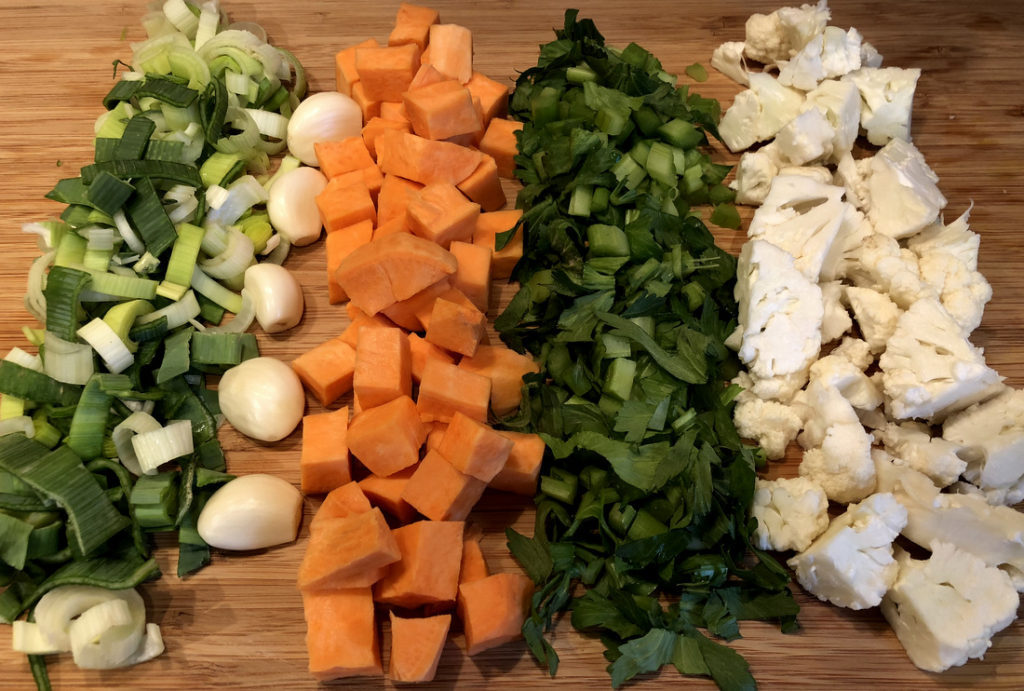 Place oil into large saucepan or stockpot. Heat to medium heat.
Add leeks and celery to saucepan. Cook on medium heat for 5 minutes, stirring frequently.
Add garlic and cook for 2 minutes.
Add broth, ¾ head of cauliflower, sweet potatoes, salt, pepper, and onion powder. Bring to a boil and then reduce to a simmer, cover, and cook for 1 hour.
After soup is done cooking, transfer in batches to blender and puree.
Garnish and serve. Enjoy!
*Broiled Cauliflower Bits: Chop remaining ¼ head of cauliflower into tiny bits.  Combine with 1 Tbsp olive oil or avocado oil, 1/8 tsp sea salt, ¼ tsp garlic powder, and 1/8 tsp black pepper.  Broil for about 4-6 minutes, flipping halfway through.
**Fried Leeks: Use the reserved 1/3 cup of chopped leeks.  Heat ½ cup of avocado oil (or preferred cooking oil) in small frying pan.  Separate the chopped leeks and drop them one by one into the hot oil.  Quickly flash fry the leeks and remove when crispy.  Lay on paper towel lined plate and sprinkle with sea salt.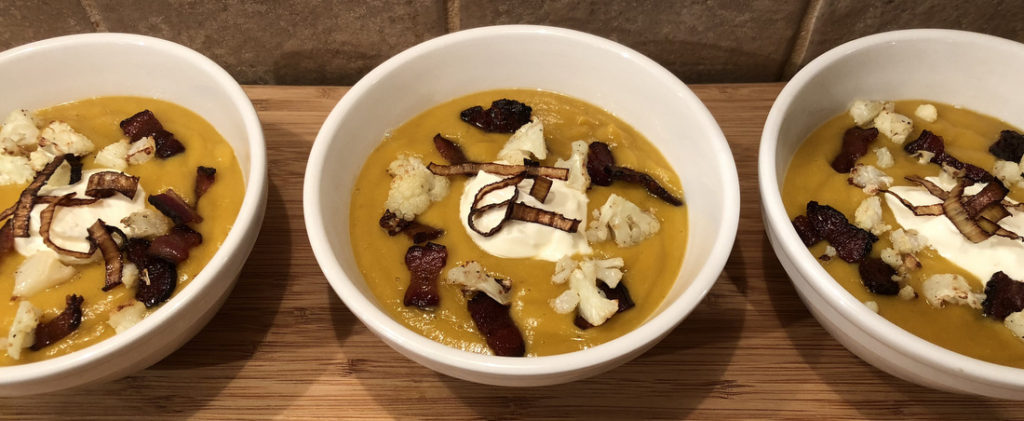 Recipe and Photos by Stephanie Borzio. Stephanie Borzio is a mom of three active boys and is an autoimmune warrior. After battling her own health for several years, Stephanie found healing through food and lifestyle changes, including joining Blooming Glen Farm CSA of which she is a long time member. She is a Board Certified Integrative Nutrition Health Coach who is passionate about sharing healthy living tips and real food recipes. Instagram & Facebook: Tru You Essentials; Website: www.truyouessentials.com