09 Nov

Flatbread with Butternut, Goat Cheese and Pea Shoots

A half pound bag of pea shoots is quite a lot. You can easily enjoy the tender shoots in a delicious raw salad with lettuce and arugula. Looking for more ideas? Garnish your favorite fall soup with the sprouts or partner with fish. With a wonderful vibrant pea flavor, the tiny shoots make a fantastic topping for a homemade white pizza, or a crisp whole wheat flatbread. I love flatbreads because they are endlessly versatile and a cinch to whip up. This one combines the hearty fall flavor of roasted butternut squash with the refreshing pop of the pea shoots–a little taste of spring as we head in to winter.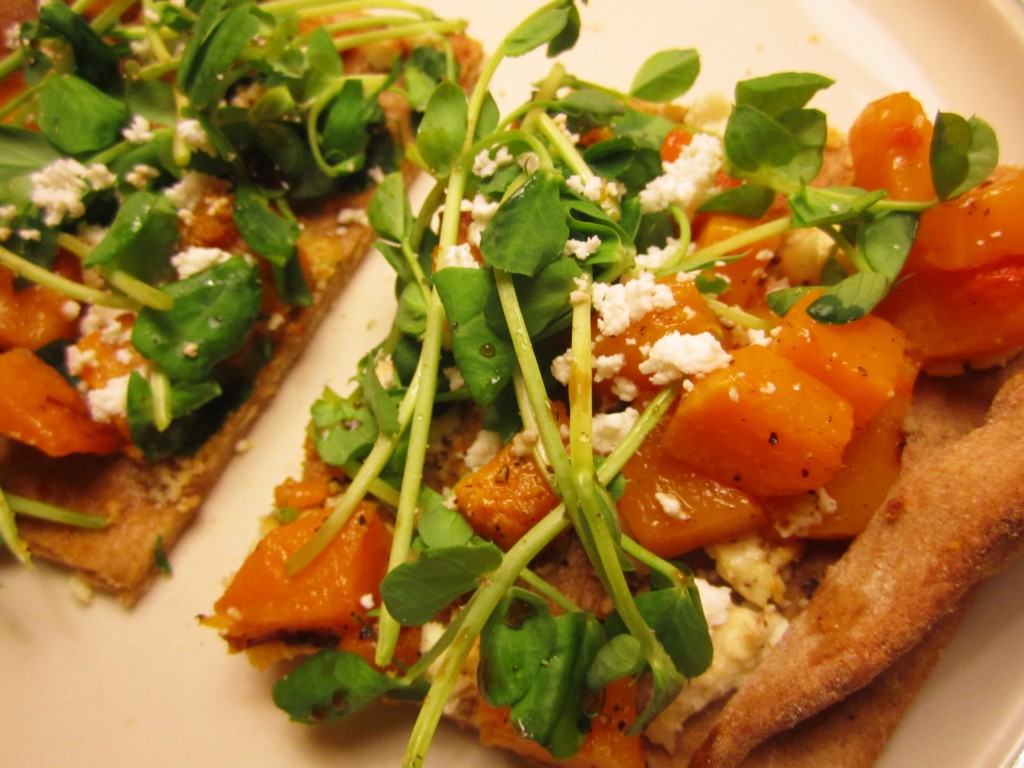 Crispy Whole Wheat Flatbread with Butternut Squash, Goat Cheese and Pea Shoots
In a medium sized bowl, mix 1/2 cup warm water with 1 teaspoon active dry yeast. Let sit for 5 minutes.
Stir in 1 1/4 cups whole wheat flour and 1/2 teaspoon salt. Knead until the dough is soft and elastic, about five minutes, adding small amounts of flour if the dough is too sticky. Let rise for about 45 minutes in a warm spot.
While dough is rising, preheat the oven to 425 degrees. Peel and dice 1 butternut squash, coat in 1 tablespoon olive oil, and roast on a baking sheet for about 15 minutes, until squash is tender and starting to caramelize on the edges. Set aside the roasted squash and reuse the baking sheet for the dough. 
When the dough has nearly doubled in size, increase the oven heat to 475 degrees. Sprinkle a cutting board or countertop with additional flour and roll the dough into a 10-12 inch circle. Sprinkle baking sheet with a bit of cornmeal, then place the dough on the sheet. Bake for about 10 minutes, until cooked through and golden brown. 
Top warm flatbread with roasted butternut squash, crumbled goat cheese, a handful of pea shoots, a pinch of salt and pepper, and a sprinkle of balsamic vinegar. Cut into wedges or strips and serve as a light lunch or stunning appetizer. **Not a fan of goat cheese? This recipe can easily be modified to compliment your family's palette. Try roasted walnuts or pine nuts paired with butternut and a sharp cheese or crumbled tofu.
Recipe contributed by Kate Darlington – Blooming Glen Farm intern, Colorado native, and food lover.