01 Nov

Wrapped up: Orange Sweet & Sour Cabbage Wraps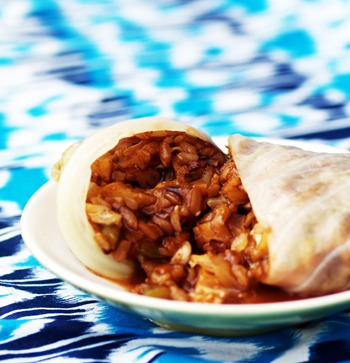 Cabbage is probably one of the most abused vegetables in town. On St. Patrick's Day, it's appearance is first upstaged by the potato, and then its nutrition is slow-cooked to near depletion. In picnic season, it's coated with fatty oils, dressings and cream sauces. Probably worst of all, it's reputation seems to be forever tarnished, thanks to the tiresome cabbage soup fad diet.
But, the cabbage deserves so much more than this! It's anti-inflammatory properties are stellar, thanks to the high content of an amino acid called glutamine. In addition to promoting the digestive process and intestinal health, glutamine has been shown to be useful in all sorts of treatments including burns and peptic ulcers. Because cabbage is a member of the cruciferous family, it's also a great cancer-fighting food. Cruciferous veggies are high in indole-3-carbinol, a chemical shown to block the growth of cancer cells, as well as stimulate DNA repair in cells. Finally, a look at cabbage's nutritional profile shows it as an excellent source of vitamins K and C, a very good source of fiber, manganese, folate, vitamin B6 potassium and omega-3 fatty acids, and a good source of thiamin (vitamin B1), riboflavin (vitamin B2), calcium, magnesium, vitamin A, and protein.
Clearly, cabbage deserves to shine in all of our diets.  To get the most nutrition, be sure to eat it raw or fast-cooked. Cabbage is delicious steamed and splashed with balsamic vinegar, fits well into just about any stirfry, and makes a perfect wrap: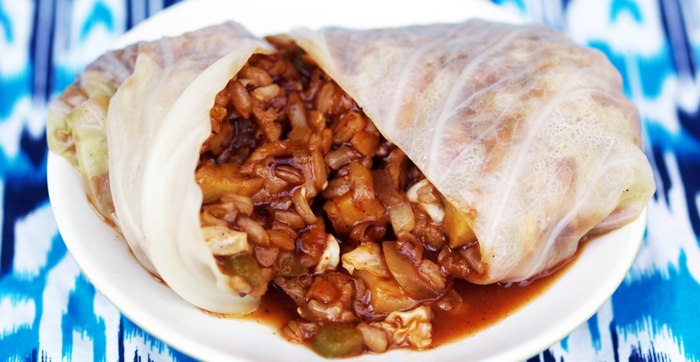 Orange Sweet & Sour Cabbage Wraps
Steam 12-15 large cabbage leaves until just tender, about 4 minutes, and set aside.
Combine sauce ingredients and set aside:
2/3 cup white vinegar
1/3 cup tamari
1/2 cup ketchup
1/4 cup agave
4 tablespoons fresh orange juice
2 tablespoons arrowroot powder or cornstarch
1 teaspoon ground ginger
1/4 tsp cayenne
zest from 1/2 orange
Heat 1 tablespoon grapeseed oil in a large skillet over medium-high heat. Add 2 cups seitan*, chopped small, and cook until crispy (about 10 minutes), stirring occasionally. *Use crumbled tempeh for a gluten-free version, or if seitan is not available.
Reduce heat to low-medium, stir in 1 1/2 cup bell peppers, chopped small, 1 1/2 cup onion, chopped small and 4 cups cabbage, thinly shredded and cook until tender, but still crisp (about 5 minutes), stirring occasionally; if mixture is sticking to pan, add a little water.
Reduce heat to low, stir in 3 cups cooked brown rice and half of the sauce, mix well and allow to thicken. Add sauce until the filling reaches your desired consistency. Remove filling from heat, scoop onto cabbage leaves and wrap 'em up!
Serve these immediately, two to three as a main dish or one as a side.  Options: Substitute peppers and rice for any veggies that are in season and grains that are on-hand.  Increase cayenne if you want to turn up the heat.  Substitute pineapple juice for orange juice and eliminate the orange zest if you want a more neutral sweet-and-sour flavor.
Post and photo by Mikaela D. Martin: Blooming Glen CSA member since 2005, board-certified health counselor, and co-founder and -owner of Guidance for Growing, an integrative wellness practice in Souderton. Read more about healthy eating and living on her site, http://guidanceforgrowing.com!