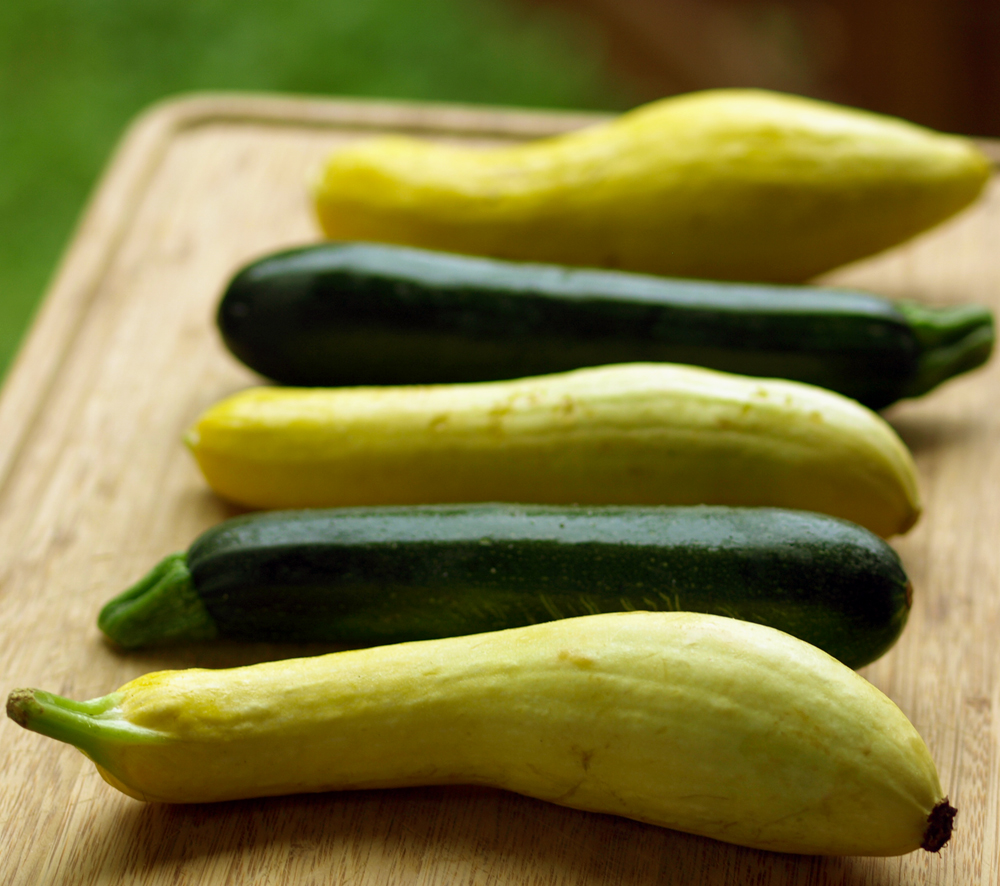 05 Jul

Summer Squash & Zucchini

Varieties of summer squash and zucchini are are abundant during the summer — which is a very good thing! (And to clarify, at the farm we just call it all summer squash, of which this week's dark gold and green zucchini is included under that heading. I am referring here to the lighter yellow squash as "summer squash"- it is also milder in flavor than the gold and green zucchini varieties that Blooming Glen grows). These light and mild veggies are not only delicious, but also healthy and versatile. Nutritionally speaking, the manganese in squash helps promote strength by building strong bones and connective tissues. As we know, vitamin C supports our immune systems, preventing colds and other infections, but it's also an antioxidant that can help protect our bodies from the damage caused by pollution. Finally, the fiber in zucchini and summer squash aids digestion and promotes a healthy gut. In order to get all these benefits, it's important to skip the peeler; like most other vegetables and fruits, a lot of the healthy stuff in zucchini and summer squash lives in or near the skin. Instead of peeling, simply rinse off the veggies under running water to remove any dirt. Here are a few tips for using up your stock of zucchini and summer squash:
Dice 'em up: Diced zucchini and summer squash can be added to soups, stir-fries, chilis, crepes and quiches, stews, curries, spaghetti sauce and rice. They can also be enjoyed raw, mixed into pasta salad, grain salads and green salads.
Cut into coins: Sliced zucchini and summer squash make a great topping for pizza, taste great layered into lasagna, or used in casseroles.
Savory pancakes: Add grated squash and zucchini to whole wheat pancake mix, along with some garlic powder and chopped spring onion. Serve with a dab of sour cream for a savory, summery side dish.
On the grill: Slice zucchini and squash lengthwise, into planks and spray lightly with high-heat cooking oil. Place on hot grill or grill pan and sprinkle with salt and pepper. Grill for 5-10 mins., until tender and charred, flipping once.
Thicken up soups: Cook and puree squash and zucchini to use as a creamy soup base.
Preserving: Shred and freeze zucchini and squash to preserve. Use thawed veggies in breads, muffins, casseroles, fritattas, and quiches.
Post and photos by Mikaela D. Martin: Blooming Glen CSA member since 2005, health counselor, and co-founder of Guidance for Growing, an integrative wellness practice in Souderton. Read more about healthy eating and living on her site, http://guidanceforgrowing.com