14 Jun

Chickpea Flour Crepes with Savory Sautéed Veggies

Garlic scapes are the flower shoots that grow from the hard-neck varieties of garlic grown here on the farm. By plucking them from the plant, we encourage the bulbs to grow fat in the ground and simultaneously get yet another way to enjoy garlicky goodness.

Don't be overwhelmed by the mass of these curlicues you've acquired in the last two weeks. Garlic scapes are wonderfully versatile. In any recipe that calls for garlic, you can replace one clove for about one scape. Because they are milder than cloves, garlic scapes can also be eaten more like a side dish than a seasoning. Just chop several into 2-inch segments and sauté on high heat with a bit of oil until they are tender and a bit caramelized.

I use garlic scape and kale pesto in this recipe to make a delicious filling for chickpea flour crepes. It may look and sound fancy, but it was a synch to whip up (I did it in about 10 minutes over lunch the other day). Chickpea flour is now widely available as a gluten-free substitute for wheat flour (I think I even found it in the local Landis). If you can't find it or don't have it, the recipe should work just fine with whole-wheat flour.

Use the leftovers of this pungent pesto to add flavor to soup or steamed veggies, toss with pasta, or garnish a rich piece of grilled meat.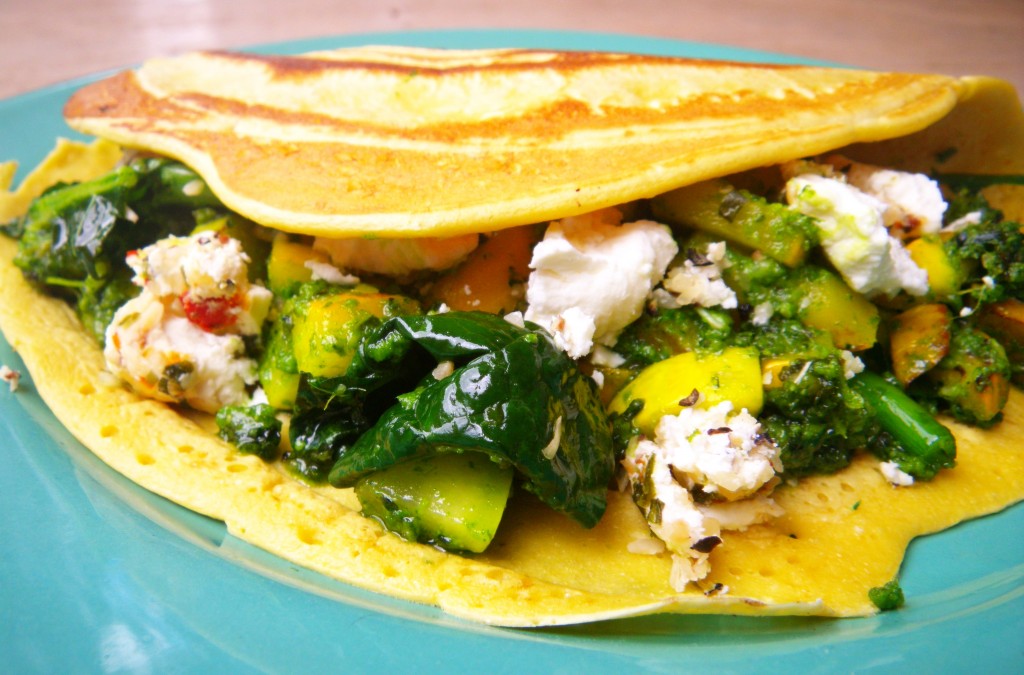 Chickpea Flour Crepes with Savory Sautéed Veggies
Heat a small amount of oil or butter in a non-stick or cast iron pan. When oil is hot, add 1 cup sliced summer squash. When squash is tender, add 1 cup chopped kale, Swiss chard, or beet greens. Cook until greens are just wilted. Toss veggies with 2 tablespoons garlic scape pesto.
Whisk together one egg, ½ cup chickpea flour, 1 tablespoon olive oil, and a pinch of salt in a bowl. Slowly whisk in warm water until the batter becomes thin and pourable (thinner than pancake batter).
Ladle a small amount of the batter onto a hot, non-stick griddle or pan. Using the back of the ladle, spread the batter into a thin layer about the size of a tortilla. Carefully flip the crepe with a large spatula when the top starts to form bubbles and the bottom is golden brown. Repeat with the rest of the batter.
Spoon some vegetable mixture in the center of a crepe, sprinkle with some crumbled goat or feta cheese, and fold crepe over into a large taco shape.
Garlic Scape and Kale Pesto
In a food processor combine:
4-5 garlic scapes, chopped
½ cup kale, chopped
5 tablespoons olive oil
2 tablespoons raw pumpkin or sunflower seeds (*pesto hint: you can replace pine nuts with sunflower seeds in almost any pesto recipe for a nearly identical taste at a much more affordable price)
juice of 1 small lemon
pinch of salt
Process until garlic and kale are minced and ingredients are well blended together. Pesto can be stored in the fridge for about a week.
Text and photography by Kate Darlington – Blooming Glen Farm second year intern, Colorado native, and food lover.