13 Jul

Zucchini Dip with Yogurt and a Baked Summer Squash "Frittata"

With an abundance of summer squash rolling in from the fields every week, we figured you might need a few more creative recipe ideas to keep things interesting with this versatile veggie.

This first recipe is a roasted zucchini dish that was inspired by my time spent on the Aegean coast of Turkey. The combination of lightly cooked veggies, yogurt, raw garlic and fresh herbs is a staple "mezze" (small tapas style) dish that can be found on any Turkish dinner table. Since the Turks rarely cook their garlic, this dish normally packs a bit of garlicky heat. The fresh green garlic you are getting from the share will have a more mild and subtle raw garlic flavor so don't shy away from it. You can eat this as a simple side dish or put it in the food processor to use as a dip with cucumber and pita (which is what I did here).

Zucchini Salad with Yogurt (Yogurtlu Kabak Salatasi)

-Preheat oven to 400 degrees

-Chop 2-3 medium sized summer squash (zucchini or yellow squash) into cubes and toss with a few tablespoons of olive oil and a dash of salt.

-Spread on baking sheet and roast for 15 minutes or so until squash is tender and slightly caramelized. Let cool slightly.

-Put squash into food processor with:

1-2 cloves of green garlic
1/2 cup of greek style yogurt
a handful of herbs (dill, parsley, and mint all work nicely)
the juice from half a lemon

-Salt to taste and sprinkle with feta cheese.  Serve with a dipper like cucumbers or pita bread.

**If you want it a bit chunkier to serve as a side dish, just pulse the above ingredients in the food processor and fold it into the roasted squash cubes.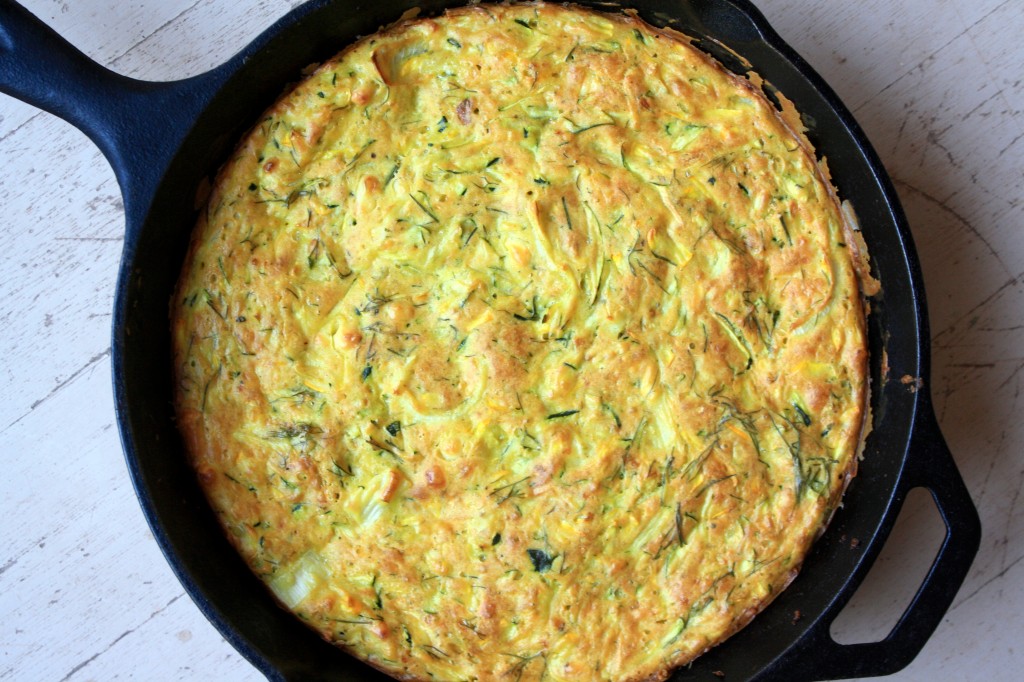 Baked Summer Squash Frittata
This "frittata" is remarkably simple and makes a delicious light lunch alongside a salad. It also keeps great in the fridge and can be reheated for breakfast the next day. Since it is made with yogurt, flour and baking powder it isn't a classic frittata. However, I find this recipe to be much lighter than other varieties made with only eggs. As the season progresses, you can add in other ingredients (like cherry tomatoes!) for a different variation on this brunch favorite.
-Preheat oven to 375 degrees
-Lightly oil a cast-iron pan or pie dish
-In a large bowl, mix:
3 cups of grated summer squash
1 sweet onion
2 gloves of green garlic, minced
4 eggs
1/2 cup feta cheese
1/2 cup of yogurt
1/4 cup olive oil
1 1/2 cups of flour
2 teaspoons of baking powder
a handful of herbs (parsley, dill, chives, etc)
salt and pepper to taste
-Pour into greased pan and bake for 35-45 minutes (or until golden brown on the top). Let cool and serve along size a big dollop of sour cream or yogurt.
ENJOY!
Recipe and photos by Jana Smart- Blooming Glen Farm employee and frequent creator of creative recipes using farm fresh seasonal ingredients. Check out more of her recipes on her food blog http://www.agrarianeats.blogspot.com/