Pick-your-own string beans are a sure sign that summer has arrived at Blooming Glen!  Although we often don't think about these beans as being particularly healthful, they actually have "impressive antioxidant capacity," containing flavanoids, folate, and vitamins A, C, and K.  They're a fantastic source of dietary fiber, which helps facilitate the passage of waste through our gut, as well as the mineral silicon, which works with calcium and magnesium to aid bone health.  And, because it's in the pea and bean family, they also offer a nice bit of plant-based protein.
Given the heat wave we're in the midst of, I'm sticking with cool ingredients once again for this week's recipe — which has certainly been a theme here on the blog as of late! (If you haven't already, check out last week's recipe for Raw Mediterranean Squash & Greens Salad and Kristin's awesome Raw Veggie Hash with Green Garlic Vinaigrette in a Lettuce Bundle.) Although there is a bit of stove time needed for blanching the vegetables, the recipe below requires very little cooking, little time, and little effort.  It's a perfect dish to make ahead and have on hand for a healthy meal side dish or snack.  If you only have one bunch of scapes on hand, no worries! The optimal string beans-to-garlic scapes ratio may be a little off, but just use what you have 🙂  You can also skip the scapes all together; you may want to add a clove or two of minced garlic or a bit of granulated garlic to the marinades below.  There are three variations of the recipe, of which the Asian is pictured.
Cold Marinated String Beans & Scapes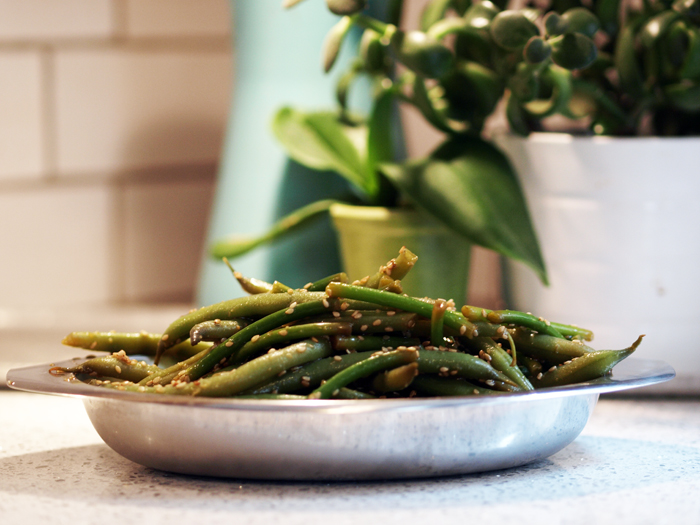 Basic
1 quart string beans, trimmed
2 bunches garlic scapes, trimmed and cut in quarters
1/3 cup tamari or low sodium soy sauce
3 tbs sesame oil
1/2 tbs agave, or other sweetener
Asian
1 quart string beans, trimmed
2 bunches garlic scapes, trimmed and cut in quarters
3 tbs mirin
2 tbs rice wine vinegar
2 tbs cup tamari or low sodium soy sauce
2 tbs sesame oil
2 tbs sesame seeds
1 tsp minced ginger
pinch of crushed red pepper, or more to taste
Italian
1 quart string beans, trimmed
1 bunch garlic scapes, trimmed and cut in quarters
2 tbs olive oil
2 tbs balsamic vinegar
2 tbs cup tamari or low sodium soy sauce
2 tbs fresh lemon juice
1 tbs Italian seasoning, or combination of basil, oregano, and thyme
Boil a large pot of water. Blanch veggies: Add string beans to boiling water for 3 minutes, then add scapes, and blanch for 2 more minutes. Drain veggies and drop into ice bath to stop cooking. Drain again and set aside.
In a large resealable bag (or container with a tight fitting lid), add veggies and all of the remaining ingredients. Zip the bag closed and shake until veggies are evenly coated. Let cool in the fridge for a couple hours, tossing them once or twice. Or, marinate overnight.  Toss once more before serving.
Post sources
Nutrition Data
Web MD
WH Foods
Post and photos by Mikaela D. Martin: Blooming Glen CSA member since 2005, board-certified health counselor, and co-founder of Guidance for Growing, an integrative wellness practice in Souderton. Read more about healthy eating and living on her site, http://guidanceforgrowing.com!