09 Aug

Cooling Watermelon & Cucumber Salad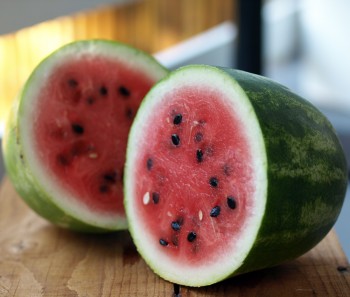 Just as food effects our nutrition, it also effects our energy.  A classic example of this is how we feel after eating a fast food meal of a burger and fries, versus how we feel after eating a home-cooked meal of, say, baked fish and steamed veggies. Processed foods, high in unhealthy fats and carbs and low in nutrients, not only overwork our bodies, but also provide very little value, leaving us feeling heavy and tired.  They're like the mooch of the food world — taking a lot of our bodies resources and giving nothing in return.
We can think also apply this food-mood connection to individual foods. Some foods warm us up; onion, ginger, oats.  Some foods ground us; carrots, meats, beets.  And, some foods are cooling, including several of the items in our Blooming Glen share over the past couple weeks.  Funny how mother nature makes available cooling foods right when we need them, right? 🙂
The recipe below uses two cooling ingredients, watermelon and cucumber.  We've talked about the nutrition of watermelon in the blog before. Both watermelon and cucumber have been shown to have antioxidant and anti-inflammatory properties, making them a great addition to our bodies' toolbox for fighting illness and disease.  Plus, as we all know, they taste great! Note, you can also easily substitute cantaloupe, another cooling and refreshing melon, for the watermelon in the recipe.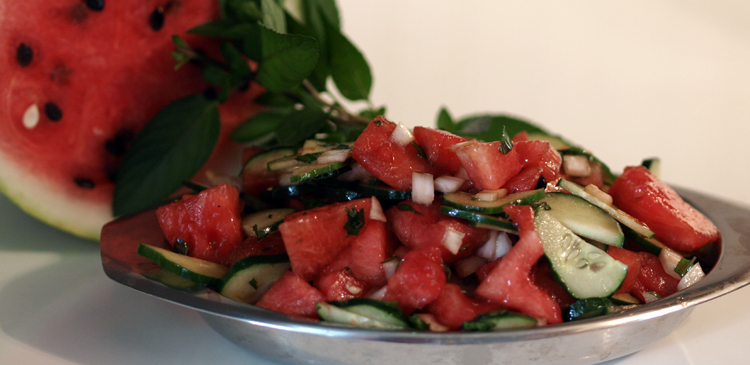 Cooling Watermelon & Cucumber Salad

Ingredients
4 cups cubed watermelon (or cantaloupe)
1 cucumber, cut in half and sliced thin (leave skin on)
1/4 cup shallots or  sweet onion, minced
2 tbs fresh mint, minced (plus extra for garnish, if desired)
1 tbs olive oil
2 tbs balsamic vinegar (or, try 2 tbs lime juice for a gluten-free version)
salt and pepper to taste
Optional: feta cheese
Method
Combine watermelon, cucumber and onion in a bowl. Combine mint, oil, vinegar, and a dash of salt and pepper in a small bowl, stirring with a whisk. Add dressing to the watermelon mixture and toss gently to coat. Garnish with mint and/or feta cheese, if desired. Serve atop raw greens for extra nutrition and substance.
Post and photos by Mikaela D. Martin: Blooming Glen CSA member since 2005, board-certified health counselor, and co-founder of Guidance for Growing, an integrative wellness practice in Souderton. Read more about healthy eating and living on her site, http://guidanceforgrowing.com!