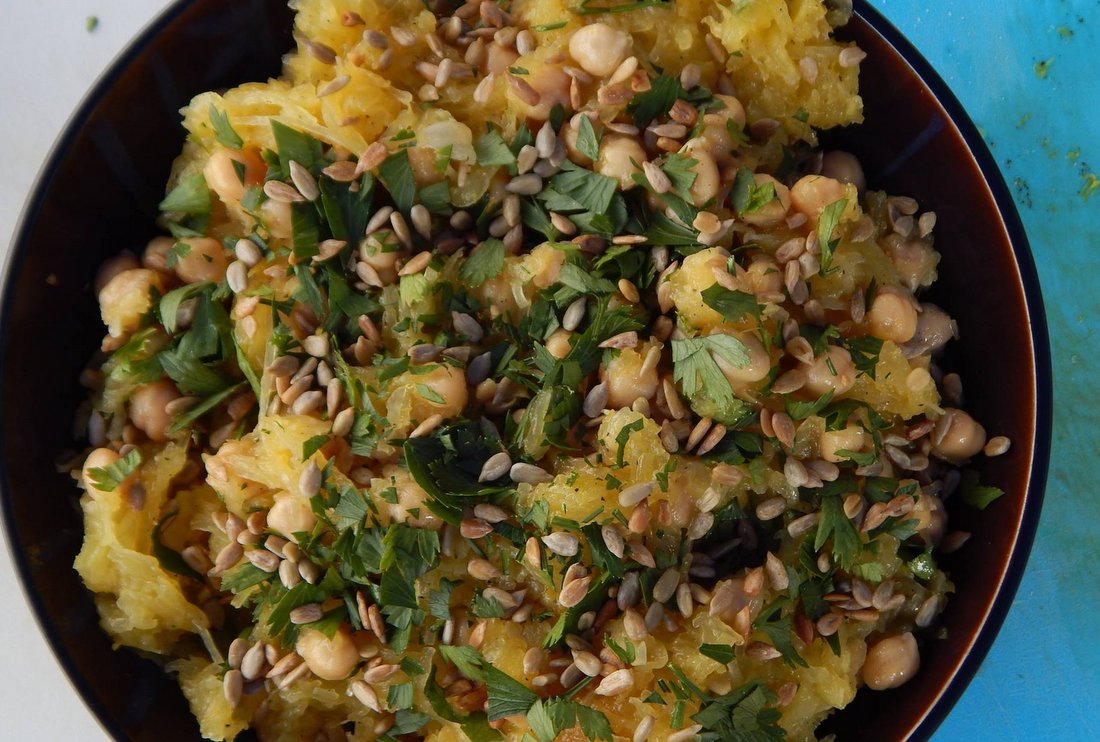 14 Sep

Spaghetti Squash Salad; Grilled Eggplant Dip

With back to back chef demos last week (hmm…maybe we need to do our own version of an Iron Chef competition!), here are a few more recipes for your enjoyment. These are from Chef Rich Baringer of Dinner's Done Personal Chef Service.

Spaghetti Squash Salad with Chickpeas and Feta (adapted from Cook's Country), Serves 4

This is a different take on spaghetti squash. It's light and tasty–and it's not trying to pretend the squash is real spaghetti. Try it! ~Chef Rich

Ingredients
2 ½ lb spaghetti squash, halved lengthwise and seeded
6 Tbsp extra-virgin olive oil, plus more for drizzling
Salt and pepper
2 tsp lemon zest
7 tsp lemon juice
15 oz canned chickpeas, rinsed
½ cup feta cheese, crumbled
½ cup parsley, coarsely chopped
4 scallions, sliced thin on the bias
2 Tbsp sunflower seeds, toasted

Adjust oven rack to middle position and heat to 375 degrees. Brush cut sides of squash with 2 Tbsp oil and season with salt and pepper. Place squash, cut side down, on rimmed baking sheet. Roast until just tender, 40-45 min. (Paring knife should go in with little resistance.) Transfer to a wire cooling rack, turn squash cut side up and let cool completely, about 1 hr.

Combine zest, juice, ¼ cup oil, ½ tsp salt and ½ tsp pepper in large bowl. Use fork to scrape squash strands into bowl. Toss. Add chickpeas and toss. Transfer to serving bowl and garnish with cheese, parsley, scallion and seeds. Drizzle with more oil before serving, if desired.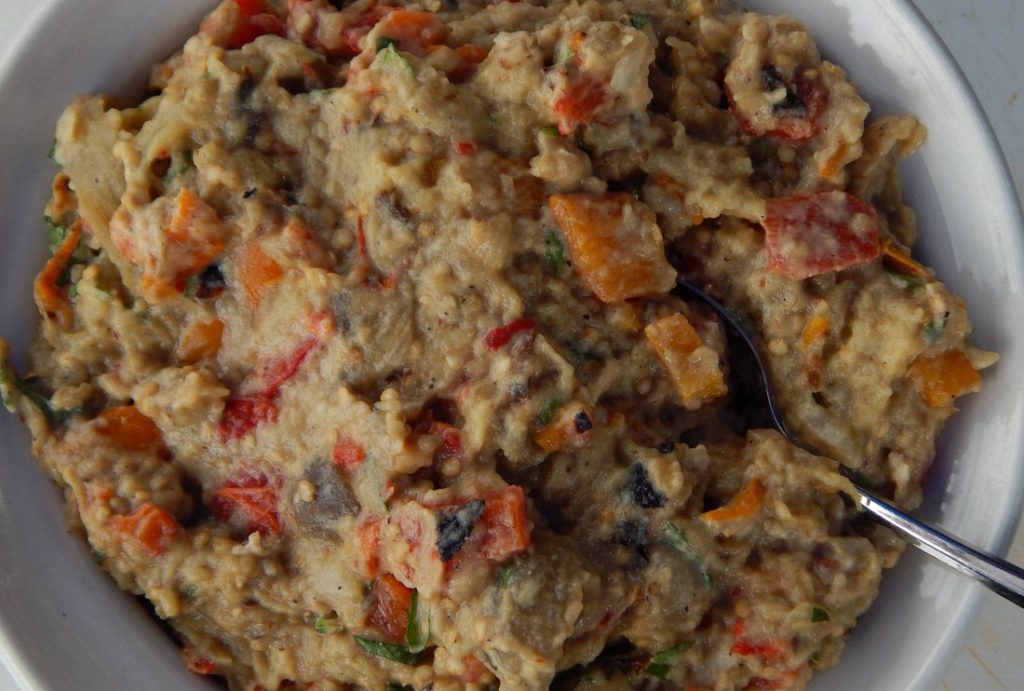 Grilled Eggplant Dip (adapted from America's Test Kitchen Healthy Family Cookbook), Serves 4
This is a very healthy and flavorful dip/spread much like baba ghanoush–just with a few adjustments from the traditional. Serve with vegetables or crackers. You could even use it as a sandwich spread. ~Chef Rich
Ingredients
2 lb eggplant, halved lengthwise
2 Tbsp extra-virgin olive oil
Salt and pepper
2 Tbsp tahini
1 Tbsp lemon juice
1 garlic clove, minced
1 Tbsp parsley, minced
2 sweet peppers, halved, seeded and stemmed
Preheat grill to high. Score eggplant with paring knife, about ½" deep. Brush with oil and season with ½ tsp salt and ¼ tsp pepper. Brush the peppers with oil and season with salt and pepper. Scrape and oil grill grate.
Lay eggplant, cut side down, on grill until very soft and skin is shriveled. At the same time, place peppers on grill, skin side down until charred. Remove eggplant to a sheet pan to cool slightly. Place peppers in a zipper bag and seal. When cool enough to handle, scoop eggplant pulp into a mesh strainer set over a bowl and let drain 3 min. Meanwhile, remove skins from peppers and roughly chop.
Place eggplant, peppers, tahini, juice, garlic, ½ tsp salt and ¼ tsp pepper in bowl. Mash with potato masher until desired consistency. Chill for 30 min. Season with salt and pepper and garnish with parsley.
Recipes by Rich Baringer, Dinner's Done Personal Chef Service. Phone: 215-804-6438; Email: mailto:DinnersDonePA@comcast.net Web: http://www.dinnersdonepa.com/ Like Dinner's Done: http://www.facebook.com/DinnersDonePA
Post editing by Tricia Borneman, Blooming Glen farmer and co-owner.  Tricia and her husband Tom have been farming together since 2000. Blooming Glen Farm is celebrating its 11th season bringing high quality certified organic vegetables, herbs, fruits and cut flowers to our local community.